High School:

Devonte Fields
February, 1, 2012
2/01/12
5:43
PM CT
By
Randy Jennings
| ESPNDallas.com
ARLINGTON, Texas -- Two Arlington Martin players signed letters of intent Wednesday, and head coach Bob Wager couldn't help but reflect on how both could have had an unhappy outcome.
Defensive lineman
Devonte Fields
, who signed with TCU, was very nearly dropped from the program as a sophomore.
"He couldn't get anywhere on time,'' Wager recalled. "I brought his mother into a meeting, the three of us. And I asked Devonte how he thought he could be an NFL player without getting anywhere on time. Tears rolled down his cheeks. And I guess mom took over from there. Never underestimate the power of mom.''
Fields (6-foot-4, 240 pounds) said he thinks about the incident all the time. Even on signing day. And he doesn't like to think what his life might be like had he not had that meeting.
"Today, I feel like I accomplished one of my goals in life,'' said Fields, who is No. 73 in the ESPNU 150.
Wager said
Mustafa Haboul
wound up in football as a high school freshman for one simple reason -- he got in the wrong line.
"He didn't realize he was in the line to play football,'' Wager said. "He knew nothing about the game. All he would do was chase the ball wherever it went.''
Haboul said basketball was the only sport he would watch in those days. He tried to watch football, but didn't understand the game well enough to be interested.
Gradually he learned the game and he enjoyed the physical aspect.
Haboul (6-foot, 247) wound up at nose guard for the Warriors.
"Last season, we issued him a new helmet,'' Wager said. "You should have seen that helmet after the season. It was beaten up like one I've never seen. It can't even be reconditioned.''
On Monday, two days before signing day, Haboul got a scholarship offer from the University of North Texas.
"My mom was jumping around, my dad was laughing,'' Habou saidl. "The whole thing is amazing. I never thought I'd be a part of this today.''
Martin had seven players sign FBS scholarships. The previous best for the school was five last year.
January, 2, 2012
1/02/12
12:01
AM CT
DEFENSIVE PLAYERS OF THE YEAR
Class 5A: Devonte Fields, Arlington Martin, DE
Devonte Fields helped Arlington Martin do the unthinkable -- shut down Euless Trinity's running game.
Fields and Martin held Trinity to just 135 rushing yards en route to a 19-7 win over a Trinity team that had long tortured the Warriors in the playoffs.
But that was just one of the standout performances from Fields. The TCU commit had 55 tackles -- 27 for a loss -- and nine sacks in a year that ended with him being named to the Associated Press all-state team.
Fields' play turned Martin into one of the better defenses in the area. Aside from finally getting past Trinity in the playoffs, Martin's defense led the Warriors all the way to the region finals, where they lost to eventual state champion Southlake Carroll.
Class 4A: Mario Edwards, Denton Ryan, DE
Injuries hampered Edwards throughout the season, but it didn't stop him from turning in another banner year and being named ESPN Dallas' defensive player of the year for the second consecutive season.
Even on a Ryan defense loaded with FBS-caliber players, Edwards stood out. He had 56 tackles -- 28 for a loss -- and 10 sacks en route to being named to the Associated Press all-state team.
With Edwards leading the way, Ryan gave up just 16.8 points per game. That number could have been even lower and is slightly misleading because the Raiders often played backups late in blowouts, allowing opponents to add to their totals.
Edwards gave an oral commitment to Florida State in the summer but has since backed off from it, expressing interest in Oklahoma and Texas, among others.
December, 28, 2011
12/28/11
12:28
PM CT
Game 8: Little Rock Parkview 73, Hurst L.D. Bell 51.
The ESPNHS No. 42 team, Little Rock Parkview, turned out to be quite the unlucky draw for Hurst L.D. Bell in the opening round of the tournament.
Parkview's Anton Beard dropped 17 on the Raiders while Imara Ready and Emmanuel Adoyi both tallied 14 points of their own in the blowout effort.
Bell's Garrett Hammonds managed a team-high 15, hitting Bell's only two 3's of the game.
Bell moves into the consolation bracket to face Houston Klein Forest at 3:30 p.m. Thursday while Parkview will take on North Crowley Thursday at 2 p.m.
Game 7: Flower Mound Marcus 45, Justin Northwest 38.
Game 6: Milwaukee King 67, Duncanville 54.
Rufus King out of Milwaukee proved to be more than Duncanville could handle, holding a lead throughout the course of the game.
King hit six from behind the arch, aiding four players to hit the double digit point mark. Dominique Borom led King's scoring with 16 points.
Duncanville's shot selection was less than optimum and it failed to make the adjustment of penetrating for a higher percentage shot. Duncanville hit six 3-pointers, but two came when the game had been relinquished late in the fourth quarter.
Omar Sherman led Duncanville in points with 14, followed by Brian Hampton with 11. Nine Duncanville players found the scoresheet, but only three contributed more than four points.
Game 5: North Crowley 63, Houston Klein Forest 53.
North Crowley relied on its depth to outlast Klein Forest in its first-round matchup -- a trait not normally common of a Panther team.
Instead of relying on one superstar to carry the team as it has in the past, North Crowley spread its points out between eight players on it's 15 man roster.
Leading the charge was guard Calvin Ward with a game-high 18 points, followed by Taylor Luster with 10. Four other players scored more than five points in the game.
North Crowley built its lead in the first half, outscoring Klein Forest 34-22, which included an 18-point first quarter. Ward was responsible for 10 of those points in the opening frame.
Klein Forest won the battle of the second half by two points, but it wasn't nearly enough to challenge North Crowley for the lead.
Game 4: No. 33 DeSoto 77, Coppell 39.
Game 3: Richland 64, Garland Naaman Forest 58.
Junior wing Leyton Hammonds tore through the Naaman Forest defense to score 22 points and lead his team into the winners bracket of the Whataburger Tournament.
Hammonds hot hand drew the attention of the Naaman Forest defense, making him a useful decoy in Richand's press break in the second half. The majority of Richland's fourth quarter points came on fast break layups out of the break.
The game was won in the third quarter when Richland was able to double up on Naaman Forest 19-8.
Naaman Forest's Demarcus Holland led his squad in scoring with 21 points. Texas commit Price Ibeh was held in check with just 7 points in the game, the final two on a huge dunk in the fourth quarter.
Game 2: Richardson Berkner 73, Arlington Martin 60
After a hot Berkner start in the first half, including several basket-shaking dunks, Martin made a strong push in the second half, but couldn't overcome a very talented Berkner squad.
Berkner junior forward Kendal Harris led his team in scoring with 21-points, tying Martin's Myles Johnson for the game high.
Berkner dominated the glass, with the vast majority of its points coming inside the paint.
Martin football All-American Devonte Fields was the basketball team's force inside, tallying 13 points of his own.
Game 1: Plano West 70, Fort Worth Arlington Heights 60 (3OT)
It took two desperation 3's from Fort Worth Arlington Heights to push the game into overtime and then a second overtime, but Plano West capitalized on turnovers in the third extra frame to put away the Yellowjackets.
Height's Travis Williams received a dish off a rebound with seconds remaining in regulation and drilled a 3-pointer to give his team extra life in overtime. The game then seemed out of reach a gain as the clock ticked away in the first overtime period, but Hight's Marshall Calvin swished a circus shot from behind the arch to force a third overtime.
In the end, West's defense was too much for Heights to handle after three extra periods of basketball, especially when Heights only had five players put up points in the game.
West struggled through regulation to contain Heights small but elusive point guard Harrison Wagner who slashed through the lane for a game-high 31 points.
Plano West's point production was split between forwards T.J. Cline and Holt Harmon, who dominated the post game for 19 points a piece.
November, 2, 2011
11/02/11
6:01
PM CT
ARLINGTON, Texas – District 4-5A, containing mostly Arlington ISD schools, has been surprisingly competitive this season.
Teams such as Arlington and Arlington Lamar have silently made moves throughout district play to be in a position to take the district title with one game left in the regular season.
Also in the three-way tie of 5-1 teams is a perennial mainstay Arlington Martin squad which can claim its second district title in as many years with a win over Fort Worth Paschal on Thursday, coupled with an Arlington loss to Arlington Bowie.
Martin already has sealed the Division I No. 1 seed and broke the school record for most wins in a season with nine.
"We'll try to go out and take care of our business and we'll be a fan and watch what happens Friday night," Martin coach Bob Wager said. "Certainly, we would like to repeat as district champion but the prize that comes around Christmas time is what we are looking for."
Martin is also celebrating its second year sending a player to the Under Armor All-American Game after standout defensive end Devonte Fields was given his All-American jersey Tuesday.
Click here for an in-depth feature
from ESPN Recruiting
on Fields , a TCU commit, and his selection to the All-American Game.
September, 26, 2011
9/26/11
6:33
PM CT
Saturday's halftime was all too short for Arlington Bowie's coaching staff.
After the Volunteers (2-2, 0-1 District 4-5A) lost both of their quarterbacks to injury in the first half, coach Kenny Perry said his staff had to draw up a completely new offense for the second half during the brief time before the third quarter started.
[+] Enlarge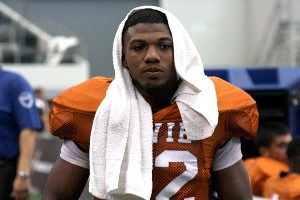 Travis L. Brown/ESPNDallas.comArlington Bowie running back Russell Hansbrough may be pressed into quarterback duties because of injuries.
Bowie will be forced to run that same offense Friday against Arlington Sam Houston, but -- not that it's any consolation -- the Vols will have an entire week to game plan running backs Blake Bradford and Russell Hansbrough into the quarterback position.
In the first quarter of Saturday's 39-22 loss to Arlington Martin, Bowie starting quarterback Kolby Listenbee was forced out of the game with concussion-like symptoms after taking a hit from future TCU teammate Devonte Fields.
Perry said after the game he was fairly certain Listenbee would be unable to go Friday.
In the second quarter, backup Keaton Perry suffered what was believed to be a torn meniscus. After the game, Kenny Perry said he believed the injury would end his son's season.
The loss of Listenbee also affects the special teams, as he is Bowie's punter.
Hansbrough, the team's starting running back, has no previous experience at quarterback. Bradford may have had limited experience at quarterback his freshman year three years ago, Perry said.
Bowie also lost starting offensive lineman Demonte Hood to a knee injury for the majority of Saturday's game and his status for Friday is uncertain.
"We're just going to have to practice this week with what we've got," Perry said. "We'll be all right."
Euless Trinity QB Kautai probable for Week 5
Euless Trinity quarterback Kailahi Kautai will probably see his first action since the third game of the season Thursday against rival Hurst L.D. Bell, coach Steve Lineweaver said Friday after the Trojans' Week 4 win over Colleyville Heritage.
Kautai went down in Trinity's district opener against Richland and has not seen the field the last two games. Lineweaver said Kautai could have played against Heritage but he did not want to risk losing him for the remainder of the season.
A pair of players, the more proficient passer Joel Sullivan and the athletic option runner Matt Hawkins, have filled in at quarterback for third-ranked Trinity (5-0, 3-0 District 6-5A).
"We like both of them and really went by feel," Lineweaver said.
Before Kautai's injury, Hawkins was not on the quarterback depth chart, but he was moved over from the defensive side of the ball to help fill the void. Hawkins had some previous quarterback experience at the JV level.
September, 24, 2011
9/24/11
11:33
PM CT
ARLINGTON, Texas -- After the conclusion of the Arlington Bowie-Arlington Martin game Saturday, anyone associated with Bowie had to leave Cravens Field with a horrible taste in his mouth and a strong desire for a mulligan.
In a game that potentially put the District 4-5A title on the line -- not to mention city bragging rights -- Bowie lost starting quarterback Kolby Listenbee and backup Keaton Perry to injuries, leading to Martin's 39-22 blowout.
[+] Enlarge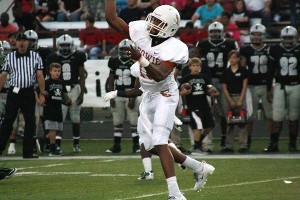 Travis L. Brown/ESPNDallas.comArlington Bowie starting quarterback Kolby Listenbee got knocked out of the game with concussion-like symptoms.
Bowie was forced to go to a quarterback by volunteer system, favoring backup running back Blake Bradford under center. Bowie head coach Kenny Perry said he thought Bradford may have taken a few snaps as a freshman, three years ago.
"When you lose both your guys it's just a shame, because I thought it was a totally different game," Perry said.
Bowie gained the momentum early after a 59-yard touchdown pass from Listenbee to DJ White on the Vols' first possession of the game.
In the second, Listenbee ran a quarterback draw up the middle but was met with a punishing blow from Martin defensive tackle Devonte Fields that sent him to the sideline for the remainder of the game with concussion-like symptoms.
Ironically, knocking out Listenbee helped Fields and Martin on Saturday, but it might stir up a little bad blood next year when the two are teammates at TCU. However, it wasn't something that bugged Fields in the slightest.
"We ain't teammates yet, so I have a job to do," Fields said.
Backup quarterback Keaton Perry, the head coach's son, entered -- but not for long.
He was hit around four minutes later and suffered what trainers believed was a torn meniscus, which would end his season.
Perry attempted a courageous comeback effort in the opening minutes of the second half, but quickly threw two interceptions that both would result in Martin touchdowns.
A deflated Bowie team cued the beginning of the show for Martin's two-headed running extravaganza of Kyle Hicks and Cameron Williams.
Hicks, a junior, was the main attraction, running for two touchdowns and 141 yards, followed by Williams with 64 yards and a touchdown of his own.
Both backs alternated throughout the game -- Hicks with just two more touches -- but neither back gave the other any competitive trash-talking in the spirit of fun.
"It's not really a competition, but we like to do better than each other," Williams said with a smile. "It's not like that though -- just brotherly love. You block for me and I'll block for you."
The win gives Martin fans the right to be the pride of Arlington for a year but leaves Bowie fans scratching their heads and wondering what could have been.
"I'm proud of the way our kids played. We played hard and didn't give up. Injuries are a part of the game and we're going to go on," Kenny Perry said.
June, 15, 2011
6/15/11
9:07
AM CT
By
Randy Jennings
| ESPNDallas.com
FORT WORTH -- TCU commit Devonte Fields' best position is said to be defensive end, but the Arlington Martin senior showed he can also be a force as a receiver.

An acrobatic catch by Fields in the left corner of the end zone spurred Arlington Martin to a 20-11 victory over Aledo in the championship game of the Red Bull 7-on-7 Game Breakers Fort Worth Qualifier on Tuesday night at O.D. Wyatt High School.

"To make that kind of catch, it takes both strong hands and being a good jumper,'' Fields said. "It doesn't surprise me that we won this tournament. We work harder than anybody else. We deserve it.''

As the top two finishers in a 17-team field, Martin and Aledo became the eighth and ninth to qualify for the Red Bull Game Breakers National Finals on July 15-16 at SMU's Gerald J. Ford Stadium.

Quarterback Brodie Lambert credited the defense for Martin's 5-0 run through the bracket.

"I think it took three games today before a team scored a touchdown on our defense,'' Lambert said. "Those guys played great all day.''

The first 7-on-7 appearance this summer by senior running back Johnathan Gray, a Texas commit, helped Aledo (4-2) reach the finals.

"I was involved in track and then I took a little break,'' Gray said. "It's great to be out here with my teammates. I love catching the ball out of the backfield.''

Aledo jumped to an early lead in the championship game on a Matthew Bishop touchdown pass. Martin caught up just before halftime and its defense held the two-time Class 4A Division II state champions without a touchdown in the second half.

North Richland Hills Richland settled for third place, falling to Aledo in overtime on a Bishop hookup to Devan Watts for the winning touchdown.

Denton Guyer, last year's Class 4A Division I state runner-up, finished fourth.

After losing its opening game, Arlington Lamar put together a streak of four straight wins in the afternoon heat before being ousted by Aledo in a consolation quarterfinal. Lamar tied for fifth with Fort Worth Southwest.