High School:

District 11-4A
February, 16, 2012
2/16/12
1:14
AM CT
DALLAS -- A large and loud South Oak Cliff (26-6, 14-0) crowd showed up at Sprague Field House on Wednesday to cheer its team on to a 77-74 win over rival and host Dallas Kimball (25-5, 11-2) for the District 11-4A title, SOC's first since 2008.
"We worked too hard to get to this point and let go," SOC guard Dennis Jones said. "We wanted to come out with the win and be district champs and go into the playoffs on a good note."
[+] Enlarge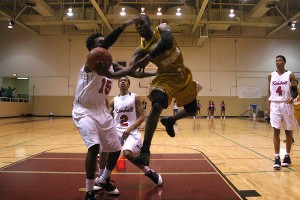 Travis L. Brown/ESPN.comSouth Oak Cliff won its first district title since 2008 and will face Bryan Adams in the bi-district round of the 4A playoffs.
In a game that remained close until the final buzzer, Jones took over in the final minute, scoring four of his team's final five points to secure the win.
With 56 seconds remaining, Jones was fouled on a jump shot and hit both free throws to put his team up 74-71.
"We practice pressure free throws every day in practice," Jones said. "We try to simulate game situations. My team put me in the right situation to do that, and I knocked the free throws down -- just like practice."
Kimball standout Keith Frazier was fouled shooting behind the arc on the next possession, but only managed one of the three charity shots.
Jones turned on the jets after the SOC rebound on the final free throw and went the distance of the court to finish a layup that put his team up 76-74.
"I was looking for one of my teammates to see if they were open and they kept jumping in front of me and trying to rip me from the crossover, so I just took it to the rack strong," Jones said.
Forward Bradley Umoru hit one free throw in the final seconds for SOC's final point.
A 6-0 run early in the second quarter gave SOC a lead that wouldn't fall below a tie score for the remainder of the game.
Emotions ran high for both teams in the first half with two technical fouls were handed out for post-whistle activities and taunting.
Halftime adjustments by SOC coach James Mays II settled his players into their game, rather than playing on emotion and what Kimball was giving them.
"I told them that Kimball was going to make a run," Mays said. "That lead we had at half wasn't going to hold. We had to block out and Keith was going to get his points. We just had to make him work hard and hopefully, at the end, he would start missing some, and he missed some down the stretch, so that helped."
SOC will play Dallas Bryan Adams in the bi-district round of the 4A playoffs, which begin Monday. Kimball will face longtime rival Dallas Lincoln in the first round.
In the end, SOC put its claim on the field house in Kimball's back yard, continuing a history of success at Sprague.
"This is old school for us," Mays said. "We played a lot of big games in this gym. We never had a problem playing here. Once our crowd gets in it boosts us."
October, 25, 2011
10/25/11
4:15
PM CT
Dallas Molina looks like it's headed to the postseason for the first time since 2007 after its dramatic victory over Dallas Carter last week.

Molina (6-2, 4-1 in District 11-4A) trailed by a touchdown before scoring 10 points in the fourth quarter en route to a 10-7 win. Matthew Dominguez's 33-yard field goal late in the final frame sealed the win.

Thomas Hughes scored Molina's only touchdown in the game, adding to what's been a stellar junior season for the running back.

He's rushed for 1,022 yards and nine touchdowns, leading a Molina backfield that has five rushers with more than 40 attempts on the season. The Jaguars have thrown the ball just 26 times all year.

Traditionally a 5A school, Molina benefited from dropping down to 4A in this realignment cycle.

The Jaguars went 0-10 in 2008, a year after making the playoffs, but they returned to respectability in 2010 by going 5-5 in its first year in 4A.

Aside from a Zero Week loss to Wilmer-Hutchins, the Jaguars have been strong, losing only to undefeated South Oak Cliff.

Molina has a tough schedule to close the year. It hosts Dallas Kimball (6-2, 3-2) on Thursday before wrapping up with Seagoville (6-2, 5-0).
October, 18, 2011
10/18/11
6:00
PM CT
This is about where things started falling apart for Dallas Seagoville last year.

The Dragons were 6-1 heading into their last three games but lost all three by less than a touchdown and then fell to Dallas Hillcrest in their first playoff game by one point.

This year, Seagoville (5-2, 4-0) looks strong again heading into those same three games, and its power running game gives the Dragons reason to think they can finish strong in 2011.

The team averages 244 rushing yards per game, making it one of the best in the area, and it has four running backs with more than 300 yards rushing on the year.

But Seagoville's issues run beyond last year. The Dragons are 1-9 in the last five years against their next two opponents -- Dallas Kimball and South Oak Cliff.

Seagoville is entering what is easily the toughest part of the schedule this year. Its previous four district opponents are a combined 2-14 in 11-4A play. Its next three opponents -- Kimball, South Oak Cliff and Dallas Molina -- are 10-2 in 11-4A.

With the gap between top four and the bottom four so large in the district, Seagoville could afford to drop some or even all of these games and still make the playoffs, but getting a win -- particularly over one of the two teams its struggled mightily against -- would go a long way toward building momentum heading into the postseason.
September, 30, 2011
9/30/11
11:28
PM CT
By
Randy Jennings
| ESPNDallas.com
DALLAS -- It took two pressure-packed fourth-down conversions by quarterback Jevone Valentine on the winning drive for Dallas South Oak Cliff to squeeze past rival Dallas Kimball, 29-26, Friday night in a game loaded with lead changes at Sprague Stadium.

Valentine first dialed up Kemonte Tompkins for 25 yards on a crossing route facing fourth-and-11 at the Kimball 45.

Then the quarterback, who appears much smaller than his program listing of 5-11 and 175 pounds, connected with running back Paul Franklin on a wheel route for 15 yards to convert a fourth-and-8. Franklin carried over from the 3 on the next play for the winning points with 2:30 to go.

"That was just execution,'' Valentine said amid the jubilation on the South Oak Cliff sideline afterward. "On the first pass, I read the safety and knew the man over the middle would be open. On the throw to Franklin, he was matched up with their defensive end in coverage and all I had to do was let him go get it.''

South Oak Cliff coach Kendall Miller was not surprised with his quarterback's cool play under fire.

"He's been that way all year,'' Miller said. "He's not big, but he is tough as nails.''

For the winning points, South Oak Cliff (5-0, 2-0) drove 44 yards in nine plays to wipe out a 26-21 deficit. The Golden Bears, No. 10 in ESPNDallas.com Class 4A rankings, got revenge against the only team that they lost to in the 2010 regular season.

"It feels great to beat them,'' said Valentine. "We never gave up. The defense got stops when we needed them and the offense took advantage.''

Valentine finished with 150 rushing yards and two scores on 20 carries and completed 15-of-27 passes for 220 yards.

"Kimball was keying on Franklin and I can't blame them, he's the best running back I've coached,'' Miller said. "That opened the runs for Valentine.''

Kimball (4-1, 1-1), ranked No. 9, drove from its 33 to the South Oak Cliff 35 in the final minute, but stalled on four straight incomplete passes.

There were seven lead changes in the game.

Kimball took a 26-21 lead with 10 minutes to go on a 6-yard touchdown run by Teriyon Gipson, his second touchdown of the night.

Knights quarterback Jaalen Adkins threw touchdown passes of 6 and 17 yards to Prentavious Moorehead. Adkins was 17-of-36 for 214 yards. Gipson rushed for 134 yards on 25 carries.

"In a game like that, you hate to see either team lose,'' Miller said.
September, 13, 2011
9/13/11
7:00
PM CT
Dallas South Oak Cliff heads into its bye week with a perfect 3-0 record. When the Golden Bears return to action, that record will be seriously tested.

South Oak Cliff opens District 11-4A play against Dallas Carter (0-3) on Sept. 22 and Dallas Kimball (3-0) on Sept. 30. Those two games will likely go a long way toward deciding the 11-4A champion.

But the Golden Bears have looked solid so far. Running back Paul Franklin has 379 yards and five touchdowns while quarterback Jevone Valentine looks like a viable dual-threat, rushing for 247 yards while passing for 412.

SOC's most impressive win came two weeks ago against a scrappy Forney team.

With the Bears trailing by a touchdown in the third quarter, Franklin popped off a 46-yard touchdown run to tie it. In the fourth, the defense pulled down an interception with Forney in the red zone, and Valentine hit Corey Callicutt for an 84-yard touchdown on the ensuing drive, giving South Oak Cliff a 28-21 win.

The Golden Bears also defeated Fort Worth Dunbar (26-13) and Dallas Roosevelt (30-8).
August, 24, 2011
8/24/11
12:01
AM CT
DISTRICT 11-4A
Dallas Adamson (3-7, 0-7). Coach: Josh Ragsdale.
Dallas Carter (6-6, 5-2), lost in DI area. Coach: Scott Jackson.
Dallas Kimball (9-3, 6-1), lost in DI area. Coach: Carlton Nelson.
Dallas Molina (5-5, 2-5). Coach: Charles Deville.
Dallas Pinkston (4-6, 2-5). Coach: Gerald Jones.
Seagoville (6-5, 4-3), lost in DII bi-district. Coach: Andy Gutierrez.
Dallas South Oak Cliff (10-2, 6-1), lost in DII area. Coach: Kendall Miller.
North Dallas (5-5, 3-4). Coach: Brad Peirson.
THE BIG QUESTION: Will the Kimball's bout with South Oak Cliff on Sept. 30 decide the 11-4A title?
After strong showings in 2010, Kimball and South Oak Cliff are the favorites to win District 11-4A. And in a district without much depth, upsets will be few and far between.
That places a huge emphasis on Kimball and South Oak Cliff's game Sept. 30 at Sprague Stadium.
After missing the playoffs in 2009, Kimball stormed back into the postseason behind its class of 2013, a loaded group that shouldn't have any problem getting Kimball back into the playoffs as juniors.
South Oak Cliff regularly produces some of the best athletes in the area. This year's batch includes a workhorse running back in Paul Franklin and six returning starters on defense, making the Golden Bears a threat yet again.
The one wild card in the district may be Carter. The storied Cowboys return 11 starters from a young team that rebounded from a rough start to finish third in the district in 2010.
PLAYERS TO WATCH
RB Qwaii Clark, QB Frank Mata, QB Keith Jackson, Adamson; QB Eddie Parrish, RB Jordan Griffin, DE Courtney Arnick, Carter; DE Andre Carter, QB Traveon Thibodeaux, RB Teriyon Gipson, Kimball; QB Miguel Ortiga, RB Shaquille Jones, WR Jacob Sandoval, Molina; WR Devonte Green, QB Roland Hyder, LB Trevon Roy, Pinkston; RB Kaillion Hughey, RB Dontrail Russell, WR Ashton Rosebud, Seagoville; RB Paul Franklin, WR Corey Callicut, QB Jevon Valentine, South Oak Cliff; WR Sean Miles, QB Jesse Garcia, RB John Jones, North Dallas.
DID YOU KNOW?
Only two of the teams that made the playoffs in 2009 made it in 2010 -- South Oak Cliff and Carter. … Scott Jackson steps in as head coach of Carter for the departed Allen Wilson. … Kimball DT Justin Manning is the younger brother of former Kimball standout DeMarcus Granger. The junior will likely be highly recruited in 2013.
PROJECTED PLAYOFF TEAMS
Kimball
South Oak Cliff
Carter
Seagoville
January, 22, 2011
1/22/11
9:18
PM CT
DALLAS -- Royce Johnson, head coach of ESPNDallas.com Class 4A No. 1 Dallas Kimball, believes the top team out of the DISD will be the favorite to make it to the state championship game.
On Saturday, his team took another huge step in being the best in town by eking out a close win over District 11-4A rival South Oak Cliff, 59-55.
[+] Enlarge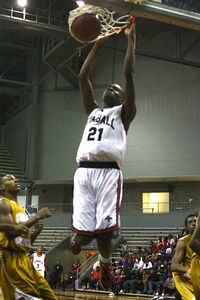 Travis L. Brown/ESPNDallas.comKimball's Jordan Williams shared game-high honors with 15 points in a win over South Oak Cliff.
No. 9 South Oak Cliff had a chance to take the lead with 15 seconds left in the game and trailing by one. But Kimball's Jalen Jones came up huge with a block, sealing the game for the Knights.
"I knew that everyone was going to crash the boards," Jones said. "The main thing was if I could get the rebound or try and get the block. It really gave us a boost and really sealed the victory for us."
Jones was one of two high scorers for his team and for the game, tying Jordan Williams with 15. Right behind was teammate Jarion Henry with 14.
Kimball passed the eye test during the game, with bigger, more athletic players on the court. However, speedy SOC guard Christopher Hyder and his teammates were able to capitalize off of many Kimball turnovers, keeping the Bears in the game.
Johnson said he believes the turnovers came from his team putting unneccesary pressure on itself and trying to win by a large margin to look attractive to national pollsters.
"The kids think you have to beat people by a certain number, and we'll fix that," Johnson said. "I think we did the things we're supposed to do to build a lead up to a 10-point game and then we started getting more conscious on trying to push the score up instead of just being smart."
Kimball also struggled with its outside shot but elected to stick with it. Johnson said that with the talent he has, he can't blame his players for wanting to keep shooting.
"They recognized that we were off a little bit and they kept giving it to us," Johnson said. "It's hard for me to tell the jump shooters that we've got that they aren't going to hit the next one. I'm with them. They've bailed me out sometimes and we're just going to bail each other out."
Kimball (24-1) moved to 7-0 in the district and handed SOC (13-6, 6-1 in district) its first league loss of the season.
"It's a rivalry in the district and always has been a rivalry," Johnson said.
October, 18, 2010
10/18/10
8:14
PM CT
A year removed from a 2-8 season, Seagoville is making a surprise run at the District 11-4A title.
Seagoville (6-1, 4-0) took sole possession of first place after an overtime win over Dallas Pinkston and Dallas Kimball's loss to Dallas Carter.
Trailing 27-21 late in the fourth quarter, Seagoville forced a turnover on downs with Pinkston nearing the red zone, and
Erick Evans
scored with 1:15 left in the game to tie the score before the extra point attempt failed.
Evans scored on a 26-yard run in overtime to give Seagoville the win. He finished with 145 yards and three touchdowns.
Evans and the running game have been the catalyst for the Dragons all year. Evans leads the team in rushing with 751 yards and 14 touchdowns, but Kaillion Hughey (710 yards, five touchdowns), quarterback Kelton Coleman (595 yards, 13 touchdowns) and Dontrail Russell (488 yards, five touchdowns) give Seagoville plenty of options.
The offense averages 46.4 points per game.
Seagoville has hardly wrapped up the 11-4A title though. It plays Kimball (5-2, 3-1) on Friday and Dallas South Oak Cliff (6-1, 3-1) the week after.
October, 16, 2010
10/16/10
5:53
PM CT
DALLAS -- The struggling Carter Cowboys (2-5, 2-2 in District 11-4A) did not struggle at all Saturday, taking home the James Jones Trophy for beating the Kimball Knights (5-2, 3-1), 14-0, at Kincaide Stadium.
[+] Enlarge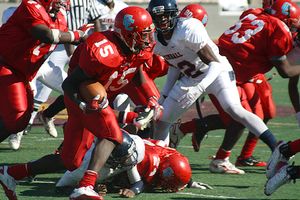 Travis L. Brown/ESPNDallas.comTerry Bailey was one of three Dallas Carter running backs to lead the team with 32 yards rushing.
The Cowboys defense swarmed, sacking the Kimball quarterbacks 15 times in the game, eight in the first half. Kimball was held to only 53 yards of total offense, mostly due to the --63 yards rushing of quarterback Treveon Thibodeaux.
"We've been talking to them all year about playing up-tempo defensively and we haven't got that done," Carter head coach Allen Wilson said. "For some reason, the light came on today and they went back there and made some plays."
The game remained scoreless until just before halftime when Carter running back D'Cardio Cottonham ran the ball 1 yard into the end zone to cap a 53-yard drive. Cottonham was one of three runners for the Cowboys to lead the team in rushing yards with 32.
"It felt good to do it for my team and our fans because everyone was doubting us so we had to pull it together and win this game," Cottonham said.
The scoring play was set up by a great one-handed catch from Courtney Arnick on fourth down and 4.
The other touchdown came in the third quarter off a 3-yard run by Louis Cummings through the middle of the Knights defense.
October, 5, 2010
10/05/10
5:21
PM CT
Dallas Kimball upset the balance of power in District 11-4A with its 23-14 win over Dallas South Oak Cliff last week.

With Dallas Carter (1-4, 1-1 in 11-4A) struggling, South Oak Cliff (4-1, 1-1) looked poised to not only win the district, but possibly go undefeated on the season.

Kimball (4-1, 2-0) put an end to that thought by forcing four Golden Bear turnovers, including Joshua Matthews' recovered fumble in the end zone in the fourth quarter to put the game out of reach.

Traveon Thibodeaux has been solid at quarterback for Kimball. He's completing 65 percent of his passes and has 14 touchdowns to just two interceptions. His favorite targets – Austin Franklin and Xzavier Alexander – each have 23 receptions.

Seagoville (4-1, 2-0) is the only other remaining undefeated team in the district.

Kimball still has a tough road to the district title. It plays Carter on Oct. 16 and Seagoville on Oct. 22.
September, 27, 2010
9/27/10
8:25
PM CT
Dallas South Oak Cliff seized early control of District 11-4A with a 33-20 win over Dallas Carter last week.

The sixth-ranked Golden Bears (4-0, 1-0 in 11-4A) pulled away from Carter in the third quarter when Barron Perry scored from 2 yards out. Quarterback Semaj Riley, who rushed for three scores, added an insurance touchdown in the fourth quarter.

Carter (0-4, 0-1 in 11-4A) was considered South Oak Cliff's biggest threat in 11-4A coming into the year, but the Cowboys have struggled mightily with a young roster and are still looking for their first win.

The win over Carter makes 11-4A South Oak Cliff's to lose, although four teams with winning records – Dallas Molina, Dallas Kimball, Dallas Seagoville and Dallas Adamson – remain on its schedule.

South Oak Cliff plays rival Kimball (3-1, 1-0 in 11-4A) on Friday at Kincaide Stadium.

August, 23, 2010
8/23/10
10:32
PM CT
DISTRICT 11-4A
Dallas Adamson (4-7, 3-4 in 11-4A) lost in DII bi-district. Coach: Josh Ragsdale
Dallas Carter (9-3, 7-0 in 11-4A) lost in DI area. Coach: Allen Wilson
Dallas Kimball (3-6, 3-4 in 11-4A). Coach: Carlton Nelson
Dallas Molina (1-9, 1-6 in 9-5A). Coach: Charles Deville
Dallas Pinkston (5-6, 4-3 in 11-4A) lost in DII bi-district. Coach: Gerald Jones
Seagoville (2-8, 2-5 in 11-4A). Coach: Norman Thompson
Dallas South Oak Cliff (9-3, 6-1 in 11-4A) lost in DI area. Coach: Kendall Miller
North Dallas (3-7, 1-6 in 11-4A). Coach: Meredith Hamilton
THE BIG QUESTION: Can a young Dallas Carter team reload quickly enough to compete in 2010?
With a storied program that regularly produces NFL players, the Carter Cowboys never lack talent, but with few experienced seniors, the team will have to rely on young talent in 2010.
Returning just five starters, Carter has to find a new QB among candidates Jordan Jackson and Eddie Parrish and fill crucial holes along the offensive line.
The youth movement could open the door for rivals Dallas South Oak Cliff and Dallas Kimball to compete for the 11-4A title, keeping Carter from winning the district crown for the first time since dropping to 4A two years ago.
South Oak Cliff has the best shot at unseating Carter as it returns the bulk the team that went 9-3 in 2009 and continues to blossom under head coach Kendall Miller.
While Kimball is coming off a dismal 3-6 season plagued with off-the-field issues, key players return for new head coach Carlton Nelson, who looks to get the Knights back in the playoffs.
PLAYERS TO WATCH
South Oak Cliff QB Semaj Riley and RB
Barron Perry
comprise what may be the best backfield in the district. … Kimball DT Isiah Norton is committed to Baylor. … North Dallas RB Geremy Alridge returns after rushing for 1,062 yards and 13 touchdowns in 2009.
DID YOU KNOW?
After playing powerhouses Garland, Dallas Skyline and Tyler Lee in nondistrict over the past few years, Kimball has toned down its nondistrict schedule in 2010, playing Dallas Bryan Adams, Dallas Madison and Dallas Lincoln. … Josh Ragsdale is the new head coach at Adamson after serving as defensive coordinator for the past three seasons. … Dallas Molina drops down from 5A in 2010.
PROJECTED PLAYOFF TEAMS
South Oak Cliff
Carter
Kimball
Pinkston
February, 8, 2010
2/08/10
1:25
PM CT
The girls basketball playoff picture has cleared up with only one game remaining in the regular season, with most teams playing the finales Tuesday or Wednesday night.

In District 9-5A, Skyline, ranked No. 2 in Class 5A by the Texas Association of Basketball Coaches poll, has already locked up first place with a 27-2 record overall and 13-0 run through the district. The Lady Raiders can finish off an undefeated run with a victory over Carrollton Creekview (19-12, 10-3) Tuesday at 8 p.m. in Forester Field House.

Creekview is currently tied for second with Richardson (20-9, 10-3) and must not only hope to upset Skyline to finish alone in second, but also that Molina (0-29, 0-13) can get its first victory of the season to kick the Lady Eagles down to third. If Creekview and Richardson end up tied, they can either play a game to decide their playoff seeding or flip a coin.

The 9-5A run has seen dramatically different results for the two teams battling for the final playoff spot -- Lake Highlands (8-16, 7-6) and Richardson Berkner (13-7, 6-7). Berkner dominated play outside of district but is below .500 in 9-5A, while Lake Highlands struggled outside the district but is slightly above .500 in league. Berkner travels to Sunset (9-19, 4-9) Tuesday and Lake Highlands plays host to W.T. White (7-21, 2-11). If Lake Highlands wins the game, it wins the fourth playoff spot, too.

Naaman Forest finishes first in 10-5A

In District 10-5A, Garland Naaman Forest (22-10, 10-1) has won the district title, and both Garland (19-11, 9-3), which has already finished its district schedule, and Sachse (15-12, 8-3) have shored up playoff spots. The final spot comes down to South Garland (14-14, 4-7), Garland Lakeview Centennial (13-14, 4-7) and Rowlett (7-21, 4-7). The edge here appears to go to Lakeview, as the Lady Patriots travel to North Garland (1-21, 0-11), while South Garland and Rowlett both take on playoff teams -- Naaman Forest and Sachse, respectively.

Four 10-4A playoff teams locked in

All four playoff teams in 10-4A are set, with only third and fourth place still to be settled. Rockwall (30-4, 13-0), ranked No. 3 in Class 4A by the TABC, can finish an undefeated district run with a victory at home over Greenville (14-9, 8-5). Rockwall-Heath (20-7, 11-2) can do no better than second, while Greenville is hoping for an upset over the Lady Yellow Jackets to wrest third-place away from Highland Park (16-13, 8-5). The Lady Scots also have their work cut out for them, as they travel to Heath.

Greenville and Highland Park split their district meetings, so if they both lose or both win on Tuesday, they will play a play-in game for the higher seed in the playoffs at a site and time to be determined.

Final 11-4A berth on line Thursday

Carter (17-6, 12-1) has already won the 11-4A title, South Oak Cliff (13-11, 10-3) will finish second, but the last two playoff spots are still up in the air with Seagoville (11-17, 8-5) currently in third, while Kimball (16-10, 7-6) and A. Maceo Smith (11-16, 7-6) are tied for fourth.

Seagoville, which plays Pinkston (5-19, 4-9), can finish no worse than a third-place tie, since Kimball and Smith face off Thursday night. The winner of that game is in the playoffs, and the loser stays home.

Share of district title in 12-4A still on line

Lincoln (17-3, 11-0) has lived up to its 12th-ranking in the TABC Class 4A poll, running through the 12-4A season unblemished, but the Lady Tigers have not won sole ownership of the district title just yet. They take on second-place Hillcrest (25-4, 10-1) on Wednesday at 6 p.m. at Loos Field House.

Elsewhere in the district, Woodrow Wilson (18-9, 5-6) and Samuell (16-11, 5-6) are tied for third and must both win on Wednesday -- Samuell at home against Thomas Jefferson (4-17, 0-11) and Woodrow in Cobb Field House against Conrad (10-14, 3-8) -- to avoid falling into a tie with Bryan Adams (12-13, 5-7) for the final playoff spot. The Lady Cougars have already concluded their district schedule.