High School:

Empress Davenport
March, 4, 2012
3/04/12
12:35
AM CT
AUSTIN, Texas -- The Duncanville girls basketball team lived up to its coach's expectations Saturday in the 5A state championship.
Duncanville jumped to a huge lead early and routed Spring Dekaney 69-31 for its seventh state title.
[+] Enlarge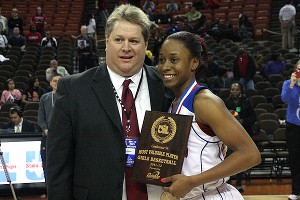 Travis L. Brown for ESPNDallas.comEmpress Davenport was named MVP after piling up 17 points, three rebounds and three assists.
"This team doesn't worry me," Duncanville coach Cathy Self-Morgan said. "They make the right choices and they'll celebrate with character tonight and do right."
Duncanville (40-1) began the game on a 19-1 run and ended the first quarter with a 24-3 lead over Dekaney (39-2), which was held without a field goal in the opening frame.
The second was no better for Dekaney, which saw its shooting percentage sit at 5.9 percent while Duncanville shot just over .500.
Dekaney simply couldn't find an open shot against Duncanville's inspired full-court man defense, which forced 14 turnovers in the first quarter, including seven off steals. For the game, Duncanville converted 22 Dekaney turnovers into 22 points.
"We played as a team from start to finish and we played with heart and didn't want to give up, and we got it," Duncanville guard Empress Davenport said.
Davenport was quick to say the final score surprised her, but she'll definitely take the win and the state championship on the floor of her future home as a Texas Longhorn.
Davenport had 17 points, three rebounds and three assists and was named MVP, but the award could have gone to any number of Duncanville players.
Tasia Foman scored a game-high 21 points -- 18 of which came from 3-pointers -- and pulled down six rebounds. Morgan Bolton added 12 points, but she did most of her damage flying into the paint for seven rebounds despite her 5-foot-6 frame. Bolton also initiated the highlight of the game when she dished a behind-the-back pass to Davenport, who finished the layup and drew a foul.
"I think my whole team deserves a trophy because we played as a team and got it done," Davenport said.
Duncanville increased its record for most 5A state titles with No. 7. However, this team did it differently than most of Self-Morgan's past teams, which relied on tall post players to dominate the paint.
When the buzzer sounded at the Erwin Center on Saturday, this group of guards that turned into a coach's dream completed a magical season in what amounted to an extraordinary way.
"I love this team," Self-Morgan said.
February, 18, 2010
2/18/10
11:53
PM CT
By
Randy Jennings
| ESPNDallas.com
ARLINGTON -- Sue Cannon expressed the thought of many area girls basketball coaches.

"Every time we're in the playoffs,'' the Euless Trinity coach said as her players filed out of the locker room, "we always have to play Duncanville.

"I'm sick of losing to Duncanville.''

Cannon's frustration is understandable following a 59-49 season-ending loss to the Pantherettes in the area round of the Class 5A Region I area playoff game Thursday night at Arlington Sam Houston High School.

Trinity went 0-3 against Duncanville this season and 31-2 against everybody else.

Duncanville has ended Trinity's playoff hopes on two other occasions in the last eight years: 2008 in a regional quarterfinal and 2003 in a regional final.

Duncanville, 67 times a girls basketball district champion, had to settle for third in District 7-5A this season. But as its 33-3 record indicates, the tradition-rich program is still to be avoided in the playoffs. Its last two postseason appearances netted berths in Region I finals.

Depth made the difference in the fourth quarter against Trinity.

"I tried to rest 'em to make sure we were fresh,'' Duncanville coach Cathy Self-Morgan said.

It is a luxury teams with a lesser bench cannot afford.

Guard Empress Davenport led a balanced Duncanville attack with 15 points. Backcourt mate Ashley Roberts and post Bunny Williams each scored 13 and forward Akil Simpson had 10.

Said Cannon: "I think at the end we were tired. In hindsight, maybe it would have been better to slow down more and run our offense. Duncanville is just so quick, so athletic.''

Tempo was no problem in the first half when Trinity, the District 5-5A champion, led my as many as seven points. Its advantage was four points at halftime.

Duncanville, six times a state champion (most recently in 2003), took control during a four-minute Trinity scoreless stretch midway in the second half. The Pantherettes were solid in their delay game and at the free throw line in the final minutes, withstanding a couple of 3-point baskets by leading Trinity scorer Nikki Moody (21 points).

Duncanville advances to the regional quarterfinal round to meet the winner of Friday's Irving MacArthur-Lewisville area-round game. MacArthur, the 7-5A champion, swept Duncanville in the season series.