High School:

fort bend hightower
December, 17, 2011
12/17/11
9:17
PM CT
By
Randy Jennings
| ESPNDallas.com
ARLINGTON, Texas -- It is like old times for Southlake Carroll.
The Dragons are on top of the Texas high school football world again after defeating Fort Bend Hightower, 36-29, in the Class 5A Division I state championship game Saturday evening before 42,822 at Cowboys Stadium.
[+] Enlarge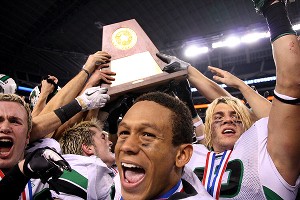 Travis L. Brown/ESPNDallas.com Southlake Carroll raised a football state championship trophy for the eighth time, tying Celina for the Texas record.
And thanks to the win, Southlake Carroll became the second school in Texas to own eight state championships, tying Celina for the record. Abilene, Brownwood and Plano all have seven.
This Dragons' victory followed a typical pattern throughout the playoffs. They had to come from behind three times against a more athletic team and did it with the
running and passing of junior quarterback Kenny Hill
and a defense led by linebacker Will Davis that came up with two game-changing plays in the second half.
Hill accounted for 345 yards and all four touchdowns. He rushed for 116 yards and two scores and completed 19-of-24 for 229 yards and two more scores.
It was Hill's 6-yard touchdown run with 9:18 remaining that put the Dragons (16-0) ahead for good.
And it was a 7-yard run by Hill on third-and-5 with 1:12 remaining that officially signaled celebration time for Dragon Nation.
Both of Hill's touchdown throws came after Hightower (13-3) had opened its largest lead of 23-14. Hill went to Sabian Holmes for 59 yards on a post route to cut the Hightower lead to 23-21 and went deep middle again for a 25-yard score to Corey Kemp for a 28-23 Carroll lead.
The opportunity for the Hill-to-Kemp score came about because Davis broke through to drop elusive Hightower quarterback Bralon Addison for a loss of 4 yards on fourth down.
After Addison motored 80 yards to put Hightower ahead 29-28, Davis made his second defensive game-changer, pulling the ball out of the arms of receiver Ryan Nelson and then making the recovery of the fumble himself.
Five years without a state title might not be called a slump at most schools, but it wasn't that long ago -- 2002-2006 to be exact -- that Southlake Carroll was reeling off four state titles in a five-year span.
Enter Hal Wasson, who had the difficult task of replacing Todd Dodge as Dragons' head coach.
Wasson said he gave the same advice to Hill, following in a long line of successful quarterbacks, that he applied to himself in following Dodge: "Be yourself.''
Said Wasson: "Nothing has come easy. But the work ethic of these players has personally taught me life lessons.''
December, 15, 2011
12/15/11
11:54
PM CT
Not many expected Southlake Carroll to last long in the 5A Division I bracket.
For one, teams with good running games seemed to gash the Dragons defense, and the region featured plenty of teams with excellent running games.
But over the course of the last six weeks, Carroll's defensive front -- led by Jeff Miller, Matt Watford, Nash Dickey and James Hagerman -- found its game and shut down Cedar Hill, Arlington Martin and Dallas Skyline on the ground. Now Carroll is one win away from the school's eighth state title.
The Dragons play Fort Bend Hightower (13-2) at 4 p.m. Saturday at Cowboys Stadium in the 5A Division I final.
"Those guys have just gotten better," said Carroll head coach Hal Wasson of his defensive line. "They're tougher. They have a nasty mindset. To me, our front has improved more than anybody."
Carroll (15-0) came into the year knowing it had good pieces on defense. Will Davis, a Kansas State commit, lead a seasoned group of linebackers, and Sabian Holmes gave the team's secondary a veteran leader.
But the defensive line didn't return a single starter, and it showed early in the year. Copperas Cove ran for almost 400 yards in Zero Week, an occurrence that repeated itself throughout the regular season.
L.D. Bell put up 300 yards rushing against Carroll. Keller Fossil Ridge ran for 250. Denton Guyer also went over the 300-yard mark.
"We thought last spring we'd have a pretty good [defensive] unit," Wasson said. "We didn't play as well as we'd like to the first three or four games, but I doubt anybody does. They've continued to improve and mature and get better."
Things changed in the playoffs. The defensive line improved, linebackers started swarming to the ball carrier, and teams that looked capable of knocking off the Dragons didn't even come close.
Carroll blew out Cedar Hill, 40-7. The Longhorns barely rushed for 100 yards. Despite having a 1,600-yard rusher in the backfield, Arlington Martin averaged less than 4 yards per carry in a 31-14 loss to the Dragons.
And Carroll's defense isn't just shutting down opposition offenses. It's also making big plays.
Against Dallas Skyline last week, a Carroll lineman tipped a Devante Kincade pass that ended up being intercepted. The Dragons scored a touchdown off the turnover. Carroll forced three Skyline turnovers on downs, including two when Skyline was in the red zone.
So what has allowed Carroll's defensive line to improve so suddenly?
"It's the investment they've made -- the investment in the weight room, the investment in the mindset of all of it, the investment of wanting to get better, the investment in believing in the schemes," Wasson said. "It's a lot of little things, but if you had to use one word it would be investment."
December, 14, 2011
12/14/11
6:04
PM CT
FORT BEND HIGHTOWER (13-2) vs. SOUTHLAKE CARROLL (15-0)
4 p.m. Saturday, Cowboys Stadium
What:
Class 5A Division I state championship game.
When we saw them last:
Southlake Carroll pulled off a stunning comeback against Dallas Skyline, overcoming a 10-point deficit with just 2:26 left in the game to take a 28-24 win. After Carroll cut the deficit to three points, Ray Crockett recovered an onside kick and Kenny Hill scored on a 35-yard run four plays later to win the game. Fort Bend Hightower didn't have as tough a time last week as it mauled San Antonio Madison, 54-35. Beginning in the second quarter, Hightower scored 27 unanswered points en route to the win.
Last state finals appearance:
In 2006, Carroll defeated Austin Westlake 43-29 to cap one of the most dominant seasons in Texas high school football history and wrap up the school's fourth state title in five years. In 2008 -- Hightower's only state finals appearance -- the Hurricanes couldn't stop Allen on fourth down late in the game and lost a nail-biter 21-14.
Key matchup:
The Dragons face another strong running team in Hightower, and it will be up to Carroll's much-improved defensive front to slow down quarterback Bralon Addison and running back Joshua Wilhite, both of whom have well over 1,000 yards rushing. It will be one last test for Carroll's defensive front, which began the year getting diced by Copperas Cove but has finished the year shutting down stellar running teams in Arlington Martin, Cedar Hill and Skyline.
Players to watch:
Carroll receiver Sabian Holmes may have to take on an increased role in the passing game with Peyton Williams out with a knee injury. Ben Sego and Tyler Barnes will also likely get their respective numbers called more. Addison has done it all for Hightower this year. The Texas A&M commit has been efficient in the passing game, throwing 21 touchdowns to just three interceptions, and he leads the team in rushing with more than 8 yards per carry.
Prediction:
Southlake Carroll 28, Fort Bend Hightower 21.
March, 12, 2011
3/12/11
11:05
AM CT
AUSTIN, Texas -- One team runs the floor and presses defensively. The other picks its spots in a half-court offense while it slows the game down on defense.
Garland Lakeview Centennial and Flower Mound Marcus couldn't be much different from each other except in one key aspect -- excellence.
Both teams are making their second consecutive trips to the state tournament, but only one will walk away the champion after the meet in the Class 5A state finals at 8:30 p.m. on Saturday at UT's Frank Erwin Center.
"They play a half-court game. We play an up-tempo full press, so it will be a contrast of styles," Lakeview Centennial head coach Tony Mauldin said.
Marcus (38-1) and Lakeview Centennial (37-1) entered the season as favorites to return to the state tournament because they both returned the core group of players from a year ago.
They didn't disappoint. The Marauders and Patriots each lost just one game during the regular season, Marcus to Converse Judson and Lakeview Arlington Grace Prep.
The two were equally dominant in the playoffs, culminating in
Marcus' smothering of Fort Bend Hightower
and
Lakeview Centennial's offensive explosion against San Antonio Taft
in the state semifinals on Friday.
Division I prospects populate both teams. Marcus junior
Marcus Smart
is a do-everything guard/forward who fuels his team both offensively and defensively with his unwavering hustle and impeccable instincts for the game.
Point guard
Chris Jones
and forward
Toddrick Gotcher
, committed to North Texas and Texas Tech, respectively, give Lakeview Centennial elite scorers on the perimeter and in the paint.
Dallas Kimball seeks Class 4A championship
Dallas Kimball (37-3) hopes to atone for losing in the 2009 state final to Houston Yates when it faces La Marque (33-4) in the Class 4A final at 3:30 p.m. Saturday.
La Marque which boasts one of the top recruits in the state in Texas signee
Julien Lewis
.
Kimball is led
by
Jordan Williams
,
Jalen Jones
and
Jarion Henry
.
March, 11, 2011
3/11/11
6:49
PM CT
(Box score from the UIL)
AUSTIN, Texas -- Fort Bend Hightower tried to wiggle its way out of Flower Mound Marcus' suffocating system in as many ways as possible.
The Hurricanes played zone defense. They played man defense. They tried a full-court press. They tried to push the ball, run the floor and even took Marcus head on in the half-court.
Nothing worked.
Marcus methodically picked apart Hightower in a 53-41 win on Friday in the Class 5A state semifinals at UT's Frank Erwin Center, advancing to its first state title game.
The Marauders will play Garland Lakeview Centennial at 8:30 p.m. Saturday.
"We definitely have a distinct style that we believe in playing," Marcus head coach Danny Henderson said. "We really believe in ours. It's based on defense and sharing the ball a lot."
[+] Enlarge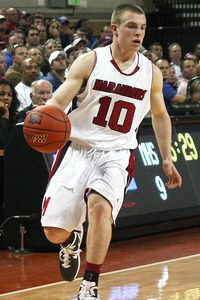 Travis L. Brown/ESPNDallas.comPhil Forte pulled Flower Mound Marcus further away from Fort Bend Hightower with two 3-pointers to open the third. He finished with 11 points.
Marcus (38-1) imposed its will on Hightower from the opening tip in a game in which the Marauders ground the pace into a halt. The two teams scored a combined 16 points in the first quarter and Marcus held a 19-15 lead into halftime.
Hightower (29-8) went into a man defense to open the second half in hopes of speeding up the pace. It did, but it still favored Marcus.
Phil Forte, who finished with a team-high 11 points, opened the third quarter by hitting a pair of 3-pointers in transition as Marcus extended its lead to 33-25 heading into a fourth quarter where the Marauders took advantage of a Hightower team that pushed too hard to catch up.
"They came out in a zone to start," Forte said. "The second half they came out in man and I actually think we played better against the pressure man-to-man. We executed what the coaches tell us."
As usual, Marcus' win came as a result of a collective effort. Austin Bianco (eight points, six rebounds) scored most of his points while Marcus struggled to find its legs in the first quarter.
Connor Taggart (nine points) and Nick Banyard (10 points) helped close out the game in the fourth quarter while the latter did an excellent job defending Hightower's Danuel House in the paint.
But once again it was Marcus Smart who fueled the Marauders, stifling Hightower with his hustling defensive plays and sparking Marcus' offense with the same intensity. He finished with 11 points and nine rebounds.
March, 11, 2011
3/11/11
10:45
AM CT
We're down to the final four of the UIL boys state basketball tournament, and ESPN Dallas kicks off the action with Thursday's Class 3A state semifinal pairing between Corpus Christi West Oso and Dallas A. Maceo Smith at 2 p.m. At 7 p.m., Fort Worth Arlington Heights battles La Marque, and Dallas Kimball clashes with Cedar Park at 8:30 p.m.

Jeff Andrews and Travis L. Brown will be on hand answering questions and providing live updates from Austin.

On Friday, we'll provide real-time insight from Flower Mound Marcus-Fort Bend Hightower (3:30 p.m.) and Garland Lakeview Centennial-San Antonio Taft (8:30 p.m.).


March, 10, 2011
3/10/11
10:00
AM CT
Flower Mound Marcus head coach Danny Henderson knows how to prepare a team for the state tournament.
After all, he won two state titles at Peaster and coached Liberty Hill to the finals twice.
But with three starters returning from a team that lost in the state semifinals last year, Marcus' ability to prepare itself may guide the Marauders to their first state title in school history.
Marcus (37-1) opens play in the tournament at 3:30 p.m. Friday at UT's Frank Erwin Center against Fort Bend Hightower (29-7).
"It can be so overwhelming for a high school kid to go through all this," Henderson said. "You can just see the kids so much more at ease [this year]. They're not inquisitive at all. They asked me so many questions last year. It's a big benefit."
Juniors
Marcus Smart
,
Phil Forte
and A.J. Luckey will make their second appearance in the state tournament after bowing out to eventual champion Fort Bend Bush last season as sophomores.
The year of experience has made the group of underclassmen a formidable opponent in 2011. Marcus has lost just one game this season and weathered tough playoff tests against fellow powerhouses
Duncanville
,
North Crowley
and
Cedar Hill
en route to the tournament berth.
"We're better than last year," Henderson said. "There's no question. That gives us confidence. I think anyone around us and the kids themselves know we're better."
Smart especially has taken his game to another level. While his numbers don't jump off the page (13.9 points, 8.6 rebounds, 4.8 assists), the Marauders' offense flows through him and his work on the other end of the court has helped make Marcus one of the best defensive teams in the state.
And Marcus got a big boost from transfer
Nick Banyard
. The lanky forward, also a junior, gives the Marauders a big man who can battle for rebounds in the paint and yet another shooter from beyond the arc.
The four juniors make Marcus not only a contender this season but for next as well.
Henderson would prefer not to wait.
"You look at Lubbock Estacado -- they had everybody coming back from a state championship and just dominated everyone this year," Henderson said. "They weren't able to make it back. That's just a lesson in itself that I shared with the kids. You have to take opportunities as they present themselves."