High School:

Fort Worth Boswell
February, 2, 2012
2/02/12
3:33
PM CT
By
Randy Jennings
| ESPNDallas.com
NORTH RICHLAND HILLS, Texas - Breaking up wasn't all that traumatic for the 10 Fort Worth ISD schools that constituted District 6-4A in the last alignment. It has been six years since at least 10 Fort Worth 4A schools weren't crammed into one district.

The new District 6-4A will contain five Fort Worth ISD schools: Carter-Riverside, Dunbar, Eastern Hills, North Side and Polytechnic. They will be joined by Birdville the three Eagle Mountain-Saginaw ISD schools -- Saginaw, Fort Worth Boswell and Fort Worth Chisholm Trail -- to form a nine-team district.

Six Fort Worth teams will move to District 7-4A: Arlington Heights, South Hills, Southwest, Trimble Tech, Western Hills and O.D. Wyatt. They will be joined by Aledo and Granbury to form an eight-team district.

Wyatt football coach Zachary Criss is not sad to see the change.

"With nine district games, you have only one nondistrict game,'' Criss said. "You have to be careful about scheduling because you don't want to play somebody tough with the district opener the following week. The old district didn't help teams get ready for the playoffs because you could go three or four weeks without real competition. That's not good.''

With one of his extra nondistrict games, Criss has scheduled Arlington Sam Houston, coached by older brother Anthony Criss, for Zero Week.

Anthony and Zachary say "Criss Bowl'' does not do the game justice.

"Criss Extravaganza,'' they say, is more like it.
August, 16, 2011
8/16/11
12:01
AM CT
By
Randy Jennings
| ESPNDallas.com
DISTRICT 5-4A
Aledo (16-0, 7-0), won DII state title. Coach: Tim Buchanan.

Azle (2-8, 1-6). Coach: Devon Dorris.

Fort Worth Boswell (7-5, 5-2), lost in DI area. Coach: John Abendschan.

Fort Worth Brewer (5-5, 3-4). Coach: Paul Sharr.

Keller Timber Creek (3-7, 0-7). Coach: Kevin Golden.

North Richland Hills Birdville (9-4, 5-2), lost in DI regional semifinal. Coach: Jim Skinner.

Springtown (7-4, 5-2), lost in DII bi-district. Coach: Brad Turner.

Trophy Club Byron Nelson (1-9, 0-74-6, 2-5). Coach: Brian Polk.
THE BIG QUESTION: How many more state records can Aledo running back Johnathan Gray set?
[+] Enlarge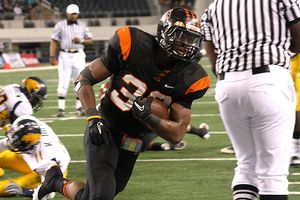 Travis L. Brown/ESPNDallas.comJohnathan Gray, who broke the state record with 59 touchdowns last season, will try to lead Aledo to its third straight state title.
The Texas Longhorn commit broke the state season record for rushing touchdowns with 59 in 2010, while scoring 368 points.
Gray needs 12 overall touchdowns and 13 rushing scores in his senior season to break career state records in both categories.
With 7,003 career yards, Gray needs 3,295 yards to overtake Cayuga's
Traylon Shead
(2006-2009) for second place on the state's all-time rushing list. He needs 4,240 yards to overtake the mark of Sugar Land's Ken Hall that has stood for better than a half-century.
Gray set state championship game records last year when he rushed for 323 yards and eight touchdowns in Aledo's 69-34 rout of La Marque.
PLAYERS TO WATCH
RB Johnathan Gray, QB Matthew Bishop, OL Michael Wilson, SS
Dayne Davis
, Aledo; TE/DE
Reese Richards
, RB/DB Zach Wood, Azle; RB/CB Jonathan Epps, DL Steven August, Boswell; DE Anthony Washington, OL/DL
James De La Rosa
, Fort Worth Brewer; DT Mason White, WR Robert Lambe, Keller Timber Creek; RB Tyler Klutts, QB E.A. Northey, DT Nick Poole, NRH Birdville; LB Brandon Emmert, DB Billy Chappell, Springtown; RB
Carlos Lowe
, OL Ben Balduc, Trophy Club Byron Nelson.
DID YOU KNOW?
Aledo begins the season with a 29-game winning streak seeking its third straight state championship. ... Jonathan Epps of Boswell is one of the most well-rounded players in the district. Last season the running back/defensive back rushed for over 400 yards, had four interceptions and returned two kickoffs for touchdowns. ... Birdville running back Tyler Klutts missed a 2,000-yard rushing season by less than 50 yards in 2010. ... Springtown is coming off a seven-win season that equals the best at the school in 12 years. … Trophy Club Byron Nelson won a respectable four games last year in its first varsity season with a roster composed of underclassmen.
PROJECTED PLAYOFF TEAMS
Aledo

North Richland Hills Birdville

Fort Worth Boswell

Springtown
November, 24, 2010
11/24/10
7:30
PM CT
For the most part, Denton Ryan has breezed to its undefeated record.
Halftime has been an opportunity to prepare backups and review how to run out the clock. Usually Ryan has a three-score lead by that point.
But the going has gotten tougher in the playoffs. Ryan found itself in an unexpected scrum at halftime with El Paso Del Valle last week before pulling away for a 27-7 win.
That was just a warm-up for Ryan's next opponent – Waco Midway (12-0), a battle-tested state-title contender which should give Ryan its first serious challenge of the season in the third round of the Class 4A Division I playoffs at 1 p.m. Friday at Cowboys Stadium.
The game features two teams with similar formulas for success: run the ball and play stifling defense.
Led by a front seven filled with FBS prospects Ty Hook, Mario Edwards, Dominique Banks, Jordan Richmond and Alex De La Torre, Ryan has smothered its opponents this year, allowing just 166.3 yards and 11.3 points per game – both lows in the area among 4A teams.
Led by Baylor commit Beau Blackshear, Midway's defense has been equally impressive, especially against the run. Midway has held its opponent to less than 100 yards rushing eight times this year.
That could make it difficult for Ryan, which prefers to move the chains with its running game while its defense harries the opposing offense.
Against Del Valle, Ryan gave the rock to running back Kaylon Alexander, who ran for 92 yards and two touchdowns, inching him closer to the 1,000-yard mark for the season, although Ryan has used multiple running backs at times this year.
Midway employs a very similar offensive philosophy, running the ball almost 2-to-1 with B.J. Kelly getting most of the load. He ran for 178 yards and three touchdowns on just 12 carries in Midway's 50-17 win over Fort Worth Boswell last week.
November, 18, 2010
11/18/10
10:18
PM CT
ARLINGTON, Texas -- Fort Worth Boswell's first trip to Cowboys Stadium will be its last of the season, as it was knocked out of the Class 4A Division I playoff bracket Thursday night by Waco Midway, 50-17.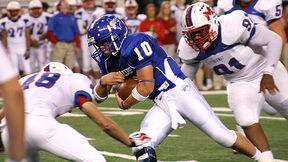 Travis L. Brown/ESPNDallas.comMatt Potts filled in at QB for Fort Worth Boswell, whose depth chart took a hit against Waco Midway.
The Pioneers suffered injuries to starting quarterback Jacob Stone, key receiver Caden MacNeil and running back Jonathon Epps, leaving the team's depth chart depleted for the majority of the game.
Epps scored the Pioneers' first touchdown of the game in third quarter on a 25 yard run. Boswell's other touchdown was scored with just under two minutes left in the game on a 37-yard pass from backup quarterback Matt Potts to receiver Jacob Tatge over the Midway defense. Boswell also made a 34-yard field goal in the first half.
"I'll give it to my kids," Boswell head coach John Abendschan said. "They were a bunch of stinking warriors. They came out here and battled and played a good team. That Midway team is something else. They are talented, good and well coached."
Midway's offense could not be stopped in the first half, scoring five touchdowns before halftime. Two of the five scores came from over 60 yards.
Midway advances to play the winner of Denton Ryan-El Paso Del Valle in the region semifinal.
November, 17, 2010
11/17/10
7:50
PM CT
FORT WORTH, Texas -- Players at Fort Worth Boswell bundled up under their pads for their Tuesday morning practice before school. Most would be miserable in temperatures in the mid 40's with a heavy wind blowing in from the north, but laughter ruled the field at Pioneer Stadium.
[+] Enlarge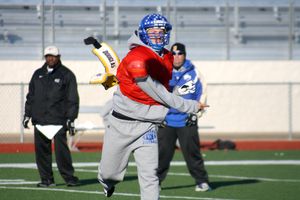 Travis L. Brown for ESPN.comFort Worth Boswell's Jacob Stone has completed over 58 percent of his passes this season.
Boswell head coach John Abendschan and his coaching staff have worked this season to create a fun attitude in practice that their players can enjoy, yet have focused and worked hard toward wins each weekend. And that attitude most definitely comes from the top with a head coach that will race players to their positions before drills and quiz his team on the definition of the Canadian Tuque.
"As long as the kids enjoy themselves -- and that's the name of the game is having fun," Abendschan said. "We're in Week 2 of the playoffs and we want to keep on playing. We don't want this to be our last week. Practice isn't usually real fun and it's colder, so let's enjoy it and let's try and go get a win."
Boswell has a chance to continue the fun Thursday at Cowboys Stadium against Waco Midway in the area round of the 4A Division I playoffs. The game will be the first chance any Boswell team will have to play in the professional football stadium in the Metroplex, and Abendschan told his players after practice he hopes to make it the Pioneers' home away from home beginning next week, as the winner of Thursday's game gets a second booking for the region finals.
"For us to have the chance to [play at Cowboys Stadium] is an awesome deal for this community and for these kids and for everyone involved," Abendschan said. "When we get in there and we get the stars out of our eyes, then we go play the game. And what a great incentive to think, 'We get to come back.' So why not keep playing there, that's a great place to play."
Standing in the Pioneers' way of another date with the big blue star is an undefeated Midway team that has wins over six playoff teams this season. Midway's smallest point differential was by a touchdown to bi-district champion Stephenville.
Abendschan said his team has yet to find a weakness in Midway's game, but he felt confident in his Boswell's ability to rise to challenges.
"I think we've been an underdog every game we've played," Abendschan said. "We were predicted to get out the playoffs. They've done a great job, they've got a good district and they're a good football team. But if you're in this round of the playoffs you better be playing good people. And that's what I've like to do is play people with good records because why not find out where you're at?"
Boswell quarterback Jacob Stone has led the team on this run into the area round, throwing for 2,834 yards and 31 touchdowns on the season. He has completed over 58 percent of his passes, and Abendschan said his skill comes from his decision-making abilities.
"Jake has been a solid player for us. I think the name of the game for him is he makes good decisions. He only has six interceptions this year and he's thrown it a jillion times and has a bunch of yards. But not only in the passing but when he decides to tuck and run, there's no hesitation.
His dedication to the game manifested itself in the Pioneers' bi-district win over Fort Worth Arlington Heights as the quarterback had to be given an IV after the game.
The fun ensues Thursday at 7 p.m. at Cowboys Stadium in Arlington.
November, 1, 2010
11/01/10
5:09
PM CT
By
Randy Jennings
| ESPNDallas.com
It isn't Fort Worth Brewer's position in the standings alone that makes it impossible for the Bears to gain a playoff berth in District 5-4A.

Brewer is only a game behind three teams currently tied for second place with one game remaining.

That's the good news. The bad news is Brewer's opponent for the final game of the regular season is 9-0 Aledo, No. 1 in ESPNDallas.com Class 4A area rankings.

Even if Brewer (5-4, 3-3 District 5-4A) were to pull off a gigantic upset, it wouldn't be enough.

Should either Springtown, Fort Worth Boswell or North Richland Hills Birdville, all with 4-2 district records, lose on Friday all three would still hold the advantage in the first tiebreaker used by District 5-4A, head-to-head results. Brewer lost to all three.

Springtown, Boswell and Birdville wrap up the regular season with home games against teams in the lower half of the standings.

Birdville meets last-place Keller Timber Creek, Boswell faces sixth-place Trophy Club Byron Nelson and Springtown goes against seventh-place Azle in the annual Blacktop Battle of Hwy. 199.

With the largest enrollments of the four qualifiers, Birdville and Boswell will compete in the Division I bracket of the Class 4A playoffs, leaving Aledo a chance to defend its Class 4A Division II state title. Springtown will join Aledo in Division II.
October, 15, 2010
10/15/10
11:12
PM CT
By
Randy Jennings
| ESPNDallas.com
ALEDO, Texas -- Ho hum. Another District 5-4A football game, another 60-point plus performance for the Aledo Bearcats.

The No. 1 team in the ESPNDallas.com Class 4A rankings took the foot off the gas in the fourth quarter and still buried Fort Worth Boswell, 63-17, Friday night at Bearcat Stadium.

Aledo (7-0, 4-0 in District 5-4A), extended its winning streak to 20 games.

The Bearcats haven't lost at home since 2007, a streak that is now at 19 games.

Junior running back Johnathan Gray touched the ball twice in the second half and scored on runs of 61 and 63 yards. He finished with 302 yards on 15 carries and five touchdowns. His final four rushes of the game ended in what in Aledo should be called the "Gray Zone.'' He has 24 touchdowns this season.

"In the first half it took us awhile to get into the flow of the game,'' said Gray. "In the second half, we got things going. I credit the blocking of my line and my teammates.''

Aledo coach Tim Buchanan said his running star is able to avoid tacklers because of two attributes, vision and acceleration.

"Johnathan had shoulder surgery in the off-season and couldn't do anything for awhile and gained some weight,'' Buchanan said. "But he's back at 192 pounds now. He has great acceleration.''

Buchanan said Aledo's passing attack forced Boswell to change its defensive game plan with nine defenders near the line of scrimmage. When the Pioneers safeties backed up, Gray found running lanes.

Aledo sent a message by scoring its first offensive play of each half, a 58-yard pass and run from Matthew Bishop to Michael Hornsby 12 seconds into the game and a Gray run of 61 yards in the second half.

Scoring from distance is a Bearcats' specialty.

Bishop's faking ability enabled the quarterback to break a 54-yard run for the second Aledo touchdown. The quarterback hit Todd Christian on a 45-yard scoring pass late in the first half half.

Boswell (4-3, 3-1) saw its four-game winning streak snapped.

The Pioneers' offense managed to spar with Aledo at the start, thanks to some big plays by Jacob Stone. The senior quarterback raced 23 yards for a touchdown to cut the Aledo lead to 15-7 at the three-minute mark of the first period.

With either his passing arm or by rush, Stone accounted for the entire 80-yard Boswell drive.

The Pioneers followed it with another long drive keyed by Stone's 42-yard scramble that led to a 27-yard field goal by Cole Parton to trim the Aledo lead to 22-10.

Boswell receiver Caden MacNeill accounted for Boswell's only score of the second half, tight-roping the sideline to turn a short pass in the flat into a 57-yard touchdown.
October, 15, 2010
10/15/10
5:09
PM CT
Follow the Friday night high school football action for Week 7. We have Travis L. Brown at Lake Highlands-Richardson Berkner, Jeff Andrews at Southlake Carroll-Coppell, Randy Jennings at Fort Worth Boswell-Aledo and Kellis Cunningham at McKinney North-McKinney.


October, 13, 2010
10/13/10
9:55
PM CT
By
Randy Jennings
| ESPNDallas.com
Don't think for a minute the Aledo Bearcats' 2009 Class 4A Division II state title was an overnight success.

Or a one-time brush with glory.

Long before Johnathan Gray broke a tackle or Matthew Bishop delivered a pinpoint pass, the Bearcats have been building a winning football tradition under coach Tim Buchanan.

Since capturing the Class 3A state title in 1998, the Bearcats have made it to the state semifinals three times.

Yet there are signs the current version may be the best yet.

Aledo (6-0, 3-0), the top-ranked Class 4A team in ESPNDallas.com rankings, will attempt to stretch its winning streak to 20 when it hosts Fort Worth Boswell (4-2, 3-0) in a District 5-4A contest Friday at Bearcat Stadium.

So far, Gray has rushed for 1,232 total yards and 19 touchdowns as an encore to his remarkable 2009 season when he over over 3,300 yards and scored 59 touchdowns.

Bishop, like Gray a junior, has thrown for 1,134 yards and nine touchdowns.

Aledo's signature win came in Week 2, when it defeated three-time Class 4A state champion Lake Travis, 14-10 on the road, snapping the Cavalier's 48-game winning streak.

District games for the Bearcats so far have seriously lacked drama. Aledo's average winning margin has been 54 points as the Bearcats have scored at least 60 points in all three.

Aledo last lost at home in 2007. It's winning streak at Bearcat Stadium is at 18.

While its recent history with Aledo hasn't been good (38-12 and 44-0 wins by the Bearcats the last two years,) Boswell can draw on a four-game winning streak it brings into the fray.

The passing of quarterback Jacob Stone has been the Pioneers' chief weapon. He has thrown for 1,328 yards and 15 touchdowns.
October, 12, 2010
10/12/10
6:00
PM CT
By
Randy Jennings
| ESPNDallas.com
Fort Worth Boswell's four-game winning streak will be put to a test Friday.
The Pioneers (4-2, 3-0 in District 5-4A) travel to Aledo to meet the Bearcats (6-0, 3-0), No. 1 in ESPNDallas.com's Class 4A rankings.
Aledo, the 2009 Class 4A Division II state champion, has won 19 straight games and hasn't lost at home since 2007.
Boswell's defense came up with the key play in last week's 35-33 victory to hold off Springtown. Jeffrey Hutto's sack caused a fumble that
Taylor Simmons
recovered to clinch the win.
Cade MacNeill intercepted two passes in the first half, allowing Boswell to build a 21-10 halftime lead.
Boswell's defense made key plays the in the previous week's 28-22 victory over Fort Worth Brewer, claiming four fumbles.
Offensively, Boswell has thrived on the arm of quarterback Jacob Stone. The senior has completed 87-of-159 passes for 1,328 yards and 15 touchdowns. He's added 275 rushing yards and three touchdowns.
Devin Duke is Stone's favorite target with 26 catches for 386 yards and four touchdowns.
Aledo is led by junior running back
Johnathan Gray
(1,125 yards, 19 touchdowns) and junior quarterback Matthew Bishop (1,134 yards, nine touchdowns.)