High School:

Fort Worth Carter-Riverside
February, 2, 2012
2/02/12
3:33
PM CT
By
Randy Jennings
| ESPNDallas.com
NORTH RICHLAND HILLS, Texas - Breaking up wasn't all that traumatic for the 10 Fort Worth ISD schools that constituted District 6-4A in the last alignment. It has been six years since at least 10 Fort Worth 4A schools weren't crammed into one district.

The new District 6-4A will contain five Fort Worth ISD schools: Carter-Riverside, Dunbar, Eastern Hills, North Side and Polytechnic. They will be joined by Birdville the three Eagle Mountain-Saginaw ISD schools -- Saginaw, Fort Worth Boswell and Fort Worth Chisholm Trail -- to form a nine-team district.

Six Fort Worth teams will move to District 7-4A: Arlington Heights, South Hills, Southwest, Trimble Tech, Western Hills and O.D. Wyatt. They will be joined by Aledo and Granbury to form an eight-team district.

Wyatt football coach Zachary Criss is not sad to see the change.

"With nine district games, you have only one nondistrict game,'' Criss said. "You have to be careful about scheduling because you don't want to play somebody tough with the district opener the following week. The old district didn't help teams get ready for the playoffs because you could go three or four weeks without real competition. That's not good.''

With one of his extra nondistrict games, Criss has scheduled Arlington Sam Houston, coached by older brother Anthony Criss, for Zero Week.

Anthony and Zachary say "Criss Bowl'' does not do the game justice.

"Criss Extravaganza,'' they say, is more like it.
August, 17, 2011
8/17/11
12:01
AM CT
By
Randy Jennings
| ESPNDallas.com
DISTRICT 6-4A
Fort Worth Arlington Heights (10-1, 9-0), lost in DI bi-district. Coach: Ged Kates.
Fort Worth Carter-Riverside (4-6, 4-5). Coach: James Jeffries.
Fort Worth Dunbar (3-7, 3-6). Coach: Todd Lawson.
Fort Worth Eastern Hills (5-5, 5-4). Coach: Michael Prewitt.
Fort Worth North Side (0-10, 0-9). Coach Andy Mills.
Fort Worth O.D. Wyatt (6-5, 6-3), lost in DII bi-district. Coach: Zachary Criss.
Fort Worth South Hills (3-7, 2-7). Coach: J.J. Resendez.
Fort Worth Southwest (8-4, 7-2), lost in DII area. Coach: Lanny Trammell.
Fort Worth Trimble Tech (1-9, 1-8). Coach: David Poggensee.
Fort Worth Western Hills (8-3, 8-1), lost in DI bi-district. Coach: John Naylor.
THE BIG QUESTION: Are the Fort Worth ISD schools closing the gap after years of playoff futility?
Signs seem to indicate football fortunes are on the upswing in Cowtown.
For instance, Southwest's 38-37 bi-district win over Springtown in 2010 gave the Fort Worth ISD its second playoff victory in as many seasons.
More encouragement was provided by Arlington Heights. After a 10-0 regular season in 2010, Heights took Fort Worth Boswell to the wire before being eliminated, 52-49, in a bi-district game.
It was Heights in 2009 that snapped a seven-year string of first-round playoff knockouts for Fort Worth ISD teams with a win over Arlington Seguin.
Southwest and Heights should be solid again this season. Throw Dunbar, Western Hills and O.D. Wyatt into the mix, and the nine-week battle for the 6-4A title should be very entertaining.
PLAYERS TO WATCH
QB Omar Valadez, LB Nate Guidry, LB Alex Faoro, Arlington Heights; DE Ryan Watkins, WR Jordan Moore, Carter-Riverside; WR/DB Anthony Lampkin, WR/DB Alex Johnson, Dunbar; WR Elijah Johnson, RB Shabravus Howard, Eastern Hills; RB Elias Medina, North Side; WR Deon Daniels, WR Ladell Marshall, O.D. Wyatt; Antwan Bradshaw, South Hills; QB Wesley Harris, RB Trey Colbert, FS Phillip Boyd, Southwest; DB Melvin Harper, Trimble Tech; OL Kenny Johnson, WR Mavrik Molina, Western Hills.
DID YOU KNOW?
Arlington Heights became the second Fort Worth ISD school to reach 10 wins in a season in seven years and the first since Southwest went 10-1 in 2007. ... The lone head coaching change in 6-4A this season is at North Side, where Andy Mills takes over a program that failed to win a game in 2010. ... With 10 members, District 6 has the most of any 4A district in the state. Two others (Districts 15 and 32) have nine schools. ... Dunbar's Anthony Lampkin intercepted six passes last season. ... As a sophomore last season, Southwest quarterback Wesley Harris was named the district's Offensive Player of the Year after throwing for 1,570 yards and 25 touchdowns and rushing for 1,133 yards and 13 scores. ... Heights quarterback Omar Valdez threw for 2,400 yards and 30 scores in 2010.
PROJECTED PLAYOFF TEAMS
Arlington Heights
Southwest
Western Hills
O.D. Wyatt
October, 5, 2010
10/05/10
8:05
PM CT
By
Randy Jennings
| ESPNDallas.com
Ronald Dickerson, a 6-1, 175-pound senior transfer from Everman, handled all of Fort Worth Dunbar's passing for the first time this season in a 35-14 win over Fort Worth Trimble Tech last week.

Dickerson, who shared snaps in a couple of previous games with 2009 starter Vernon Sharp, completed 13-of-21 for 249 and three touchdowns.

The Wildcats outgained 0-5 Trimble Tech in yardage, 516-186.

Dunbar (3-2, 3-1 in District 6-4A) faces Fort Worth Carter-Riverside Thursday night at Scarborough-Handley Field. Kickoff is 7 p.m.

For the season, Dickerson is 20-of-32 for 395 yards and five touchdowns.

Sharp, a 6-1, 195-pound senior, is 30-of-68 for 427 yards and eight touchdowns.
September, 9, 2010
9/09/10
10:12
PM CT
A fun week Fort Worth Arlington Heights transferred over onto the field in its District 6-4A opener Thursday.

Arlington Heights scored on its first three offensive plays to spark its 49-9 win over Fort Worth Carter-Riverside.

After just nine minutes, Arlington Heights had already taken a 22-0 lead. On the first offensive play, Omar Valadez completed a 31-yard pass to Dennis Brooks. The Yellow Jackets would punch in the 2-point conversion.

On the first play of the second drive, Arlington Heights offensive star Marquis Jackson ran the ball in from 46 yards out on a pitch play. Jackson broke several tackles and coasted into the end zone, giving Arlington Heights a 15-0 lead after the extra point.

Arlington Heights repeated the trend on the first play of its next possession, using a trick wide receiver pass play from Jackson to Brooks for a 54-yard touchdown and a 22-0 lead.

"Those first three plays were fun," coach Jed Kates said. "A couple of the plays weren't really bread-and-butter stuff, the double pass and gadget stuff. Those are fun to do, and the kids enjoy practicing that stuff."

Carter-Riverside scored near the end of the second quarter on a 67-yard touchdown pass from Jordan Moore to Jalen Moore. Jordan, normally a halfback, was under center and hit Jalen, who is the Eagles' starting quarterback.

The Yellow Jackets would score once more before the half when David Clark ran it in from 7 yards out.

Clark added his second touchdown of the game in the second half with a 36-yard run up the middle. The rest of the game saw the Yellow Jackets' depth chart get valuable action.

"[Backups are] always one play away," Kates said. "We had an offensive lineman tweak his knee and the backup was in for most of the game. So it literally happened tonight."

Jordan Price made an impact for Arlington Heights in the second half, scoring once on both sides of the ball. His first came off a 69-yard run around the outside, and the second was an interception returned 48 yards on defense.

Carter-Riverside sacked Valadez in the end zone for a safety, the Eagles' last points of the game.

Arlington Heights secured its first district win and advances to 2-0 on the season. Carter-Riverside drops to 0-2 with its first district loss.
September, 8, 2010
9/08/10
9:05
PM CT
FORT WORTH -- If having a short week to prepare for a Thursday night game isn't hard enough for Fort Worth Arlington Heights, rain has forced the team to hold two days of practice in its cramped but useful indoor facility.
The two-story high, metal-sided indoor facility is about 20 yards wide and half a football field long. The floor inside is synthetic turf, barely wide enough to fit one of Heights' spread offense formations.
The players had some difficulty running plays during Wednesday's scripted walkthrough of the game plan for Thursday's District 6-4A game against Fort Worth Carter-Riverside (0-1), and coach Ged Kates said not getting quality field time can present a few problems in game preparation.
[+] Enlarge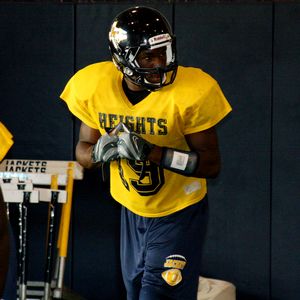 Travis L. Brown/ESPNDallas.comReceiver Marquis Jackson rolled up 250 yards of offense in Fort Worth Arlington Heights' season opener last week.
"The real concern is the spatial part with the receivers and the DB's and understanding that because it's a repetition thing," Kates said. "Quarterbacks have to rep the certain length of throws we do, and that's the big concern, the passing game and lining up properly."
However, the team is prepared mentally, Kates said, after three days of walkthroughs, film sessions and team meetings.
The Yellow Jackets (1-0) will ride their hot offensive weapon, wide receiver Marquis Jackson, who is a receiving threat but is used often rushing out of the backfield, especially in Heights' jumbo set.
Jackson leads the Yellow Jackets in receiving yards and rushing yards after their first game against Azle, rushing for 152 yards and two touchdowns on 11 carries. He also tallied 98 yards catching passes from quarterback Omar Valadez, once connecting for a touchdown.
"Well, Marquis is such a talented kid and the biggest thing about him is he is such a good kid," Kates said "When he does something well, you marvel at it, but you also think, 'Man, it couldn't happen to a nicer boy.' We're going to get the ball in his hands because he's a special high school player."
And Jackson says he and his team have taken mental preparation to heart, working on what they can do individually to prepare for Thursday's game.
"Our motto this week is 'The man in the mirror,' to make ourselves better and to prepare for the rest of the season to get better," Jackson said.
Carter-Riverside's biggest threat is their quarterback, Jalen Moore. The athletic signal caller has the ability to carry his team on his legs, as he rushed for 129 yards on 22 carries in the Eagles' season-opening loss against North Dallas.
"Their quarterback is a real athlete," Kates said. "He's a guy that could probably play multiple positions and that's the guy we have to figure out how to stop."
Despite the challenges of inclement weather and less practice time, Kates said this week has been fun for everyone at Arlington Heights.
"It makes for a fun week," Kates said Wednesday. "Labor Day we had an early-morning practice and no school, and then we had practice yesterday, a JV game today and the game tomorrow. So it makes for a fun week if you do it right."