High School:

Fort Worth Trimble Tech
March, 2, 2012
3/02/12
9:05
PM CT
Denton Ryan was an afterthought going into the playoffs after finishing third in District 4-4A behind Little Elm and The Colony.
Now the Raiders are a win away from their first state tournament berth since winning state in 2000.
Trey Mohair hit a layup at the buzzer to give Ryan a second consecutive stunning upset, this time a 58-56 win over Fort Worth Trimble Tech on Friday.
Ryan advances to play Fort Worth Arlington Heights at 2 p.m. Saturday at The Coliseum in Snyder.
"It had to have spun on the rim for 30 or 40 seconds it seems like before it dropped," said Ryan head coach Bryce Overstreet, who is enjoying a career year with Ryan.
Ryan held a seven-point lead with 39 seconds remaining before Trimble Tech connected on a 3-pointer and a four-point play to tie the score in stunning fashion.
On the final play of the game, Mohair, who continued his scorching pace in the playoffs with 28 points, went coast-to-coast and split two defenders to sink the winning bucket.
February, 29, 2012
2/29/12
7:10
PM CT
By
Randy Jennings
| ESPNDallas.com
CLASS 4A REGION 1 BOYS BASKETBALL TOURNAMENT PREVIEW
(At Snyder's The Coliseum)
FRIDAY'S SEMIFINALS
4 p.m.:
Denton Ryan vs. Fort Worth Trimble Tech
6 p.m.:
Wolfforth Frenship vs. Fort Worth Arlington Heights
SATURDAY'S CHAMPIONSHIP
2 p.m.:
Semifinal winners
HOW THEY GOT HERE
Fort Worth Trimble Tech (29-4):
The District 6-4A champion defeated Aledo in bi-district 61-39; Mansfield Summit in area 65-44; Waco University in regional quarterfinals 78-50.
Denton Ryan (21-11):
The District 4-4A third-place finisher defeated Canyon Randall in bi-district 61-48; El Paso Riverside in area 70-51; Little Elm in regional quarterfinals 61-59.
Fort Worth Arlington Heights (23-9):
The District 6-4A runner-up defeated Keller Timber Creek in bi-district 69-44; Arlington Seguin in area 59-56; Fort Worth Southwest in regional quarterfinals 62-50.
Wolfforth Frenship (30-3):
The District 3-4A champion defeated Wichita Falls in bi-district 88-75; El Paso Bowie in area 57-38; The Colony in regional quarterfinals 55-52.
PLAYERS TO WATCH
Fort Worth Trimble Tech:
Charles Hill (6-3, Sr. G), bound for TCU, is the team's leading scorer in the playoffs (16.7); Jal Deng (6-4, Sr. P) is the leading rebounder.
Denton Ryan:
Trey Mohair (5-11 Sr. G) is the team's leading scorer (18.1). Trey Cook (6-0 Sr. G) is the top rebounder (5.4).
Fort Worth Arlington Heights:
Justin Hemphill (6-4, Jr. F) is the team's leading scorer in the playoffs (14.7); Travis Williams (6-3, Sr. F) is the second-leading playoff scorer (12.3).
Wolfforth Frenship:
Michael Grant (6-4, Jr. P/F) is the team's leading scorer in the playoffs (17.3); Colton Hendrix (6-0, Sr. G) is second in playoff scoring (14.3).
LAST YEAR
Fort Worth Trimble Tech:
Lost to The Colony 69-53 in a regional semifinal.
Denton Ryan:
Lost to Fort Worth Arlington Heights 63-52 in a regional semifinal.
Fort Worth Arlington Heights:
Lost to La Marque 72-61 in a state semifinal.
Wolfforth Frenship:
Lost to Denton Ryan 66-42 in a regional quarterfinal.
February, 29, 2012
2/29/12
1:33
AM CT
Fort Worth Trimble Tech continued its run through the 4A boys playoffs Tuesday with a 78-50 win over Waco University in the regional quarterfinal.
Trimble Tech standout and TCU commit Charles Hill led his team with 20 points, including several big slams.
Trimble Tech must now travel again, this time to Snyder's The Coliseum to face Denton Ryan in the regional semifinals Friday at 4 p.m.
While Hill said he was excited to advance, it is just one more step towards the ultimate prize.
"We still have to get to state," Hill told ESPNDallas.com via twitter. "I would like to get a taste of Austin."
February, 19, 2012
2/19/12
6:52
PM CT
What we got right:
The entire 5A boys poll remained the same as last week. Flower Mound Marcus finished as the uncontested No. 1 team through the entire regular season.
What we got wrong:
It took the entire year, but the 4A poll finally found resolution as teams were crowned district champions. South Oak Cliff's second win over Dallas Kimball, earning SOC the district title, not only moved them into the No. 2 position, it boosted Highland Park back into the No. 1 spot thanks to the Scots' win over SOC early in the year. Trimble Tech drops to No. 3 but will have a chance to prove itself in the playoffs when it faces competition outside Fort Worth ISD. No teams fell out of the poll from last week.
Say hello to:
Nobody
Say goodbye to:
Nobody
Your turn:
Use the comments section to let us know what you think about these rankings.
Note:
The final regular-season girls rankings were published last week.
Find them here.
February, 17, 2012
2/17/12
10:28
PM CT
NORTH RICHLAND HILLS, Texas -- ESPN Dallas 4A No. 2 Mansfield Summit's girls basketball team weathered a tough night shooting to knock Fort Worth Trimble Tech (23-11) out of the 4A playoffs, 49-33.
[+] Enlarge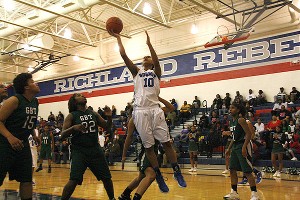 Travis L. Brown/ESPNDallas.comAshley Eli overcame a slow start to finish with a team-high 12 points for Mansfield Summit.
The cold streak hit Summit (20-6) standout scorer Ashley Eli hard in the first half, as she put up just three points through two quarters.
"We didn't shoot the ball very well and we have to make better decisions with the basketball," Summit coach Tammy Lusinger said.
At the half, Lusinger advised her team to ditch shooting from the outside and work on penetrating inside for high-percentage shots. The strategy paid off for Eli, who finished with a team-high 12 points, including four from the free throw line in the fourth quarter.
Sharing the scoring lead with Lusinger was guard Shayna Jackson, who sparked Summit's offense and came up with key baskets.
Jackson, who was able to work the ball into the paint to draw fouls, hit a buzzer-beating 3-pointer as time expired in the third that deflated Trimble Tech and ultimately ended any push toward a comeback.
"She played extremely hard," Lusinger said. "We're pretty beat up right now, so she was having to play a lot of extra minutes. She did a tremendous job with a lot of toughness."
Lusinger was down three guards for the area-round game, hurting the chemistry on the floor and her depth on the bench. She was forced to bring up and play several JV players to fill the void. Lusinger said she hopes her players will be ready for the next round Tuesday, but it's still up in the air.
Summit will face Arlington Seguin, fresh off an upset of ESPNDallas. No. 3 Aledo, in the regional quarterfinals Tuesday at Mansfield Legacy.
February, 7, 2012
2/07/12
11:04
PM CT
FORT WORTH, Texas -- Whoever thinks style points are meaningless in high school basketball clearly hasn't seen Fort Worth Trimble Tech hoop.
The No. 1 4A school in ESPNDallas.com's poll has not only gotten the job done so far in District 6-4A at an undefeated 14-0, but it also finishes with flair.
[+] Enlarge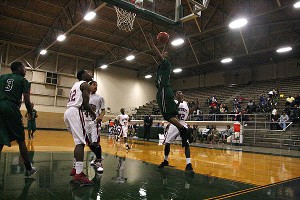 Travis L. Brown/ESPNDallas.comCharles Hill scored a game-high 25 points in Trimble Tech's win over Southwest.
Tuesday, against Fort Worth Southwest's full-court press, Trimble Tech had the opportunity to turn the game into a street-ball, trick contest in a 91-74 win.
"With today's teenager, we give them a carrot, which is allowing them to be a little bit more free on offense as long as they give it to me on defense and rebound and hustle," Trimble Tech coach Wendell Ivory said.
In the show that Trimble Tech likes to put on, the headlining act is senior guard Charles Hill, who threw down several monstrous dunks to add on to the many acrobatic layups he finished.
The TCU signee's energetic play sparked his team's offense twice in the second half, once on a huge dunk in the third quarter that resulted in a small run that built up some separation between the teams and again in the fourth quarter to put the game out of reach with a string of four baskets in a row.
"When you play a team like Southwest, they're going to make runs, but you're going to make runs," Ivory said. "The key is when you make your runs, you have to stay on top of them and limit their runs. But you're going to get a bunch because they gamble on the defensive end."
Southwest's aggressive press created odd-man rushes for Trimble Tech that resulted in several easy baskets and a few alley-oop dunks.
Hill had a game-high 25 points and was joined in the 20-plus point club by teammate Jai Deng, who netted 23.
While normally allowing an opponent to score 74 points in a game would indicate poor defensive play, Ivory said Southwest's style of high-tempo, transition offense forces a coach to accept the fact that points will be put on the board despite a good effort on the defensive end of the court.
Trimble Tech can clinch the district championship with one more win, giving the school a chance to prove itself and the quality of play Fort Worth has to offer in the playoffs. Defending its city includes protecting the tradition that was created many years before by a Fort Worth Dunbar coaching legend.
"Let's just be honest: this is the city that Robert Hughes Sr. built," Ivory said. "As long as that legacy is here, we're going to be OK, basketball wise. There are a lot of good players in the district."
February, 6, 2012
2/06/12
9:28
AM CT
What we got right:
The majority of the 5A poll. Every team in the poll remained in this week, with just some minor readjusting due to a Plano West loss to Flower Mound. The basic shape of 4A remained the same, with a few slight shifts.
What we got wrong:
Class 4A's finest. While previous No. 1 Highland Park did not lose this week, the Scots were taken to double overtime by McKinney North and failed to score a basket for a period of nine minutes and 40 seconds at the end of the game. Another consistent effort by Fort Worth Trimble Tech this week earned it the top spot in the 4A poll.
Say hello to:
5A - Nobody; 4A - Lancaster
Say goodbye to:
5A - Nobody; 4A - Trophy Club Byron Nelson
Your turn:
Use the comments section to let us know what you think about these rankings.
Click here for girls rankings
February, 2, 2012
2/02/12
3:33
PM CT
By
Randy Jennings
| ESPNDallas.com
NORTH RICHLAND HILLS, Texas - Breaking up wasn't all that traumatic for the 10 Fort Worth ISD schools that constituted District 6-4A in the last alignment. It has been six years since at least 10 Fort Worth 4A schools weren't crammed into one district.

The new District 6-4A will contain five Fort Worth ISD schools: Carter-Riverside, Dunbar, Eastern Hills, North Side and Polytechnic. They will be joined by Birdville the three Eagle Mountain-Saginaw ISD schools -- Saginaw, Fort Worth Boswell and Fort Worth Chisholm Trail -- to form a nine-team district.

Six Fort Worth teams will move to District 7-4A: Arlington Heights, South Hills, Southwest, Trimble Tech, Western Hills and O.D. Wyatt. They will be joined by Aledo and Granbury to form an eight-team district.

Wyatt football coach Zachary Criss is not sad to see the change.

"With nine district games, you have only one nondistrict game,'' Criss said. "You have to be careful about scheduling because you don't want to play somebody tough with the district opener the following week. The old district didn't help teams get ready for the playoffs because you could go three or four weeks without real competition. That's not good.''

With one of his extra nondistrict games, Criss has scheduled Arlington Sam Houston, coached by older brother Anthony Criss, for Zero Week.

Anthony and Zachary say "Criss Bowl'' does not do the game justice.

"Criss Extravaganza,'' they say, is more like it.
January, 5, 2012
1/05/12
4:58
PM CT
By
Randy Jennings
| ESPNDallas.com
Fort Worth Dunbar's run of 35 consecutive appearances in the boys basketball playoffs came to an end last season.

One-third of the way through the marathon 18-game District 6-4A schedule, the Wildcats are in danger of missing the postseason again.

Dunbar (6-10, 3-3 in 6-4A) is looking up at five teams in the standings after Wednesday night's 80-68 loss to 6-4A co-leader Fort Worth Trimble Tech (15-4, 6-0). The top four finishers in 6-4A advance to the playoffs.

Charles Hill, a 6-foot-2 senior shooting guard who signed a letter of intent with TCU in November, poured in 25 points to lead Trimble Tech to Wednesday's win.

Trimble Tech and Fort Worth Arlington Heights (11-6, 6-0) share the District 6-4A lead. Tech is ranked No. 6 in the Texas Association of Basketball Coaches' Class 4A state poll and Heights is No. 14.

Fort Worth O.D. Wyatt (4-2), Fort Worth Eastern Hills (4-2) and Fort Worth Southwest (4-2) also own better district records than Dunbar.

Robert Hughes Sr. led Dunbar to national prominence in his 31 seasons as coach until he retired in 2005 at age 76. He walked away as the nation's all-time boys basketball leader in wins with 1,333. His son, Robert Jr., has had the difficult assignment of following a legend.

Dunbar, with 12 district games remaining, still has time to move into playoff position. The Wildcats meet Fort Worth Western Hills on Friday at Billingsley Field House. On Tuesday, the Wildcats face Arlington Heights.

The first of two meetings between Heights and Trimble Tech will be on Jan. 13 at Wilkerson-Greines Activity Center.
August, 17, 2011
8/17/11
12:01
AM CT
By
Randy Jennings
| ESPNDallas.com
DISTRICT 6-4A
Fort Worth Arlington Heights (10-1, 9-0), lost in DI bi-district. Coach: Ged Kates.
Fort Worth Carter-Riverside (4-6, 4-5). Coach: James Jeffries.
Fort Worth Dunbar (3-7, 3-6). Coach: Todd Lawson.
Fort Worth Eastern Hills (5-5, 5-4). Coach: Michael Prewitt.
Fort Worth North Side (0-10, 0-9). Coach Andy Mills.
Fort Worth O.D. Wyatt (6-5, 6-3), lost in DII bi-district. Coach: Zachary Criss.
Fort Worth South Hills (3-7, 2-7). Coach: J.J. Resendez.
Fort Worth Southwest (8-4, 7-2), lost in DII area. Coach: Lanny Trammell.
Fort Worth Trimble Tech (1-9, 1-8). Coach: David Poggensee.
Fort Worth Western Hills (8-3, 8-1), lost in DI bi-district. Coach: John Naylor.
THE BIG QUESTION: Are the Fort Worth ISD schools closing the gap after years of playoff futility?
Signs seem to indicate football fortunes are on the upswing in Cowtown.
For instance, Southwest's 38-37 bi-district win over Springtown in 2010 gave the Fort Worth ISD its second playoff victory in as many seasons.
More encouragement was provided by Arlington Heights. After a 10-0 regular season in 2010, Heights took Fort Worth Boswell to the wire before being eliminated, 52-49, in a bi-district game.
It was Heights in 2009 that snapped a seven-year string of first-round playoff knockouts for Fort Worth ISD teams with a win over Arlington Seguin.
Southwest and Heights should be solid again this season. Throw Dunbar, Western Hills and O.D. Wyatt into the mix, and the nine-week battle for the 6-4A title should be very entertaining.
PLAYERS TO WATCH
QB Omar Valadez, LB Nate Guidry, LB Alex Faoro, Arlington Heights; DE Ryan Watkins, WR Jordan Moore, Carter-Riverside; WR/DB Anthony Lampkin, WR/DB Alex Johnson, Dunbar; WR Elijah Johnson, RB Shabravus Howard, Eastern Hills; RB Elias Medina, North Side; WR Deon Daniels, WR Ladell Marshall, O.D. Wyatt; Antwan Bradshaw, South Hills; QB Wesley Harris, RB Trey Colbert, FS Phillip Boyd, Southwest; DB Melvin Harper, Trimble Tech; OL Kenny Johnson, WR Mavrik Molina, Western Hills.
DID YOU KNOW?
Arlington Heights became the second Fort Worth ISD school to reach 10 wins in a season in seven years and the first since Southwest went 10-1 in 2007. ... The lone head coaching change in 6-4A this season is at North Side, where Andy Mills takes over a program that failed to win a game in 2010. ... With 10 members, District 6 has the most of any 4A district in the state. Two others (Districts 15 and 32) have nine schools. ... Dunbar's Anthony Lampkin intercepted six passes last season. ... As a sophomore last season, Southwest quarterback Wesley Harris was named the district's Offensive Player of the Year after throwing for 1,570 yards and 25 touchdowns and rushing for 1,133 yards and 13 scores. ... Heights quarterback Omar Valdez threw for 2,400 yards and 30 scores in 2010.
PROJECTED PLAYOFF TEAMS
Arlington Heights
Southwest
Western Hills
O.D. Wyatt
February, 9, 2011
2/09/11
8:42
PM CT
By
Randy Jennings
| ESPNDallas.com
On Melanie Lane's first day on the job as coach of Fort Worth Trimble Tech's downtrodden girls basketball team, she noticed the players were very excited to see her.

The 6-foot-2 coach later learned, at age 24 and fresh out of UT-Arlington, she was mistaken for a transfer player.

Time has proven the girls had a right to be excited that day three years ago, even if it was for the wrong reason

With Lane injecting confidence into the Lady Bulldogs, Trimble Tech (22-9, 15-2) is assured of a share of the District 6-4A title and could clinch outright with a win over Fort Worth Dunbar on Thursday in the final game of the regular season.

A playoff trip is ahead, the second for Trimble Tech in Lane's short tenure. Before she arrived, the program had gone almost a full two decades without reaching the postseason.

"The old saying about basketball being 90 percent mental and 10 percent physical, I believe that,'' Lane said. "When I got here, I couldn't believe how little confidence the girls had in themselves. They were so scared of Dunbar back then. My message was it doesn't matter who we step on the court against, you've got to know you're great.''

The Lady Bulldogs rely heavily on a couple of 5-foot-10 seniors, Anyssa Hoyle and Jasmine Robinson, as well as freshman guard Crystal Allen. Hoyle (Southern University) and Robinson (Cisco College) will be continuing basketball careers at the next level, and Lane flatly states that Allen is the best freshman in Fort Worth.

After reaching the playoffs in 2009 (and being dispatched in the opening round by eventual state finalist Mansfield Timberview), Tech slumped last season. Lane was on maternity leave for part of the season and injuries hit hard.

"We went through a lot last year, but the girls worked hard so we could get to this position,'' Lane said.

"I keep telling them not everybody has the chance to say they've created history like this team can do at our school.''
January, 19, 2011
1/19/11
3:49
PM CT
By
Randy Jennings
| ESPNDallas.com
These are great days for the Fort Worth Trimble Tech boys basketball team.

The Bulldogs (21-5, 9-1 in District 6-4A) are gaining respect not only locally but statewide.

In his fifth season as coach, Wendell Ivory has Tech in position to reach the state playoffs for the third straight year.

Like most rebuilding jobs, success has come in gradual steps. A youth movement changed the climate when Ivory took over and the young players began to learn how to compete and win.

Trimble Tech is No. 5 in ESPNDallas.com Class 4A Top 10 and No. 7 in the Texas Association of Basketball Coaches 4A state rankings.

The starting five consists of three seniors in forwards Andre Crear, Jordan Gray and point guard Pat Allen, and two junior wings -- Charles Hill and Brandon Jackson.

Fort Worth Carter-Riverside came along in a bad place on the Bulldogs' schedule Tuesday. Three days earlier, Trimble Tech lost its first district game of the season to first-place Fort Worth Arlington Heights, 67-59, despite a furious fourth-quarter rally.

The Bulldogs throttled Carter-Riverside, 83-20.

Trimble Tech will face Fort Worth North Side at 6 p.m. Friday at Fort Worth's Billingsley Field House.