High School:

Frisco Heritage
February, 1, 2012
2/01/12
2:41
PM CT
Recruits in SMU's signing class range from California to Michigan to Florida, but the Mustangs didn't completely ignore their home territory.
Of the 20 players who signed with SMU on Wednesday, six are from the Metroplex.
That list includes a pair of Everman defenders, LB Lincoln Richard and DB Horace Richardson.
The other locals heading to the Hilltop are Frisco Heritage DL Elie Nabushosi, Garland LB Damien Neroes, Coppell OL Sam Rice and Dallas Lake Highlands OL Chase Walling.
Find more on
SMU's recruiting class here
.
January, 18, 2012
1/18/12
11:19
PM CT
Football may not be the only sport in which Frisco ISD sweeps District 9-4A.

Frisco's girls basketball teams currently occupy all four of the district's playoff spots, as Frisco Liberty, Frisco Wakeland, Frisco Centennial and Frisco Heritage are in line to make the playoffs in 9-4A.

In fact, those four teams look so strong that it may be moot that Frisco ISD's sweeps the district. The more intriguing question might be the order in which those teams finish.

Each of the four is a game ahead of the team behind it, with Liberty (16-10, 8-0) leading the way and Heritage (19-8, 5-3) sitting in fourth, two games ahead of Carrollton Newman Smith. Wakeland (17-10, 7-1) is second and Centennial (19-9, 6-2) is third.

Ironically, the order is the exact opposite in overall win percentage. Heritage leads in that category with a .703 win percentage and Liberty is fourth at .615, suggesting it could be a wild finish in the district.

But the pecking order within the district is pretty clear. None of the four non-playoff teams have yet to win against the four playoff teams, and of the four playoff teams, none of them have beaten a team currently ahead of them in the standings.
November, 1, 2011
11/01/11
5:28
PM CT
It's fitting that the last playoff spot in District 9-4A comes down to Frisco Liberty and Frisco Heritage.

No two schools better exemplify the turbulent nature of athletics in Frisco ISD. Last year Liberty roared to an undefeated regular season while Heritage went winless in its first year of varsity play.

The opening of Heritage split Liberty's current senior class, leaving the Redhawks short-handed for 2011. The split left little to separate the two, who are tied for fourth place heading into Week 10.

Liberty (6-3, 3-3) beat Heritage (4-5, 3-3) 20-7 in September and thus owns the tiebreaker should the two remain tied after Friday.

There's a pretty good chance that happens. Liberty closes the season against Frisco (7-2, 5-1) while Heritage draws an even tougher assignment: Frisco Centennial (9-0, 6-0), the No. 5 team in the ESPNDallas.com Class 4A area rankings.

Whichever team gets in will have a tough bi-district matchup given that 9-4A plays 10-4A in the first round. Possible opponents for Liberty include Highland Park and Rockwall-Heath. Heritage would face Wylie East or Highland Park.
October, 18, 2011
10/18/11
6:00
PM CT
Frisco Centennial head coach Mark Howard thought his team had a bright future in the fall of 2006.

His junior high feeder teams were rolling to undefeated records behind a class of 2011 that looked like one that could define his nascent program.

"I was licking my chops," Howard said.

But the growth in Frisco that spawned the need to open the school where he coached didn't slow down. In fact, it picked up.

To combat overcrowding at Frisco High and Centennial, the district opened two more high schools – Liberty and Wakeland. Liberty pulled students from Centennial when it opened, including much of the class of 2011 that Howard coveted so much.

He could do nothing but watch as the players he helped groom fueled long playoff runs at Liberty in 2009 and 2010.

"We lost them," Howard said. "When you open new schools and kids break off and go to other schools, it's tough."

And so it goes for the Frisco ISD schools. The city's rapid growth has led to rapid expansion in the school district. Since 2003, Frisco has opened five new high schools. A sixth is on its way in a few years.

The expansion has had a profound impact on athletics at each school. When new schools open, they take kids from existing schools where entire classes of students are cut. The total number of students suddenly drops. This often weakens the athletic programs, particularly football teams because they need so many players to be successful.

No team better exemplifies the highs and lows that expansion can create better than Liberty. In just its second year of varsity play in 2009, Liberty went three rounds deep in the playoffs behind the students it took from Centennial.

But when Frisco Heritage opened last year, it took students from Liberty, which doesn't have a full senior class this year. While the Redhawks (5-2, 2-2) have still managed to stay competitive this season, they are clearly not what they were, having lost to Centennial and Carrollton Creekview in consecutive weeks.

It may get worse before it gets better for Liberty because Frisco's seventh high school will pull from Liberty when it opens in a couple years, dealing Liberty two blows in a short period of time.

"When you lose half or more of a group of kids you've been coaching coming up through your feeder system, that's hard to overcome quickly and have your numbers build back up," said Frisco head coach Vance Gibson. "We've made it through that cycle."

Frisco went through what Liberty is about to go through. Centennial pulled from Frisco when it opened in 2003. Just as numbers were beginning to come back up at Frisco, Wakeland opened in 2006, taking the better part of Frisco's incoming junior and senior classes.

While this achieved the more important goal of opening a new high school with a full curriculum and easing overcrowding, it had a catastrophic impact on Frisco's football team.

After making the playoffs in 2007, Frisco went 0-10 in 2008 and 2009.

"When Wakeland came in, our whole school's numbers went down pretty dramatically," Gibson said. "We were a really really small school compared to the people we were competing against."

Frisco's newest schools – Heritage and Lone Star – pulled from Liberty and Wakeland, respectively. This has allowed Frisco and Centennial to build its numbers back up while its competition in District 9-4A is either dealing with losing a class (Liberty and Wakeland) or is a brand new school (Heritage).

Not surprisingly, Frisco and Centennial have flourished as a result of not being picked on by expansion. The Titans (7-0, 4-0) are dominating opponents with their defense while no one has found a way to slow down Frisco's (6-1, 4-0) running game yet.

The two teams meet for what may be the District 9-4A title at 7 p.m. Thursday at Pizza Hut Park.

"This our best team since we started the program," said Howard, who's been the coach at Centennial since it opened. "We're treading in some water we've never crossed before."
October, 11, 2011
10/11/11
10:31
PM CT
Frisco has emerged as one of the area's best offenses this season, and the Raccoons have their running game to thank for it.

Frisco (5-1, 3-0 in District 9-4A) leads all 4A teams in rushing with more than 370 yards per game after switching to the Wing-T formation this year.

Head coach Vance Gibson said his team switched to the Wing-T to better take advantage of its existing personnel and to avoid having the offense based on one player.

The Raccoons suffered the pitfalls of having a quarterback-based offense in 2010. After losing its starter to injury early in the season, Frisco spent the rest of the year trying to find a suitable replacement under center and struggled as a result.

"Before district play, we'd already lost two quarterbacks," Gibson said. "We were like a lot of people, a spread team. We were throwing the ball and before we got to district play we had no quarterback. We wanted to do something to make sure we weren't necessarily in a quarterback-driven offense."

Frisco's success has vindicated the switch in more ways than one. Not only is Frisco's offense among the best in the area, but it's survived the loss of running back Carlos Harris.

Harris led the area in rushing before going down with an ankle injury during Frisco's win over Frisco Wakeland (4-2, 2-1), but it hasn't slowed down the Raccoons because they prepared a stable of backs including Ben Cole, Matt Nollman and Jordan Daniels.

Frisco went on to beat Wakeland and has defeated Carrollton R.L. Turner and Carrollton Newman Smith without Harris.

"That's been the most satisfying thing about this season," Gibson said. "We've had starters out for whatever reason and had kids who hadn't had a lot of playing time in the past step up and do a phenomenal job."

Harris started the game against Newman Smith last week but didn't return after halftime because the ankle was still bothering him. Gibson said Harris is week-to-week and that the team won't play him until he is 100 percent.

Frisco needs him as soon as possible given its remaining schedule. The Raccoons play at Frisco Centennial (6-0, 3-0) in two weeks and at Frisco Liberty (5-1, 2-1) to close the regular season. Those games will likely decide the 9-4A champion.

Frisco hosts Frisco Heritage (2-4, 1-2) on Friday.

"We expect this to be an extremely tough game," Gibson said of his game against Heritage.
October, 4, 2011
10/04/11
7:54
PM CT
The Carrollton schools are having a tough time competing against their Frisco ISD counterparts in District 9-4A this season.

Newman Smith (0-5, 0-2), Creekview (0-5, 0-2) and R.L. Turner (1-4, 0-2) have yet to win a game against a Frisco team this season, leaving the five Frisco teams in the top five spots in the standings.

A similar situation developed last year, but Newman Smith rebounded from a slow start to make the playoffs, preventing a sweep of the four 9-4A playoff spots for Frisco ISD.

It may be tougher for Trojans to rebound this year. Aside from their own issues, they face a tougher group of Frisco teams.

While Frisco Liberty (5-0, 2-0) and Frisco Wakeland (3-2, 1-1) may have taken a step back, Frisco (4-1, 2-0), Frisco Centennial (5-0, 2-0) and
Frisco Heritage (2-3, 1-1) have gotten better.

Newman Smith hasn't played the latter three, but it already lost to Liberty (18-17) and Wakeland (38-24) despite getting quarterback Shawn Holmes back from injury.

This weekend's games will be telling for the district. Newman Smith takes on resurgent Frisco, and Centennial hosts Liberty in a game that will go a long way toward crowning a 9-4A champion.

And if there's any consolation for Carrollton ISD fans, they're guaranteed at least one win this week with R.L. Turner hosting Creekview.
September, 27, 2011
9/27/11
7:03
PM CT
Frisco Heritage may become the next Frisco ISD team to make a quick rise to prominence.

The school has its first full senior class via Frisco Liberty, and the team reached an important milestone last week by tallying its first district win in its brief history.

The Coyotes (2-2, 1-0 in 9-4A) took a 25-17 win from Carrollton Creekview after jumping to an early 17-0 lead.

The win could be a sign of things to come in a wide-open District 9-4A. Last year's district powers -- Liberty and Carrollton Newman Smith -- both have question marks.

Newman Smith (0-4, 0-1) has yet to win a game, and Liberty (4-0, 1-0) doesn't have a full senior class, ironically because it was divided by the opening of Heritage.

That could lead to a changing of the guard in the district, and as Liberty showed two years ago, anything is possible. In only its second year of existence, Liberty snuck into the playoffs in 2009 because of a tiebreaker and proceeded to go three rounds deep in the playoffs.

Heritage's offense has shown marked improvement, becoming one of the better units in the area in Class 4A.

Quarterback Cole-Bailey Cantwell has thrown for 949 yards and 10 touchdowns, and the running game is led by Jacob Harrison (414 yards, four touchdowns) and Oscar Gomez (293 yards and two touchdowns).
September, 21, 2011
9/21/11
12:06
AM CT
It's yet to be seen how Wylie East stacks up against its District 10-4A opponents this year, but the Raiders have clearly proven themselves the class of the area's second-year programs.

Wylie East (3-0) went undefeated in nondistrict play against a schedule composed entirely of schools also playing their second year of varsity football -- North Forney (3-1), Frisco Heritage (1-2) and Trophy Club Byron Nelson (2-1).

Only Heritage, another second-year program seemingly on the path to quick ascension, challenged Wylie East. A late fourth-quarter touchdown gave the Raiders a 36-29 win.

Wylie East's offense has been the catalyst. The Raiders average more than 500 yards per game, and those yards are split pretty evenly between the run and the pass.

But running back Jabari Anderson has been the offensive MVP so far. He's rushed for 536 yards and nine touchdowns and averages more than 10 yards per carry.

He's shown the ability to move the pile in addition to popping off big plays, scoring on touchdown runs of 61, 71 and 78 yards this season.

Wylie East hosts McKinney North on Friday to open 10-4A play.
August, 22, 2011
8/22/11
12:01
AM CT
DISTRICT 9-4A
Carrollton Creekview (2-8, 2-5). Coach: Jay Cline.

Carrollton Newman Smith (7-6, 4-3) lost in DI regional semifinals. Coach: Paul Ressa.

Carrollton R.L. Turner (1-9, 1-6). Coach: Tyrone Larkins.

Frisco (4-6, 3-4). Coach: Vance Gibson.

Frisco Centennial (6-5, 5-2) lost in DII bi-district. Coach: Mark Howard

Frisco Heritage (0-10, 0-7). Coach: Che Hendrix.

Frisco Liberty (12-1, 7-0) lost in DII regional semifinals. Coach: Galen Zimmerman.

Frisco Wakeland (8-3, 6-1) lost in DI bi-district. Coach: Marty Secord.
THE BIG QUESTION: How will Frisco ISD's expansion affect its football programs?
Nothing wreaks havoc on a high school football program like a school district opening a new school. It can destroy a championship team just as easily and quickly as it can produce it.
[+] Enlarge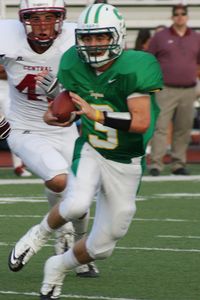 Travis L. Brown for ESPN.comTripp Abbott has helped Carrollton Newman Smith undergo a football renaissance the last two seasons.
Given Frisco ISD's aggressive expansion in recent years, it's hard to project how things will shake out in 9-4A, an eight-school district with five Frisco teams.
Coming off two stellar seasons, Frisco Liberty would be the obvious favorite in 9-4A, but its current senior class was split in half by the opening of Frisco Heritage. Liberty has just one offensive starter returning.
While having a class split has an affect that's easy to predict, but other changes that come with opening schools are more subtle. Zoning lines are redrawn. Players get rerouted to other programs. Growing areas of town may or may not produce football talent.
Who's in line to benefit from Frisco's expansion? Are Frisco Wakeland and Frisco Centennial capable of taking the next step and supplanting Liberty as Frisco's top program? Is Heritage a young program waiting to explode?
One team that's bound to benefit is Carrollton Newman Smith, which can maintain its stability while the Frisco programs deal with change.

PLAYERS TO WATCH
QB Miquan Robinson, LB Chris Weatherd, WR Stephen Buckner, Carrollton Creekview; DB
Shawn Holmes
, DE Karl Thomas, WR Tripp Abbott, Carrollton Newman Smith; QB Garon Goodspeed, RB J.P. Patterson, LB Fernando Barrera, Carrollton R.L. Turner; QB Eric Allen, RB Carlos Harris, WR Jordan Anderson, Frisco; LB Nick Bush, DB Austin Schotts, QB Lamar Jordan, Frisco Centennial; DE
Elie Nabushosi
, RB Brandon Guilford, QB Cole-Bailey Cantwell, Frisco Heritage; QB Zach Smith, DB
Izaiah Robinson
, RB Alonte Ryan, Frisco Liberty; QB Nick West, WR Brad Sicula, RB Devaughn Childress, Frisco Wakeland.

DID YOU KNOW?
Frisco Heritage hopes to tally its first win in school history after going 0-10 in its inaugural season. Heritage already has a new head coach in Che Hendrix, but he has all 22 starters back to work with. ... Newman Smith reached the third round of the playoffs for the second straight year, no small feat for a program that hadn't made the playoffs since 1983 prior to the two-year run. ... Carrollton R.L. Turner has won two games in the last four seasons.
PROJECTED PLAYOFF TEAMS
Carrollton Newman Smith

Frisco Wakeland

Frisco Centennial

Frisco Liberty
January, 19, 2011
1/19/11
3:56
PM CT
Frisco ISD could send four schools to the playoffs in District 9-4A.

Currently, Wakeland (16-4, 6-0), Centennial (16-8, 4-2), Frisco (15-8, 4-2) and Liberty (11-10, 3-2) occupy the top four spots in 9-4A. The only Frisco school behind any of the three Carrollton schools -- Creekview (10-14, 3-3), Newman Smith (10-13, 2-3) and R.L. Turner (3-14, 1-5) -- is Heritage (3-15, 0-6), which is playing its first varsity season and has yet to win a district game.

Frisco's dominance of the district has a lot to do with Carrollton losing the head-to-head matchups. Not counting games against Heritage, Creekview is 0-3 against Frisco schools, Newman Smith is 1-2 and Turner is 0-3.

The Carrollton schools have a chance to make up some ground on Friday though when Wakeland hosts Newman Smith, Turner hosts Frisco and Creekview hosts Centennial. Heritage has a bye.
November, 1, 2010
11/01/10
7:41
PM CT
After missing the postseason in 2009, Frisco Centennial clinched a playoff spot in District 9-4A with its 36-15 win over Carrollton Newman Smith last week.

Having a healthy Nick Foster for the entire season has helped the Titans (5-4, 4-2). The quarterback has missed at least a game in every season dating back to his seventh-grade year.

He's been incredibly efficient in Centennial's short passing game in 2010, completing 67 percent of his passes with 22 touchdowns and just four interceptions, three of which came off tipped balls.

"Nick is probably a very underrated, unheard of quarterback in the area," said Centennial head coach Mark Howard. "One of Nick's strong points is he's very accurate. We have a real good short passing game, quick passing game, but Nick can throw it down field, too."

Centennial has also improved dramatically on defense. The team switched to the 3-4 from the 3-3 stack because Howard felt his personnel better suited the 3-4. The Titans are giving up 27 points per game, down from 39.9 a year ago.

"It wasn't an overnight success, but it definitely has proved to be a lot better and more effective for us, especially as the year's gone on," Howard said.

Centennial finishes the regular season against Frisco Heritage (0-9, 0-6) on Friday.

With Frisco Liberty, Frisco Wakeland and Centennial having clinched playoff berths, only one spot remains for either Newman Smith (4-5, 3-3), Frisco (4-5, 3-3) or Carrollton Creekview (2-7, 2-4).

Having beaten Frisco earlier in the year, Newman Smith can clinch the spot with a win over Creekview on Friday, but with multiple three-way tie scenarios, it gets muddy after that. District 9-4A employs the plus/minus 14-point tiebreaker.
March, 17, 2010
3/17/10
3:04
PM CT
By
Randy Jennings
| ESPNDallas.com
Coppell's Brad Chasteen has been selected to coach the North in this summer's Texas High School Coaches Association all-star basketball game.

Bob Shipley, one season removed as football coach at Coppell, has been chosen to coach the North in the THSCA all-star football game. Shipley is Brownwood head coach.

The basketball game will be played on Monday, July 19, and the football game will follow the next day. Site for both is San Antonio.

Chasteen's teams have failed to advance to post-season only four times in his 22-year head coaching career.

TSHCA Hall of Honor inductees this year include area football coaches Bob Ledbetter (Southlake Carroll) and Tommy Watkins (Garland Lakeview Centennial, Rowlett).

Football coaches Brian Brazil of Hebron and Kent Jackson of Frisco Heritage are 2010 THSCA president-elect nominees.