March, 7, 2011
3/07/11
6:46
PM CT


One of the great things about having all the year's best high school teams in one place for the state tournament is the opportunity to hear the stories that surrounded them.

Typically, the most intriguing stories came from those players and teams that were able to achieve the ultimate goal of the weekend and finding motivation in them.

Here are my awards for some of the best performances of the weekend and the stories that helped make them possible.

Best Team Effort

The most intriguing team effort came from the Canyon Lady Eagles, who won the 4A state title over Austin LBJ, 66-58. Canyon head coach Joe Lombard said LBJ surprised him throughout the game, switching between three different defenses which, at times, stalled the Canyon offense.

Lombard was extremely happy when he learned that halftime of the 4A title game was extended so the UIL could present the 2A state finalist with medals and trophies, giving him extra time and allowing him to create and teach a brand new offense to combat LBJ's triangle and two defense.

Canyon's players ran through the new scheme a few times in the locker room and then put it to work on the court in the second half, scoring eight more points than in the first half.

The championship win capped off a 36-0 season, making the 2010-11 Canyon team the third in school history to win a state title without losing a game.

But that's not all. The win gave Lombard his 1,100th career win, which he realized before the season began could only be achieved if his team did not lose a single game. And if that wasn't enough, the final win came on his birthday.

Best Individual Effort

This award goes hands-down to Abilene Wylie's Peyton Little for the Lady Bulldog's 66-58 win over Lucas Lovejoy in the 3A state title game.

The crafty guard weaved her way through the Lovejoy defense with ease, leading to her tournament high 43-point game, the most scored in a 3A title bout. Little's record-breaking performance toppled Karen Thompson of Pflugerville's 42-point record that stood for 32 years.

Little also pitched in four rebounds, four assists and five steals.

Wylie's win gave the school it's third girls state championship in as many years. And without a single senior on the roster this season, Wylie has to be the favorite in 2012 to make it four.

Tournament MVP

The main event of Saturday night, the 5A title game, was a matchup of talented heavyweights in Irving MacArthur's Alexis Jones and Georgetown's Krystal Forthan. Forthan, a 6-foot-4 post and LSU commit, is ESPN Hoopgurls' No. 5 recruit in the nation for the class of 2011. Jones is No. 4 on the 2012 list.

The 5-foot-9 Jones showed no fear against her much taller opponent, never hesitating to take it to the hole in the face of Forthan. Her triple-double performance led her team to its 74-51 win and the game MVP award.

Her showcase of skill in both of the Lady Cardinals games in Austin earned her the tournament MVP, asl well. She not only could single-handedly put a team away with pull-up 3's, but she was also able to find open teammates for a wide-open lay-up or jumper.

She was recognized during the postgame trophy presentation for having the ability to make her entire team play on another level, which garnered the response of nodding heads from every Lady Cardinal player on the court.

The only question remaining for Jones, who is a junior this year, is what feats can she accomplish next year.
March, 6, 2011
3/06/11
1:39
AM CT
AUSTIN -- As if the Irving MacArthur girls Class 5A state championship win over Georgetown on Saturday isn't enough to forever be branded into the memory of MacArthur head coach Suzanne Oelschlegel, she's in store for another reminder.

Oelschlegel reminded her players after the 74-51 win at the Frank Erwin Center of the wager she made with her players by pointing at her bicep. If the girls won the championship, she would get a tattoo of the team's motto for the year, "We in dat thing."

"We told the girls that they were going to watch us get a tattoo if we won the state championship, so I guess I have to get ready for that," Oelschlegel said.

Leading the push for Oelschlegel's future ink was Lady Cardinals star guard Alexis Jones. The game MVP finished the title bout with a triple-double -- 25 points, 11 rebounds and 14 assists.

Jones had missed a triple-double in the state semifinal game Friday by one rebound and one assist and added that she wasn't happy with the performance. After she received the MVP award Saturday, no one on her team could deny the high level of her play or her ability to raise her teammates' ability to succeeed.

"She was our leader this year and everyone followed in her footsteps," Oelschlegel said.

Jones began the game with the hot hand, having some part in the Lady Cardinals' first 10 points. Georgetown's shot 50 percent from behind the arc to keep them in the game early, but MacArthur always seemed to have an answer, finishing with a 45 percent success rate.

"They just kept fighting back," Oelschlegel said. "We always had an answer for when they scored. Our team played so solid tonight."

Georgetown star post Krystal Forthan was held in check by the much smaller MacArthur defense. The 6-4 top 5 recruit finished with 14 points and was forced to the bench for the end of the first half after collecting a quick three fouls.

Even with Forthan in the game, MacArthur was able to score 15 points off the second chance and beat Georgetown in points in the paint, 40-18.

"Our No. 2 goal on offence was to take it to the hole," Oelschlegel said. "Don't be afraid to be aggressive. Don't rely on jumpers and outside shots, take it to the hole and they did."

The win achieved a year-long goal the MacArthur players set before them since they were abruptly bounced from the regional finals last year, but for the coach, the title fulfills a lifetime goal.

"This has been one of my heart's desires and God gave me one of my hearts desires -- to take a team to the state tournament and win the state championship. I'm so grateful to this team and their teamwork."
March, 4, 2011
3/04/11
10:41
PM CT
AUSTIN -- Georgetown took down Alief Elsik in the 5A state semifinal Friday, 56-51 , and will face Irving MacArthur in the final at 8:30 p.m. Saturday at the Frank Erwin Center.

Georgetown's Krystal Forthan was the game's leading scorer with 27 points. The 6-4 Forthan, ESPN Hoopgurlz No. 5 recruit in the nation for the class of 2011 and LSU commit, is a dominating post presence but can also ball handle and hit from behind the arch. It will be interesting to see which star player, Forthan or MacArthur's Alexis Jones, will have the bigger game Saturday.

After the gama, Georgetown head coach Rhonda Farney discussed Saturday's matchup with MacArthur and the meeting of star players.

"I know that they have some phenomenal players and that they played phenomenal this afternoon," he said. "It's going to be tough. I think everyone's best kids will cancel each other out and it will come down tomorrow night to players 4, 5, 6, 7 and maybe even deeper than that to win the game."
November, 23, 2010
11/23/10
5:22
PM CT
With few surprises in the Class 5A Division I bracket, Euless Trinity's road to a consecutive state title has unraveled as expected – difficult.
[+] Enlarge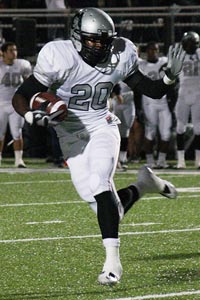 Travis L. Brown/ESPNDallas.comRunning back Treavon Walton will look to help Denton Guyer knock off Abilene Cooper for the third time in as many years.
After thwarting a very good Allen team last week, Trinity (12-0) faces Arlington Martin (10-2), which stumbled in nondistrict only to rebound and win 10 straight games.
Should Trinity win, it will likely play Coppell (12-0) in the Region 1 finals. After that, its projected opponent is Round Rock Stony Point (12-0), which Trinity beat in the state semifinals last year. Trinity's opponent in the state finals would undoubtedly be tough.
If the bracket continues with no upsets, five of Trinity's six playoff opponents would be teams that have been state-ranked at one point this season.
Rematches highlight Division II Region 1
Class 5A Division II Region 1 is giving old foes a chance to get reacquainted with each other.
Denton Guyer (10-2) will play Abilene Cooper (11-1) in the playoffs for the third straight year. Guyer beat Cooper both times in heated contests that came late in the Class 4A playoffs in 2008 and 2009.
Guyer comes into the game after exacting revenge on Cedar Hill, which
beat Guyer in nondistrict play. Cooper comes in somewhat wounded after three starters were dismissed from the team over the weekend.
Southlake Carroll (9-3) hopes to get revenge on the team that helped knock it out of the national spotlight – defending Division II champion Abilene (9-3).
Coming off a stunning 79-1 stretch, Carroll fell to Abilene in the playoffs during Hal Wasson's first season as head coach in 2007. The Dragons haven't sniffed a state title since.
Abilene has been hurt by injuries this year, including a big one to star running back Herschel Sims, who didn't play in Abilene's 45-28 win over El Paso Coronado last week.
DeSoto faces resurgent Austin Bowie
Few saw Austin Bowie reaching the third round of the playoffs.
The Bulldogs (8-4) started the year 2-3 and were manhandled by Class 4A Waco Midway, 42-7, in nondistrict, but Bowie won six of its last seven, including playoff wins over Georgetown (35-17) and a strong Klein Collins team (26-16).
DeSoto has yet to be seriously challenged in the playoffs after decimating Dallas Skyline, 38-0, in the area round, but Bowie's running game, led by Brelyn Sorrells (1,766 yards, 22 touchdowns), has given teams fits.
Tough schedule has Mesquite Horn prepared for playoffs
Mesquite Horn (8-4) may have the ugliest record for a state-title contender in the state.
A brutal nondistrict schedule and a tough district handed Horn losses to Coppell, Denton Guyer, DeSoto and Longview, all of which are still alive in the playoffs.
[+] Enlarge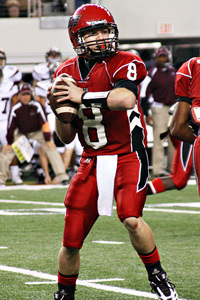 Travis L. Brown/ESPNDallas.comQuarterback Collin Strahan has helped Mequite Horn reach the third round of the playoffs.
But experience against good teams has proved valuable as Horn has rolled through its two playoff games, topping Division II favorite Copperas Cove (48-14) and Rowlett (44-22).
Horn faces another team with an ugly record in the third round – Leander (7-5). The Lions started the year 0-4 but have won five straight, including playoff wins over Austin (24-0) and Klein (14-7).
If Horn wins, it may get another shot at Longview, which plays Tomball in the other Region 2 game.
Coppell hits the road for third-round game
A lost coin toss will cost Coppell (12-0) a long trip out to Midland where it will play Midland High for what could be a shot at Euless Trinity.
Head coach Joe McBride lost the flip to determine where the two teams will play. Midland chose its home venue of Grande Communications Stadium.
Despite playing what's essentially a road game, Coppell is the favorite after an undefeated regular season and decisive playoff wins over Plano (23-6) and Duncanville (35-10).
Midland (11-1) has been equally dominant with its lone loss coming against Abilene. The key matchup comes when the Bulldogs have the ball. They average 38.9 points per game against a Coppell defense that gives up just 9.5.