April, 19, 2012
4/19/12
6:26
PM CT
The Granbury baseball team (12-13, 8-4) had to win Tuesday's District 7-4A game against Crowley to clinch a spot in the playoffs.
There was no question who Granbury coach Brad Hart would give the starting nod to for the important match, his senior ace Wade McClintock, who lost to Crowley, 2-0, earlier in district play.
McClintock not only led his team a 2-0 win and a playoff berth, but he also picked up his first career no-hitter.
"It was a cool deal, without a doubt, especially with so much on the line," Hart said. "That was a huge game for us to lock up that playoff spot and stay in the race for the district championship and everything that went along with that. I had no doubt he was our guy even though he faced them the first time. I had no doubt."
The senior, who is working for a college scholarship, boosted his resume by striking out 15.
Crowley managed only two base runners in the game -- one by a dropped third strike and another by walk.
It wasn't until the fifth inning that Hart realized his pitcher was on the verge of a no-hitter and joined with the rest of the team in the traditional vow of silence toward McClintock.
McClintock sat down the final three batters in order and was greeted by a group tackle from his teammates.
"To be honest with you, I expected a good performance out of him and he came out and topped it with a no-hitter," Hart said.
Once the dog pile cleared and McClintock had a few minutes to let his achievement set in, he was as amazed as anyone else on that field, Hart said.
"I think he just smiled a lot." Hart said. "I don't think he knew what to say."
Sachse outfielder turning heads
Earlier this week,
ESPN HS featured some of the top outfielders in the Class of 2013
, which included one Metroplex star.
Sachse center fielder Eric Williams definitely has the stats to back up the high praise this season.
As his team's No. 3 hitter, Williams is batting .405 with one home run, two triples and five doubles, which contribute to a .485 on-base percentage and a .587 slugging percentage.
In center, Williams can showcase his powerful arm, which coach Chris Burrow utilized on the mound last season and will again his senior year, throwing around 87 mph with a good breaking ball.
Williams has already verbally committed to Texas Tech as a junior, allowing him to play a stress-free remainder of his high school career as the team's spark plug.
"He's very high energy and works hard," Burrow said. "He takes extra cuts a lot of the time. He does everything I ask him and is one of those guys that tries hard."
Martin falls, but remains nationally ranked
Arlington Martin took a tough loss to Arlington Heights that dropped the Warriors in the ESPNHS Fab 50 poll this week, but they remain the only area team in the poll at No. 46.
Martin sits atop District 4-5A with a 12-0 district record and a 22-2-1 overall record.
The Warriors have three games remaining this season, including a nondistrict matchup with South Grand Prairie at 1 p.m. Saturday.
February, 23, 2012
2/23/12
3:51
PM CT
By
Randy Jennings
| ESPNDallas.com
CLASS 4A REGION 1 GIRLS BASKETBALL TOURNAMENT PREVIEW
(At Snyder's The Coliseum)
FRIDAY'S SEMIFINALS
4 p.m.:
Clint Horizon vs. Granbury
6 p.m.:
Mansfield Summit vs. Canyon
SATURDAY'S CHAMPIONSHIP
2 p.m.:
Semifinal winners
HOW THEY GOT HERE
Mansfield Summit (32-3):
The District 7-4A champion defeated Waco Midway in bi-district 55-29; Fort Worth Trimble Tech in area 49-33; Arlington Seguin in regional quarterfinals 42-37.
Granbury (28-7):
The District 7-4A runner-up defeated Waco in bi-district 52-32; Fort Worth Western Hills in area 54-32; Stephenville in regional quarterfinals 59-38.
Clint Horizon (31-2):
The District 2-4A champion defeated El Paso Austin in bi-district 56-38; Wolfforth Frenship in area 49-41; Amarillo Palo Duro in regional quarterfinals 46-45.
Canyon (26-3):
The District 3-4A champion defeated Little Elm in bi-district 59-18; El Paso Burges in area 32-26; El Paso Chapin in regional quarterfinals 44-42.
PLAYERS TO WATCH
Mansfield Summit:
Maya Hawkins (5-5, Jr. G) is the team's leading scorer; Ashley Eli (5-9, Sr. F) is the leading rebounder.
Granbury:
Lilley VanderZee (6-3, Jr.) is the team's leading scorer and rebounder; Maddie Cox (5-5, Sr. G) leads in assists.
Clint Horizon:
Janelle Perez (5-2, Sr. G) is the team's leading scorer; Shawna Lee (5-8, Sr. F) leads the team in rebounds.
Canyon:
Kyndal Davis (5-9, Jr. G) is the team's leading scorer; Morgan Dean (5-10, Sr. F) is the top rebounder.
LAST YEAR
Mansfield Summit:
Lost to Canyon 29-26 in the regional final.
Granbury:
Lost to Waco Midway 45-42 in the bi-district round.
Clint Horizon:
Lost to Denton Ryan 66-61 in the area round.
Canyon:
Won the state championship for the 15th time.
February, 2, 2012
2/02/12
3:33
PM CT
By
Randy Jennings
| ESPNDallas.com
NORTH RICHLAND HILLS, Texas - Breaking up wasn't all that traumatic for the 10 Fort Worth ISD schools that constituted District 6-4A in the last alignment. It has been six years since at least 10 Fort Worth 4A schools weren't crammed into one district.

The new District 6-4A will contain five Fort Worth ISD schools: Carter-Riverside, Dunbar, Eastern Hills, North Side and Polytechnic. They will be joined by Birdville the three Eagle Mountain-Saginaw ISD schools -- Saginaw, Fort Worth Boswell and Fort Worth Chisholm Trail -- to form a nine-team district.

Six Fort Worth teams will move to District 7-4A: Arlington Heights, South Hills, Southwest, Trimble Tech, Western Hills and O.D. Wyatt. They will be joined by Aledo and Granbury to form an eight-team district.

Wyatt football coach Zachary Criss is not sad to see the change.

"With nine district games, you have only one nondistrict game,'' Criss said. "You have to be careful about scheduling because you don't want to play somebody tough with the district opener the following week. The old district didn't help teams get ready for the playoffs because you could go three or four weeks without real competition. That's not good.''

With one of his extra nondistrict games, Criss has scheduled Arlington Sam Houston, coached by older brother Anthony Criss, for Zero Week.

Anthony and Zachary say "Criss Bowl'' does not do the game justice.

"Criss Extravaganza,'' they say, is more like it.
November, 1, 2011
11/01/11
5:23
PM CT
By
Randy Jennings
| ESPNDallas.com
Four teams remain in contention for two playoff spots in a jumbled District 7-4A.

Six weeks of play has settled only two of the four playoff berths. Mansfield Summit and Everman are in.

There remains a good possibility that a coin flip will be needed decide the final two spots.

The saga will play out Friday evening in four 7-4A stadiums.

Here's a look by school:

*Summit (8-1, 6-0) is the 7-4A champion.

*Everman (5-3, 4-2) has clinched its 13th consecutive spot going into Friday's home game against 0-9 Joshua.

*Granbury (5-4, 4-2), which hosts Summit, gets in with a win or a loss by Burleson or Cleburne. A Granbury loss and wins by Burleson and Cleburne would force a coin flip between Granbury, Burleson and Cleburne. A coin flip would be needed because the first two tiebreakers, head-to-head and point differential, are tied.

*Burleson (5-4, 3-3) with a win over Crowley gets in if either of two underdogs win: Joshua over Everman or Arlington Seguin over Cleburne.

*Cleburne (4-5, 3-3) gets in with a win and a Burleson loss to Crowley.

*Seguin (3-6, 2-4) gets in with a win over Cleburne and a Burleson loss to Crowley.

Everman will be in the Division II bracket of the 4A playoffs. Summit will be in Division II if both Burleson and Granbury are the final two playoff teams. If Cleburne or Seguin are in the playoffs, Summit will go Division I.
August, 18, 2011
8/18/11
12:01
AM CT
By
Randy Jennings
| ESPNDallas.com
DISTRICT 7-4A
Arlington Seguin (5-5, 3-4). Coach: Carlos Lynn.
Burleson (5-5, 3-4). Coach: Jason Tucker.
Cleburne (1-9, 1-6). Coach: Phil Young.
Crowley (5-6, 4-3), lost in DII bi-district. Coach: Chris James.
Everman (8-3, 7-0), lost in DII bi-district. Coach: Dale Keeling.
Granbury (6-5, 4-3), lost in DI bi-district. Coach: Scotty Pugh.
Joshua (0-10, 0-7). Coach: Jerry Bird.
Mansfield Summit (9-3, 6-1), lost in DI area. Coach: Travis Pride.
THE BIG QUESTION: Are there more final standings surprises in store from 7-4A to compare with the 2010 season?
When the dust settled in a reshuffled District 7-4A last season, Everman and Mansfield Summit finished in the top two spots as expected. Everman came into the season having won at least nine games in 10 straight seasons and Summit was dropping down from a pretty successful run in Class 5A.
But it would have been difficult to predict the third and fourth playoff spots would go to Crowley and Granbury.
Crowley, coming off a 3-7 season, hadn't been to the playoffs since 2001. But that drought was nothing compared to Granbury, where the last previous playoff excursion came in 1977. Granbury was 1-9 in 2009 and 0-10 in 2008.
For teams like Burleson and Arlington Seguin that finished only a game out of third place, or even for one-win Cleburne or winless Joshua, the Crowley and Granbury success stories could prove inspirational this fall.
PLAYERS TO WATCH
DB
Steven Aikens
, DL
Devante Richardson
, Arlington Seguin; QB Barrett Cain, OL Derek Baldeschwiler, Burleson; WR Cooper Walls, Cleburne; LB Kyron Minter, RB Larry Cheeks, Crowley; LB
Lincoln Richard
, QB Devynn Birdow, DE Jacob Kennedy, Everman; RB Brandon Davis, OL Johnny Shepard, OL Jason Shepard, Granbury; RB/DB Riley Davis, Joshua; LB
Micah Awe
, DL Cortez Harris, DL Jacolby Robinson, Mansfield Summit.
DID YOU KNOW?
Everman's first-round playoff exit snapped a string of five straight seasons in which it advanced at least to the third round. ... Granbury offensive lineman Johnny Shepard was named Class 4A all-state second team. ... Cleburne's Cooper Walls, an all-district selection, is the top returning receiver statistically with 663 yards and four touchdowns. ... Crowley running back Larry Cheeks is the district's leading returning rusher after gaining 1,121 yards and scoring 11 touchdowns as a sophomore in 2010. ... Burleson quarterback Barrett Cain returns after a frustrating 2010 when he missed nine games with an injury. ... Everman, known to favor the run over pass, has the top returning passer in Devynn Birdow. He threw for 998 yards and 14 touchdowns last season.
PROJECTED PLAYOFF TEAMS
Everman
Arlington Seguin
Mansfield Summit
Crowley
July, 26, 2011
7/26/11
10:24
PM CT
ARLINGTON, Texas -- Area players felt right at home during the Texas High School Coaches Association All-Star football game, accounting for all every score for the North in a 38-14 victory.

* Fort Worth Arlington Heights' Marquis Jackson made a very early statement, returning the opening kickoff 96 yards for six. Jackson's return was just 3 yards short of the longest return in the history of the All-Star game, set by Livingston's Dustin Harris in 2009. Jackson, a Kansas recruit, was the offensive MVP of the game.

* Euless Trinity's Tyler Orwig kept the area scoring streak going with a 30-yard field goal with 5:08 left in the first to give the North a 10-0 lead.

* Dallas Woodrow Wilson LB Chad Polk swarmed with the North defense, keeping the South All-Stars off the board in the first quarter. He contributed with two tackles for loss in the opening frame and finished the game with four tackles. Polk almost pulled in an interception

* Highland Park's Jake Howeth looks like he was able to shake the rust off his football throw after focusing on baseball, connecting with Jackson for a 38-yard gain on his first play of the game. He would then show some of his running flair, converting a fourth-and-1 on a quarterback keeper and completing the drive by keeping a read option for the score, widening the North's lead in the second to 17-0 after the PAT. Howeth would connect again with Granbury wide reciever Tyler Wright on an 18-yard fade in the back of the end zone early in the fourth.

* Former Aledo cornerback Rylan Riney had a quiet first half but kept the scoreboard rolling in the second, taking a interception 27 yard into the end zone. That score combined with a few tipped passes earned him the defensive MVP award.

* Frisco Liberty's Malcolm Hill pulled in a 45-yard touchdown pass in the third for the North's other score.
July, 24, 2011
7/24/11
11:00
PM CT
Fort Worth is the host city for this year's Texas High School Coaches Association Coaching School, bringing the football and boys basketball all-star games to the Metroplex. Many of the area's stand-out athletes have been named to the North All-Star teams for both the basketball game, tipping at 7:30 p.m. Monday at TCU's Daniel-Meyer Coliseum, and Tuesday's football game, which is at 7:30 p.m. at Cowboys Stadium.
[+] Enlarge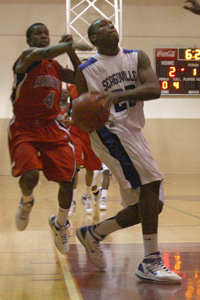 Travis L. Brown/ESPNDallas.comSeagoville's Devonta Abron will play for the North All-Star teams at 7:30 p.m. Monday at TCU's Daniel-Meyer Coliseum.
Here are the North All-Star rosters for both games:
FOOTBALL
RB Kaylon Alexander - Denton Ryan
CB Tyler Boyd - Daingerfield
WR Roderick Woodard - Quanah
SS Storm Griffin - Argyle
DB Jake Talbert - Crawford
SS Jovorious Brown - Longview
WR Xavier Willams - Ranchview
QB Josiah Monroe - Bastrop
WR Marquis Jackson - Fort Worth Arlington Heights
OLB Craig Wesson - Odessa Permian
SS Jake Howeth - Dallas Highland Park
CB Malcolm Hill - Frisco Liberty
WR Tyler Wright - Granbury
QB Anthony Morgan - Carthage
K/P Tyler Orwig - Euless Trinity
CB Rylan Riney - Aledo
LB Rodney Young - Dekaney
RB Chris Nutall - A&M Consolidated
DB Malcom Scott - Tomball
RB Rufus Mason - Flower Mound Marcu
s
DT Marcquel Sheppard - McKinney North
ILB Connor Sheehan - Austin Anderson
MLB Cord Fletcher - Henderson
DE Chad Polk - Dallas Woodrow Wilson
LB Trey McGowan - Kerens
OL Chad Williams - Burleson
DL Leroy Mitchell - Lubbock Estacado
OL Zach Crawford - Westwood
OL Dillon Ivory - Ore City
OL Marcus Hutchins - DeSoto
OL Tyler Halerumal - Sulphur Springs
OL Kris Weeks - Sachse
OL Nathan Butler - Southlake Carroll
OL Brandon Duryee - Hereford
LB Zach White - Littlefield
TE Garrett Mayo - New Deal
MLB Brent Turner - Idalou
DL Zach Wood - Rowlett
BASKETBALL
G Austin Chatman - The Colony
G Sean Voss - Belton
F Rorrest Robinson - Eastland
G/F Jordan Green - Flower Mound
G Derrell Gibbs - Burkburnett
G Derry Franklin - Mansfield Legacy
F Devonta Abron - Seagoville
G Hondo Webb - Melissa
F Tashawn Thomas - Kileen
G Luke Carpenter - Farwell
F Zane Hernandez - Iraan
F DaJuan Cooper - Kennedale
November, 1, 2010
11/01/10
7:28
PM CT
By
Randy Jennings
| ESPNDallas.com
Among all the teams that clinched a spot in the playoffs last week, few have been waiting longer for a return to the postseason than the Granbury Pirates.

After a 33-year absence, Granbury punched its playoff ticket in dramatic fashion.

Brent Phillips' 34-yard field goal with four seconds remaining gave Granbury (6-3, 4-2 District 7-4A) a 24-21 victory over Burleson on Friday before an approving crowd at Pirate Stadium.

The accomplishment was made sweeter considering Granbury's 1-19 record over the last two seasons.

With the score tied at 21, Granbury moved from its 36 to the Burleson 17 in the final three minutes to set up the winning kick.

Running back Brandon Davis led the Pirates with 211 yards on 19 carries and scored a pair of touchdowns on runs of 54 and 65 yards.

The Pirates have a chance to move up in the 7-4A standings Friday evening when they face Mansfield Summit (7-2, 5-1) in the final regular-season game at R.L. Anderson Stadium in Mansfield. Summit is No. 10 in ESPNDallas.com Class 4A rankings.

In its last playoff appearance in 1977, Granbury lost, 16-14, to eventual Class 2A state champion Wylie in the bi-district round.
October, 5, 2010
10/05/10
8:10
PM CT
By
Randy Jennings
| ESPNDallas.com
A show of hands likely would have come up empty for those predicting that Granbury's record would be better than that of Everman going into Friday night's District 7-4A contest.

Just as it has been tradition to see Everman steamroll several rounds in the Class 4A playoffs each season, it has been Granbury's unfortunate lot to finish at or near the bottom of the district standings and quickly turn attention to basketball.

Not much has changed with Everman (3-2, 2-0.) Its two losses came at the hands of two unbeaten teams, Highland Park and Waco Midway. A playoff run is very much within its capability.

The change is in Granbury, a city of about 7,000 about 30 miles southwest of Fort Worth.

Something refreshing is going on with the Pirates (4-1, 2-0) under coach Scotty Pugh. A program that produced only two wins in the previous three season combined has a chance for its first winning season since 2004.

Pirates Stadium hasn't had much to get excited about in the last decade, but it should be buzzing for Friday's 7:30 p.m. kickoff.

A couple of seniors that share the same first name have had a lot to do with Granbury's improvement.

Tyler Dixson, a 5-foot-11, 160-pound quarterback, has completed 56-of-94 passes for 954 yards and four touchdowns.

All the touchdown throws have gone to 6-foot-4, 200-pound wide receiver Tyler Wright, who has 21 catches for 594 yards.

When the Pirates turn to the ground game, junior Brandon Davis (5-foot-9, 175) leads the way with 336 yards and five touchdowns.

The Pirates' last playoff appearance was in 1977. Two wins in its final five games could get Granbury into the playoffs. How about another show of hands for that preseason prediction?