January, 6, 2012
1/06/12
4:00
PM CT
FRISCO, Texas -- Just under a month from winning its eighth state title, the city of Southlake might welcome another champion back into the Land of Dragons.

Sam Houston State guard Matt Boyles returned home this week for the FCS national championship game Saturday at sold-out Pizza Hut Park in Frisco.

Boyles, just a sophomore, has started on the line in 11 of the Bearkats' 14 games this season, including every playoff game.

To say Boyles' success comes from the emotion he displays on the gridiron would be quite the understatement, Southlake Carroll High School coach Hal Wasson said.

"He has a real nasty mindset in the trenches, but back in the fieldhouse he was a typical good student and good kid, but he could go to that real schizophrenic nature between the lines," Wasson said.

Boyles agrees that his hard work and attitude has been key in his success early in his collegiate career, but he's able to turn it off when he leaves the field.

"I tend to get a little aggravated at stuff. I just try to keep my effort going all out and then try to turn it off when I step off the field and try to be as good of a person I can be," Boyles said with a laugh.

Boyles got used to playing in front of big crowds at Dragon Stadium and during their annual playoff runs, which will help stave off any jitters before Saturday's game in Frisco.

"We'd have sellout crowds at home, and we played Trinity my sophomore year in front of 60,000 people and you get used to it. But then again you don't," Boyles said. "You're always going to get butterflies and everyone is going crazy for you. You're just excited and want to play your best and bring home that trophy."

Boyles is a key cog in the Bearkats' exciting and unorthodox offense that combines options, play-action passes and wildcat formations. The line has helped produce 4,077 rushing yards this season, with the opportunity for two rushers to finish over the 1,000-yard mark.

The offense is a lineman's dream, giving the big boys an opportunity to show off athletic abilities that are rarely noticed.

"It's not just a traditional offense where we're just blocking," Boyles said. "You see us pulling out, and that's everyone's favorite play -- to get out in the open field and chop someone down and get a little recognition. People actually see you when you're not down in the trenches and you're out there just having fun."

With a win Saturday, Boyles will have a chance to experience the same kind of fun his Silver Fox Swag Dragon kin celebrated at Cowboys Stadium in middle December.

"I got to come back and go to the state [title] game, and that's really cool to see my high school do that," Boyles said. "I think it would be really cool to win a national championship in college and a state championship in high school and be a part of such great programs."
December, 17, 2011
12/17/11
9:17
PM CT
ARLINGTON, Texas -- Hal Wasson stepped into Todd Dodge's shadow when he took the head coaching job at Southlake Carroll in 2007.
With
Carroll's 36-29 win over Fort Bend Hightower
on Saturday, Wasson stepped out of it.
[+] Enlarge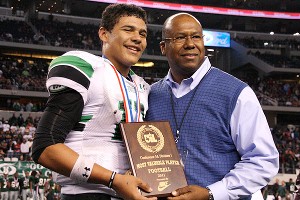 Travis L. Brown for ESPNDallas.comSouthlake Carroll junior quarterback Kenny Hill accounted for four touchdowns and 345 yards in the Class 5A Division I state championship game.
The win gives Carroll (16-0) its first state title under "The Silver Fox" and its eighth overall, tying Celina for the most in Texas history.
"I never came in trying to replace Todd Dodge," Wasson said. "I have tremendous respect for him. He's not replaceable. I just chose to be myself."
Wasson joins Dodge and Bob Ledbetter as coaches who've won state titles at Carroll, but he's not the only one who joined an illustrious and exclusive Carroll fraternity.
Quarterback Kenny Hill joins Chase Daniel, Greg McElroy and Riley Dodge among others as Dragon signal-callers who capped undefeated seasons with a state championship.
That list includes a Heisman Trophy finalist (Daniel), a national champion (McElroy) and a national high school player of the year (Dodge).
Hill was named the title game's offensive MVP. He threw for 229 yards and two touchdowns in addition to 116 rushing yards and two rushing touchdowns.
"It's an amazing feeling," Hill said. "I don't think I could ever compare to those guys who came through here. I'm just trying to be the best I can be."
It's fitting that Wasson won his title at Carroll with Hill as his quarterback. Hill was thrust into the starting role following Daxx Garman being ruled ineligible right before the 2010 season, a controversy that had the potential to unravel Wasson's tenure with the Dragons.
Instead, Hill blossomed in the 2010 playoffs, leading Carroll to the region finals a year before leading the Dragons to a state title.
Just a junior, Hill has a chance to win another title with Wasson in 2012.
December, 17, 2011
12/17/11
9:17
PM CT
By
Randy Jennings
| ESPNDallas.com
ARLINGTON, Texas -- It is like old times for Southlake Carroll.
The Dragons are on top of the Texas high school football world again after defeating Fort Bend Hightower, 36-29, in the Class 5A Division I state championship game Saturday evening before 42,822 at Cowboys Stadium.
[+] Enlarge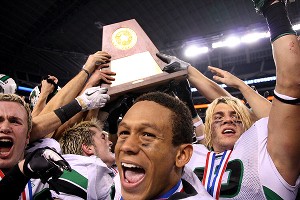 Travis L. Brown/ESPNDallas.com Southlake Carroll raised a football state championship trophy for the eighth time, tying Celina for the Texas record.
And thanks to the win, Southlake Carroll became the second school in Texas to own eight state championships, tying Celina for the record. Abilene, Brownwood and Plano all have seven.
This Dragons' victory followed a typical pattern throughout the playoffs. They had to come from behind three times against a more athletic team and did it with the
running and passing of junior quarterback Kenny Hill
and a defense led by linebacker Will Davis that came up with two game-changing plays in the second half.
Hill accounted for 345 yards and all four touchdowns. He rushed for 116 yards and two scores and completed 19-of-24 for 229 yards and two more scores.
It was Hill's 6-yard touchdown run with 9:18 remaining that put the Dragons (16-0) ahead for good.
And it was a 7-yard run by Hill on third-and-5 with 1:12 remaining that officially signaled celebration time for Dragon Nation.
Both of Hill's touchdown throws came after Hightower (13-3) had opened its largest lead of 23-14. Hill went to Sabian Holmes for 59 yards on a post route to cut the Hightower lead to 23-21 and went deep middle again for a 25-yard score to Corey Kemp for a 28-23 Carroll lead.
The opportunity for the Hill-to-Kemp score came about because Davis broke through to drop elusive Hightower quarterback Bralon Addison for a loss of 4 yards on fourth down.
After Addison motored 80 yards to put Hightower ahead 29-28, Davis made his second defensive game-changer, pulling the ball out of the arms of receiver Ryan Nelson and then making the recovery of the fumble himself.
Five years without a state title might not be called a slump at most schools, but it wasn't that long ago -- 2002-2006 to be exact -- that Southlake Carroll was reeling off four state titles in a five-year span.
Enter Hal Wasson, who had the difficult task of replacing Todd Dodge as Dragons' head coach.
Wasson said he gave the same advice to Hill, following in a long line of successful quarterbacks, that he applied to himself in following Dodge: "Be yourself.''
Said Wasson: "Nothing has come easy. But the work ethic of these players has personally taught me life lessons.''
August, 4, 2011
8/04/11
12:50
AM CT
This week, ESPNDallas.com spotlights five of the top quarterbacks returning to Friday night football in 2011.
KENNY HILL
School, class:
Southlake Carroll, Jr.
2010 Stats:
156-for-214, 1,752 yards, 6 TDs
In Hill's first season as the starting quarterback, Carroll was suffering from the instability of losing expected starter Daxx Garman to ineligibility the day of the Dragons' first game in 2010.
[+] Enlarge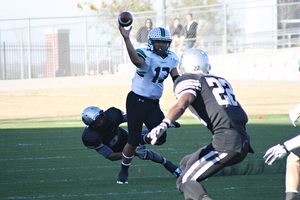 Travis L. Brown/ESPNDallas.com Quarterback Kenny Hill guided Southlake Carroll to the regional final round as a sophomore.
Hill stepped in and provided Carroll with much-needed consistency that helped it reach the 5A Division II state quarterfinals.
Hill is an all-around athlete with the ability to run and throw, and he can throw with accuracy -- completing over 70 percent of his passes in 2010.
The poise he possesses as an athlete and a leader on the field, in part, can be credited to having former Rangers pitcher Ken Hill as his father. That pedigree gives Hill a certain mental advantage on the field, Carroll head coach Hal Wasson said.
"He's been raised the son of a great athlete and there's things he has in his toolbox that he's seen from birth as a kid," Wasson said.
While Hill already posses the tools to be a successful quarterback, he still has plenty of potential to improve during his junior year. Wasson said he believes Hill will show improvements to his game week by week throughout the season that could help him leave his mark in a line of very successful Carroll quarterbacks.
Part of that legacy will most certainly include Hill's opportunity to get retribution for three key losses the Dragons suffered last season against Copperas Cove in the first game of the season and Coppell and Denton Guyer in District 7-5A play. Guyer beat Carroll twice last season, once at Dragon Stadium in the last game of the regular season and then in the state quarterfinals at Cowboys Stadium.
If Hill can mature into a veteran quarterback in his junior year, he will be something special for a very good Carroll team in 2011.
August, 24, 2010
8/24/10
11:26
AM CT
Before the stars of the NFL battle for the World Championship at Super Bowl XLV, 44 high school football stars from North Texas will take on the best high school players from Mexico in the Global Bowl XLV.

Southlake Carroll's Dragon Stadium will host the game matching up Team CONADEIP Mexico, comprised of the best football players from a newly established private school league, and44 of the top seniors from Dallas, Collin, Denton, Tarrant, Parker, Wise, Johnson, Ellis, Kaufman and Rockwall counties. The North Texas team will be lead by Southlake head coach Hal Wasson.

Coaches and fans will be able to nominate players on ESPNDallas.com and the player with the most votes will be featured on ESPNDallas.com as well as local radio stations. The final rosters will be selected by the coaches in December and will be announced at a press conference on January 10, 2011.

The Global Bowl will be broadcast on 103.3 ESPN Radio and ESPN Deportes.