High School:

Hoophall Classic
January, 14, 2012
1/14/12
8:18
PM CT
By
Brendan Hall / ESPNBoston.com
SPRINGFIELD, Mass. -- Plano Prestonwood's Julius Randle drew the first pop from the crowd in the marquee matchup of the third day of the Hoophall Classic, landing a violent windmill dunk in layup lines to the approval of the capacity crowd.
[+] Enlarge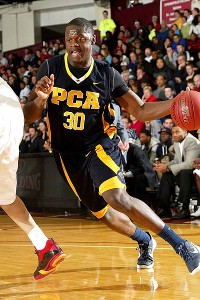 J Anthony Roberts/ESPNHSNo. 3 recruit Julius Randle returned to action on Feb. 15 and is nearing a decision date.
A few momets later, in the first minute of action, Oak Hill Academy (Va.) big man A.J. Hammons got the next pop, dunking over the nation's top junior power forward with both hands. He added insult to injury with a big two-handed shove to Randle's chest.
From that point, it was on. Both Randle and the 7-foot Purdue commit had their moments, but in the end it was Oak Hill prevailing once again, 85-55, after some lights-out shooting by guards Jordan Adams (23 points), Tyler Lewis (15 points, nine assists) and D'Vauntes Smith-Rivera (16 points) opened up the floodgates. The three combined for 10 3's, including a 5-of-7 effort from Adams, to blow this open.
In total, Oak Hill, which moves to 27-0, was 13 of 25 from deep. Prestonwood fell to 15-4.
"I thought we could have competed a little better," Prestonwood coach Chris Mayberry said. "But the way they shot tonight, you know, 13 of 25, I think they're the best team in the country today for sure, the way they play. I thought we could've competed a little better, but they're also really good. You've got to give them credit."
In the fourth quarter, with the Lions down by more than 20, Randle impressed the crowd with three powerful one-handed slams in transition. But the first half was a whole other story.
The game featured plenty of length, with Kansas commit Zach Peters and 6-7 freshman Mickey Mitchell joining the 6-9 Randle in the frontcourt, paired off against Hammons and the Warriors' 6-6 Charlotte commit, Darion Clark. Those long arms played a big part of the opening minutes, with the Lions struggling to get good looks inside of 15 feet thanks to a stifling mix of 3-2 and 2-3 zone looks.
In one possession, Hammons swatted Peters going to his right, and when Randle missed a close-range floater on the follow-up, he found himself boxed out by Hammons' outstretched arms. On an ensuing possesson, Randle managed to cross up Hammons, only to be stuffed by Clark as he drove to his left.
There were promising rotations on Prestonwood's end, such as when Mitchell sent Georgetown-bound guard Smith-Rivera's layup attempt into the crowd under the baseline. But too often in the first half, it seemed, the Lions seemed to receive two uppercuts for each jab they dealt.
Earlier this week, Randle told ESPNHS in his periodical "Player Diary" that he was going to hand the undefeated Warriors their first loss. That seemed to motivate Hammons, who combined with Clark to hold the sought-after big man to a 4-of-13 effort from the field in the first half. Randle finished with 23 points, nine rebounds and three blocks -- but it felt as if he earned every single tally.
"I just tried to attack his body," Randle said of Hammons. "He's a big guy, so I wanted to try and attack his body. I wasn't frustrated, I knew the ball would go into the hole at some time, so I wasn't worried.
"They overloaded my side, so I just had to look and find my teammates better."
Acknowledging Randle is a step quicker, Oak Hill coach Steve Smith said he was hoping Randle would make a few jump shots early and settle there, "because he's hard to play inside". But the combination of Hammons (eight rebounds, three blocks) and Clark (10 points, six rebounds) was frustrating enough.
"He [Randle] likes to float sometimes," Smith said. "We just tried to mix it up ... we tried to keep him away from the basket, when he did catch it down low we'd try and send a guy to double-team. We had some size -- he's not used to getting his shot blocked, I don't think, and that messed with his head a little bit. I think we blocked his shot three or four times in the first half, and that seemed to fluster him a bit."
Oak Hill led 22-8 after one quarter, and 39-24 at the half. The Lions were held to 32.1 percent shooting from the floor in that first half, including just a 4-for-13 effort from the floor by Randle. The Lions finished 38.6 from the floor for the game, but were outrebounded 42-25.
January, 17, 2011
1/17/11
8:52
PM CT
By
Brendan Hall, ESPNBoston.com
SPRINGFIELD, Mass. – Just how easy did national powerhouse Findlay Prep of Henderson, Nev., make things look out there against Dallas Lincoln?
As the final seconds of the third quarter ticked off in this Hoophall Classic matchup, Texas-bound point guard Myck Kabongo scooped up a loose ball and cut 45 degrees from the top of the key as he effortlessly lobbed up an underhanded alley-oop pass, which teammate Amir Garrett slammed easily as the buzzer sounded, finishing off an 18-6 run and giving the Pilots a comfortable 53-37 lead.
[+] Enlarge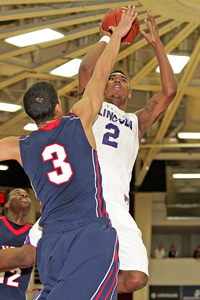 Margaret Myers/ESPN.comLeBryan Nash scored 23 points and grabbed eight rebounds for Lincoln, but the Tigers couldn't keep up with Findlay Prep.
It was that kind of afternoon. Lincoln, ESPN Dallas' No. 2 Class 4A squad, boasts two of the state's elite forwards in seniors LeBryan Nash and Keaton Miles. But where the Tigers matched up favorably in the frontcourt, they struggled to match the speed to hang with the Pilots' rapid tempo for 32 minutes, as they fell 68-59 at Springfield College's Blake Arena.
"They played aggressive man (to man)," Nash said. "They've got a lot of kids from AAU. They're like an AAU team, and we weren't ready for them. We thought we could come in here and just play our game. We thought we could just walk away with a win."
Meanwhile, head coach Leonard Bishop was finding silver linings in the loss, which was televised nationally on ESPNU.
"They did a great job. I think we had a great game plan for them, and I think the only thing that hurt us was that we didn't run our offense a couple times, and they scored," Bishop said. "We knew they were going to be tough, and hard to beat, but we're pleased with the guys. I'm not satisfied, because of the third quarter, but overall I thought they played well."
Nash, an Oklahoma State recruit and the No. 12 player in the Class of 2011 in ESPN's latest rankings, did his part (23 points, eight rebounds). So did Miles, who racked up a double-double (15 points, 13 rebounds) and provided some early defensive spark in the paint. But while the Tigers excelled in the half-court, going toe to toe with bigs Garrett and Winston Shepard (16 points, 13 rebounds) and trailing 35-31 in the break, they stumbled once the Pilots turned up the pressure in the third quarter.
With Kabongo (14 points, 10 assists) leading the press, the Pilots forced the decision-making into the hands of the backcourt and used the suffocating pressure to create a series of easy transition baskets for high-flying Arizona recruit Nick Johnson (19 points).
Overall, Nash and Miles combined for 12 of the Tigers' 17 turnovers. So while the Pilots played just seven, one got the feeling these guys could run all night at that pace.
"That was one of the points of emphasis at halftime," Findlay head coach Michael Peck said. "We've got to come out, and instead of letting them walk the ball up the floor and initiate offense in a rested position, let them burn a little bit of that 30-second shot clock, so they're a little bit more scrambled and a little bit more hurried and rushed.
"And also, let's make conditioning a factor, because we think we have an edge there, so that's what we did in the second half. And over the course of time, I think it took its toll on them a little bit, and we were able to capitalize."