High School:

Houston Yates
March, 10, 2012
3/10/12
10:17
PM CT
AUSTIN, Texas -- Dallas Kimball pulled out a come-from-behind 78-75 win over Houston Yates for its second straight 4A state championship.
Kimball trailed state nemesis Yates, 75-73 with just over twelve seconds left as forward Sheldon Yearwood held the ball at the free throw line.
Junior star recruit Keith Frazier, who had a double-double with 17 points and 14 rebounds, was on the floor. Last year's 4A championship MVP Shannon Lilly, who had hit five 3-pointers as a part of a game-high 27 points, checked in.
[+] Enlarge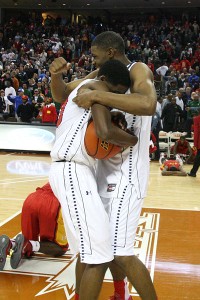 Travis L. Brown/ESPNDallas.com Kimball celebrates its second consecutive 4A state basketball championship.
Yearwood's pass went to junior Torrey Henry, who threw up a wide-open 3-point attempt.
"I had confidence in him," Yearwood said.
The ball hadn't finished spinning through the nylon before most of those in attendance at the Frank Erwin Center jumped to their feet.
Seconds later after a missed Yates 3-point try, Kimball (34-5) celebrated its 4
th
boys state basketball championship, the second in as many years, over Yates (33-6).
"All year long this group of kids -- they're a young group -- but someone always found a way to step up," Kimball coach Royce Johnson said. "That's what we talked about before the game and at halftime and going into the fourth quarter -- someone was going to have to hit a big shot."
Returning to the spotlight was Lilly, hitting clutch 3-pointers in the second half that led to his second MVP award in two years. His personal additions to the Kimball trophy case rank him among some of the most influential players in the storied Kimball basketball program, Johnson said.
That intense action from Lilly and the Knights wasn't there throughout the entire game. Kimball began the game hesitant, which showed in the free throw column of the first-half score sheet.
Yates hit 17 of 21 from the stripe, counter to Kimball's meager 4-for-7. Kimball settled for the outside shot, which gave it a 33.3 percent shooting percentage and a 36-30 deficit at the break.
Kimball ignited some passion in the second half, picking up its pace on offense. In turn, the Knights dominated the fast-break game, scoring 23 points in transition.
Ironically, it was perimeter shooting that would ultimately seal the game for Kimball.
Lilly began the Knights' comeback with a step-back 3-pointer with just under two minutes to play, which Johnson said "opened the door" for Kimball's resurgence.
When the ball found Henry's hands in the corner, Johnson first tried to shout a reminder to his player that Kimball trailed by only two.
"I was trying to remind him what the score was and tell him to drive. "I always tell my players to have confidence," Johnson said. "As a coach, I'm going to tell you what I think, but don't be afraid to make a play and I think that's what he did. He locked in and when he let it go, I felt good because he didn't hesitate. He was trying to win."
That 3 exercised two demons
that have haunted Kimball in the last ten years. It vindicated the Knights from a loss to Yates in the state finals in 2009. It also put Kimball on the winning side of a last-second victory, healing the emotional wounds inflicted on Johnson after losing the state championship in 2002 on a half-court prayer.
"Tonight we got over '02. We hit the big shot and we're over it," Johnson said.
With those shortcomings put to rest, Henry began a new chapter in the collective memory of Kimball basketball by burying one shot.
"It was history," Johnson said.
March, 10, 2012
3/10/12
9:09
PM CT
By
Damon Sayles/ESPN Recruiting Nation
AUSTIN, Texas -- Forgive Kimball head coach Royce "Snoop" Johnson. He admitted Saturday that he's kept a decade-old secret.
Back in 2002, Johnson was on the sidelines when his Knights were robbed of a Class 5A championship when San Antonio Jay's Chris Ross drained a half-court, buzzer-beating shot. Kimball lost, 54-53.
[+] Enlarge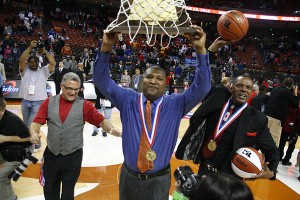 Travis L. Brown/ESPNDallas.com "Tonight," Kimball coach Royce "Snoop" Johnson said, "we got over '02. We hit the big shot. We're over it."
Johnson told reporters after winning last year's Class 4A title that the 2002 game was out of his mind. Deep down, that loss has stayed with him, silently gnawing at his insides and making him constantly ask, "What if?"
Until Saturday.
Exactly 10 years and a day later, the Knights were on the positive end of a dagger heard around the Texas basketball world. Torrey Henry drained a 3-pointer with 12 seconds remaining to take the lead from Houston Yates, and Kimball repeated as 4A champion with a 78-75, come-from-behind victory.
"Tonight," Johnson said, "we got over '02. We hit the big shot. We're over it."
There are plenty of words and phrases to describe Saturday's impressive win. Vindication. Exorcising of past demons. Silencing harsh critics.
Shocking the world.
Kimball did all of that, and it got the job done against a Yates team that many felt was heavily favored. The Lions were averaging 100.8 points in their first six playoff games. They were back-to-back state champions in 2009 and 2010. Several of the seniors were sophomores on that last championship team.
Yates was a favorite to many. Johnson, however, didn't feel that way.
"Before the game, I thought we were the favorite," Johnson said. "Back in '09, we were talking upset. [Saturday] before the game, we said if we lost, it was going to be an upset.
"All year long, this group of kids has always found a way to step up. That's what we said start of the fourth. Someone has to make the big shot. They found a way to win and were not afraid to lose."
What makes Kimball's win that much more impressive is that the Knights were down five with 33 seconds left to play. Henry hit a 3-pointer to trim Yates' lead to 75-73 with 29 seconds left. Following a missed free throw, Henry took a pass from Darian Hancock and drained a 20-footer in the corner -- right in front of the Kimball bench -- and hit the biggest shot of his basketball career.
"I knew I had to step in, shoot with confidence and follow through," Henry said. "I knew I had God on my side, and I let it go."
While Henry provided the game-turning moment, Shannon Lilly Jr. provided multiple big-game shots that led to Henry's basket. Lilly scored nine of his 27 points in the fourth quarter, including the last two free throws of the night. It was Lilly's play that not only spearheaded Kimball's miraculous run but also earned him his second-consecutive state tournament game MVP award.
Lilly, who Johnson called "Mr. Big Shot," said winning state was special, but defeating Yates was a bonus. He was a freshman when Kimball lost to Yates in the state-title game in 2009.
"I had to do it for my brothers that lost in '09," Lilly said. "I know they're feeling good about it. I wanted to do it for them and the community."
Kimball left Austin with tons of confidence and the opportunity to gloat -- even though the players chose not to after the game. Knowing that they were the two-time defending 4A champions allowed them to write their own tickets without saying a word.
For Johnson, knowing that the Jay game wouldn't haunt him anymore made him smile that much brighter.
"We're not really caught up in the back-to-back [talk]," he said. "I just know that the trophy's still at home. They know we're trying to be relevant every year. The kids meet the expectations. They don't shy away from it."
Damon Sayles covers Midlands recruiting for ESPN Recruiting. He can be reached at dsaylesespn@gmail.com. Follow him on Twitter: @DamonSayles
March, 9, 2012
3/09/12
12:00
AM CT
By
Damon Sayles/ESPN Recruiting Nation
AUSTIN, Texas – It was a fun ride.
Denton Ryan's quest for a Class 4A state championship was railroaded by the juggernaut that is Houston Yates, as the Raiders fell, 87-67, to the Lions in a 4A semifinal Thursday night.
[+] Enlarge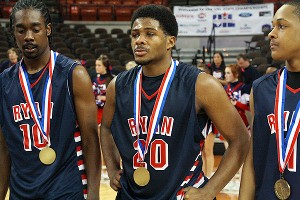 Travis L. Brown for ESPNDallas.comDenton Ryan's improbable run for a 4A championship ended with a loss to Houston Yates in the state semifinals.
Twelve seconds into the game, Yates' Clyde Santee drained a 3-pointer. That bucket turned into a 26-15 lead, which eventually turned into a much worse problem for Ryan. By halftime, Yates was cruising, 46-25.
"They got hot early, hitting seven 3s in the first 10 minutes. It was not a good thing for us," Ryan coach Bryce Overstreet said. "I felt like in the second quarter, we didn't make the best decisions in transition.
"Their length affected us. We haven't seen a team this year that possesses an amount of length they have at every position."
For a while, Ryan (23-12) showed the fight that turned a third-place team out of District 4-4A into the Region I champion. The Raiders' Marcus Holcomb hit a 3-pointer with roughly 6:30 remaining to trim Yates' lead to 46-36.
But Yates (33-5) turned on its jets in the fourth quarter and managed to pull away with the play of Clyde Santee, J.C. Washington and Oregon signee Damyean Dotson, in addition to strong defensive play. Ryan's dream season -- one that included its last three wins by a total of seven points -- was over.
"We knew we had to play four good quarters to be in [the finals] on Saturday," Yates coach Greg Wise said. "The intensity was there. We knew they only played six or seven guys, and we wanted to make sure we got to them from the beginning."
Dotson led Yates with 26 points and made 7 of 13 from the 3-point line. Dotson added six rebounds and four assists. Santee had 18 points, eight rebounds and five assists, and Washington added a double-double, 10 points and 11 rebounds.
Holcomb led Ryan with 21 points on 7-of-10 shooting. UTSA football signee Trey Mohair added 19 points but made 6 of only 21 attempts. Sam Johnson finished with 16 points and 11 rebounds.
Yates, looking to win its third championship in four years, will face Kimball on Saturday afternoon.
Damon Sayles covers Midlands recruiting for ESPN Recruiting. He can be reached at dsaylesespn@gmail.com. Follow him on Twitter: @DamonSayles
March, 13, 2010
3/13/10
9:08
PM CT
AUSTIN, Texas -- After winning its second straight state title on Saturday, Houston Yates head coach Greg Wise and his players dismissed accusations that it purposefully ran up the score on weaker opponents this season.
Yates' constant full-court press produced eye-popping final scores throughout the year, including a 170-35 win over Houston Lee. Yates broke a national record for consecutive 100-point games with 15, a streak that was broken by Lancaster on Saturday.
ESPN columnist Rick Reilly even weighed in
, more or less calling for Wise's head, but Yates players contended that they never tried to run up the score.
"Rick Reilly has his own opinion of Coach Wise," said Yates guard
Darius Gardner
. "The people out here, they know Coach Wise. They know those things aren't true that they say about him. I'm a kid so I can't say anything about him [Reilly] because I don't know him. When you say something about someone you don't even know, you're giving yourself a bad name."
March, 13, 2010
3/13/10
9:06
PM CT
AUSTIN, Texas -- Houston Yates guard
Joe Young
was told he couldn't return to the game.
Yates fans are lucky he didn't listen.
After coming down awkwardly after attempting a 3-pointer, Young fell and hit the back of his head hard on the court. He was dazed as he was carried back to the locker room.
"I didn't know where I was," Young said. "I couldn't see nothing or hear nothing. When I got back to the bench I thought I was going to fall over."
Trainers decided it was best to not let him return to the game, but after collecting his wits, Young ran out of the trainer's room and back to the court. Yates fans greeted him with roaring applause.
"I wanted to be a state champion again," Young said. "I didn't want to let my teammates down."
Yates trailed Lancaster, 72-71, when Young came back in the game, but Young hit 3-pointers on back-to-back possessions to begin a 21-1 run that delivered Yates its second straight state title.
"I didn't even see him come back," said Yates guard
Darius Gardner
. "When I saw him come back int he game was when I knew he was alright. When he hit the 3 I said 'Alright, he's back.'"
Three-point shooting proved vital for Yates. It shot just 36.1 percent from the field for the game, a total that didn't look at that good for most of the game, especially compared to Lancaster, which shot 46.9 percent from the field.
But Yates shot 35.5 percent from beyond the arc, hitting on 11 treys. Lancaster made just two 3-pointers.
March, 13, 2010
3/13/10
8:31
PM CT
AUSTIN, Texas -- The relentless and merciless style
that's brought national criticism to Houston Yates
delivered the team a second straight 4A state title on Saturday.
Trailing Lancaster by one point midway through the fourth quarter, Yates' full-court press sparked a 21-1 run that turned a nail-biter into a blowout in front of a UIL record 16,755 fans at UT's Erwin Center.
The 92-73 final score doesn't show how close Lancaster came to pulling off an enormous upset over the team ranked as No. 1 in the nation by some. For a team that's been accused of running up the score, Yates' ability to score in bunches paid off.
"I don't know if it's vindication because I really believe in what we do," said Yates coach Greg Wise. "It wouldn't have mattered what happened. Our guys believe in what we do, and you can tell by the way they play."
Lancaster (36-3) was positioned to pull off the upset after holding the lead through much of the third quarter. The teams jostled for the lead to open the fourth quarter before Lancaster took a 72-71 edge.
The Tigers scored a single point the rest of the game. Returning from the locker room after hitting his head on the court, Yates guard Joe Young hit back-to-back 3-pointers to put his team ahead. Meanwhile, Yates' press forced six straight Lancaster turnovers.
By the end of the flurry, the game was out of reach.
"I knew they was going to have a spurt," said Lancaster head coach Ferrin Douglas. "I just hoped we had the last spurt at the end of the game. They showed why they're No. 1 in the country."
Yates (34-0) jumped out to an early lead while Lancaster was adjusting to the press, but the Tigers kept the game within reach.
Yates took a 12-point lead midway through the second quarter, but an 8-1 run by Lancaster helped it close within four at halftime.
Lancaster dominated the third quarter and took a 51-50 lead with 4:46 remaining in the quarter. The Tigers held the lead until Yates'
Brandon Peters
nailed a miraculous layup that set up Yates' final push.
"We were playing our team basketball," said Peters of the run. "We started off not playing our basketball. As the game went on we got our focus back."
Peters was named the game's MVP after scoring 37 points and added 13 rebounds. Young had 24 for Yates while
Darius Gardner
added 16.
John Bohannon
, a UTEP signee, led the way for Lancaster. He dominated inside, pulling down 23 rebounds and scoring 12 points. Michale Kyser and
Tre Lynch
both had 15 for Lancaster. J.J. Williams scored 12.
March, 13, 2010
3/13/10
6:22
PM CT
AUSTIN, Texas -- Houston Yates went on a 19-0 run midway through the fourth quarter to turn a nail-biter into a blowout, beating Lancaster, 92-73, to clinch its second straight state title on Saturday.

Yates' Brandon Peters was awarded game MVP. He scored 37 points and had 13 rebounds.

March, 10, 2010
3/10/10
11:01
AM CT
The Colony head coach Cleve Ryan doesn't have much to say about his team's matchup with Houston Yates on Thursday, just that the Cougars are ready for the challenge.

But what can he say? Yates (32-0) is the defending 4A champion and ranked No. 1 in the nation. It's riding a 56-game winning streak, the last 14 of which Yates scored at least 100 points. The Lions have seven players that average double digits in scoring and two that average in the 20s.

The best a team has performed against Yates in the playoffs was No. 3 LaMarque in the Region III final. Yates won, 101-83.

"Our team is realistic to know that we're the underdogs," Ryan said. "But we like the challenge. No one thought we'd even get to where we are. We're going to give it our best shot. We're not going to doubt anything. We're going to go play."

The Colony (30-8) has been stellar in its own right. A team of mostly juniors, the Cougars marched through a favorable bracket in Region I and beat Mansfield Legacy, 58-51, to advance to the state tournament for the first time since 2001.

Despite the strong showing, The Colony is a decided underdog against Yates.

No. 2 Lancaster (35-2) is in the same situation. It beat Dallas Kimball and Dallas Pinkston in the Region II tournament to advance to play Austin Lake Travis on Thursday in the state semifinals. The Tigers have done nothing but roll through the season, losing just twice.

But should it meet Yates in the state title game, the story will be not if, but when Yates wins, it will clinch its spot among the great high school basketball teams of all time.

Lancaster plays Lake Travis at 7 p.m. on Thursday at Austin's Frank Erwin Center. The Colony plays Yates after that game.
February, 23, 2010
2/23/10
3:40
PM CT
Listening to Lancaster head coach Ferrin Douglas talk about his team, one would think the Tigers were an underdog instead of a favorite.

Douglas' primary goal for the playoffs? Make it back to the regional tournament.

Douglas' thoughts on Lancaster's side of the Class 4A Region II bracket? Very difficult, but manageable.

That's not anyone else's perception of the No. 2 team in the state, which opens the playoffs at 7 p.m. Wednesday against Waco Midway at Mansfield Timberview.

The Tigers (30-2) rolled through the regular season, with their only losses coming to out-of-area teams in early December, making them arguably the top 4A team in the Dallas-Fort Worth area.

"Our preseason has helped us out a lot," Douglas said. "We have played a lot of tough teams in our district. The teams we played early on pretty much match who we're playing in the playoffs."

Midway provides a strong first-round test for Lancaster behind point guard Jay Hooks, who averages more than 18 points per game, but Lancaster's bracket is generally favorable. Its first major test would come in the regional semifinals, where it could meet state contenders Sherman or Dallas Kimball.

But like for every 4A team in the state, No. 1 Houston Yates looms. The defending 4A champs set a state record with 170 points in a January game and have scored at least 100 in 10 straight games.

"They're [Yates] always in your mind, but like I tell people who ask me about Yates, 'If we get to that point, we'll be ready,'" Douglas said.
February, 10, 2010
2/10/10
2:54
PM CT
Kimball (20-7, 11-0) can remain perfect in District 11-4A and lock up at least a share of the district title and the No. 1 seed in the playoffs with a victory over A. Maceo Smith (2-20, 3-8) on Thursday at 7:30 p.m. at Ellis Field House.

But that's not the season's goal for the Knights.

Kimball lost to Houston Yates, 94-78, in the 4A state championship in 2009. Coach Royse Johnson built this team to do what last year's couldn't -- beat Yates. It's something nobody has achieved this season, either, as Yates is 24-0 and ranked No. 1 by the Texas Association of Basketball Coaches poll.

"We know that if we do get a chance to get out of Dallas, which is so tough ... But if we do get that opportunity, we've modeled ourselves to compete with Yates," Johnson said. "We know if we get to that game [state], we're going to have to play up-tempo. If we play up-tempo, we'll get plenty of open shots, but it's going to be about stamina. You can only condition so much in practice. It's nothing like the conditioning of a game."

Kimball, ranked No. 11 by the TABC poll, struggled with adjustments early in the season. Sophomore guards Shannon Lilly and David Tucker had to learn to play at the varsity level, the team took on a tough nondistrict schedule, and everyone tried to get used to the new speed of play.

Since district began, Kimball has rolled -- not just going undefeated, but winning by an average of 27.8 points per game.

"The kids were frustrated, but I just wanted them to trust in me and what I was trying to do," Johnson said of the early struggles. "We're starting to see the results now."