July, 31, 2011
7/31/11
10:39
PM CT
This week, ESPNDallas.com spotlights five of the top quarterbacks returning to Friday night football in 2011.

BRADY BURGIN
School, class: Highland Park, Sr.
2010 Stats: 126-for-176, 1,945 yards, 15 TDs, 6 INTS

Burgin had the opportunity to get significant playing time at quarterback at Dallas Highland Park as a junior in 2010, splitting time with senior Jake Howeth. For the majority of the season Burgin, a strict pocket passer, would take control of the Scots offense in the second and fourth quarters, only relinquishing his position to Howeth, who was a running threat, during those quarters in short-yardage or high-pressure situations.

Highland Park head coach Randy Allen changed his season-long quarterback strategy when his team fell behind to Mesquite Poteet in the regional round of the 4A Division II playoffs at Cowboys Stadium, leaving Burgin in at quarterback for the entire second half. While Highland Park would go on to lose, that experience gave Burgin a taste of the high-pressure atmosphere he will be more likely to face as the full-time starter this year.

Burgin's biggest asset going into his senior season is the experience he gained splitting time with now-graduated Howeth. That includes developing a connection with his receiving corps, Howeth said, which returns two top pass-catchers from 2010 in Dalton Stogner and William Morris.

"Brady is a great thrower and a really good leader," Howeth said. "The thing I like about him, he's a good leader. He gets the guys together and throws all the time with them. He has a great sense of camaraderie with is receivers."

Beyond the intangibles, Burgin flat out has skill. His ability to sit back in the pocket and manage the traditional Highland Park offense fits right in to Allen's plan for the Scots in 2011.

"He is a good drop-back passer and he runs play action spread-outs very well," Allen said. "He can run the ball, but passing is his strength."

The only question that remains for Burgin in 2011 is how he will preform in pressure situations. While he will no longer have Howeth to help pick up that key first down or short-yardage touchdown, Burgin is not alone. Allen said he worked senior running back Preston Miller at quarterback in a wildcat formation through spring ball, which will give the Scots a Howeth-like threat in short-yardage situations.

Burgin and Highland Park will be thrown into the fire in the first game of the season when they face a very athletic Everman defense at SMU. The Scots' other big test is the first game in October against Wylie's aggressive defense.

As usual, Highland Park will be a very complete team with the ability to maintain a balanced attack that will keep any defense off guard, relieving some of the pressure from Burgin to carry the offense in his first year as a full-time starter.
July, 26, 2011
7/26/11
10:24
PM CT
ARLINGTON, Texas -- Area players felt right at home during the Texas High School Coaches Association All-Star football game, accounting for all every score for the North in a 38-14 victory.

* Fort Worth Arlington Heights' Marquis Jackson made a very early statement, returning the opening kickoff 96 yards for six. Jackson's return was just 3 yards short of the longest return in the history of the All-Star game, set by Livingston's Dustin Harris in 2009. Jackson, a Kansas recruit, was the offensive MVP of the game.

* Euless Trinity's Tyler Orwig kept the area scoring streak going with a 30-yard field goal with 5:08 left in the first to give the North a 10-0 lead.

* Dallas Woodrow Wilson LB Chad Polk swarmed with the North defense, keeping the South All-Stars off the board in the first quarter. He contributed with two tackles for loss in the opening frame and finished the game with four tackles. Polk almost pulled in an interception

* Highland Park's Jake Howeth looks like he was able to shake the rust off his football throw after focusing on baseball, connecting with Jackson for a 38-yard gain on his first play of the game. He would then show some of his running flair, converting a fourth-and-1 on a quarterback keeper and completing the drive by keeping a read option for the score, widening the North's lead in the second to 17-0 after the PAT. Howeth would connect again with Granbury wide reciever Tyler Wright on an 18-yard fade in the back of the end zone early in the fourth.

* Former Aledo cornerback Rylan Riney had a quiet first half but kept the scoreboard rolling in the second, taking a interception 27 yard into the end zone. That score combined with a few tipped passes earned him the defensive MVP award.

* Frisco Liberty's Malcolm Hill pulled in a 45-yard touchdown pass in the third for the North's other score.
July, 26, 2011
7/26/11
5:25
PM CT
FORT WORTH, Texas – Tuesday night's Texas High School Coaches Association football All-Star game is vindication for former Highland Park quarterback and safety Jake Howeth.

His senior season came to an abrupt halt in the regional round of the 4A Division II playoffs at the hands of 2010's Cinderella story, Mesquite Poteet.

Howeth has the chance to end his football career on his own terms at the same place it ended for the Scots months before, Cowboys Stadium.

"I'm out for a little redemption," Howeth said.

Howeth, who took on some of the quarterback duties for Highland Park in his senior season, was listed as playing safety when the rosters for the North All-Star team were first released, but he was greeted with the pleasant surprise of playing quarterback.

Howeth was a vital rushing tool for Highland Park, but with all of the talent at running back for the All-Star game, Howeth said he expects just to be handing off the ball.

His All-Star appearance will be his last in football pads after deciding late in his senior year to play baseball at the next level.

Howeth had originally committed to play baseball for New Mexico, but has recently found himself torn between the Lobos and local Texas Wesleyan University, which has offered him a full ride.

"New Mexico is trying to get me more money for a scholarship but Texas Wesleyan gave me a full ride, so I don't know if I'm going to do that," Howeth said. "It's full-ride versus Division I baseball."

Howeth still has a couple of weeks left to make his decision, but this week has been all about remembering how to throw a football after spending the last six months throwing baseballs in from the outfield.

"Baseball and football are two completely different arm angles when you're throwing," he said. "You've kind of got to get used to it. There's a little adjustment period but I think I've made it pretty well. It's a contact game and I've got to get back used to that."

In other Tuesday THSCA convention news:

* Mesquite Poteet football coach Randy Jackson and Southlake Carroll basketball coach Jon Youngblood were elected to be Region III's nominees to be the North All-Star coaches in the 2012 THSCA All-Star games. The final election from every region's nominee in both sports will be held in February.
April, 20, 2011
4/20/11
12:00
AM CT
HIGHLAND PARK, Texas -- The artificial turf surface at Scotland Yard saved the day, allowing Highland Park to play and beat McKinney North, 4-0, not long after heavy rain hit the area Tuesday evening.
Highland Park No. 4 pitcher Holt Perlman threw a gem, throwing all seven innings and allowing only two hits. Highland Park coach Fred Oliver gave Perlman the ball against the District 10-4A last-place team to get the late rotation hurler some experience before playoffs.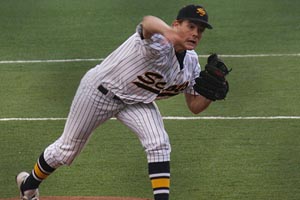 Travis L. Brown/ESPNDallas.com Holt Perlman, Highland Park's No. 4 starter, struck out 10 McKinney North batters in a two-hit shutout.
"He's been up and down all year. ... He's not overpowering but if he spots his ball up, it's hard to hit," Oliver said. "He kept the ball down tonight for the most part and he did a great job."
Perlman struck out 10 batters on the night, walking three. He said the humidity in the air after the afternoon showers allowed him to get a better grip on his slider, which he used as a strikeout pitch throughout the night.
"The umpire gave me a lot of good calls," Perlman said. "Obviously, my defense was playing really strong behind me. Working like that, I was just trying to throw strikes and let them work behind me."
A Dylan May two-run double in the third would be all the scoring the Scots needed. May was given a second chance when a balk was called on a pitch which he hit for a fly out. The runners were given second and third, and May drilled the next pitch into the gap in right center.
"He was throwing me a lot of outside fastballs so I was just trying to battle the ones on the corner off," May said. "He gave me a low and outside fastball and I wasn't trying to do too much and just take it to right center, and it worked out for me."
Ben McElroy had a hand in Highland Park's other runs, scoring on a passed ball in the fifth and hitting a sacrifice fly to deep left to drive in Mark Gottsacker in the sixth.
The win gives district-leading Highland Park momentum going into Friday's game against Rockwall-Heath, the second-place team.
"This [district] is pretty darn good," McKinney North coach Jim Gatewood said. "It's good from top to bottom and I think that's what separates it from these other [districts]. ... We don't take anyone lightly and I know [Highland Park doesn't] take anyone lightly."
Howeth commits to New Mexico
Highland Park quarterback and outfielder Jake Howeth said after the game that he received a scholarship offer from New Mexico to play baseball for the Lobos. He saw the team play in Fort Worth at the beginning of April and has decided to commit to play in Albuquerque.
He is in the process of decommiting to Northwest Missouri on a football scholarship.
December, 26, 2010
12/26/10
6:41
PM CT
By
Randy Jennings
| ESPNDallas.com
TWO-WAY PLAYERS OF THE YEAR
Class 5A: Josh Stewart, Denton Guyer, WR/DB
The 5-10, 160-pound senior was a star not only on offense and defense but also on special teams as a kick returner.
2010 FOOTBALL AWARDS
ESPNDallas.com recognizes the top Class 4A and 5A performances from the 2010 football season:


As a wide receiver for the Division II state finalist Wildcats, Stewart pulled down 55 catches for 964 yards and nine touchdowns. He carried the ball six times for 42 yards.
Defensively, the Oklahoma State pledge intercepted five passes and averaged five tackles per game.
Stewart's value to Guyer was never more evident than in the first half of a 55-7 regional playoff victory over Abilene Cooper. Stewart caught a 12-yard touchdown pass for the first score of the game, returned a punt 50 yards for a touchdown to make it 14-0 and then intercepted a pass, leading to a third score.
Class 4A: Jake Howeth, Highland Park, QB/DB
The 5-11, 185-pound senior captain accounted for 43 touchdowns as a dual-threat quarterback.
As a passer, the District 10-4A MVP completed 104 of 184 passes for 1,424 yards and 15 touchdowns. As a rusher, his 189 carries netted 1,265 yards and 28 touchdowns. His 176 points led the team.
Most of Howeth's playing time leading up to his senior season had been on defense. He intercepted five passes and had a fumble recovery as a junior.
Playing for his dad, Highland Park defensive coordinator Mark Howeth, he had 26 tackles, nine assists and defensed six passes.
As a punter, Howeth averaged 39.1 yards on 33 kicks with seven killed inside the opponents' 20.
August, 28, 2010
8/28/10
8:28
PM CT
Highland Park quarterback Jake Howeth lead the Scots to a 27-21 victory Saturday over annual playoff rival Everman, passing for two touchdowns and running for two.
[+] Enlarge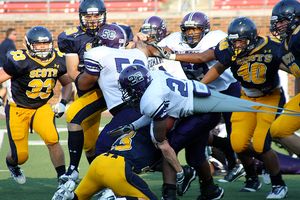 Travis L. Brown/ESPNDallas.comCory Franklin gave Everman an early lead over Highland Park.
The speedy Everman defense could not stop Howeth, who ran on the Bulldogs the entire game. He was effective running the read option and taking the ball himself on the fake.
"Their defensive ends are state championship relay guys and they're fast," Howeth said. "They were wanting to take the first option they saw. So I tried to sit back and read them and make the right decision every time."
Everman scored on the first drive of the game, with running back Cory Franklin scoring from two yards. James Bailey converted on a fourth-and-long run to keep the drive going.
Howeth sparked Highland Park with a touchdown pass in the first quarter to a well-covered Jack Mercer on a pump fake.
Everman answered on the next drive with an 87-yard touchdown catch-and-run from Bailey, who had his defender burned down field. The Bulldogs were not able to convert on the two-point try.
The Scots would score last in the half. Howeth hit Colin Stringer for a 6-yard touchdown pass and then succeeded on the two-point conversion with a run.
Everman was the only team to score in the third, nailing a 20-yard field goal to tie the score. It would take the lead in the fourth, with Bailey running for a 10-yard touchdown on a simple trap rush up the middle.
That would be the last score for the Bulldogs. Howeth would even the score up on a short-yardage touchdown run, with a missed PAT. He would tally his second rushing touchdown with little time left on the clock after Everman fumbled on the 2-yard line.
"That's a state championship-caliber team right there and they have all the talent in the world," Howeth said about Everman.
August, 22, 2010
8/22/10
11:51
PM CT
DISTRICT 10-4A
[+] Enlarge

Travis L. Brown for ESPN.comHighland Park ran the table in district play last season and reached the regional semifinals.

Highland Park (11-2, 7-0 in 10-4A) lost in DI regional semifinals. Coach: Randy Allen

McKinney (4-7, 4-3 in 9-4A) lost in DI bi-district. Coach: Jeff Smith

McKinney North (2-8, 2-5 in 9-4A). Coach: Mike Fecci

Richardson J.J. Pearce (6-5, 4-3 in 10-4A) lost in DII bi-districts. Coach: Randy Robertson

Rockwall (4-6, 2-5 in 10-4A). Coach: Scott Smith

Rockwall-Heath (7-4, 5-2 in 10-4A) lost in DII bi-district. Coach: Mickey Moss

Wylie (3-7, 1-5 in 8-5A). Coach: Bill Howard

Wylie East (first-year varsity program). Coach: Joe Lepsis
THE BIG QUESTION: Can Highland Park quarterback Jake Howeth make the transition from safety to signal caller in 2010?
After an honorable-mention all-state nod at safety in 2009, Howeth returns to the field for the Scots this season with a new role.
Howeth has offensive experience from 2009, rushing for 15 touchdowns as a running back and starting one game at quarterback. With Howeth in under center, Highland Park adds the threat of the run on the scramble, which was successfully executed several times in a scrimmage against Plano West on Friday.
Highland Park also boasts a young but talented wide receiving corps, which was demonstrated at the scrimmage by Willam Morris' over 50-yard touchdown run after catching a Howeth pass on a bubble screen.
The team with the best shot to dethrone the Scots from the district championship is Rockwall-Heath, who returns running back Dorian Lawry. The Hawks need for young, inexperienced players, especially on defense, to step up to have a chance at the top spot in the district.
PLAYERS TO WATCH
Highland Park offensive tackle
Kyle Stouffer
is big and athletic and would be a great fit in any collegiate spread offense. … Wylie will be solid on defense around lineman Josh Scarlett, who had 60 tackles, 12 for loss, in 2009. … Highland Park will complete its offensive triple threat with running back Preston Miller who rushed for 728 yards and eight TDs last season.
DID YOU KNOW?
J.J. Pearce quarterback
Mac Morse
threw for 634 yards in a game last season against Carrollton Newman Smith, setting a new state record.
PROJECTED PLAYOFF TEAMS
Highland Park

Rockwall-Heath

Wylie

J.J. Pearce