January, 4, 2011
1/04/11
10:25
PM CT
By
Randy Jennings
| ESPNDallas.com
MOST VALUABLE PLAYERS
Class 5A: J.W. Walsh, Denton Guyer, QB
When his team fell short of the Class 5A Division II state championship game, J.W. Walsh apologized to teammates.
2010 FOOTBALL AWARDS
ESPNDallas.com recognizes the top Class 4A and 5A performances from the 2010 football season:


A late-game Walsh interception (only his sixth in 303 attempts) allowed Cibolo Steele to hold off a late Guyer threat, 24-21.
But realistically, how close to 13 wins or the state title game would Guyer have gotten without Walsh's amazing season? The 6-foot-2, 190-pound Oklahoma State commit completed 62 percent of his passes for 3,188 yards and 35 touchdowns.
As a runner, the durable Walsh led the Wildcats with 1,423 yards and 16 touchdowns. Combined, he generated over 4,611 yards of offense and 51 touchdowns in a 16-game season, leading the five-year-old school to its first state title appearance.
Walsh threw for a season-high 345 yards in a season-opening win over Waxahachie and rushed for a season-best 202 yards the following week in a loss to Cedar Hill.
Perhaps just as important as his statistics was his value to the team as a leader.
Class 4A: Jay Ajayi, Frisco Liberty, RB
The 6-foot, 200-pound tackle-breaking Ajayi helped put five-year-old Liberty on the football map in a memorable 12-1 season.
The senior, bound for Boise State, rushed for 2,219 yards and 35 touchdowns on 225 carries. He twice reached a game-high total of 292 yards, against Frisco Centennial in midseason and against South Oak Cliff in a bi-district playoff win.
In sparing use as a receiver, Ajayi had seven catches for 67 yards and one touchdown.
With Ajayi leading the way, Liberty stormed through an unbeaten regular season and two rounds of the playoffs before losing, 38-24, to Bastrop in the Class 4A Division II Region II semifinals.
But even in defeat, Ajayi didn't go down quietly, rushing for 193 yards and a touchdowns.
Although far from a one-man team, Ajayi's value to his team was on display in every week of Liberty's season.
November, 24, 2010
11/24/10
7:43
PM CT
Few things are more dangerous in the Texas high school football playoffs than a hot dual-threat quarterback, and Frisco Liberty will face one of the hottest in the state in Bastrop's Josiah Monroe.
In two playoff games, Monroe, dubbed "the Mosiah," has thrown for 901 yards and six touchdowns while adding 325 yards and five touchdowns on the ground.
Bastrop (9-3) will test a Liberty (12-0) defense that's steadily improved during the season in the third round of the Class 4A Division I playoffs at 7 p.m. Friday at Cowboys Stadium.
In its last five games, Liberty has given up an average of just 6.8 points but hasn't faced a player like Monroe in any of those games.
While Liberty has a stiff challenge on defense, it has an opening on offense in the form of Bastrop's run defense. Bastrop gave up 284 yards to Sulphur Springs running back Kendrick Daniels but won, 58-44. It gave up 224 yards to Corsicana's Cameron Washington but won, 51-34, after a 34-point fourth quarter.
In its regular-season finale, Bastrop, located just southeast of Austin, gave up 431 total rushing yards and two 100-yard rushers.
Liberty doesn't exactly need help running the ball. Jay Ajayi breached the 2,000-yard mark with his dominating night against South Oak Cliff last week, rushing for 292 yards and four touchdowns. Liberty won, 37-7.
With Monroe leading one offense and Ajayi leading the other, Liberty and Bastrop could be in for a shootout in Liberty's first appearance at Cowboys Stadium.
October, 28, 2010
10/28/10
6:06
PM CT
Jay Ajayi
is the type of athlete who would excel in any sport.
Frisco Liberty's running back already has. The London-born Ajayi was a standout soccer player before committing to football full-time in hopes of fulfilling the dream of playing college football. That dream will be realized next year when Ajayi plays for Boise State.
[+] Enlarge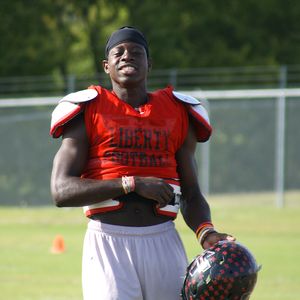 Travis L. Brown/ESPNDallas.comFrisco Liberty running back Jay Ajayi is headed to Boise State.
It's easy to see why Boise State wants him. Ajayi plays bigger than his 5-foot-11 frame and runs with a seamless combination of speed and power.
He's added a young Liberty program's name to the short list of the area's top 4A teams. No. 4 Liberty (8-0, 5-0 in District 9-4A) can wrap up its first district title with a win over No. 7 Frisco Wakeland (7-1, 5-0) on Friday at Pizza Hut Park.
"He was pretty good at soccer from what I understand," said Liberty head coach Galen Zimmerman. "I think he's probably a little better at football."
That's an understatement. Ajayi's stats jump off the page. He's run for 1,553 yards and 28 touchdowns in just eight games with a bloated 11.7 yards per carry. He averages more than three touchdowns per game, and there have been a number of games where Ajayi didn't even play in the second half.
"The whole senior class has done a good job of holding each other accountable," Zimmerman said. "Jay understands his offensive line helps him a ton. Those five we have on the line are pretty good leaders. That class really feeds off each other. They trust each other."
While Liberty leans on its running game and Wakeland relies on its passing game, the similarities between Liberty and Wakeland are immense. They both opened in 2006 and both rose quickly to become 4A powers.
Ajayi is second in the area in rushing among 4A teams. Wakeland QB
Tyler Kirkindoll
is second in the area in passing with 2,279 yards and 27 touchdowns.
The two offenses produce almost exactly the same amount of yardage. Liberty averages 438 yards per game while Wakeland average 437.
Defensively, Wakeland hasn't given up much on the ground -- Liberty's strength. Liberty has been stingy against aerial attacks -- Wakeland's strength.
"It's pretty even," Zimmerman said of the matchup. "We're pretty similar when you look at total yards and points and everything. They play great team defense and I think we do, too."
It's a mouth-watering matchup for Frisco fans, but the playoff implications may be sparse. If the 9-4A playoff teams stay as they are now, Wakeland will be the top seed in Division I and Liberty will be the top seed in Division II regardless of who wins Friday.
October, 12, 2010
10/12/10
6:00
PM CT
Frisco Liberty running back
Jay Ajayi
will be a game-time decision for Thursday's game against Carrollton Creekview.
Ajayi left in the middle of Liberty's 41-27 win over Frisco Centennial with an injury. Head coach Galen Zimmerman said Ajayi could have returned if necessary but he held him out as a precaution.
It's easy to see why Zimmerman is cautious. Ajayi's value to Liberty has been immeasurable, especially considering that Malcom Hill, the running back Ajayi split carries with in 2009, is already shelved with an injury.
Ajayi has rushed for 1,296 yards and 23 touchdowns in six games. He's second in the area in rushing in Class 4A to Dallas Woodrow Wilson's
Carl Harris
(1,396 yards), but Harris has 84 more carries than Ajayi. He leads the area in scoring.
Ajayi, a Boise State commit, has shown marked improvement from 2009. He averaged 7.5 yards per carry in 2009. He's averaging 12.1 yards per carry this season.
No. 5 Liberty (6-0, 3-0 in District 9-4A) is following its breakout 2009 season with an even better campaign in 2010. While it blossomed late last season in time to make a playoff run, Liberty has been strong from the beginning, having little trouble going undefeated so far in 2010.
The biggest game remaining on Liberty's schedule is against Frisco Wakeland (5-1, 3-0) on Oct. 29. The winner will likely win the district.
October, 9, 2010
10/09/10
1:07
AM CT
By
Kellis Cunningham
| ESPNDallas.com
FRISCO -- Boise State commit Jay Ajayi's value to Frisco Liberty cannot be measured.

It took No. 5 Frisco Liberty one half of football to put away crosstown rival Frisco Centennial on Friday at Pizza Hut Park. Ajayi alone had 290 yards on 20 carries and scored five of the six touchdowns by the Titans before leaving with an injury, as Liberty defeated Centennial, 41-27.

Ajayi collected 235 yards on just five plays in the first half. Three of those were for touchdown runs of 43, 65 and 78 yards -- the latter being the first play of the game.

On one of his touchdowns, Ajayi took a sweep to the right, and when nothing showed around the corner he made a quick plant and reversed the field. With two players in his way with about four yards to the end zone, Ajayi soared over the two defenders to pull in his third of the five touchdowns in that half.

Ajayi capped his half with his fifth touchdown, a 65-yard score on a draw play with one second until halftime that put Liberty (6-0, 3-0 District 9-4A) up, 41-13.

However, Ajayi would go down in the second half on a 2-yard gain with an ankle injury that would take him out for the remainder of the game. He finished with 296 yards on 22 carries.

Predictably, Liberty's offense suffered after the injury, but the Redhawks had enough points to hang on for the victory.

Centennial quarterback Nick Foster accounted for four touchdowns. Penalties also kept the Titans (3-2, 2-1) from keeping up with Liberty's running game.
August, 9, 2010
8/09/10
1:46
PM CT
Rowlett running back
Treyvon Green
, who rushed for 975 yards and 16 TDs during his junior season, has committed to Northwestern for 2011. The three-star prospect (5-9, 195 pounds), ranked 49th by ESPN Recruiting, opted for the Wildcats over Wake Forest, Memphis, Louisiana-Monroe and Western Kentucky.
Also, Frisco Liberty running back
Jay Ajayi
has committed to Boise State for 2011. The 6-foot, 200-pound Ajayi rushed for 1,627 yards and 20 touchdowns as a junior, and choise the Broncos over Minnesota, New Mexico State, Tulane and Wyoming.
"I felt that the relationship between my coaches and my teammates was very strong and I just wanted to play for the Boise State program because I've been intrigued by them for a while," Ajayi told he Idaho-Statesman. "I felt that it was right and it felt right. Their offense is very explosive, and I think of myself as a very explosive kind of player."