High School:

Jonathan Williams
April, 11, 2012
4/11/12
9:37
PM CT
As unrest surrounds the University of Arkansas football team following the firing of head coach Bobby Petrino, a local recruit has spent the last day trying to unify the 2012 signing class.

Allen running back and four-star recruit Jonathan Williams spent most of Wednesday calling fellow recruits to make sure they were still on board to play in Fayetteville next fall.

"I just really wanted to talk to all the other commits and try to calm them down because the reason we all committed to Arkansas is because how great their school is. Their football program is great, but the academics are great and the campus is great, too. I just tried to talk to those guys and make sure they stayed a part of the Arkansas football team."

The majority of the signees he spoke with felt the same as he does -- what Arkansas has to offer as a school outweighs the scandal surrounding the football program. Williams said none of the recruits he spoke with said they were reconsidering their college selection.

Williams initially heard of the scandal from friends attending Arkansas and players currently on the football team, but said he didn't hear of Petrino's firing until it was in the news.

"I wasn't thinking much of it, but when it got the media attention that it got -- that's when I started feeling nervous. I was just shocked," Williams said of Petrino's firing.

In the end, Williams said it was the assistant coaches who did most of the recruiting and created more of a connection with the incoming class than Petrino did. While Petrino was a factor in Williams' decision to pick Arkansas, all the school has to offer is really what made Williams decommit from Missouri last season and choose the Razorbacks.

Moving forward, if Williams could pick a new head coach for his future team, he said he would bring back former offensive coordinator and current UAB head coach Garrick McGee, who left Fayetteville before last season to take the helm for the Blazers.

"He was one of the guys who helped recruit me, and he would keep the coaching staff that is up there because that's the staff he worked with," Williams said. "That would be a good possibility in my eyes at least."
February, 1, 2012
2/01/12
1:27
PM CT
ALLEN, Texas -- Alec Morris had a feeling Alabama would eventually offer him a scholarship.
The Allen quarterback was invited to the Tide's camp over the summer, and both parties came away impressed. Alabama even invited him back for another workout.
"I just feel at home there," Morris said.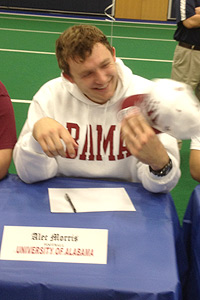 Jeff Andrews/ESPNDallas.com Allen quarterback Alec Morris signed with Alabama, which wasn't the first school to offer him a scholarship.
But Morris had to wait as the defending national champions considered their options at quarterback. The offer didn't come until the middle of the 2011 season, well after Morris had committed to Wake Forest.
When the offer did come, he took a week to discuss it with his family and made the decision to switch to Alabama. Morris made it official Wednesday morning by signing a letter of intent to play for Alabama at a huge ceremony featuring 32 athletes at Allen's indoor practice facility.
"They had always been there after I worked out, calling me every week or so," Morris said. "They were always in contact with me. I felt like it was a matter of time."
What Alabama was waiting on was Gunner Kiel, one of the top quarterback prospects in the nation. Alabama was in hot pursuit of Kiel, who ended up committing and decommitting to both Indiana and LSU before signing with Notre Dame on Wednesday.
When Kiel committed to Indiana, the Tide moved on to Morris, who threw for 3,242 yards and 35 touchdowns in his second season as Allen's starter.
"Kiel committed to Indiana and that's when they jumped on me," Morris said.
Allen rarely has players switch commitments. Head coach Tom Westerberg attributes that to the way his staff prepares players for the recruiting process.
Shortly after signing day, Westerberg invites all freshmen, sophomores and juniors to a meeting that explains what it takes to play at the next level and what players need to do to prepare both on and off the field.
The work Allen's staff does in the recruiting process also helps ward off the third parties that offer workout or recruiting services that have popped up over the last four years.
"Those people are in it for the money," Westerberg said. "They ask players to pay them money and when we do the same thing for free. We try to keep our kids away from all those recruiting services."
But this year Allen had not just Morris switch commitments, but running back Jonathan Williams as well. And both are heading to the SEC.
While Morris had just three offers -- Wake Forest, North Texas and eventually Alabama -- Williams had more than a dozen, but he managed to narrow it down to two schools -- Missouri and Arkansas.
Williams, who rushed for 1,169 yards and 12 touchdowns in an injury-riddled season, committed to Missouri in the spring, but Arkansas didn't give up on him.
The Razorbacks kept calling Williams and got him to take a trip to the campus. Meanwhile, Missouri backed off, allowing Arkansas to slip in.
"They were persistent," Williams said of Bobby Petrino's staff. "When a coaching staff is that interested in you to stay persistent after you commit to another school, they obviously want you bad. I took that into consideration."
November, 14, 2011
11/14/11
4:48
PM CT
ARLINGTON, Texas – Last week was a wild one for Allen running back Jonathan Williams, and it had nothing to do with the Eagles' bi-district close call against Keller Central.
After decommitting from Missouri earlier in the week, Williams quickly made a verbal pledge Friday to play football for Arkansas.
Williams' main reason for the switch was Arkansas' proximity to his home in Texas, but also cited his respect for the Razorbacks' offense as a key factor.
"I like their offense," Williams said. "They're a pro-style offense and with Bobby Petrino as the head coach, he's going to have a good offense year-in and year-out. I feel like I can prosper in that type of offense."
Williams took a recruiting trip to Fayetteville after Allen's national TV win over Plano East the weekend of Oct. 6 and said, on returning home, his family agreed Arkansas would be a better fit for Williams than Missouri.
Williams has rushed for over a 1,000 yards this season despite missing several games due to injury. Williams sat out most of the second half of Allen's bi-district game Saturday after taking a big hit but returned for Allen's final drive of the game.
Williams said he is fine and the rest was just precautionary to help him recover from a few small injuries he has acquired throughout the season.
November, 9, 2011
11/09/11
3:13
PM CT
Allen running back and four-star recruit Jonathan Williams decommitted from Missouri earlier this week, Allen coach Tom Westerberg said.
Missouri was the first school to make Williams an offer, but after committing he went on an official visit to Arkansas the weekend after Allen's win over Plano East on Oct. 6.
Williams stressed that Missouri's departure from the Big 12 to the SEC had nothing to with his decision.
"It's not going to affect too much," Williams said after the Plano East game. "I either know they will be in the Big 12 or the SEC. It doesn't matter really."
Williams told ESPN Recruiting's Damon Sayles that Arkansas now leads the pack to land the No. 16 running back in the nation because of it's proximity to his home.
For more information on Williams decision,
click here for Sayles' story on ESPN Recruiting
(must have insider access).
October, 21, 2011
10/21/11
11:44
PM CT
FLOWER MOUND, Texas – Getting pushed to the brink of defeat has become a habit for Allen this season.
So has finding a way to pull out a win.
Against Flower Mound Marcus on Friday, the Eagles found themselves in their most dire situation yet: trailing by four points with 1:40 left in the game and possession of the ball at the 20-yard line.
But in typical fashion, Allen rallied behind quarterback
Alec Morris
, who hit
Oliver Pierce
for a 16-yard touchdown with 13 seconds left on the clock to give the Eagles a 35-31 win at Marauder Stadium.
The win puts Allen (8-0, 5-0), No. 1 in the ESPNDallas.com Class 5A area rankings, in sole possession of first place in District 8-5A for the first time this season.
"I pulled my offensive line aside and said 'We're going to go win this football game,'" Morris said of the game-winning drive. "'We're doing it for our team, our coaches, our town -- everybody. This is our ballgame. We're going to go win it."
Morris guided Allen to five touchdowns despite a standout performance from Marcus' defense, which held Allen's running game in check for most of the night.
The senior signal-caller threw for 340 yards and threw for four touchdowns. He added 84 yards and a touchdown on the ground.
This overshadowed an absolutely dominant performance by Marcus' running game, which produced 412 yards and three 100-yard rushers (
Harvey Giddens
,
Jeff Smiley
and
Deion Sanders Jr.
).
"They run the football real well," said Allen head coach Tom Westerberg. "They're a good football team. Smiley is doing a great job for them."
In the first half, No. 6 (7-1, 4-1) Marcus seemingly had the answer for everything Allen did, but receiver Andrew Rodriguez almost single-handedly kept the Eagles in the game.
With Allen trailing 14-7, Rodriguez hauled in a 49-yard pass on a go route to start a drive that ended with an 18-yard touchdown reception by
Jonathan Williams
to tie the game.
Late in the second quarter after Smiley gave Marcus the lead again with a 31-yard touchdown run, Rodriguez caught a 79-yard touchdown pass on the same play to tie it again.
And in the third quarter with the Eagles trailing by a touchdown again, Rodriguez split the safeties in zone coverage for a 60-yard touchdown reception.
He finished with 203 yards and two touchdowns on just four receptions.
"He's a playmaker," Morris said of Rodriguez. "It's a joy having him on our team, being able to look outside and know there's a receiver that's going to run by every corner. You can throw it up and he'll make plays happen."
Defensive adjustments helped Allen catch up in the second half. After giving up 289 yards on the ground in the first half alone, the Eagles simplified things in the second half and slowed Marcus down.
"We were not trying to move people around like we did in the first half," Westerberg said of his defense. "We just lined up and played base defense and got after it. We challenged the kids to play a little bit better and they did."
But it couldn't stop the Marauders entirely. Smiley, who finished with a game-high 150 yards, scored his third touchdown on a 26-yard run to give Marcus a 35-31 lead with 1:40 left in the game.
Allen responded by going 80 yards on nine plays in just 1:27 to win the game.
"We started putting some stuff together," Westerberg said of the final drive. "They had a hard time covering our receivers once in a while. Once they try to cover A-Rod [Rodriguez] on a play, then you have the other guy up the seam and we hit Oliver for the touchdown."
August, 19, 2011
8/19/11
12:01
AM CT
5A NO. 1: ALLEN EAGLES
2010 record:
10-2
Predicted 2011 regular-season record:
10-0
ESPNDallas.com spring ranking:
No. 1
[+] Enlarge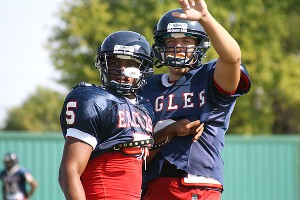 Travis L. Brown/ESPNDallas.com Running back Jonathan Williams and quarterback Alec Morris give Allen plenty of offensive firepower.
Division I commits:
QB
Alec Morris
(Alabama), RB
Jonathan Williams
(Missouri), LB
Thaddeus LaGrone
(Baylor).
Why they're here:
Why wouldn't Allen be here?
With its high participation numbers and seemingly endless talent pool, the Eagles are a perennial state title contenders even in years when they don't have a lot of returning experience.
This year Allen has seven starters coming back on each side of the ball, a high number for a team that usually relies heavily on its senior classes.
It's not just quantity coming back, but quality, and at key positions. QB Morris shouldn't have any trouble improving on the 2,533 yards and 22 touchdowns produced as a junior. Williams has the potential to lead 5A area players in rushing after passing the 2,00-yard mark in 2010.
Morris has experienced receivers returning in Andrew Rodriquez and Oliver Pierce. OLs Jake Trotter and Mark Massey return after all-district seasons at a position where the Eagles never have a problem excelling.
With so much talent and experience, expectations are soaring in Allen, and anything short of a state title will be considered a disappointment.
Holes to fill:
For any team, 14 returning starters is a big number. It's even bigger at Allen. There aren't many holes. Allen has to fill out its offensive line and secondary, but head coach Tom Westerberg's primary concern coming into the season was establishing depth.
Key game:
at Plano, Sept. 23