High School:

Jovan Hernandez
June, 9, 2012
6/09/12
12:46
AM CT
Jovan Hernadez's ascent up the pitcher's mound Friday clearly represented what Rockwall-Heath's baseball team had worked for the last four years to achieve.

"It was like reaching the summit of a mountain," Heath coach Greg Harvey said. "We were finally where we've been working to go."

Hernandez's complete-game, four-hit effort was more than enough to secure Rockwall-Heath's first baseball state championship Friday at Round Rock's Dell Diamond. Heath routed North Texas neighbor, Cleburne, 10-1 in the final 4A game of the season.

The win brought back a 4A title to the Metroplex for the first time since 2002.

Hernandez also had a team-high three RBIs on two hits, including a home run, in addition to his stellar pitching effort.

"Jovan went out and threw just an absolute amazing game. He did exactly what we needed him to do. He really just controlled the game from the mound."

Hernandez's third-inning homer brought in two RBIs, scoring Clayton Rasbeary after his inning-opening double.

Heath first baseman Timbo Duncan lead his team in hits, going three-for-three with two RBIs.

"We just pounded the ball all night long and all the way up and down the lineup, we had some big hits," Harvey said.

Heath finished its state championship season 36-9. Rockwall's annual Fourth of July parade will feature the newly-crowned state champions.

Arlington Martin falls to Houston Cypress Ranch, 6-0

The 5A state title will remain in southern Texas after Arlington Martin was blanked by Houston Cypress Ranch at Dell Diamond on Friday.

Cy Ranch starter Grant Slaughter went the distance, throwing a three-hit, eight-strikeout gem.

Cy Ranch second baseman Bryce Stark drove in a team-high two RBIs with one hit.

Cy Ranch will face College Station A&M Consolidated on Saturday at 11:30 a.m. for the 5A state title.
August, 25, 2011
8/25/11
11:15
PM CT
ROCKWALL, Texas -- Two-sport star Jovan Hernandez said he prefers the rush of running in for a touchdown over hitting a huge homer, both of which he is known to do for Rockwall-Heath.
[+] Enlarge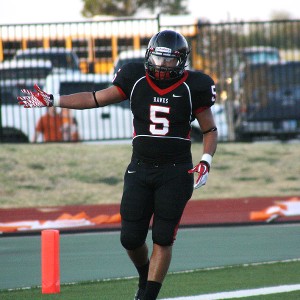 Travis L. Brown/ESPNDallas.comJovan Hernandez got Rockwall-Heath off on the right foot with an 11-yard touchdown run.
Hernandez's 11-yard score Thursday opened the Hawks' scoring for the 2011 season on the way to a 19-7 win over West Mesquite.
"I'm kind of used to the home runs," Hernandez said with a laugh.
Hernandez was a cog in a platoon of Rockwall-Heath rushers, adding 40 yards to the Hawk's rushing total of 202.
But almost half of Rockwall-Heath's points came courtesy of the defense, which scored eight points (two on a first-quarter safety) against a tentative West Mesquite offense.
West Mesquite turned the ball over four times on fumbles; the last one put the nail in the coffin in the fourth quarter. Jay Arnold picked up the loose ball and ran it 47 yards into the end zone to make the score 19-7. Rockwall-Heath had added a 28-yard field goal in the third.
West Mesquite found a rhythm in the beginning of the second quarter and drove 80 yards for its only score of the game. The drive was capped off by a 1-yard touchdown run by Courtland Smith.
Between the scores, both teams played a sloppy game typical of Zero Week that also stood out because of the inability to condition players due to extreme heat during practices, Rockwall-Heath head coach Mickey Moss said.
"This was broadcast on TV and I don't even know if I want to watch it because it was ugly," Moss said with a chuckle.
No matter, Hernandez was glad to get the first game and his first score out of the way after being sidelined for a week with an ankle injury.
"My stomach dropped [after the touchdown]," Hernandez said. "I came into this game nervous so it felt good."