High School:

Justin Northwest
December, 30, 2011
12/30/11
10:54
PM CT
HALTOM CITY, Texas -- For the first time since 1992, the Whataburger Tournament Orange Bracket title went to a team from outside of Texas.

Little Rock Parkview defeated Milwaukee Rufus King, 72-64, on Friday thanks to an outstanding tournament performance from Imara Ready, who put up a game-high 32 points in the title bout to earn tournament MVP honors.

Ready and teammate Anton Beard said the prestige of the Whataburger Tournament only adds credibility to Parkview's claim on the No. 1 ranking in the state of Arkansas.

The Parkview boys won't be the only team bringing hardware back to Little Rock, as the girls squad beat Denton Guyer to claim the consolation championship in the DISD/Coca-Cola Tournament on Thursday.

Consolation Championship: Houston Klein Forest 56, Justin Northwest 49.

Klein forest ended Justin Northwest's hot streak through the consolation bracket with a 17-point effort from Jacoby Green.

Forest's 20 points in the fourth quarter sealed the win.

Northwest's Peri James managed 11 points, followed by Todd Christensen with 10, but it wasn't enough to keep one of the championship trophies in the Metroplex.
December, 28, 2011
12/28/11
10:17
PM CT
HALTOM CITY, Texas -- The always-precise machine that is the Flower Mound Marcus basketball team hit a kink in the system Wednesday.
Marcus had to overcome a 23-22 halftime deficit against Justin Northwest to pull out a 45-38 win and advance in the winners bracket of the Whataburger Tournament.
[+] Enlarge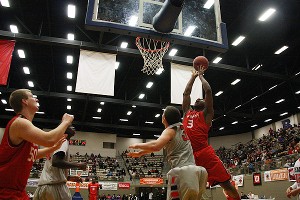 Travis L. Brown/ESPNDallas.comMarcus Smart didn't start as punishment for arriving late to practice, but FM Marcus was able to rally for a win.
Marcus experienced a Christmas break hangover and, for the first time in a long time, did not come to the game ready to excel, coach Danny Henderson said.
It is a problem Henderson has little experience encountering with this team.
"I've been with them 98 games, I think, and I'm going to say they've been ready to play 94 times," Henderson said. "They've been amazing in that respect and that's the only reason I'm not going ballistic on them. They've built up a big bank account in that regard."
Marcus was out-hustled by Northwest in the first quarter but got a kick-start in the second quarter when Marcus Smart came off the bench and entered the game for the first time. Smart and A.J. Luckey sat out the first quarter for arriving 17 minutes late to a practice Tuesday before the tournament.
"It wasn't a big deal," Henderson said. "He and A.J. have never been late to anything, but they were late and there is going to be discipline. They overslept."
Marcus' big three -- Smart, Forte and Nick Banyard -- accounted for just 30 points, well below the average for the trio. However, it still accounted for 67 percent of Marcus' offense in the low-scoring affair.
Marcus' defense came up big in the third quarter, holding Northwest to just two points while the offense struggled to net six points of its own. Marcus outscored Northwest 17-13 in the fourth to salvage the win.
"Our defense was phenomenal in the third quarter and overall," Henderson said. "They [Northwest] got 38 points and they had two in the third quarter. Defense wasn't the problem."
Henderson wasn't too upset with his team's performance after the game because he said he also was not as prepared as he could have been for the opening-round game.
Banyard, who hit two 3-pointers in the first quarter, was not given an opportunity to spot up again later in the game. Henderson instead tried to get him backdoor lobs, having him slash to the basket on the opposite side of the court from the ball. He even went so far as to apologize to Banyard for the mistake in the middle of his postgame interview.
The defending 5A state champion and No. 4 team in the nation is held to a standard of playing near-perfect basketball in every outing, but it is sometimes easy to forget about the attention Marcus receives, Smart said.
"It is a little bit until teams come out and [start] doing stuff that you weren't expecting them to do, that you know they could do, but they're doing everything that you've been told they can do," Smart said "It brings you back to reality and you remember the name on your jersey."
In the end, Marcus made the adjustments necessary to compensate for a slow start and a frigid offense and move into the winners bracket to take on Richland at 11 a.m. Thursday. Marcus can't afford another slow start against Richland's high-speed, up-tempo offense.
"Their floor-spacing creates a lot of problems for any defense," Henderson said. "We're going to have to be on top of our game. We're going to have to be ready tomorrow."
For Smart, Henderson and all of the Marcus squad, Wednesday's game appears to be a thing of the past and Henderson learned that even the most reliable machines break down every once and a while.
"You start thinking they're machines and superhuman or something and they're not -- they're kids. They have girlfriends, they have Christmas and ate too much turkey or something," Henderson said with a chuckle.
December, 28, 2011
12/28/11
9:59
PM CT
Winner's bracket:

Richardson Berkner vs. Milwaukee King, 9 a.m.

Flower Mound Marcus vs. Richland, 11 a.m.

Semifinal between these winners is at 8 p.m.

DeSoto vs. Plano West, 12:30 p.m.

North Crowley vs. Little Rock Parkview, 2 p.m.

Semifinal between these winners is at 9:30 p.m.

Consolation bracket:

Coppell vs. Fort Worth Arlington Heights, 8 a.m.

Hurst L.D. Bell vs. Houston Klein Forest, 3:30 p.m.

Justin Northwest vs. Garland Naaman Forest, 5:00 p.m.

Arlington Martin vs. Duncanville, 6:30 p.m.
August, 18, 2011
8/18/11
12:01
AM CT
DISTRICT 7-5A
Coppell (13-1, 7-0), lost in DI regional finals. Coach: Joe McBride.
Denton Guyer (13-3, 6-1), lost in 5A DII state title game. Coach: John Walsh.
Justin Northwest (4-7, 3-4), lost in DI bi-district. Coach: Bill Patterson.
Keller (3-7, 2-5). Coach: Kevin Atkinson.
Keller Central (5-5, 3-4). Coach: Bart Helsley.
Keller Fossil Ridge (2-8, 2-5). Coach: Tony Baccarini.
Saginaw (0-10, 0-7). Coach: Mike Peters.
Southlake Carroll (10-4, 5-2) lost in DII regional finals. Coach: Hal Wasson.
THE BIG QUESTION: Can Denton Guyer reload after graduating so many leaders?
Denton Guyer won one game in its first two years of varsity play. That was before the class of 2011 made its impact.
Led by QB
J.W. Walsh
, the outgoing seniors had Guyer competing for a state title on both the 4A and 5A levels for three years. Now that they're gone, observers are justifiably skeptical of Guyer's ability to reload.
But the notoriously confident Wildcats have no doubts. Coach John Walsh has built a program that he believes will contend for years to come, with a little help from a talent pool in the city of Denton that has produced an annual title contender in Denton Ryan.
The 2011 season will go a long way toward projecting Guyer's long-term outlook. With just seven starters returning from a team
that came a scoring drive short of winning the 5A Division II title
, the Wildcats need their next group of leaders to emerge.
Sophomore Jerrod Heard takes over for J.W. Walsh under center. While he certainly won't have the symbiotic relationship with Guyer's offense that the head coach's son had, Heard may be an even better athlete.
And plenty of Division I talent returns to help him. WR
Conner Crane
, a Stanford commit, gives Heard a top-flight target. Sebastian Williams leads a deep group of RBs. And Guyer's defensive front should be as nasty as ever with DE
Dan Kottman
, LB
Dominic Ramacher
and DT Cody Hennessee returning.
PLAYERS TO WATCH
QB
Jake Larson
, RB Gavin McDaniel, DB
David Busby
, Coppell; WR
Allen Young
, QB Draze Lawliss, DL Dominic Stewart, Justin Northwest; LB
Chandler Watkins
, QB Davis Webb, WR Cameron Martin, Keller; OL
Simon Goines
, DB Zach Sanchez, QB Tanner Tausch, Keller Central; DT Aaron Curry, QB Sheldon Nuese, WR Adonis Ramos, Keller Fossil Ridge; QB Kyle Webb, WR Eddie Nuno, OL Peter Lopez, Saginaw; QB Kenny Hill, LB
Will Davis
, WR
Peyton Williams
, Southlake Carroll.
DID YOU KNOW?
Head coach Bill Patterson guided Northwest to the playoffs just one year after the team went winless. ... Saginaw didn't fare as well as Guyer did in its first year in 5A. The Roughriders didn't win a game in 2010. ... Guyer wasn't the only Denton team to lose in a state title game.
Denton Ryan fell to Austin Lake Travis in 4A DI.
PROJECTED PLAYOFF TEAMS
Southlake Carroll
Coppell
Denton Guyer
Justin Northwest
February, 16, 2011
2/16/11
4:17
PM CT
Although district play wrapped up Tuesday for boys basketball, three playoff spots remain unsettled.

In District 7-5A, Justin Northwest and Keller Fossil Ridge finished in a tie for fourth place after splitting their regular-season series. The two teams will play a play-in game at 7:30 p.m. on Friday at Keller Central.

Fossil Ridge forced a play-in game by beating Northwest, 66-58, in the regular-season finale on Tuesday.

The Panthers won their last three games to get into playoff positioning, including a 52-50 upset of Southlake Carroll to get the run started.

In District 9-5A, Richardson and Lake Highlands finished in a tie for fourth after Richardson beat Lake Highlands, 59-53, on Tuesday.

Richardson won three of its last four to force the play-in game. Conversely, Lake Highlands has lost four straight games. The two will play at 7 p.m. on Friday at Richardson Berkner.

Whichever teams win these two games won't have much time to celebrate.

The winner between Northwest and Fossil Ridge will play Flower Mound Marcus, No. 1 in the ESPNDallas.com Class 5A area rankings.

The winner between Richardson and Lake Highlands will open the playoffs against No. 2 Garland Lakeview Centennial.

In District 9-4A, Carrollton Creekview failed to clinch the last playoff spot by losing to Frisco Centennial, 48-45, on Tuesday. Frisco Liberty won three of its last four to pull even with Creekview in fourth place.

The Creekview-Liberty play-in game will be 7 p.m. Friday at Frisco Lone Star.
November, 15, 2010
11/15/10
4:15
PM CT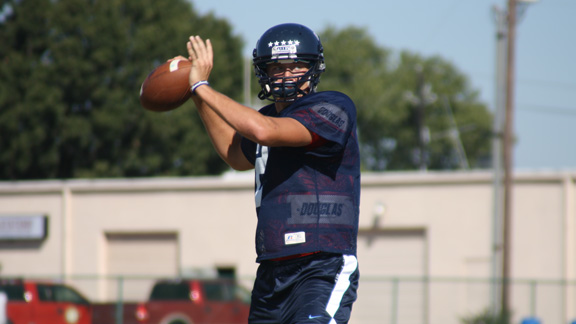 Travis L. Brown/ESPNDallas.comQuarterback Alec Morris helped Allen become the only District 8-5A team to win in the bi-district round, but No. 1 Euless Trinity is up next for the Eagles.
(Click here for Class 5A pairings.)
The much-ballyhooed District 8-5A was hailed for its parity and competitiveness all season. It didn't translate to the playoffs.
Allen (10-1) secured the only playoff win for District 8-5A in the bi-district round of the playoffs with a 49-14 win over Justin Northwest in Division I.
Outside of Allen's win, District 7-5A got the better of 8-5A. 7-5A won both games in Division II as Denton Guyer (9-2) squeaked past Flower Mound Marcus, 35-28, and Southlake Carroll (8-3) surprisingly pummeled Flower Mound, 50-27.
In the other Division I game, Coppell (11-0) manhandled Plano, 23-6.
Allen's win sets up a titanic matchup with Euless Trinity (11-0) at 5 p.m. Saturday at Cowboys Stadium.
The titanic matchup that wasn't
Klein Oak (8-3) spoiled what would have been a Division I area round game between two undefeated top 5 teams when it upset The Woodlands, 31-14, on Friday.
Round Rock Stony Point (11-0) will meet Klein Oak instead at 4 p.m. Saturday at Klein Memorial Stadium in a game that could have had the same luster as Allen-Trinity had The Woodlands prevailed.
Although coming off a losing season, Klein Oak has been a perennial power over the last five seasons. Stony Point has lost in the state semifinals the past two years.
DeSoto going through playoff déjà vu
DeSoto's 2010 postseason is playing out much the same as it did in 2009.
The Eagles (9-2) made short work of Bryan in a 68-28 win on Saturday to set up a stellar area matchup with Dallas Skyline (9-2) at 7:30 p.m. on Friday at Kincaide Stadium.
That's exactly what happened last year. DeSoto crushed Bryan before losing to an extremely talented Skyline team, 41-36.
DeSoto will look to get revenge, but it won't be against the same Skyline team, which graduated 11 FBS recruits.
McKinney Boyd wins without QB
With QB Jonovan Griffin sidelined with an injury to his left arm, McKinney Boyd (9-2) leaned heavily on running Bryan Driskell in the bi-district round.
Driskell ran the ball 30 times for 225 yards and three touchdowns to lead Boyd over Richardson, 31-11. Replacement QB Tyler Phelps went 4-for-9 for 69 yards and interception, adding 21 rushing yards.
Few players have meant more to their teams this year than Griffin. He rushed for 1,014 yards and 15 touchdowns while throwing for 1,386 yards and 13 touchdowns.
Griffin recently switched his college commitment from UTEP to Oklahoma State.
Boyd plays A&M Consolidated (10-1) at 7:30 p.m. Friday at Lion Memorial Stadium in Ennis in the area round.
Fight for Region I title loaded with contenders
With no major upsets in bi-district, the fight for the 5A Division I Region I title is on track to be one of the most competitive in the state.
If the favorites win in the area round, the final four in the region would be Midland, Coppell, Arlington Martin and Euless Trinity, but Trinity and Coppell face tough area-round games against Allen and Duncanville, respectively.
The Trinity-Allen winner will play the Martin-San Angelo winner. The El Dorado-Midland winner will play the Duncanville-Coppell winner.
October, 19, 2010
10/19/10
8:00
PM CT
Keller Central is on track to make the playoffs for the first time in school history out of a top-heavy District 7-5A.

Key wins over Keller and Keller Fossil Ridge have allowed Central (5-2, 3-1) to surface to fourth place in 7-5A behind Coppell, Denton Guyer and Southlake Carroll.

Central still has to play Coppell and Carroll, but with just three games remaining and a two-game lead on the rest of the district, a win over Justin Northwest in two weeks would likely clinch it for the Chargers.

Improved play on offense is a big reason why Central has already surpassed its highest single-season win total. The Chargers average more than a touchdown per game more than they did in 2009.

Running back C.J. Kirk has 856 yards and 11 touchdowns on the year. Quarterback Tanner Tausch, who took over under center with three games left in 2009, has provided some stability at the position, throwing for 1,295 yards and 12 touchdowns.

"Our kids are motivated to try to get someplace we've never been before," said Bart Helsley, Central's head coach since the team's inaugural season in 2004. "You always hope there's a good chemistry with the kids. We started to see some of that in the spring and the summer and felt pretty good about it and knew it was one of the most important things for us to be better, to have good team chemistry."

Central plays at Carroll on Friday.
October, 14, 2010
10/14/10
2:38
PM CT
Southlake Carroll head coach Hal Wasson has learned not to assume anything.

Nothing is taken for granted with a team that's struggled with off-the-field drama, inexperience and a switch to a new 3-4 defense.

"We have to cover every base," Wasson said. "Instead of going over it a time or two, we may have to go over it seven or eight times or whatever it takes to ensure we've covered it."

Wasson learned that lesson early. In Carroll's season-opening loss to Copperas Cove, the Dragons weren't playing together. When the pressure rose, inexperience got the better of them. Some players on defense instinctively reverted to their previous teachings in the 4-3.

But with time and a patient coaching staff, the Dragons have shaken off the rough start and bad publicity to string together a five-game winning streak, including three convincing wins in district play, but Carroll will know exactly how far its young team has come when they play at No. 2 Coppell on Friday.

"Make no mistake – it's definitely a big test for us," Wasson said of Coppell.

Carroll has slowly put together its team after returning just one starter from a year ago. That's included something of a facelift on offense.
Sophomore QB Kenny Hill took over the starting role midseason, but
Carroll's high-flying passing game has taken a back seat to RB Paul Stevenson and a rapidly improving offensive line.

The result: Carroll has put together efficient offensive performances relying on moving the chains and ball security more than making big plays.

"Some of that is just the way the games have gone," Wasson said. "But in my opinion, to win football games you have to possess a physical running game. That's one of the things we've always taken great pride in."

Hill has completed close to 80 percent of his passes, but averages a little more than 10 yards per completion. Stevenson has rushed for 674 yards and 9 touchdowns.

The methodical offense produced lopsided wins over Keller, Keller Fossil Ridge and Justin Northwest, although those three teams have won four games combined.

"It's also encouraging to watch our team grow," Wasson said. "If you've ever had a plant that you water it and nurture it and it just sits there – it's kind of demoralizing. That's not happening here."

Coppell (6-0, 3-0) will field the toughest defense Carroll's new-look offense has seen this year. The Cowboys have given up just 7.3 points per game, the best in the Dallas-Fort Worth area in Class 5A.

"They have playmakers in a lot of areas," Wasson said of Coppell. "They're seasoned. They definitely get your attention. They're very worth of the exposure they're getting."
September, 21, 2010
9/21/10
7:54
PM CT
If there were any doubts whether Denton Guyer could compete at the 5A level coming into the 2010 season, they're gone now.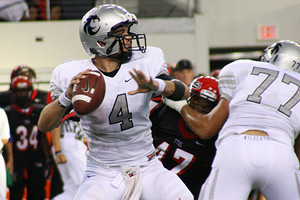 Travis L. Brown/ESPNDallas.comDenton Guyer quarterback J.W. Walsh has verbally committed to Oklahoma State.
During nondistrict play, the No. 5 Wildcats (2-1) looked like they belonged in a comeback win over Mesquite Horn and in an overtime loss to 5A power Cedar Hill.
QB
J.W. Walsh
, who has yet to throw an interception this year, led a 71-yard touchdown drive with a little more than a minute left in Guyer's 34-31 win over Horn, its first victory over a 5A team.
That milestone could have come two weeks earlier against Cedar Hill, but a botched extra point attempt in overtime sealed a 42-41 win for the Longhorns in what may be the best game in the Dallas-Fort Worth area so far this year.
Guyer should contend for the District 7-5A title along with Coppell (3-0) and Southlake Carroll (2-1), but even if the Wildcats fall short of a district crown, they look like a lock to make the playoffs after their performance in nondistrict.
Looking further ahead, the playoff picture could end up being harsh for Guyer. A spot in the Division II bracket is certain, and depending on which teams make the playoffs, an early matchup with Allen or Euless Trinity might loom.
Guyer opens 7-5A play against Justin Northwest on Friday at C.H. Collins Athletic Complex in Denton.
February, 24, 2010
2/24/10
9:54
PM CT
When Justin Northwest coach Mike Hatch looks at the Plano West roster, all that he can really focus on is 6-foot-11, 6-foot-9 and 6-foot-5.

"They're really big," Hatch said. "We've got one kid over 6-foot-4 on our whole team."

Northwest and Plano West play at 7 p.m. Friday at Coppell High School in a Class 5A Region I Area Round game.

"It'll be a challenge for us," Hatch said. "We've played against bigger kids all year. It's just a matter of adjusting, but they've always answered the bell."

Hatch hopes his team can execute in the halfcourt, and the Texans will be relying heavily on point guard Pari James to control the tempo.
February, 17, 2010
2/17/10
2:36
PM CT
The regular season wasn't enough to decide the fourth playoff spot in District 9-4A.

McKinney North, Frisco Centennial and Frisco Wakeland finished district play tied for fourth place thanks to Wakeland's 57-52 win over Centennial and North's loss to Sherman on Tuesday.

Centennial started the year state-ranked and looked like a lock to clinch its first playoff berth in school history, but the Titans fell victim to a district that has both depth and elite top teams.

Behind Nick Hinton, Wakeland charged back into the playoff mix by winning its last four games, including wins over North and Centennial. North remains in the mix despite winning just one of its last five games, but the one win came against Centennial.

The three teams will play for the playoff spot. Centennial and Wakeland play at 7:30 p.m. Thursday. The winner will play North, which won a coin toss for the bye, at 7:30 p.m. on Friday at Frisco Liberty and play Carrollton Newman Smith in bi-district.

A similar situation happened in District 8-5A as Plano, Plano East and Allen finished in a three-way tie for fourth, but 8-5A decides a three-way tie by record against the three opponents.

Allen received the spot because it went 3-1 against Plano and East while Plano and East both had 2-2 records against the other two teams in the tie.

It's the first time Allen has made the playoffs since 2000. It will play Cedar Hill at 8 p.m. on Tuesday at Moody Coliseum at SMU.

Southlake Carroll's charge falls short

Southlake Carroll made a surprise run at a playoff spot after falling behind in the first half of District 6-5A play.

The Dragons won their last three games of the year, including games against Flower Mound and Lewisville, and pulled into a tie with Coppell for fourth place.

But Coppell beat Carroll twice in district play to win the tiebreaker. Coppell plays Justin Northwest at 6:30 p.m. Feb. 23 at UNT.
February, 4, 2010
2/04/10
9:30
PM CT
It took some time, but Mike Hatch finally made it back to Justin Northwest High School.

Hatch built the Northwest program into a perennial playoff team in the 1990s. He he was at the school for 14 years total, the last 12 as the head coach. He made stops at Hutchison (Kansas) Community College, McKinney High School, Fort Worth Paschal High School and even Oklahoma State under former coach Sean Sutton.

But when Sutton and his staff were let go from Oklahoma State, Hatch wondered where he'd land next.

"I was waiting to get a job, and this job came open," Hatch said. "They were really struggling, had only won nine games the year before. It was frustrating to me because we had built it up in the 1990s."

Hatch went into the interviews with administration thinking he'd tell them exactly what he wanted because he was still open to finding a college job if possible. He wanted to be picky.

"The administration was unbelievable," Hatch said, adding that the upgrade to the facilities and campus is "ridiculous."

Now, Hatch has the Texans tied with Colleyville Heritage and L.D. Bell atop District 5-5A at 7-3, hoping to make the playoffs in his second year back with the team. Northwest's next game is at Keller at 8 p.m. Friday.
January, 30, 2010
1/30/10
12:24
AM CT
JUSTIN, Texas -- The last possession of the last game did in the Justin Northwest Texans last season.

Even with an impressive 20-win season, the Texans didn't make the playoffs under first-year coach Mike Hatch.

"We swore we wouldn't let that happen again this year," Hatch said. "Our kids are really trying to get us there, and they're doing a good job of it."

Friday night's 48-39 win over Colleyville Heritage is evidence of that.

The Texans (17-8, 7-2 in District 5-5A) and Panthers (17-10, 6-3) went into the game tied for first place in the district standings, but Northwest continued its impressive run by doing what it does best: playing good team basketball and solid defense, this time along the perimeter.

Colleyville Heritage had four players shooting 40 percent or better from 3-point range going into the game, but the Panthers didn't hit a single 3 against Northwest -- the first time that has happened all season to Colleyville Heritage.

"We came into the game, saying, 'Do not let them hit a 3-pointer,'" Hatch said. "We did not believe they could beat us if they didn't shoot 3's well."

On offense, Parrish Smith and Edem Agbottah each scored nine points and Chance Billups added six, which is about the norm for a Northwest box score. No real superstars, just guys who play for -- and root for -- each other.

"It's a great group of kids," Hatch said. "Every one of them brings something to the party."

" Peri James and Allen Young, who rotate at point guard, are both sophomores who are quick and have a high basketball IQ, Hatch said. James is the better penetrator and Young the better shooter.

" Billups starts at wing, and he's experienced after having started half of last season. He's also a good free throw shooter and defender.

" Ryan Hellums is "the perfect compliment to our quick guards because they can make a play and he's standing there ready to shoot," Hatch said.

" Will Assama plays power forward, and Hatch called him the best defender in District 5-5A. "His motor revs really high -- he's an energy guy who is very athletic and fearless," Hatch said. "He's what makes us go."

" Agbottah is Northwest's leading scorer and rebounder, and he's an athletic player with long arms.

With five regular-season games to go, those players have the Texans poised for the playoffs in a close District 5-5A race.

"It's a unique group," Hatch said. "It truly is a team."