High School:

Keith Frazier
June, 8, 2012
6/08/12
12:43
PM CT
The National Basketball Players Association
has released the roster
for its annual Top 100 camp, which will be held June 14-16. Twelve of the top 25 players in the
ESPN 100
earned invites, including No. 1 overall Jabari Parker.
Locals earning invites:
Keith Frazier
, Irving, G, 2013
Kendal Harris
, Richardson Berkner, G, 2013
Jordan Mickey
, Richardson Berkner, F, 2013
Emmanuel Mudiay
, Arlington Grace Prep, G, 2014
Karviar Shepherd
, DeSoto, F, 2013
May, 25, 2012
5/25/12
10:57
AM CT
The new basketball recruiting season officially started this week when ESPN Recruiting Nation released its annual prospect rankings.
Plano Prestonwood Christian forward
Julius Randle
becomes the area's most coveted recruited, checking in at No. 2 in the nation on the
2013 ESPN 100
list.
Randle is joined in the top 10 by Dallas Kimball guard
Keith Frazier
, who checks in at No. 9.
Four other DFW players cracked the ESPN 100: 19. DeSoto guard
Matt Jones
; 28. Arlington Grace Prep center
Karviar Shepherd
; 41. Arlington Grace Prep forward
Jordan Mickey
; and 93. Richardson Berkner guard
Kendal Harris
.
Jones, who is committed to Duke, is the only ranked area player who has made his college choice.
Grace Prep's prime talent isn't limited to its senior class. Guard
Emmanuel Mudiay
is No. 5 on the
2104 ESPN 60
list. One other area player is on the ESPN 60: Garland Lakeview Centennial center
Elbert Robinson
at No. 59.
Two players who will be sophomores next year are on the
2015 ESPN 25
list. Prestonwood Christian forward
Mickey Mitchell
is No. 2, and Rockwall forward
Elijah Thomas
is No. 22.
February, 22, 2012
2/22/12
8:30
PM CT
DALLAS -- Dallas Kimball guard Keith Frazier was under enough pressure Tuesday, playing in one of the toughest bi-district pairings against Dallas Hillcrest.
Piling on top of that basic pressure was the fact that University of Texas basketball coach Rick Barnes was sitting at the top of the bleachers scouting Frazier's play.
In the same way the No. 14 recruit for the class of 2013 nonchalantly handled that pressure in
Kimball's 82-70 bi-district win
, he confirmed that Barnes was there to see him.
No big deal.
"I get used to it," Frazier said. "I played on a big stage in the AAU so I'm used to coaches watching."
As a junior, Frazier has yet to publicly name any schools on his radar, but he did show interest in Barnes' program.
"I like UT a lot," Frazier said. "I appreciate him for coming."
Frazier transferred to Kimball this season from Irving and leads the Knights in scoring, averaging over 21 points per game.
Here is a breakdown of Frazier's skill from ESPN Recruiting Nation Basketball:
At this stage Frazier is probably the No. 1 shooting guard in the country for his class. He has all the physical intangibles (length, bounce, and evolving skills) needed for the position and he is a prolific shooter out to 22 feet. With added strength and continued development in the areas of skill and savvy, he should be an elite recruit by the time he enters college.
June, 29, 2011
6/29/11
2:19
PM CT
Irving junior-to-be
Keith Frazier
stood out from the crowd at the Kevin Durant Nike Skills Academy in Chicago, according to ESPN Recruiting's Reggie Rankin and John Stovall.
Frazier was among the camp's top three scorers, prompting this analysis:
Frazier is a true shooting guard who possesses good size and a quick, confident trigger. He runs the outside lane for deep spot ups, spaces on the side of dribble penetration and comes of screens ready to shoot. Frazier knows he is a terrific shooter, but understands he must continue to build his game in the areas of developing his left hand, ballhandling under intense pressure and adding strength but the youngster can change the scoreboard from long range in a hurry! Frazier has a early list of Kentucky, Texas, Baylor, Arizona and Georgia.
For more on the camp's standouts,
click here.
May, 24, 2011
5/24/11
7:33
PM CT
ESPN Recruiting debuted its latest boys basketball recruiting rankings for the 2012-2014 classes, and a pair of area private school players are rated among the best of the best.
[+] Enlarge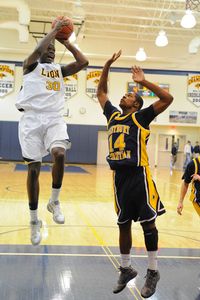 Courtesy Prestonwood Christian AcademyTexas, Kansas, Oklahoma, Ohio State and Missouri are among the schools Prestonwood Christian's Julius Randle is considering. North Carolina, Kentucky, Baylor, Oklahoma State and Duke are also reportedly showing interest.
Prestonwood Christian power forward
Julius Randle
, who is uncommitted, is the
No. 1 prospect in the Class of 2013
. Arlington Grace Prep center
Isaiah Austin
is
No. 2 for 2012
.
Small forward
Marcus Smart
, who led Flower Mound Marcus to the Class 5A state championship in March, is No. 40 in the Class 2012 rankings and remains uncommitted.
Joining Randle on the 2013 list are Irving guard
Keith Frazier
at No. 7 and DeSoto guard
Matt Jones
.
Austin, who has committed to Baylor, is among the players spotlighted in Mitch Sherman's look at how
big men are dominating the 2012 rankings
.
Paul Biancardi provides a scouting report
for some of the top 2012 big men and had this to say about Austin:
Austin possesses a unique skill set, as he is a legitimate 7-footer with the skills of a wing player. He looks like a young Sam Bowie and has the skill package of a young Ralph Sampson. His enormous wing span makes him a rim protector, and his ball skills make him so versatile offensively. Once his body matures and accepts weight, he will be an even tougher matchup in the low post.
Here are links to the full ESPNU lists:
2012 Top 100
,
2013 Top 60
,
2014 Top 25
.
December, 28, 2010
12/28/10
11:09
AM CT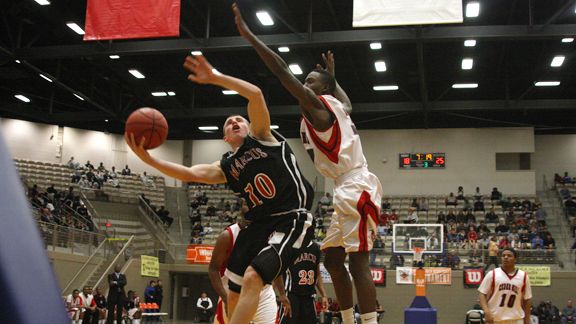 Travis L. Brown/ESPNDallas.comPhillip Forte and Flower Mound Marcus got around Cedar Hill in a semifinal game.
HALTOM CITY, Texas -- The area's top-ranked 5A team, Flower Mound Marcus, made it through the gauntlet of the Whataburger Basketball Tournament Orange Bracket and will play in the championship against Little Rock (Ark.) Parkview on Wednesday at 8:15 p.m.
Marcus plowed through Hurst L.D. Bell, Houston Wheatley and area No. 4 Cedar Hill in route to the tournament title game.
Irving's Keith Frazier put up an impressive 36 points against Southlake, putting him on top of Tuesday's scorers.
Irving plays Fort Worth Dunbar on Wednesday at 9:30 a.m. in the consolation semifinals. The winner of that matchup will face the winner of Mansfield-Justin Northwest to try and stake a claim on the consolation championship.
Wednesday's schedule
9:00 a.m. - Irving vs. Fort Worth Dunbar (consolation semifinal)

11:00 a.m. - Justin Northwest vs. Mansfield (consolation semifinal)

12:30 p.m. - Trinity Catholic (Ky.) vs. Houston Wheatley (5th-place bracket)

2:00 p.m. - Plano West vs. Richland (5th-place bracket)

3:30 p.m. - Consolation Final

5:00 p.m. - 5th-place final

6:30 p.m. - No. 4 Cedar Hill vs. No. 5 North Crowley (3rd-place game)

8:15 p.m. - No. 1 Flower Mound Marcus vs. Little Rock (Ark.) Parkview (championship)
Tuesday's games
Little Rock (Ark.) Parkview 67, No. 5 North Crowley 59
North Crowley's Kyan Anderson lead his squad in scoring with 20 points, just five points behind the game leader, Parkview's Aaron Ross.

North Crowley started a comeback in the second quarter and was able to tie the game up, but an and-one foul right before halftime put Parkview up going into the locker room and North Crowley could never recover.
No. 1 Flower Mound Marcus 59, No. 4 Cedar Hill 43
Marcus Smart and Phillip Forte led the scoring for Marcus, each with 16 points.

Devonte Green was the only Cedar Hill player with double-digit scoring, finishing with 14 points.

The entire game was a defensive struggle, starting with a combined 18 points in the first quarter. Cedar Hill was blanked for a good portion of the opening frame.

The teams remained even throughout the course of the game until Marcus pulled away in the fourth by outscoring Cedar Hill 22-15.
Fort Worth Dunbar 85, Hurst L.D. Bell 79
Dunbar had four players with points in the double digits: Julian Parker with 19, Vernon Sharp with 18, Deon Rodgers with 15 and Justin Perry with 10.

Kenny Obikudu of L.D. Bell led all scorers with 27 points. Bell's Garrett Hammonds and James Mauro each finished with 17.

L.D. Bell led by one point at the half, but Dunbar won the third and fourth quarters 20-15 and 26-24 to take the game.

Dunbar was led by its two speedy guards, Tommy Burns and Parker, who could weave their way in and out of the L.D. Bell defense with ease.
Justin Northwest 64, Arlington Martin 54
Northwest's scoring was led by Dayman Marshall with 16 points. He hit four 3-pointers. He was followed by Parrish Smith and Todd Christensen, who each had 10.

The game's top scorer was Jordan Walker of Arlington Martin with 18 points.

The somewhat sloppy game was played all over the court, with Northwest winning the turnover battle and, in turn, the game.
Irving 62, Southlake Carroll 60
Irving won on a buzzer-beater from J.J. Thompson. The play was set up by a turnaround 3-pointer from Keith Frazier while he was guarded by two Carroll defenders.

Frazier led all scorers with 36 points. He is No. 5 on ESPNU's Terrific 25 top recruits for the class of 2013.

Carroll led for most of the game but failed to make a few key layups in the final minutes that could have sealed the victory. William Brown was the high point man for the Dragons with 12. Carroll has been eliminated from the tournament.
Little Rock (Ark.) Parkview 68, Richland 55
Both Mark Taylor and Leyton Hammonds led Richland in scoring with 12 points. All 12 of Hammonds' points came from behind he arch. Parkview's Aaron Ross led the game with 27.

Richland did a very good job controlling the tempo which kept them in the game against a much more athletic team.

Richland's best quarter was the third, outscoring Parkland 21-14.
No. 5 North Crowley 67, No. 8 Plano West 56
North Crowley's Andrew Guillory finished with a team-high 23 points, one point behind Plano West big man Geoffrey Groselle.

North Crowley led the entire game, but tried to give the game away in the fourth on turnovers and missed shots. Plano West outscored North Crowley in the fourth, 17-14, and came within 10 points.

North Crowley guard Kyan Anderson only had eight points but dominated the game with his ball-handling ability.
No. 1 Flower Mound Marcus 71, Houston Wheatley 62
Marcus had four scorers in double digits, led by big man Nick Banyard with 17. Phillip Forte followed Banyard with 16 points. A.J. Luckey and Marcus Smart came next with 15 and 14, respectively.

Wheatley's Randy Lewis led all scorers with 26 points.

The game was a track meet, especially in the second quarter when Wheatley switched to a zone full-court press. The defensive switch allowed for 23 Marcus points in the second quarter, most off the fast break.
Cedar Hill 78, Trinity Catholic (Ky.) 35
The game's leading scorer was Cedar Hill's Thomas Gipson (22), whose last basket came on a thundering dunk on a drive down the middle.

Gipson was followed by Zeldric King with 13 points. Trinity's leading scorer, Nathan Dieudonne, only had eight points.
Mansfield 53, Haltom 51
Despite the loss, Haltom's Josh Shockey led all scorers with 25 points, the majority coming on six 3-pointers. Jabbare Simpson led his team with 20 points.

Mansfield was able to win the first and fourth quarters, 14-7 and 20-19, which was enough to give them the game.
September, 27, 2010
9/27/10
4:32
PM CT
Michael LaPlante of ESPN Recruiting was in town over the weekend to check out the local boys basketball talent the Dallas Great American Shootout.
He cited Plano Prestonwood Christian power forward
Julius Randle
and Flower Mound Marcus small forward
Marcus Smart
as the standout players at the event.
Flower Mound Marcus'
Phil Forte
, Garland Naaman Forest's
Prince Ibeh
and Irving's
Keith Frazier
also caught LaPlante's eye.
You can
read LaPlante's report here
.
January, 30, 2010
1/30/10
12:05
AM CT
IRVING, Texas -- Freshmen aren't supposed to be putting up scoring numbers like the ones by Irving's Keith Frazier.

Not at the Class 5A level. And particularly not in a district (7-5A) that is home to one of the area's most competitive playoff races.

Frazier, a 6-foot-4, 180-pound 15-year-old, scored 29 points in Irving's resounding 80-46 road win over Irving Nimitz on Friday night. His evening included five 3-point baskets, a two-handed dunk, two blocked shots and a pair of steals.

In two prior games, Frazier scored 29 and 30 points, helping Irving (23-7, 6-2) remain a solid playoff contender in a district that includes Cedar Hill, Duncanville, Irving MacArthur and South Grand Prairie.

"I want to come back in three years and see how he's playing then,'' senior teammate Winfrid Tennell said with a shake of his head. "Just think how he'll be dominating.''

Coach Steve Perry is pleased to know he'll have a front row seat in watching Frazier's development.

"He's scary as a freshman,'' the coach said. "But when he matures, fills out and learns more ... he's got a lot of game in him.''

Frazier credits teammates: "They've taken me under their wing and helped me out.''

He is joined in a talented starting lineup by three seniors and a junior.

Frazier's high-arching 3-point shots are on target enough to discourage opponents from playing zone defense. He was 5-for-14 on 3-pointers and 16-for-27 overall against Nimitz.

About the only emotion Frazier showed Friday was a delayed single clap of his hands after missing a shot.

"I hate it when I miss,'' he said.

He started playing basketball at age 7 and said shooting has always come easy for him.

"He's grown up a lot this season,'' Tennell said. "He liked to play around like a freshman at first, but he's become a big part of the team.''

And a big reason to keep an eye on Irving come playoff time.