High School:

Kolby Listenbee
February, 1, 2012
2/01/12
2:05
PM CT
By
Randy Jennings
| ESPNDallas.com
ARLINGTON, Texas -- Kolby Listenbee is already attending classes at TCU, but the former Arlington Bowie quarterback didn't want to miss Wednesday's Signing Day ceremony.

For the first time, the event was under one roof at the Arlington ISD's Professional Development Center for all six of the district's high schools, and Listenbee was there to walk across the stage, shake the hands of dignitaries and have his picture made with Bowie coach Kenny Perry.

Listenbee (6-foot, 177), who led Bowie to the third round of the playoffs, is listed as a wide receiver with the Frogs but still hopes to get a shot at quarterback. He committed long before TCU joined the Big 12.

"The conference change is pretty cool because TCU will got a lot more exposure playing all the Texas schools,'' said Listenbee, one of five Bowie D-1 recruits.

Perry said the district's centralized ceremony "is a great way to showcase the talent we have, and we have a lot of it in Arlington.''

Said Bowie defensive end Jesse Rogers, who signed with North Carolina: "This way we get to see the guys that have been your competition.''
September, 26, 2011
9/26/11
6:33
PM CT
Saturday's halftime was all too short for Arlington Bowie's coaching staff.
After the Volunteers (2-2, 0-1 District 4-5A) lost both of their quarterbacks to injury in the first half, coach Kenny Perry said his staff had to draw up a completely new offense for the second half during the brief time before the third quarter started.
[+] Enlarge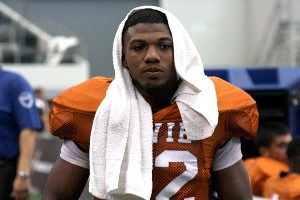 Travis L. Brown/ESPNDallas.comArlington Bowie running back Russell Hansbrough may be pressed into quarterback duties because of injuries.
Bowie will be forced to run that same offense Friday against Arlington Sam Houston, but -- not that it's any consolation -- the Vols will have an entire week to game plan running backs Blake Bradford and Russell Hansbrough into the quarterback position.
In the first quarter of Saturday's 39-22 loss to Arlington Martin, Bowie starting quarterback Kolby Listenbee was forced out of the game with concussion-like symptoms after taking a hit from future TCU teammate Devonte Fields.
Perry said after the game he was fairly certain Listenbee would be unable to go Friday.
In the second quarter, backup Keaton Perry suffered what was believed to be a torn meniscus. After the game, Kenny Perry said he believed the injury would end his son's season.
The loss of Listenbee also affects the special teams, as he is Bowie's punter.
Hansbrough, the team's starting running back, has no previous experience at quarterback. Bradford may have had limited experience at quarterback his freshman year three years ago, Perry said.
Bowie also lost starting offensive lineman Demonte Hood to a knee injury for the majority of Saturday's game and his status for Friday is uncertain.
"We're just going to have to practice this week with what we've got," Perry said. "We'll be all right."
Euless Trinity QB Kautai probable for Week 5
Euless Trinity quarterback Kailahi Kautai will probably see his first action since the third game of the season Thursday against rival Hurst L.D. Bell, coach Steve Lineweaver said Friday after the Trojans' Week 4 win over Colleyville Heritage.
Kautai went down in Trinity's district opener against Richland and has not seen the field the last two games. Lineweaver said Kautai could have played against Heritage but he did not want to risk losing him for the remainder of the season.
A pair of players, the more proficient passer Joel Sullivan and the athletic option runner Matt Hawkins, have filled in at quarterback for third-ranked Trinity (5-0, 3-0 District 6-5A).
"We like both of them and really went by feel," Lineweaver said.
Before Kautai's injury, Hawkins was not on the quarterback depth chart, but he was moved over from the defensive side of the ball to help fill the void. Hawkins had some previous quarterback experience at the JV level.
September, 24, 2011
9/24/11
11:33
PM CT
ARLINGTON, Texas -- After the conclusion of the Arlington Bowie-Arlington Martin game Saturday, anyone associated with Bowie had to leave Cravens Field with a horrible taste in his mouth and a strong desire for a mulligan.
In a game that potentially put the District 4-5A title on the line -- not to mention city bragging rights -- Bowie lost starting quarterback Kolby Listenbee and backup Keaton Perry to injuries, leading to Martin's 39-22 blowout.
[+] Enlarge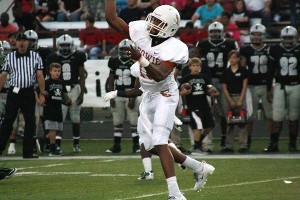 Travis L. Brown/ESPNDallas.comArlington Bowie starting quarterback Kolby Listenbee got knocked out of the game with concussion-like symptoms.
Bowie was forced to go to a quarterback by volunteer system, favoring backup running back Blake Bradford under center. Bowie head coach Kenny Perry said he thought Bradford may have taken a few snaps as a freshman, three years ago.
"When you lose both your guys it's just a shame, because I thought it was a totally different game," Perry said.
Bowie gained the momentum early after a 59-yard touchdown pass from Listenbee to DJ White on the Vols' first possession of the game.
In the second, Listenbee ran a quarterback draw up the middle but was met with a punishing blow from Martin defensive tackle Devonte Fields that sent him to the sideline for the remainder of the game with concussion-like symptoms.
Ironically, knocking out Listenbee helped Fields and Martin on Saturday, but it might stir up a little bad blood next year when the two are teammates at TCU. However, it wasn't something that bugged Fields in the slightest.
"We ain't teammates yet, so I have a job to do," Fields said.
Backup quarterback Keaton Perry, the head coach's son, entered -- but not for long.
He was hit around four minutes later and suffered what trainers believed was a torn meniscus, which would end his season.
Perry attempted a courageous comeback effort in the opening minutes of the second half, but quickly threw two interceptions that both would result in Martin touchdowns.
A deflated Bowie team cued the beginning of the show for Martin's two-headed running extravaganza of Kyle Hicks and Cameron Williams.
Hicks, a junior, was the main attraction, running for two touchdowns and 141 yards, followed by Williams with 64 yards and a touchdown of his own.
Both backs alternated throughout the game -- Hicks with just two more touches -- but neither back gave the other any competitive trash-talking in the spirit of fun.
"It's not really a competition, but we like to do better than each other," Williams said with a smile. "It's not like that though -- just brotherly love. You block for me and I'll block for you."
The win gives Martin fans the right to be the pride of Arlington for a year but leaves Bowie fans scratching their heads and wondering what could have been.
"I'm proud of the way our kids played. We played hard and didn't give up. Injuries are a part of the game and we're going to go on," Kenny Perry said.