High School:

Lubbock Estacado
March, 8, 2012
3/08/12
4:47
PM CT
By
Damon Sayles/ESPN Recruiting Nation
AUSTIN, Texas -- The score Thursday afternoon looked more like a football final, but instead of quarterback Austin Aune raising his hands in victory, it was forwards Clarke Overlander and Andrew Resch and the rest of the Argyle basketball team.
[+] Enlarge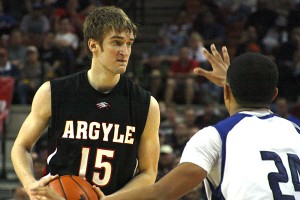 Travis L. Brown/ESPNDallas.comAndrew Resch had nine points and eight rebounds for Argyle, which is headed to the 3A final.
The Eagles advanced to the Class 3A state championship by defeating west Texas power Lubbock Estacado, 41-34, in front of 7,872 at Frank Erwin Center. Argyle (30-8) will face Corpus Christi Miller in Saturday's final at 10 a.m.
Argyle was methodical against an Estacado team that traditionally likes to run an up-tempo offense. It was the Matadors' transition game that put them in the state tournament three of the last four years.
But Argyle found the ultimate neutralizer, playing great defense and holding Estacado (27-8) to only four fast-break points and only five second-chance points.
"Our game plan was not to turn the ball over too many times in the press," Argyle coach John King said. "We knew they [Estacado] were a very good team. Our goal was to make them be more perimeter players than penetrators."
Part of Argyle's success was making Estacado play its style of basketball. The first quarter ended with both teams tied at 5, and Estacado didn't score its first bucket until the 2:24 mark of the first quarter. Argyle's lead at the half was just 14-13.
From there, the Eagles managed to pull away slightly in the second half, shooting 57 percent (8 of 14) from the field and making 77 percent (10 of 13) of their free throws. Estacado shot only 29 percent (8 of 28) in the second half.
"They did exactly what I thought they'd do," Estacado coach Tony Wagner said. "Whenever we got close, we'd make a dumb foul, or they'd make a big shot, or something like that. They came out and executed their plan. They kept us out of the lane, and we launched too many jump shots."
Added King: "On video, we saw that they obviously were a transition team. We wanted them to be a set-up team. I don't remember a big six- or eight-point run they had, and that's a tribute to our defense."
Overlander, a North Texas signee, led the way for Argyle with 17 points and seven rebounds -- all defensive. He made seven of 11 shots, including the game's opening 3-point shot.
"Walking into that gym, everybody's eyes got big," Overlander said. "As a senior leader and one of the captains, I tried to make everyone comfortable and set the tone at beginning of the game."
Additionally, Resch finished with nine points and eight rebounds, and Connor York added seven points for Argyle. Dell Willard led Estacado with 13 points.
Damon Sayles covers Midlands recruiting for ESPN Recruiting. He can be reached at dsaylesespn@gmail.com. Follow him on Twitter: @DamonSayles
March, 13, 2010
3/13/10
1:16
PM CT
By
Randy Jennings
| ESPNDallas.com
Dallas Madison's bid for a second consecutive Class 3A boys state basketball title was derailed by Lubbock Estacado, 69-63, at the UIL State Championships on Saturday morning.

A cold-shooting second quarter was Madison's undoing before 9,948 fans at Austin's Frank Erwin Center.

Madison missed three shots and turned the ball over three times in a scoreless final three minutes of the second quarter. Madison also failed to score in the opening three minutes of that quarter, missing nine shots.

The title was sweet revenge for Estacado, which lost to Madison in overtime, 68-66, in the 2009 state title game.

Madison, (29-9), No. 1 in the Texas Association of Basketball Coaches' 3A state rankings, had a two-year playoff streak of 11 consecutive wins end.

Estacado (33-4) never trailed after the 3:03 mark of the second quarter, but a 13-point lead in the third period was whittled to two twice in the fourth quarter, the last time on a basket by Kristapher Gulley with 19 seconds remaining. Gulley led Madison with 20 points.

Kevin Wagner and Barry Johnson each sank a pair of free throws in the final seconds to clinch the win for Estacado.

Forward Clarence Willard led all scorers with 23 points for Estacado, No. 3 in the TABC state rankings.

Gulley and teammate Tevin Harris each had 10 rebounds.

Madison's 46-31 rebound edge was offset by Estacado's better shooting and lower turnover totals.