High School:

Mario Edwards
February, 1, 2012
2/01/12
8:31
PM CT
By
Damon Sayles, ESPN Recruiting
DENTON, Texas – Denton Ryan coach Joey Florence would have been happy with one signee. After seeing eight players sign national letters of intent Wednesday, he was beaming.
The Raiders had what Florence called "one of the best classes in a long time," and the scholarships were proof. Led by the nation's top-ranked player in five-star defensive end
Mario Edwards
, Ryan opened national signing day with a productive morning ceremony in the Ryan athletics facility.
"We've been fortunate at Ryan to have strong classes come through, and this is definitely one of the strongest classes," Florence said. "It's good and bad emotions for me: good that their getting scholarships they worked so hard to get and bad because they're not playing for me anymore. You have mixed emotions, but you're excited for them."
Edwards signed with Florida State, while offensive lineman
Jordan Williams
and defensive end
Dominique Banks
signed with Missouri and Baylor, respectively. All-purpose athlete
Trey Mohair
signed with UTSA and will play FBS football next season, as the Roadrunners will move to the WAC.
Cornerback
Cedric Harris
signed with Colorado State-Pueblo, receiver Sterling Fuggett signed with Evangel (Mo.) University, and offensive lineman
Tevin McCray
signed with Trinity Valley Community College. Additionally, linebacker
Alex De La Torre
signed with Texas, and linebacker
Jordan Richmond
signed with Texas A&M.
De La Torre and Richmond were not in attendance Wednesday. De La Torre graduated in December and is taking classes at Texas. Richmond was in Austin preparing for the 2012 International Bowl, pitting USA's top under-19 players against top players in the world.
February, 1, 2012
2/01/12
12:50
PM CT
By
Damon Sayles, ESPN Recruiting
DENTON, Texas -- At 8:10 a.m. CT, Mario Edwards Jr. met pen to paper. The Under Armour All-American signed his national letter of intent to Florida State. Edwards then did something that he felt he hadn't done in weeks.
He smiled.
It's hard to smile when you're stressed out, and Edwards -- like hundreds of other high-profile high school athletes -- went through a stressful recruiting process that included phone calls from recruiters at all hours of the night, repeated text messaging from random media representatives and messages from fans trying to sway him from Florida State by way of Facebook and Twitter.
Early Wednesday morning, Edwards' stress level came to a minimum. The nation's top-ranked player officially was a Seminole.
"I couldn't sleep. I woke up at 3 [a.m.], then 5," said Edwards, proudly wearing a black Florida State sweatshirt and a garnet Seminoles ball cap. "It's a big relief. I can finally enjoy my senior year of high school and prepare myself for the next level."
Read the full story here
.
January, 2, 2012
1/02/12
12:01
AM CT
DEFENSIVE PLAYERS OF THE YEAR
Class 5A: Devonte Fields, Arlington Martin, DE
Devonte Fields helped Arlington Martin do the unthinkable -- shut down Euless Trinity's running game.
Fields and Martin held Trinity to just 135 rushing yards en route to a 19-7 win over a Trinity team that had long tortured the Warriors in the playoffs.
But that was just one of the standout performances from Fields. The TCU commit had 55 tackles -- 27 for a loss -- and nine sacks in a year that ended with him being named to the Associated Press all-state team.
Fields' play turned Martin into one of the better defenses in the area. Aside from finally getting past Trinity in the playoffs, Martin's defense led the Warriors all the way to the region finals, where they lost to eventual state champion Southlake Carroll.
Class 4A: Mario Edwards, Denton Ryan, DE
Injuries hampered Edwards throughout the season, but it didn't stop him from turning in another banner year and being named ESPN Dallas' defensive player of the year for the second consecutive season.
Even on a Ryan defense loaded with FBS-caliber players, Edwards stood out. He had 56 tackles -- 28 for a loss -- and 10 sacks en route to being named to the Associated Press all-state team.
With Edwards leading the way, Ryan gave up just 16.8 points per game. That number could have been even lower and is slightly misleading because the Raiders often played backups late in blowouts, allowing opponents to add to their totals.
Edwards gave an oral commitment to Florida State in the summer but has since backed off from it, expressing interest in Oklahoma and Texas, among others.
December, 22, 2011
12/22/11
11:10
AM CT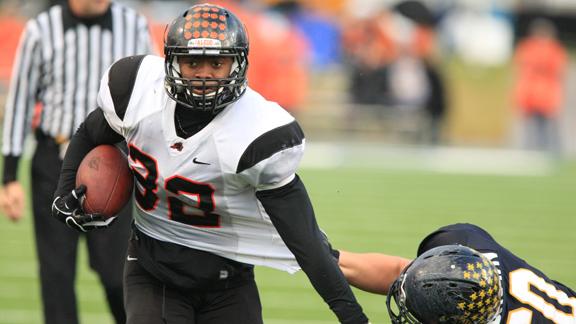 In completely unsurprising news, Aledo running back Johnathan Gray was named to the
ESPNHS All-America first team
Thursday.
The Dallas-Fort Worth area also has a first-teamer on the other side of the ball in Denton Ryan defensive end Mario Edwards.
This is just the latest in a growing line of accolades for Gray, who set a national record for career touchdowns with 205. His other honors this year include the Tom Landry Award, Gatorade National Player of the Year and
Mr. Football USA
.
One other area player earned All-America honors. Arlington Martin defensive end Devonte Fields made the second team.
November, 25, 2011
11/25/11
5:57
PM CT
MANSFIELD, Texas – The expressions on the faces of Denton Ryan's players after their 19-7 Class 4A Division I Region I semifinal loss to Waco Midway were blank.
Not many tears were shed and no yells of frustration were let out.
The team stood on the sideline of Mansfield's Vernon Newsom Stadium at a loss for emotion.
[+] Enlarge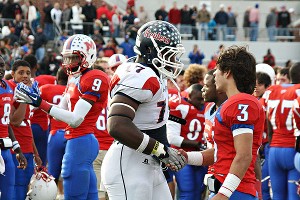 Travis L. Brown/ESPNDallas.com Denton Ryan's Mario Edwards Jr., the nation's top recruit, congratulates a Waco Midway player after the Raiders were handed their only loss of the year.
"We shocked them," Midway coach Terry Gambill said.
Nothing in the game plan was all that shocking to Ryan (12-1), as the two played in the regional semifinals last season, but no one could have known Midway's rushing attack would tally 191 yards on arguably the top defensive front in the state.
Midway running back B.J. Kelly led the charge right through the middle of the Ryan defense, picking up 141 yards on the ground.
Midway (10-2) gained just 20 yards through the air.
"They're a good football team," Ryan head coach Joey Florence said. "B.J. Kelly is a good player. He's hard to stop, and that surprised me."
Midway controlled the pace of the game from the start and never relinquished it. The Panthers' opening drive was a microcosm of their offensive game as a whole: lasting 7:07 on 16 plays and ending with a field goal.
The irony of it all was while the Ryan defense had a disappointing showing in its effort to stop Midway's ground game, the Raiders did not allow a single offensive touchdown.
That put the spotlight on Midway kicker Drew Owen, who connected on 4 of 5 field goal tries. His only miss was a block by Mario Edwards Jr.
Owen opened the scoring with a 24-yard kick into gusting winds, and he added another at the beginning of the second from 22 yards with the wind at his back.
His highlight was later in the second when he nailed a 51-yarder to put Midway up 9-0. While it was wind-aided, it cleared the crossbar by 10 to 15 feet.
Ryan pulled within 9-7 before the end of the half on a 4-yard run by Alex De La Torre, which was set up by a Trey Mohair interception.
The game was essentially put away in the third when Midway defensive back Orion Stewart nabbed his second interception of the day and returned it 25 yards for a touchdown and a 16-7 lead.
Owen hit his final kick with 3:30 to play from 29 yards.
Kelly said a chance to get revenge for last season's 19-10 loss to Ryan had been on the mind of the entire Midway squad since day one of the 2011 season.
The retribution advances Midway to the regional final against the winner of Saturday's Waco Rider-Killeen game, also at Newsom Stadium.
After the game, Florence praised his senior class as one of the best he has ever coached and expressed pride in his team's ability to take the loss with class.
It's not the way Ryan expected to finish its season, but it's hard to diminish the success of a 12-1 season, Florence said.
"It just wasn't our day," he said.
September, 27, 2011
9/27/11
7:00
PM CT
Verbal commitments are nonbinding. Florida State may get a stark reminder of that this recruiting season.
Denton Ryan defensive end
Mario Edwards
, ranked No. 1 in the ESPNU 150, gave his verbal commitment to the Seminoles in March, but it appears Edwards is allowing other schools to court him.
According to William Wilkerson of HornsNation
, Edwards is at least listening to pleas from Texas and Oklahoma to drop his commitment to Florida State. That said, Edwards indicated that neither team had convinced him yet.
"I let Florida State know that other teams are interested in me, and that I want to continue to look around," Edwards told ESPN.com's Mitch Sherman. "But Florida State is still my team, my No. 1 team."
Edwards is a key player for Ryan (5-0), which rode its defense all the way to the state title game last year.
With much of the talent returning to the defense, Ryan is a favorite to make another run at its third state title in school history.
August, 25, 2011
8/25/11
9:42
PM CT
DENTON, Texas -- Being a Texas state football finalist like Denton Ryan might raise a few eyebrows on a national level.
But the Raiders also have another reason for the extra attention they're getting as the 2011 season kicks off. They have the ESPNU 150 top recruit in the nation: Mario Edwards Jr.
[+] Enlarge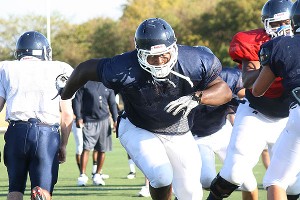 Travis L. Brown/ESPNDallas.com Mario Edwards Jr. had 12 sacks and 23 tackles for loss in his junior season.
The 6-foot-4, 270 pound defensive end, and son of the former Dallas Cowboy, is looking forward to a successful college career on the national stage at Florida State. He'll get an early taste of the bright lights in the first game of his senior season against Sulphur Springs, which will be broadcast on ESPN and
ESPN3.com
at 6 p.m. CT Saturday from Denton's C.H. Collins Athletic Complex.
After the hype that surrounded his school selection and then being placed on top of the national recruiting list, Edwards is more than ready to get his senior season started.
"I can actually sit back and focus on my last year in high school and my grades," Edwards said. "I can enjoy my senior year."
But it won't be all fun and games for Edwards, because he said being the top recruit in the nation comes with the responsibility of having a target on his back.
"I've got to perform," he said.
Ryan coach Joey Florence said the team will rely heavily on Edwards, the only returning starter on the defensive line, on the field and in the locker room.
"If we're going to win, we know we're going to have to have to play great defense," Florence said. "He's going to have to do like he did last year – play great – but also he's going to have to lead and maybe even be a vocal leader this year. I hope he comes back and plays like last year."
Saturday begins Edwards' challenge of trying to top a 2010 season that included 12 sacks, 23 tackles for loss and 70 tackles. It also begins Ryan's quest to take that final step after losing to Lake Travis in the 4A Division I state final.
Florence stressed that none of this, even the national spotlight of ESPN, is a talking point in the Ryan field house. It's all about protecting tradition.
"Our kids understand the tradition we have here comes with tremendous responsibility, and that's to live up to that tradition," Florence said.