May, 25, 2012
5/25/12
10:57
AM CT
The new basketball recruiting season officially started this week when ESPN Recruiting Nation released its annual prospect rankings.
Plano Prestonwood Christian forward
Julius Randle
becomes the area's most coveted recruited, checking in at No. 2 in the nation on the
2013 ESPN 100
list.
Randle is joined in the top 10 by Dallas Kimball guard
Keith Frazier
, who checks in at No. 9.
Four other DFW players cracked the ESPN 100: 19. DeSoto guard
Matt Jones
; 28. Arlington Grace Prep center
Karviar Shepherd
; 41. Arlington Grace Prep forward
Jordan Mickey
; and 93. Richardson Berkner guard
Kendal Harris
.
Jones, who is committed to Duke, is the only ranked area player who has made his college choice.
Grace Prep's prime talent isn't limited to its senior class. Guard
Emmanuel Mudiay
is No. 5 on the
2104 ESPN 60
list. One other area player is on the ESPN 60: Garland Lakeview Centennial center
Elbert Robinson
at No. 59.
Two players who will be sophomores next year are on the
2015 ESPN 25
list. Prestonwood Christian forward
Mickey Mitchell
is No. 2, and Rockwall forward
Elijah Thomas
is No. 22.
May, 22, 2012
5/22/12
1:10
PM CT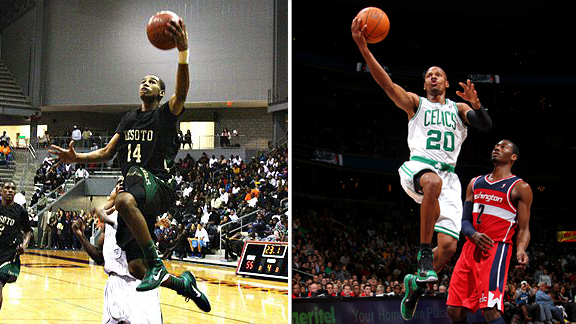 Travis L. Brown/ESPNDallas.com, Ned Dishman/NBAE via Getty ImagesDuke recruit Matt Jones, left, and NBA star Ray Allen are both prototypical shooting guards with range well past the 3-point line.
This summer, ESPNHS will sit down with some of the nation's elite players to break down their game, talk about the inevitable comparisons to college and pro players and get their take on who they pattern their game after.
Player:
Matt Jones
School:
DeSoto (Texas)
Position:
Shooting Guard
Height/Weight:
6-4/180
ESPN 60:
No. 22
Who is Matt Jones?
Rated the No. 9 shooting guard in the Class of 2013, Jones is a stone-cold assassin. His 3-point shot is already developed at an NCAA level, and he's capable of exploding at any moment. As a junior, he led DeSoto to the regional finals of the Class 5A state tournament, averaging 18.5 points, 8.5 rebounds and 3.4 assists per game. Jones has been just as good during the summer season. Going against some of the most talented AAU teams in the country during Nike Elite Youth Basketball League play, Jones is averaging 17.7 points per game and hitting 48 percent of his 3-point attempts. Jones has committed to Duke, and he seems destined to continue the Blue Devils' tradition of lights-out shooting guards (
Trajan Langdon
,
J.J. Redick
, Jon Scheyer, Austin Rivers).
Scouting Report
According to
ESPN RecruitingNation
, Jones has the prototypical build for a shooting guard. He's athletic enough to make plays in the open floor and around the rim, but his calling card is his sweet jumper. Jones might be the purest shooter in the country, with consistent catch-and-shoot range out to 20 feet.
"He's an extremely respected shooter," says Scott Pospichal, his AAU coach with the Texas Titans. "Teams know not to leave him. We run him off screens, and he's good at the pull-up, too. He can really shoot the ball."
Most frequent comparisons: Ray Allen, J.J. Redick
ESPNHS Comparison: Gordon Hayward
Jones' range and size make observers think of classic snipers like Ray Allen and J.J. Redick, but we see his game resembling that of up-and-coming
Utah Jazz
star Gordon Hayward. There is a size difference, as Hayward is one of the NBA's taller shooting guards at 6-foot-8, but everything else lines up. While Allen and Redick rely on deft footwork to curl around screens and pop long jumpers, Jones (like Hayward) is more of a spot-up shooter with less elevation on his release.
Jones also has enough length, athleticism and quickness to occasionally jump into passing lanes and disrupt things defensively. Gordon makes a living by deflecting passes, sneaking in for offensive putbacks and drilling 3-pointers (38.6 percent for his career), and we can see Jones evolving into the same type of player.
"I like to do a little bit of everything," says Jones. "I take pride in my defense. I can shoot off the dribble, and I have a quick first step. I try to contribute any way I can."
Matt's Comparison: Ray Allen
Jones has been hearing the Ray Allen comparisons for a long time, and he takes it as a compliment.
"A lot of people like to compare me to Ray Allen or J.J. Redick," he says. "I just feel blessed and grateful to be compared to great shooters like that. Ray Allen is one of the greatest of all-time, so that's an honor to be mentioned with him."
Jones says he is trying to get stronger over the summer, and he's also working on his ball handling. Allen was an underrated slasher in his prime, so Jones will need to continue tightening his handle if he wants to be the next "Jesus Shuttlesworth."
Mike Grimala covers high school sports for ESPNHS. Be sure to follow him on Twitter (@MGrimalaESPN).
December, 30, 2011
12/30/11
10:59
PM CT

HALTOM CITY, Texas -- Despite not one area team winning an Orange Bracket championship, five area players were named to the Whataburger Tournament all-tournament team Friday.

North Richland Hills was the only team to have two players selected, with guard Ricky Roberts and forward Kris Brown earning honors.

DeSoto Eagle and Duke commit Matt Jones, along with fellow top recruit Marcus Smart of Flower Mound Marcus, also earned a spot with the tournament's elite.

Finally, Plano West's T.J. Cline was given the nod because of his efforts in sending the Wolves to a fourth-place finish.

Whataburger Tournament Orange Bracket All-Tournament Team:

MVP: Imara Ready, Little Rock Parkview

Anton Beard, Little Rock Parkview

T.J. Cline, Plano West

Derail Green, Klein Forest

Ricky Roberts, North Richland Hills Richland

Kris Brown, North Richland Hills Richland

Matt Jones, DeSoto

Dominique Borom, Milwaukee Rufus King

Arroyo Edwards, Milwaukee Rufus King

Marcus Smart, Flower Mound Marcus
December, 28, 2011
12/28/11
4:53
PM CT
HALTOM CITY, Texas -- DeSoto proved Wednesday that its athleticism alone makes it one of the top teams in the state and possibly the country.

ESPN Fab 50 No. 33 DeSoto blew out state-ranked Coppell 77-39 on lockdown defensive play in the opening round of the Whataburger Basketball Tournament.

DeSoto held Coppell to just five points in the first quarter and 18 points in the first half. Coppell never seemed comfortable against DeSoto's double-team trap, resulting in an exorbitant amount of first-half turnovers.

Austin Mankin finished with 10 points and was the only Cowboy to tally double-digit points in the game. Coppell slashing forward Jett Raines was held to just eight points.

"We were faster, stronger and quicker," DeSoto guard and Duke commit Mat Jones said. "Our work in the weight room in the offseason showed tonight."

Jones opened DeSoto's dominating performance with two 3-pointers in the first frame and led all scorers with 22 points, most of which came in the third quarter.

DeSoto's offense was never selfish, working the ball around the perimeter and inside at a level that would make even Duke coach Mike Krzyzewski proud.

"I love playing with these guys," Jones said. "Of course I think about what it's going to play about Duke and it does resemble the type of offense they run."

Years of work building chemistry within the team creates such a well-oiled, selfless machine, Jones said.

"We don't care who scores," Jones said. "If you have confidence to do what you need to do, then you can have it."

DeSoto advances in the winners bracket to play Plano West on Thursday at 12:30 p.m.

The win gives DeSoto the chance to come away with a tournament championship, but it also gives the Eagles a chance to prove to the area that they shouldn't have to live under the shadow of Flower Mound Marcus and some of the Metroplex's top-ranked teams.

"Sometimes we're under the radar -- we tend to get overlooked," Jones said. "We just try to make a statement one game at a time."
December, 1, 2011
12/01/11
9:27
AM CT
Lost in the football playoff coverage was some big basketball news that came down earlier this week.
DeSoto shooting guard
Matt Jones
, ESPNU's No. 21 overall junior recruit, gave his verbal commitment to Duke.
Texas, Florida, North Carolina and Kansas were also finalists for the services of the 6-foot-4, 180-pound sharpshooter.
Read
more about Jones' decision here
.
July, 22, 2011
7/22/11
4:20
PM CT
A slew of high school basketball players from the Metroplex will be taking part in the AAU Super Showcase -- an invitation-only event being held next week at ESPN's Wide World Of Sports Complex in Lake Buena Vista, Fla.
The Texas Titans, from Dallas, include center
Prince Ibeh
(Garland Naaman Forest), power forward
Julius Randle
(Prestonwood Christian), SG
Matt Jones
(DeSoto) and PG
Marquan Botley
(Prestonwood Chr.). ESPN Recruiting's Paul Biancardi
believes the squad are among the teams to watch
at the event.
Two Arlington Grace Prep players -- Baylor commit C
Isaiah Austin
and PG
Emmanuel Mudiay
-- will be competing with the Texas Pro team, which is based in Houston.
The Super Showcase, one of the marquee events of the summer, will feature two games broadcast on ESPNU -- Texas Pro (Houston) vs. Georgia Stars (Atlanta) on July 26 at 6 p.m.; and the Super Showcase championship on July 27 at 6 p.m.
For more on the event,
click here.
May, 24, 2011
5/24/11
7:33
PM CT
ESPN Recruiting debuted its latest boys basketball recruiting rankings for the 2012-2014 classes, and a pair of area private school players are rated among the best of the best.
[+] Enlarge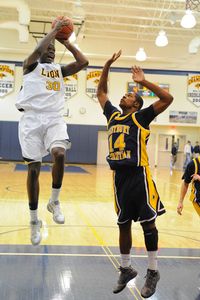 Courtesy Prestonwood Christian AcademyTexas, Kansas, Oklahoma, Ohio State and Missouri are among the schools Prestonwood Christian's Julius Randle is considering. North Carolina, Kentucky, Baylor, Oklahoma State and Duke are also reportedly showing interest.
Prestonwood Christian power forward
Julius Randle
, who is uncommitted, is the
No. 1 prospect in the Class of 2013
. Arlington Grace Prep center
Isaiah Austin
is
No. 2 for 2012
.
Small forward
Marcus Smart
, who led Flower Mound Marcus to the Class 5A state championship in March, is No. 40 in the Class 2012 rankings and remains uncommitted.
Joining Randle on the 2013 list are Irving guard
Keith Frazier
at No. 7 and DeSoto guard
Matt Jones
.
Austin, who has committed to Baylor, is among the players spotlighted in Mitch Sherman's look at how
big men are dominating the 2012 rankings
.
Paul Biancardi provides a scouting report
for some of the top 2012 big men and had this to say about Austin:
Austin possesses a unique skill set, as he is a legitimate 7-footer with the skills of a wing player. He looks like a young Sam Bowie and has the skill package of a young Ralph Sampson. His enormous wing span makes him a rim protector, and his ball skills make him so versatile offensively. Once his body matures and accepts weight, he will be an even tougher matchup in the low post.
Here are links to the full ESPNU lists:
2012 Top 100
,
2013 Top 60
,
2014 Top 25
.