December, 16, 2011
12/16/11
12:07
AM CT
By
Randy Jennings
| ESPNDallas.com
Running back Kristov George capped two third-quarter drives with touchdown runs to lead the Melissa Cardinals to a 28-15 victory over Hempstead in the Class 2A Division I state title game Thursday night at Arlington's Cowboy Stadium.
The state title was the first for Melissa.
George, named the game's offensive MVP, scored on runs of 4 and 8 yards and finished with 112 yards on 21 carries.
Melissa (13-1) reeled off 21 points in the third quarter to break open a 7-7 game at the half.
Sandwiched around George's touchdown runs in the third quarter was a Wes McQueen 68-yard scoring pass to Jackson Webb. McQueen started the scoring with a 17-yard touchdown pass to Mason Hart in the first quarter.
Melissa's defense dug in to stop two fourth-quarter threats by Hemstead (14-1) after the Bobcats closed the gap to 13 points.
"We found a way to get it done in big games,'' Melissa coach Seth Stinton said.
In other title games on Thursday at Cowboys Stadium:
*Tenaha 52, Munday 28: Reginald Davis, a Texas Tech commit, rushed for 242 yards and three touchdowns, passed for 234 yards and two touchdowns and added an 80-yard kick return for a score to lead Tenaha (15-0) to the Class A Division II title. Munday (13-3) turned the ball over four times.
*Mason 62, Stamford 40: Behind an offensive line averaging 260 pounds, David Mora rushed for 263 yards and five touchdowns to lead Mason (15-0) to a Class A Division I state championship victory. Stamford (13-3) got 351 passing yards and four touchdown passes from Hagen Hutchinson.
December, 14, 2011
12/14/11
7:14
PM CT
MELISSA (12-1) VS. HEMPSTEAD (14-0)
8 p.m. Thursday, Cowboys Stadium
What:
Class 2A Division I state championship game.
When we saw them last:
Melissa took down Muleshoe 49-36 in the state semifinal thanks to three Melissa rushers who accounted for 348 of Melissa's 350 yards in the game. Quarterback Wes McQueen passed for 163 yards and rushed for a team-leading 145 yards. Hempstead ousted Tatum in the semifinals 21-14. Running back Archie Taylor racked up 146 yards and a touchdown in the game.
Last in the playoffs:
Melissa's 2011 playoff run is the longest in the school's eight-year history. Melissa was knocked out of the playoffs last year in the area round in a 56-27 rout against Grandview. Hempstead's 2010 season ended quickly with a 20-7 bi-district loss to Marion.
Key matchup:
Melissa's experienced offense against Hempstead's defense. The majority of Melissa's seniors have started since their sophomore year. McQueen has been solid for his team since he stepped into the QB role three years ago and has done thing but improve since. With 2,398 yards passing this season for 22 touchdowns, the air game is locked down with McQueen under center. Melissa's run game has found its stride in the playoffs and has actually carried the offense to the state title game. Melissa's now balanced attack will have a tough test against a Hempstead team that has recorded 17 interceptions, 14 fumble recoveries and 46 sacks against this season.
Players to watch
: The emergence of Melissa's ground game is thanks to a tandem of running backs, John Young and Kristov George, who have combined for 1,609 yards. Hempstead defensive end Alex Trujillo leads the team with nine sacks. On offense, quarterback Obie Wilder distributes the ball to a committee of receivers. Taylor takes most of the load in the ground game.
Prediction:
Melissa 35, Hempstead 31.
December, 13, 2011
12/13/11
5:12
PM CT
The Melissa football team has had all of its wildest dreams come true -- again.
This summer, Melissa had the opportunity to play 7-on-7 football at Cowboys Stadium, a once-in-a-lifetime opportunity for the players of the 2A school.
Lucky for them, they will have another shot in Arlington in the 2A Division I state finals at 8 p.m. Thursday against Hempstead.
For this Melissa squad, the journey to state has been three years in the making.
"They've played together for three years now," coach Seth Stinton said. "Most of these kids were starters when they were sophomores. I think that's kind of an added advantage for us -- how close they've become over the last few years and how close we've become this year. We've gone through a lot."
What has come out of that hard work is Melissa's longest playoff run in the school's short eight-year history and its first trip to the championship game.
Stinton and his staff knew they had the makings of something special when quarterback Wes McQueen stepped into the starting role as a sophomore. He began with a bang and hasn't slowed down through his junior and senior years, racking up over 3,000 yards passing for 36 touchdowns this season.
"His first year as a sophomore he did a pretty decent job and he had a great year," Stinton said. "We knew he was pretty special at that time. Here he is in his senior year and we're playing in the state championship game. We owe a lot to the way our offense works because of what Wesley is able to do."
However, Melissa's run to the state championship is also due to the development of the run game in the postseason, making the offense much more balanced than in the beginning of the year.
"The first part of the season we would throw it around a lot and run every once and a while, but here in the last couple of games it's been the exact opposite," Stinton said. "We've actually had a better running attack."
The change was never more evident than last Friday in Melissa's semifinal game against Muleshoe. Melissa rode three rushers each for over 100 yards rushing for a total of 350 yards of the team's 513-yard total.
McQueen has developed into a dual-threat rusher, leading the team last week, ahead of Kristov George and Marcus Ellis.
Regardless of how this journey ends, these players are a part of Melissa history.
"This community is excited," Stinton said. "They're really pumped for this opportunity we have and these kids have generated a lot of excitement in our community."
December, 5, 2011
12/05/11
2:31
PM CT
Alvarado continued its quest for a first UIL state football championship by beating defending champion Henderson 34-13 in a Class 3A Division I state semifinal matchup Friday.
Alvarado will play Tyler Chapel Hill at 7:30 p.m. Friday in the 3A Division I state final at Cowboys Stadium.
Tickets are available through Ticketmaster
.
All other UIL 11-man football tournaments are in the state semifinal round, and several DFW-area schools are still playing at the Class 2A and 3A level.
Argyle blasted Gilmer 51-35 in the 3A Division II Region 2 final. Argyle faces Monahans in a state semifinal at 7:30 p.m. Friday at Abilene Wylie High School.
Melissa moved into the 2A Division I state semifinals by beating Daingerfield 42-14 in the Region 2 final. Melissa will play Muleshoe at 7 p.m. Friday at Sweetwater's Mustang Stadium for a berth in the state final.
Corsicana Mildred blanked Gunter 49-0 in the 2A Division II Region 2 final to secure a state semifinal matchup against Cisco at 7:30 p.m. Friday at Mansfield's Vernon Newsom Stadium.
One other area team worthy of mention is Fort Worth Nolan, which beat Beaumont Kelly 27-10 in Temple on Saturday to win the TAPPS Division I state championship.
November, 28, 2011
11/28/11
2:03
PM CT
We've been focusing our coverage on the Class 4A and 5A action, but let's take a moment to recognize the achievements of the area's smaller schools still alive in the UIL football playoffs.
*In Class 3A Division I, Alvarado (13-0) has demolished its playoff opponents by a 142-13 margin through three rounds and will play Henderson (11-2) in a state semifinal Friday at 7 p.m. at Bedford's Pennington Field. Henderson has also been impressive in the playoffs, winning its games by a 153-56 margin.
*In 3A Division II, Argyle (12-1) edged Carthage 35-34 in two overtimes to reach the Region 2 final. Argyle will take on Gilmer (13-0) at 7:30 p.m. Friday at Corsicana with a state semifinal berth on the line.
*In Class 2A Division I, Melissa (10-1) has advanced to the Region 2 championship game, where it will take on Daingerfield (10-3) at 7:30 p.m. Friday at Royse City.
*In 2A Division II, Corsicana Mildred (12-0) puts its unbeaten season on the line against Gunter (10-2) in the Region 2 final at 7:30 p.m. Friday at Garland's Homer B. Johnson Stadium.
July, 25, 2011
7/25/11
9:35
PM CT
FORT WORTH, Texas -- Former Seagoville post and Arkansas recruit Devonta Abron needed a half to warm up in the Texas High School Coaches Association basketball All-Star game, but he came alive in the second half, flexing his muscles and throwing down slams to seal a 103-94 North All-Star victory and a North MVP award.
* Four of the area's five players on the North squad started the game: The Colony's
Austin Chatman
, Flower Mound's
Jordan Green
, Abron and Melissa's Hondo Webb. That line got two shifts in the first, helping the North All-Stars to a quick lead, ending the first frame on top, 28-19.
*The second began with a rush of South points narrowing the deficit to as few as four by way of pure showmanship, throwing down dunks or hitting from behind the arc. Fundamentals gave way to flair as the second half came to a close, with turnover and fouls keeping either team from scoring. The North remained on top at the half, 51-47.
* Hustle and flash was the name of the game for Chatman in the first half. He pulled the ball outside in transition halfway through the second quarter and attempted a hard bounce alley-oop to
Forrest Robinson
that was just barely tipped over the streaking Robinson's hand in the paint. Had the defense not been alert, the crafty dish would have connected with Robinson for an easy dunk. Chatman then finished the first half with a no-look dish into the lane in transition but couldn't get the assist from Tashawn Thomas. Chatman was failed by another teammate with a minute left in the game when Jordan Green missed a wide open dunk after a Chatman no-look, behind-the-back pass.
* The North's only spark in the third quarter was Abron, who threw down three slams that kept the South's momentum at bay. The South tied the score for the first time since the beginning of the game at 53 just a minute and a half into the third and took its first lead, 66-64, with 3:30 left in the third, then finished the third with the lead, 73-72.
* Abron again kept the South's momentum down in the fourth, throwing down a dunk to start the quarter and hitting a 3 on the very next possession. A few Thomas mid-range jumpers kept the fourth run in favor of the North. A pair of 3s by the South's Tyler Friedel kept the game close with under two minutes left in the fourth, but the North kept possession for the majority of the final minute to seal the game.
* The South's
Tre Demps
of San Antonio Reagan won the MVP award for his squad.
* During halftime, the teams remained on the floor to watch a few participants from each team take part in a 3-point contest and a dunk contest. Webb came in second in the 3-point contest, draining 11 in a minute, but came four short of the winner, Victoria East's Friedel. Flower Mound's Green won the dunk contest, throwing down all three of his tries on the first try.
July, 24, 2011
7/24/11
11:00
PM CT
Fort Worth is the host city for this year's Texas High School Coaches Association Coaching School, bringing the football and boys basketball all-star games to the Metroplex. Many of the area's stand-out athletes have been named to the North All-Star teams for both the basketball game, tipping at 7:30 p.m. Monday at TCU's Daniel-Meyer Coliseum, and Tuesday's football game, which is at 7:30 p.m. at Cowboys Stadium.
[+] Enlarge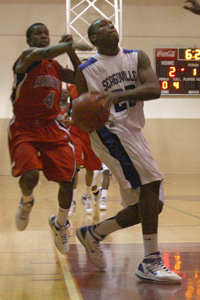 Travis L. Brown/ESPNDallas.comSeagoville's Devonta Abron will play for the North All-Star teams at 7:30 p.m. Monday at TCU's Daniel-Meyer Coliseum.
Here are the North All-Star rosters for both games:
FOOTBALL
RB Kaylon Alexander - Denton Ryan
CB Tyler Boyd - Daingerfield
WR Roderick Woodard - Quanah
SS Storm Griffin - Argyle
DB Jake Talbert - Crawford
SS Jovorious Brown - Longview
WR Xavier Willams - Ranchview
QB Josiah Monroe - Bastrop
WR Marquis Jackson - Fort Worth Arlington Heights
OLB Craig Wesson - Odessa Permian
SS Jake Howeth - Dallas Highland Park
CB Malcolm Hill - Frisco Liberty
WR Tyler Wright - Granbury
QB Anthony Morgan - Carthage
K/P Tyler Orwig - Euless Trinity
CB Rylan Riney - Aledo
LB Rodney Young - Dekaney
RB Chris Nutall - A&M Consolidated
DB Malcom Scott - Tomball
RB Rufus Mason - Flower Mound Marcu
s
DT Marcquel Sheppard - McKinney North
ILB Connor Sheehan - Austin Anderson
MLB Cord Fletcher - Henderson
DE Chad Polk - Dallas Woodrow Wilson
LB Trey McGowan - Kerens
OL Chad Williams - Burleson
DL Leroy Mitchell - Lubbock Estacado
OL Zach Crawford - Westwood
OL Dillon Ivory - Ore City
OL Marcus Hutchins - DeSoto
OL Tyler Halerumal - Sulphur Springs
OL Kris Weeks - Sachse
OL Nathan Butler - Southlake Carroll
OL Brandon Duryee - Hereford
LB Zach White - Littlefield
TE Garrett Mayo - New Deal
MLB Brent Turner - Idalou
DL Zach Wood - Rowlett
BASKETBALL
G Austin Chatman - The Colony
G Sean Voss - Belton
F Rorrest Robinson - Eastland
G/F Jordan Green - Flower Mound
G Derrell Gibbs - Burkburnett
G Derry Franklin - Mansfield Legacy
F Devonta Abron - Seagoville
G Hondo Webb - Melissa
F Tashawn Thomas - Kileen
G Luke Carpenter - Farwell
F Zane Hernandez - Iraan
F DaJuan Cooper - Kennedale
March, 11, 2011
3/11/11
1:13
PM CT
(Box score from the UIL)
AUSTIN, Texas -- Melissa's boys basketball team could not overcome Tatum's physical play Friday, dropping the Class 2A state semifinal matchup, 70-57, at Frank Erwin Center.
Tatum pressured Melissa into 22 turnovers, forced and unforced.
"I credit that to the physicality of the game," Melissa head coach Clint Sadler said. "It's easier to have unforced turnovers [when] ... there is so much contact and physicality and you're getting bumped. You almost expect that to happen every pass you make. That causes you to be a little off on some of the other passes you're trying to make."
Tatum turned the turnovers into 18 points, with 16 coming on fast breaks.
A physical game did not suit Melissa, which was not nearly as deep as Tatum. Tatum head coach Brett Carr was able to platoon players into the game with success, as the bench tallied 20 points.
"We got off to a great start but their physicality continued to wear us down as the game went on," Sadler said. "They had a lot of depth as well. They played nine or 10 guys and we didn't quite have that depth."
When Melissa was able to create in the half court, missed layups prevented the Cardinals from gaining any momentum. Melissa shot 40 percent from the field for the game, 37 percent in the second half.
Tatum's Desmond Fite led all scorers with 21 points, nine off 3-pointers.
Two senior guards lead Melissa in scoring, with Zach Helmberger getting 16 and Hondo Webb adding 15.
The loss was Melissa's second of the season and ended the school's first state tournament trip. The Cardinals' only other loss came to ESPN Dallas 4A No. 6 Dallas Woodrow Wilson in the DISD Postseason Classic.
"We set an example for everyone else coming through," Webb said. "We set the bar and now everyone just needs to go try and beat that bar and get above that and strive for greatness."
March, 10, 2011
3/10/11
6:00
PM CT
By
Randy Jennings
| ESPNDallas.com
The Melissa Cardinals impending trip to the boys state basketball tournament is big news in this Collin County community.

It is the school's first final four foray.

"Wherever you go, you can't walk six feet without running into someone excited about this,'' Melissa coach Clint Sadler said. "The great thing is neither the fans or our players are satisfied just to be going. The attitude is we still have games to play.''

The Cardinals (36-1) face Tatum (31-7) in a Class 2A state semifinal at 10 a.m. Friday at the Frank Erwin Center in Austin. A victory would put Melissa in the state title game at 2 p.m. Saturday.

Idalou (31-1) and Hallettsville (33-4) meet in the other semifinal.

Lacking height -- there's no starter taller than 6-2 -- Sadler's focus this season has been on defense and rebounding.

"We've heard that we don't have the size to win state, but our guys have done a great job and we're not going to change anything now,'' Sadler said. "Our motto is to be the best we can be at everything we do. We break every huddle with it.''

Hondo Webb, a 6-foot-2, 215-pound senior, is the unquestioned leader. Born in Africa and the son of missionary parents, Webb is the team's point guard, yet he often defends the opponents' tallest player.

Webb leads the team in rebounds (10.3), assists (7.1), steals and blocked shots. He's second in scoring (14.1). Three of his six career triple-doubles have come this season.

Zach Helmberger, a 6-foot-2 senior guard, is the top scorer (17.8) and is No. 2 in rebounds (7.8).

A third senior, 6-foot-1 guard Ian Hatfield, averages 13.5 points, but Sadler said his real value is his ability to stifle the opponent's top scorer.

Coming off a 31-5 season, Sadler loaded this season's schedule with opponents from larger classifications. The only defeat came at the hands of Class 4A Dallas Woodrow Wilson, 65-52, in a playoff warm-up game.

The Cardinals cleared a mental hurdle when they got past Brock, 44-32, in a regional quarterfinal.

"That was a great night for our community,'' Sadler said. "That was huge for our confidence and it carried over to the way we played in the regional tournament last weekend.''

Brock ended Melissa's season at the same point last year and also halted two playoff runs by the Melissa girls basketball team.

Sadler has seen other small communities in the spotlight in his previous trips to the state tournament as a spectator.

"I'm excited to look up into the stands and see that sea of red in those orange seats at the Erwin Center. It may not match very well, but it will look great to us.''
February, 19, 2011
2/19/11
12:38
PM CT
Garland Lakeview Centennial survived the main event Saturday at the DISD Postseason Classic, defeating Dallas Kimball 76-69 at Davis Fieldhouse.
Lakeview supplied a barrage of 3s throughout the game, staying one step ahead of a potent Kimball offense. Kimball had the size advantage but was unable to produce valuable points in the paint when it counted.
"When we get set and shoot them like we're supposed to, we're pretty good," Lakeview head coach Tony Mauldin said. "When we rush them, we're not."
Kimball was successful at getting rebounds and stayed in the game on second-chance shots. Guard Shannon Lilly found a hot streak in the third quarter, scoring 12 of his 19 points and helping the Knights bridge a 10-point halftime deficit.
"They're long and athletic and we have to guard them inside," Mauldin said. "We didn't do a very good job and they were really hurting us on the boards, but we found a way to win."
Kimball's offense was carried by Jordan Williams, who finished on top of the points column with 24. Lakeview finished with three scorers at or above 15 points, led by Chris Jones with 19, followed by Jamarlas Demas with 17 and Toddrick Gotcher with 15.
Kimball was unable to get out of the game without a few players getting dinged up. Big man Jarion Henry suffered the worst of the injuries, suffering a gash above his eye. He would return late in the third.
Mauldin said he's always worried about playing a game before going into the playoffs, but the experience his team gained was worth the risk.
Both teams have bi-district round games early next week, with Lakeview facing District 9-5A fourth-place finisher Lake Highlands in the 5A bracket and Kimball matched up against Dallas Conrad.
Lubbock Estacado (3A) 69, Dallas Lincoln 56
Lincoln had little energy, which didn't help the fact that they faced a team in Estacado that was a machine. Estacado made passes passes that only come from a high level of chemistry.
All-American LeBryan Nash had an off night, finishing with 14 points after fouling out with about four minutes left in the game. Big man Keaton Miles and guard Steve Jordan also had 14 points for the Tigers.
Estacado was ranked No. 35 on the ESPN Rise Fab 50 and will surely rise in the rankings after taking down No. 13 Lincoln.
DeSoto 49, Lancaster 47
Lancaster led for the majority of the game, but DeSoto mounted a rally late in the fourth quarter to take the final two point lead. Lancaster had the opportunity to win on a long 3-point try, but the shot hit the front of the rim and came out.
Madison (3A) 85, Burkburnett (3A) 80
Madison's Montrael Scott and Anthony Hollins scored 26 and 23 points, respectively.
Kennedale (3A) 61, Richardson Berkner 50
Kennedale came back from a 10-point deficit in the third to win.
Berkner's Jordan Mickey led all scorers with 19 points. Charo Knight was next on the Rams with 12.
Berkner's leading scorer for the season, Kendal Harris, did not play. He was nursing an undisclosed injury.
Argyle (3A) 63, Dallas South Oak Cliff 58
A 12-foot fourth-quarter buzzer beater by SOC's Billy Hopson sent the game into overtime, but SOC couldn't hold off Argyle's shooting ability.
Argyle's Clarke Overlander led all scorers with 23 points.
South Oak Cliff was able to make a comeback in the second half despite cold shooting throughout.
Dallas Woodrow Wilson 68, Melissa (2A) 53
Shifty Woodrow point guard Curtis Davis led all scorers with 29 points. Zach Helmberger led Melissa with 26.
Melissa's loss to Woodrow in this postseason exhibition was its first loss of the season.
July, 7, 2010
7/07/10
12:58
AM CT
By
Randy Jennings
| ESPNDallas.com
Many of the state's top high school football skill players will descend on College Station, Texas, for the Fox Sports Southwest 7-on-7 State Championship presented by adidas and Academy Sports & Outdoors.

The tournament consists of two 64-team divisions based on the school's UIL classification.

Within each division, teams are divided into 16 pools of four. The top two finishers in each pool advance to championship single-elimination and the bottom two finishers are placed in consolation single-elimination.

Pool play in Division II (Class 3A, 2A, 1A) begins at 1 p.m. Thursday and culminates in the state title game at 5 p.m. Friday at Kyle Field.

Area teams that have qualified in Division II include defending champion Celina, Aubrey, Godley, Kaufman, Lovejoy, Melissa, Prosper, Sanger and Wills Point.

Division I (Class 5A, 4A) pool play begins at 1 p.m. Friday and concludes with the championship game at 5 p.m. Saturday at Kyle Field.

Local qualifiers include: Arlington Bowie, Arlington Lamar, Coppell, DeSoto, Grand Prairie, Hebron, Irving Nimitz, Lewisville, Mansfield Legacy, Mesquite, Plano, Plano West, Richland, Rockwall, Saginaw Boswell, Dallas Skyline, Southlake Carroll, West Mesquite and Wylie.

Lamar is the state's only DI team to qualify for all 13 state tournaments. Nimitz, Lewisville and Skyline will be playing in the state tournament for the first time.

Three 7-on-7 state champions have gone on to win UIL state titles the following fall: Celina, twice, in 2000 and 2007, and Tyler Lee in 2004.

Here's a list of the tournament's past DI champions:
2009: Round Rock Stony Point
2008: Richland
2007: Georgetown
2006: Colleyville Heritage
2005: Baytown Lee
2004: Tyler Lee
2003: Odessa Permian
2002: Katy Cinco Ranch
2001: Baytown Lee
2000: Celina
1999: North Mesquite
1998: Southlake Carroll

The DII champions:
2009: Celina
2008: Crane
2007: Celina