November, 23, 2010
11/23/10
5:22
PM CT
With few surprises in the Class 5A Division I bracket, Euless Trinity's road to a consecutive state title has unraveled as expected – difficult.
[+] Enlarge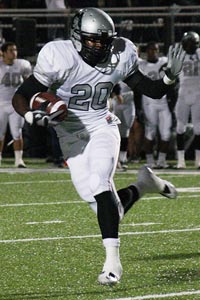 Travis L. Brown/ESPNDallas.comRunning back Treavon Walton will look to help Denton Guyer knock off Abilene Cooper for the third time in as many years.
After thwarting a very good Allen team last week, Trinity (12-0) faces Arlington Martin (10-2), which stumbled in nondistrict only to rebound and win 10 straight games.
Should Trinity win, it will likely play Coppell (12-0) in the Region 1 finals. After that, its projected opponent is Round Rock Stony Point (12-0), which Trinity beat in the state semifinals last year. Trinity's opponent in the state finals would undoubtedly be tough.
If the bracket continues with no upsets, five of Trinity's six playoff opponents would be teams that have been state-ranked at one point this season.
Rematches highlight Division II Region 1
Class 5A Division II Region 1 is giving old foes a chance to get reacquainted with each other.
Denton Guyer (10-2) will play Abilene Cooper (11-1) in the playoffs for the third straight year. Guyer beat Cooper both times in heated contests that came late in the Class 4A playoffs in 2008 and 2009.
Guyer comes into the game after exacting revenge on Cedar Hill, which
beat Guyer in nondistrict play. Cooper comes in somewhat wounded after three starters were dismissed from the team over the weekend.
Southlake Carroll (9-3) hopes to get revenge on the team that helped knock it out of the national spotlight – defending Division II champion Abilene (9-3).
Coming off a stunning 79-1 stretch, Carroll fell to Abilene in the playoffs during Hal Wasson's first season as head coach in 2007. The Dragons haven't sniffed a state title since.
Abilene has been hurt by injuries this year, including a big one to star running back Herschel Sims, who didn't play in Abilene's 45-28 win over El Paso Coronado last week.
DeSoto faces resurgent Austin Bowie
Few saw Austin Bowie reaching the third round of the playoffs.
The Bulldogs (8-4) started the year 2-3 and were manhandled by Class 4A Waco Midway, 42-7, in nondistrict, but Bowie won six of its last seven, including playoff wins over Georgetown (35-17) and a strong Klein Collins team (26-16).
DeSoto has yet to be seriously challenged in the playoffs after decimating Dallas Skyline, 38-0, in the area round, but Bowie's running game, led by Brelyn Sorrells (1,766 yards, 22 touchdowns), has given teams fits.
Tough schedule has Mesquite Horn prepared for playoffs
Mesquite Horn (8-4) may have the ugliest record for a state-title contender in the state.
A brutal nondistrict schedule and a tough district handed Horn losses to Coppell, Denton Guyer, DeSoto and Longview, all of which are still alive in the playoffs.
[+] Enlarge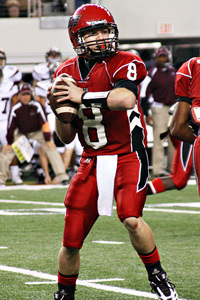 Travis L. Brown/ESPNDallas.comQuarterback Collin Strahan has helped Mequite Horn reach the third round of the playoffs.
But experience against good teams has proved valuable as Horn has rolled through its two playoff games, topping Division II favorite Copperas Cove (48-14) and Rowlett (44-22).
Horn faces another team with an ugly record in the third round – Leander (7-5). The Lions started the year 0-4 but have won five straight, including playoff wins over Austin (24-0) and Klein (14-7).
If Horn wins, it may get another shot at Longview, which plays Tomball in the other Region 2 game.
Coppell hits the road for third-round game
A lost coin toss will cost Coppell (12-0) a long trip out to Midland where it will play Midland High for what could be a shot at Euless Trinity.
Head coach Joe McBride lost the flip to determine where the two teams will play. Midland chose its home venue of Grande Communications Stadium.
Despite playing what's essentially a road game, Coppell is the favorite after an undefeated regular season and decisive playoff wins over Plano (23-6) and Duncanville (35-10).
Midland (11-1) has been equally dominant with its lone loss coming against Abilene. The key matchup comes when the Bulldogs have the ball. They average 38.9 points per game against a Coppell defense that gives up just 9.5.
November, 21, 2010
11/21/10
12:44
AM CT
ARLINGTON, Texas – Coppell's offense has been perceived as one-dimensional at times this year.
It certainly was against Duncanville on Saturday.
Coppell's passing game, not its running game, carried the Cowboys to a 35-10 win over Duncanville at Cowboys Stadium in the Class 5A Division I area round.
[+] Enlarge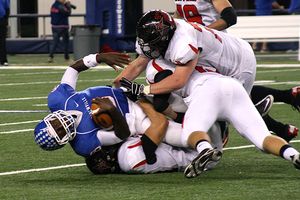 Travis L. Brown/ESPNDallas.comThe Coppell defense overpowered quarterback Charles Williams and the Duncanville offense.
Coppell (12-0) plays Midland at 2 p.m. on Saturday at Grande Communications Stadium in Midland.
"We felt real good about our passing game stuff," said Coppell head coach Joe McBride of Duncanville's defense. "They were running a lot of pressure-man stuff. We didn't want to beat our head against a wall with Cam [McDaniel] We have other players, too."
Coppell quarterback Joe Minden went 17-for-25 for 270 yards and four touchdowns while McBride gave McDaniel and the running game a breather. Minden's favorite target Tyler Landis caught eight balls for 151 yards and two touchdowns.
Most of Coppell's offense came in the first half. Minden threw for 219 in the opening two quarters alone while Coppell had just 5 rushing yards at halftime, an astonishing number for a team that averages 210 per game. Coppell led 28-10 at halftime.
After the break, Coppell turned to McDaniel, who scored on a 1-yard run on Coppell's first drive and finished with 89 yards on 22 carries.
Duncanville opened the game strong, going 80 yards on its first drive before Chris Simpson scored on a 5-yard run to put the Panthers up 7-0.
"I don't know if we were jittery but we had a bunch penalties on that first drive," McBride said. "We were busting our communications. We had to sharpen up some things."
Minden and the Cowboys answered with a 28-yard touchdown pass to Kyle Echerd. After a Duncanville field goal, Coppell scored 21 unanswered to close the half with Landis catching two touchdowns and McDaniel receiving another.
Charles Williams replaced Duncanville quarterback Divan Ealy after halftime. Ealy had ice on his shoulder on the sideline.
November, 15, 2010
11/15/10
4:15
PM CT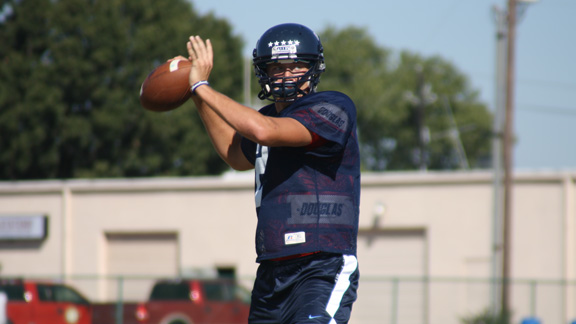 Travis L. Brown/ESPNDallas.comQuarterback Alec Morris helped Allen become the only District 8-5A team to win in the bi-district round, but No. 1 Euless Trinity is up next for the Eagles.
(Click here for Class 5A pairings.)
The much-ballyhooed District 8-5A was hailed for its parity and competitiveness all season. It didn't translate to the playoffs.
Allen (10-1) secured the only playoff win for District 8-5A in the bi-district round of the playoffs with a 49-14 win over Justin Northwest in Division I.
Outside of Allen's win, District 7-5A got the better of 8-5A. 7-5A won both games in Division II as Denton Guyer (9-2) squeaked past Flower Mound Marcus, 35-28, and Southlake Carroll (8-3) surprisingly pummeled Flower Mound, 50-27.
In the other Division I game, Coppell (11-0) manhandled Plano, 23-6.
Allen's win sets up a titanic matchup with Euless Trinity (11-0) at 5 p.m. Saturday at Cowboys Stadium.
The titanic matchup that wasn't
Klein Oak (8-3) spoiled what would have been a Division I area round game between two undefeated top 5 teams when it upset The Woodlands, 31-14, on Friday.
Round Rock Stony Point (11-0) will meet Klein Oak instead at 4 p.m. Saturday at Klein Memorial Stadium in a game that could have had the same luster as Allen-Trinity had The Woodlands prevailed.
Although coming off a losing season, Klein Oak has been a perennial power over the last five seasons. Stony Point has lost in the state semifinals the past two years.
DeSoto going through playoff déjà vu
DeSoto's 2010 postseason is playing out much the same as it did in 2009.
The Eagles (9-2) made short work of Bryan in a 68-28 win on Saturday to set up a stellar area matchup with Dallas Skyline (9-2) at 7:30 p.m. on Friday at Kincaide Stadium.
That's exactly what happened last year. DeSoto crushed Bryan before losing to an extremely talented Skyline team, 41-36.
DeSoto will look to get revenge, but it won't be against the same Skyline team, which graduated 11 FBS recruits.
McKinney Boyd wins without QB
With QB Jonovan Griffin sidelined with an injury to his left arm, McKinney Boyd (9-2) leaned heavily on running Bryan Driskell in the bi-district round.
Driskell ran the ball 30 times for 225 yards and three touchdowns to lead Boyd over Richardson, 31-11. Replacement QB Tyler Phelps went 4-for-9 for 69 yards and interception, adding 21 rushing yards.
Few players have meant more to their teams this year than Griffin. He rushed for 1,014 yards and 15 touchdowns while throwing for 1,386 yards and 13 touchdowns.
Griffin recently switched his college commitment from UTEP to Oklahoma State.
Boyd plays A&M Consolidated (10-1) at 7:30 p.m. Friday at Lion Memorial Stadium in Ennis in the area round.
Fight for Region I title loaded with contenders
With no major upsets in bi-district, the fight for the 5A Division I Region I title is on track to be one of the most competitive in the state.
If the favorites win in the area round, the final four in the region would be Midland, Coppell, Arlington Martin and Euless Trinity, but Trinity and Coppell face tough area-round games against Allen and Duncanville, respectively.
The Trinity-Allen winner will play the Martin-San Angelo winner. The El Dorado-Midland winner will play the Duncanville-Coppell winner.
February, 17, 2010
2/17/10
4:43
PM CT
By
Randy Jennings
| ESPNDallas.com
Arlington Martin guard Bethany Gonzales didn't want a broken finger to keep her out of the basketball playoffs.

For clearance, the 5-foot-4 sophomore appealed to her doctor, who also happens to be her dad.

"We don't want to play her too much and take a chance on making it worse,'' said Martin coach David Amis. "But she's tough. She didn't want to come out in the game when she got hurt.''

Arlington Martin (22-11), third in a difficult District 4-5A, faces Midland in a Class 5A Region I girls basketball area playoff 6 p.m. Friday at a neutral halfway site, Merkel High School.

Martin is a young team, routinely starting a pair of sophomores and juniors. The Lady Warriors are in the playoffs for the fifth time in Amis' eight seasons.

Destynee Hives-McCray, a 5-11 junior post, is the Martin leading scorer with a 13-point average. She had 16 in Monday's 56-43 bi-district win over Weatherford.

With a win over Midland, Martin could be eyeing a Region I quarterfinal meeting with District 4-5A champion Arlington Bowie. That is also contingent on Bowie defeating Lubbock Monterey in its area playoff.

"We're hoping we do get another shot at Bowie,'' Amis said.

Bowie defeated Martin by one and by 10 points in the regular season.