February, 2, 2012
2/02/12
2:32
PM CT
By
Randy Jennings
| ESPNDallas.com
NORTH RICHLAND HILLS, Texas -- The makeup changed very little or not at all in four of the area's nine Class 5A districts at Thursday's UIL reclassification and realignment.

*The current District 4-5A (five Arlington schools, Fort Worth Paschal, North Crowley and Weatherford) remained intact but, because of district consolidation in West Texas, changed its number to 3-5A.

That's an agreeable change, said Anthony Criss, football coach at Arlington Sam Houston and former Arlington ISD assistant athletic director.

"It's great for Arlington because it means we stay in the area for first-round playoff games instead of going to West Texas,'' Criss said. "We'd still go west once, but not until the second round.''

*The current District 5-5A retained seven of its eight members in the new District 7-5A: Cedar Hill, DeSoto, Duncanville, Grand Prairie, South Grand Prairie, Mansfield and Mansfield Timberview. The only change is Mansfield Legacy drops down to Class 4A and powerhouse DeSoto takes its place.

"A tough district just got tougher,'' said Grand Prairie coach Gary Bartel.

*In District 9-5A, Dallas Samuell dropped to Class 4A and was replaced by Richardson Pearce, which is moving back up to 5A. The other seven members are unchanged: Dallas Jesuit, Dallas Skyline, Dallas Sunset, Dallas W.T. White, Richardson, Richardson Berkner and Lake Highlands.

"I wasn't sure Jesuit would stay in,'' said Skyline coach Reginald Samples. "In fact, we had agreed to play them in a nondistrict game if they weren't in our district.''

*The seven Garland ISD schools that made up 10-5A in the last realignment are now without McKinney Boyd as they go forward as District 11-5A with this lineup: Garland, Garland Lakeview, Garland Naaman Forest, North Garland, Rowlett, Sachse and South Garland.
August, 23, 2011
8/23/11
9:15
PM CT
Several showcase events around the area highlight this weekend's action as the football season kicks off.
The North Texas Football Classic brings three games to the Cotton Bowl over two nights. On Friday, Duncanville faces Colleyville Heritage at 7:30 p.m. in a matchup of two 2010 playoff teams. Saturday's doubleheader starts with Midlothian-Grapevine at 4:30 p.m., and the event wraps up at 7:30 when The Colony takes on Sherman.
A powerhouse doubleheader will take place at SMU's Ford Stadium on Saturday in the
Tom Landry Classic
. Class 4A contenders Everman and Highland Park get it started at 4:30 p.m. At 7:30, ESPNDallas.com No. 1 Allen will be challenged by No. 8 Cedar Hill.
Carrollton's Standridge Stadium hosts two intriguing games in its annual Zero Week event. At 4 p.m., Denton Guyer takes on Garland. In the nightcap scheduled for 8 p.m., Class 4A Waxahachie battles 5A Flower Mound Marcus.
In one other game of note, Dallas Skyline will defend Texas' honor against Memphis (Tenn.) Ridgeway at Lancaster's Tiger Stadium at 7 p.m. Saturday.
Click here for the full schedule
of this week's Class 4A and 5A games for area teams.
August, 16, 2011
8/16/11
12:01
AM CT
By
Randy Jennings
| ESPNDallas.com
[+] Enlarge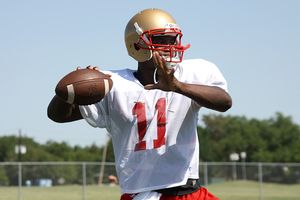 Travis L. Brown/ESPNDallas.com Quarterback Jared Johnson helps make South Grand Prairie a contender in District 7-5A.
DISTRICT 5-5A
Cedar Hill (8-4, 6-1), lost in DII area. Coach: Joey McGuire.

Duncanville (8-4, 6-1), lost in DI area. Coach: Jeff Dicus.

Grand Prairie (2-8, 0-7). Coach: Gary Bartel.

Mansfield (8-3, 5-2), lost in DII bi-district. Coach: Jeff Hulme.

Mansfield Legacy (1-9, 1-6). Coach: Chris Melson.

Mansfield Timberview (3-7, 3-4). Coach: Mark Walker.

Midlothian (5-5, 3-4). Coach: Lee Wiginton.

South Grand Prairie (6-5, 4-3), lost in DI bi-district. Coach: Brent Whitson.
THE BIG QUESTION: Will the district title again be decided in the Week 10 Cedar Hill-Duncanville game?
Last season, Cedar Hill staged a fourth-quarter rally to edge Duncanville, 35-31, and both teams finished with 6-1 district records.
Cedar Hill coach Joey McGuire's plan is to use two quarterbacks, last year's varsity backup Andre Anderson and Damion Hobbs off the junior varsity.
Duncanville must rebuild its defense after graduating all but two starters. Junior Cordray Love moves from cornerback to free safety and tackle Jamaal Fears lends experience up front.
The Longhorns and Panthers graduated significant skill players including their respective quarterbacks, giving hope for potential contenders South Grand Prairie and Mansfield.
PLAYERS TO WATCH
OG Aderius Epps, QB/WR Andre Anderson, DE David Harris, LB Steven Taylor, Cedar Hill; WR Jeff Thomas, WR/DB Malcolm McKenney, RB Aaron Piper, Duncanville; WR Devante Lacy, Grand Prairie; DE Hassan Ridgeway, QB Jerod Evans, WR Gary Davis, Mansfield; LB Montreal Jett, QB DeCarlos Humphrey, Mansfield Legacy; QB Charles Taylor, DE Rene Lawson, Mansfield Timberview; LB Slater Gravens, QB Bryce Murphy, Midlothian, QB Jared Johnson, DB Abraham Hall, South Grand Prairie.
DID YOU KNOW?
Brent Whitson, fresh from an overhaul of the program at Richardson High, is South Grand Prairie's fifth head coach in the school's 43-year history. ... In Lee Wiginton's debut season as head coach at Midlothian last year, the Panthers' win total of five was four more than they had in their final season in Class 4A the previous year. ... Mansfield defensive end Hassan Ridgeway, a Texas commit, is hard to miss at 6-5 and 240 pounds, but Tigers opponents will try to do just that. … Cedar Hill has won or shared district titles in five of its last six season. ... Duncanville running back Aaron Piper averaged nine yards every time he touched the ball as a sophomore last season.
PROJECTED PLAYOFF TEAMS
Cedar Hill

Duncanville

South Grand Prairie

Mansfield
November, 2, 2010
11/02/10
9:33
PM CT
By
Randy Jennings
| ESPNDallas.com
Two District 5-5A playoff berths are decided and two more are up for grabs going into Friday's final night of the regular season.

Duncanville and Cedar Hill are in the playoffs and will meet at Longhorns Stadium in Cedar Hill to determine the 5-5A title.

Mansfield, South Grand Prairie and Midlothian are still in the running for the final two playoff spots.

Here's the way playoff hopes break down for each of the three:

*South Grand Prairie (5-4, 3-3) is in with a victory over Grand Prairie (2-7, 0-6.)
South Grand Prairie could lose and still make it if Mansfield defeats Midlothian.

*Mansfield (7-2, 4-2) is in with a road victory over Midlothian. A South Grand Prairie loss would allow Mansfield to advance with a loss. Mansfield could also advance with a loss by one or two points regardless of the outcome of South Grand Prairie.

*Midlothian (5-4, 3-3) is in with a win by at least three points over Mansfield. Midlothian could advance with a win by any margin combined with a South Grand Prairie loss.

Mansfield Timberview (2-7, 2-4) could finish in a tie for fourth with a win over Mansfield Legacy (1-8, 1-5), a Mansfield win over Midlothian and a South Grand Prairie loss to Grand Prairie, but the playoff berth would go to South Grand Prairie in tiebreakers.

Mansfield, a solid third going into the final week, is in danger of missing the playoffs should it lose to Midlothian by a field goal.

Midlothian, 1-9 in Class 4A last year, is close to making the playoffs in its first season in Class 5A.

For its part, South Grand Prairie's playoff reward will be a bi-district game against 9-0 Euless Trinity, No. 1 in ESPNDallas.com Class 5A rankings.
September, 21, 2010
9/21/10
8:01
PM CT
By
Randy Jennings
| ESPNDallas.com
Midlothian plays its first Class 5A district football game when it meets South Grand Prairie 7:30 p.m. Friday at Grand Prairie's Gopher-Warrior Bowl.

Promotion from Class 4A to District 5-5A for Midlothian came in the UIL's biennial reclassification in January.

Doubts about Midlothian's ability to compete in the largest classification have lessened, thanks to the Panthers' 2-1 record in nondistrict games.

In its final season in Class 4A in 2009, Midlothian went 1-9. Its last winning season was in 2004, which also happened to be the last time it appeared in the playoffs.

But that was before the hiring of Lee Wiginton. In 10 prior seasons as a head coach before coming to Midlothian, Wiginton's teams played in 18 playoff games.

Midlothian comes into the district opener having won its last two games, 38-7 over Saginaw and 18-6 over Justin Northwest.

In the season opener, Grapevine dealt Midlothian its only loss, 30-27, in overtime. In that game, Midlothian at one time led, 27-9.

Two sophomores have played important roles in Midlothian's success. Justin Seeton is the leading rusher with 238 yards and four touchdowns. Phillip Smith is the top receiver with 13 catches for 197 yards and two scores.

Senior Dillon Fairbanks has completed 45-of-69 passes for 560 yards and five touchdowns.
May, 13, 2010
5/13/10
12:53
AM CT
By
Randy Jennings
| ESPNDallas.com
Highland Park's run of success at the state golf tournament -- nine Class 4A titles in the last 11 years -- goes back to the philosophy of putting team ahead of individual glory.

Easy to preach, but a tough sell in an individual sport like golf.

"With all the great players we've had,'' said boys coach Jeff Loyd, "I can honestly say that not one went to the state tournament thinking about winning the individual championship. It has always been about winning the team trophy.''

State title No. 9 in the Scots' current run came by a comfortable margin of 13 strokes Tuesday at Jimmy Clay Golf Course in Austin. Highland Park followed a 309 first-day total with a 303 final round for a 612 total.

Senior Charlie Ewing led the Scots with rounds of 76 and 73 for a 149 total, placing him third overall. Case Thornton was next with a 73 on the final day and a 152 total. Marshall Perry and Richard Kalteyer tied with 36-hole totals of 156 and Michael Crites was at 161.

In the two years when Highland Park didn't win (2007, 2009), it finished runner-up.

Being upstaged by Richardson Pearce last year led to a long, silent return trip, Loyd said.

If nothing else, a second-place finish every now and then makes the state titles a little more appreciated.

"Every one gets better and better,'' said Loyd, who's been the coach for eight of nine championships in the current stretch of success.

McKinney finished fourth with a 627 total, 10 shots better than fifth-place Fort Worth Arlington Heights.

Heights' Brax McCarthy was second individually with rounds of 77 and 71.

Jack Lempke of Frisco Wakeland, Cody Taylor of Midlothian and Nick Robert of McKinney tied for fourth with two-round totals of 151.

Frisco Wakeland senior Taylor Newlin was 4A girls medalist with matching par rounds of 72. Newlin won the Class 3A individual title as a freshman.

Wakeland finished fourth in the girls team competition, five strokes behind third-place Highland Park.

Chelsea Mocio of Arlington Heights, 4A individual champion last year, placed fifth with a 151 total and Patricia Holt of Frisco was sixth at 155.

Class 3A and 5A competition will be Thursday and Friday.