November, 9, 2011
11/09/11
2:29
PM CT
FLOWER MOUND, Texas -- Oklahoma State is getting a set of basketball twins from Flower Mound Marcus next season.
[+] Enlarge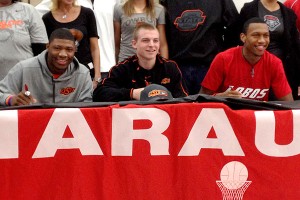 Travis L. Brown/ESPNDallas.comMarcus Smart and Phil Forte will continue their longtime basketball connection at Oklahoma State. Meanwhile, FM Marcus teammate Nick Banyard is heading to New Mexico.
They're not be related by blood, but the connection Marcus Smart and Phil Forte have on the court goes well beyond teammates or even friendship.
"We got to a point where I could tell where he was on the court without even looking at him and vice versa with him," Smart said. "We have a perfect feel for each other. It's like that twin telepathy for each other -- when a twin can feel what the other is feeling -- that's what me and Phil have on the court."
Both signed letters of intent Wednesday to play together at Oklahoma State, continuing a streak of seasons they have been teammates that began in the third grade.
"It's great knowing every time you go out to practice -- to work -- you have your brother beside you," Forte said. "We've been through so much together, good times and bad. Playing four more years with him in college will just make it that much better."
Forte said Oklahoma State was an easy sell because he loved the way he fit into the Cowboys' system as a point guard, especially after watching Keiton Page thrive in Stillwater.
Once Smart -- the ESPNU No. 11 recruit in the nation for his class -- found Oklahoma State to be a good fit as well, the decision was simple.
So family, friends and teammates gathered outside of Marauder Gym on Wednesday morning to watch Smart, Forte and Nick Banyard, a New Mexico commit, ink their pledge to play college ball.
While signing the letter of intent was a moment each savored, there was no question who won the contest of signing their name the required four times first.
"Marcus finished first and we gave him a hard time because he doesn't know how to not finish first in anything in his life," Forte said.
More:
ESPNHS All-Texas basketball team
July, 26, 2011
7/26/11
5:25
PM CT
FORT WORTH, Texas – Tuesday night's Texas High School Coaches Association football All-Star game is vindication for former Highland Park quarterback and safety Jake Howeth.

His senior season came to an abrupt halt in the regional round of the 4A Division II playoffs at the hands of 2010's Cinderella story, Mesquite Poteet.

Howeth has the chance to end his football career on his own terms at the same place it ended for the Scots months before, Cowboys Stadium.

"I'm out for a little redemption," Howeth said.

Howeth, who took on some of the quarterback duties for Highland Park in his senior season, was listed as playing safety when the rosters for the North All-Star team were first released, but he was greeted with the pleasant surprise of playing quarterback.

Howeth was a vital rushing tool for Highland Park, but with all of the talent at running back for the All-Star game, Howeth said he expects just to be handing off the ball.

His All-Star appearance will be his last in football pads after deciding late in his senior year to play baseball at the next level.

Howeth had originally committed to play baseball for New Mexico, but has recently found himself torn between the Lobos and local Texas Wesleyan University, which has offered him a full ride.

"New Mexico is trying to get me more money for a scholarship but Texas Wesleyan gave me a full ride, so I don't know if I'm going to do that," Howeth said. "It's full-ride versus Division I baseball."

Howeth still has a couple of weeks left to make his decision, but this week has been all about remembering how to throw a football after spending the last six months throwing baseballs in from the outfield.

"Baseball and football are two completely different arm angles when you're throwing," he said. "You've kind of got to get used to it. There's a little adjustment period but I think I've made it pretty well. It's a contact game and I've got to get back used to that."

In other Tuesday THSCA convention news:

* Mesquite Poteet football coach Randy Jackson and Southlake Carroll basketball coach Jon Youngblood were elected to be Region III's nominees to be the North All-Star coaches in the 2012 THSCA All-Star games. The final election from every region's nominee in both sports will be held in February.