High School:

Nick Banyard
March, 10, 2012
3/10/12
4:15
PM CT
AUSTIN, Texas -- Defensive-minded Flower Mound Marcus coach Danny Henderson's top priority in Saturday's 5A state final is slowing the offensive production of Fort Bend Travis' Harrison twins.

Henderson wouldn't reveal his thoughts on defending Aaron and Andrew Harrision, a pair of 6-foot-5 guards.

"We've been working all week on all three teams that are down here, but we'll make some decisions [Friday night] on how to guard them," Henderson said after Marcus' semifinal win Friday.

However, one of Marcus' top defenders, Nick Banyard, said he wants a shot at one of the twins, and he will mostly likely have his wish granted.

"I told coach after the game that I would be ready to guard one of them," Banyard said. "It doesn't matter to me -- I just want to guard one of them."

Banyard, a New Mexico signee, said he has guarded both Harrison twins in various AAU games, which he believes gives him an edge by "kind of knowing all their moves".

Banyard said his best defense will be to get under their skin and try to frustrate them out of good play.

"I know what gets in their head," Banyard said. "If you get in their, head they get real frustrated real easily. You'll probably see me talking a lot."

Both Banyard and Marcus Smart agreed that Henderson would most likely use Banyard and A.J. Luckey to guard against the twins, mixing Smart into the mix sporadically throughout the game.

"Eventually I'll be matched up with them, but I don't think at the beginning because we have two great defenders with A.J. Luckey and Nick Banyard," Smart said.

Banyard matched up against Garland Naaman Forest's 6-foot-11 center Prince Ibeh in Marcus' state semifinal, holding him to six points and seven rebounds.

The players should get what they want in defensive matchups Saturday, but Smart knows the game is really a matchup the entire state has yearned to witness.

"Everyone has wanted to see Flower Mound Marcus versus Travis." Smart said, "and they got it."
March, 2, 2012
3/02/12
9:58
PM CT
By
David Stein
| ESPNDallas.com
FORT WORTH, Texas -- Nick Banyard scored 15 of his 17 points in the second half to lead Flower Mound Marcus past North Crowley, 66-55, to advance to the 5A Region 1 final.
Oklahoma State commit and ESPNU 100 No. 12 Marcus Smart had a double-double with 17 points and 13 rebounds, and his fellow OSU commit Phil Forte dropped in 13 points.
Smart and Banyard both said they were feeling ill before the game.
"It was hard for me to breath in the first half," Smart said. "It go so bad that I could barely get up and down the court, and I felt like I was about to pass out."
Banyard, who only scored two points in the first half, said he knew he'd have to step it up coming out of the locker room.
"I came into the second half frustrated and coach said they needed me to win the game," Banyard said. "He said to just keep up the hard work and it will all come to you."
Marcus jumped out to an 18-7 first-quarter lead off the hot shooting of Smart and Forte. The game was turning into a blowout as the Marauders continued their run to go up 23-7, but North Crowley made a 9-0 run to get back to the game.
North Crowley's Braxton Reeves hit back-to-back three pointers and Quinton Moncrief hit a layup with three seconds left in the first half to cap off a 17-4 run to go into the locker room down just 27-24.
The teams traded buckets throughout the third. A late Banyard 3-pointer put Marcus up 42-35 heading into the fourth quarter.
Marcus extended its lead on Banyard's huge alley-oop from A.J. Luckey to go up 57-43 with 3:49 left.
The jam silenced the North Crowley crowd, but it didn't slow down the Panthers. They responded with a 9-4 run to bring North Crowley within nine points at 61-52 with 1:14 left in the game.
Marcus shut down the Panthers offense in the last minute to squash any comeback chances.
Braxton Reeves led North Crowley with 17 points.
The Marauders take on South Grand Prairie on Saturday at 1 p.m. at Fort Worth's Wilkerson-Greines Activity Center.
November, 9, 2011
11/09/11
2:29
PM CT
FLOWER MOUND, Texas -- Oklahoma State is getting a set of basketball twins from Flower Mound Marcus next season.
[+] Enlarge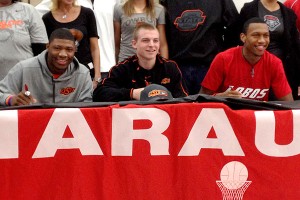 Travis L. Brown/ESPNDallas.comMarcus Smart and Phil Forte will continue their longtime basketball connection at Oklahoma State. Meanwhile, FM Marcus teammate Nick Banyard is heading to New Mexico.
They're not be related by blood, but the connection Marcus Smart and Phil Forte have on the court goes well beyond teammates or even friendship.
"We got to a point where I could tell where he was on the court without even looking at him and vice versa with him," Smart said. "We have a perfect feel for each other. It's like that twin telepathy for each other -- when a twin can feel what the other is feeling -- that's what me and Phil have on the court."
Both signed letters of intent Wednesday to play together at Oklahoma State, continuing a streak of seasons they have been teammates that began in the third grade.
"It's great knowing every time you go out to practice -- to work -- you have your brother beside you," Forte said. "We've been through so much together, good times and bad. Playing four more years with him in college will just make it that much better."
Forte said Oklahoma State was an easy sell because he loved the way he fit into the Cowboys' system as a point guard, especially after watching Keiton Page thrive in Stillwater.
Once Smart -- the ESPNU No. 11 recruit in the nation for his class -- found Oklahoma State to be a good fit as well, the decision was simple.
So family, friends and teammates gathered outside of Marauder Gym on Wednesday morning to watch Smart, Forte and Nick Banyard, a New Mexico commit, ink their pledge to play college ball.
While signing the letter of intent was a moment each savored, there was no question who won the contest of signing their name the required four times first.
"Marcus finished first and we gave him a hard time because he doesn't know how to not finish first in anything in his life," Forte said.
More:
ESPNHS All-Texas basketball team