February, 1, 2012
2/01/12
8:15
PM CT
DALLAS – Nick Rose knew so little about the sport of football just over two years ago, he couldn't define a hash mark.
Yet in two years time, the Highland Park senior is in the running to be the next starting kicker at the University of Texas.
[+] Enlarge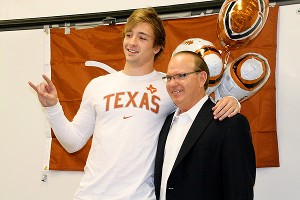 Travis L. Brown/ESPNDallas.comHighland Park kicker Nick Rose committed to Texas on national signing day.
Wednesday, Rose gave his commitment to the Longhorns during the school's national signing day ceremony inside Highlander Stadium.
Rose grew up a soccer player in Copperas Cove. When he moved with his family to Highland Park before his junior year, Rose thought he'd try football, which became a vehicle to college athletics.
"I was just trying to meet people and I figured I could kick a football well, so I walked out on the field and didn't know what to do – didn't even know what a hash mark was or any of that," Rose said. "Time went on and the coaches liked how I could kick. My first kickoff went out of the end zone and I realized I had a knack for kickoffs. I don't know how or why."
Technically, Rose did not sign a letter of intent, as was the procedure of most recruits across the country Wednesday. He made a public commitment to follow a plan Texas laid out for Rose, beginning as a preferred walk-on for the Longhorns.
Rose will have his tuition paid for by the football team throughout a summer semester, which will cover fall two-a-days in Austin, but he will assume walk-on status for his first season, which means his family will cover tuition.
Rose's next step in preseason practices will be to earn a starting job and a scholarship to carry him throughout the remainder of his eligibility.
Competing for the same positions will be Coppell's
Nick Jordan
, who faxed his signature Wednesday to accept a scholarship from the Longhorns.
"Texas has a kicker that they have all the confidence in the world in," Rose said of Jordan. "They came up here to scout another player and ended up noticing my kickoffs and from there everything took off, and I can't be grateful enough how everything happened."
Rose and Jordan have kicked together in offseason kicking contests, and that familiarity and friendship is as important to Rose as the competition he will face for playing time.
Preliminary indications from the Texas coaching staff, relayed to Rose, are favoring Rose as a starting kickoff specialist and punter and Jordan as the starting place kicker.
Rose spent his senior year booting kickoffs consistently out of the back of the end zone for the Scots, impressing Highland Park coach Randy Allen from the moment he set foot on the school's campus and eventually sparking the same interest of Texas co-offensive coordinator Major Applewhite.
"Nick Rose has lots of potential," Allen said. "He's the best kickoff guy I've ever coached. I know he's going to compete for that starting position at Texas."
Rose was key in securing Highland Park's District 10-4A title this season, drilling a game-winning extra point in overtime to give the Scots a 31-30 victory over Rockwall-Heath, clinching the district No. 1 seed.
"I was just thinking keep my head down and follow through," Rose said after the game. "Stick with my basics and hopefully it would go in. My heart was going crazy before I kicked it and then it was all relief that I could pull my team through."
Trying to earn a starting job and a scholarship puts extraordinary pressure on a freshman kicker, but high-pressure situations are nothing new to Rose.
"I'll be good for Nick to have competition, but I can't imagine anyone kicking it further than he does on kickoffs," Allen said.
Other Highland Park notes:
* Long-time Duke commit
Tanner Stone
signed with the Blue Devils. He said a summer trip to take part in a football camp sold him on Duke.
* Backup quarterback Tyler Rentfro signed with McMurry University. Rentfro attempted only one pass for the Scots in his senior season for 4 yards.
* All three parts of Highland Park's top offensive trio from 2012 held out on national signing day. Quarterback
Brady Burgin
hopes to snag a late offer from a school that possibly lost a quarterback recruit on signing day, Allen said. Receiver
Dalton Stogner
, who is still recovering from a season-ending knee injury, recently returned from a "good" trip to the University of North Carolina, Allen said. Stogner and running back Preston Miller both visited SMU as well and liked their experience with the Mustangs' coaching staff, Allen said.
December, 28, 2011
12/28/11
12:01
AM CT
GAMES OF THE YEAR
Class 5A: Southlake Carroll vs. Dallas Skyline
No high school game this season was raised to the attention of the public like the 5A Division I state semifinal between Southlake Carroll and Dallas Skyline at SMU's Ford Stadium.
Carroll trailed the arguably more talented Skyline squad the entire game but managed to work the deficit to three with just over a minute left on a 3-yard dive by quarterback Kenny Hill. The play was made possible by a pass interference call on Skyline that remains one of many points of contention to the Skyline faithful.
Ray Crockett then made the most controversial play of the game, recovering the onside kick in the air, directly over the 50-yard line which was the required 10 yards the kick had to travel.
Two plays later, Hill completed the comeback, running in a 35-yard rush for the game-winning touchdown, bringing the score to 28-24.
During the play, a fox ran through the heard of players storming down the field, toward the grass hill at Ford Stadium. It escaped the Carroll crowd up the hill and out the gate, but it didn't escape the imaginations of the Dragons. Carroll fans showed up to the 5A Division I state final with stuffed foxes as a show of support and a cheerleader dressed as a fox appeared on the sideline as a sidekick to Carroll's traditional dragon mascot.
The outcry of Skyline fans toward the officiating in the game was heard by the media, local and national, as soon as the game ended and the UIL's voicemail boxes were filled to capacity over the weekend.
Even Dallas City Council member Dwaine Caraway issued a statement questioning the calls in the game.
Regardless of the debate, Carroll rode it's "Sliver Fox Swag" to a 36-29 win over Fort Bend Hightower in the state finals to claim the school's eighth football title.
Class 4A: Highland Park vs. Rockwall-Heath
Rockwall-Heath's defense stood strong against three straight Highland Park runs up the middle from inside Rockwall-Heath five, but Highland Park running back Preston Miller would not be denied a fourth time, leading his team to a 31-30 overtime district win.
Rockwall-Heath had scored on the first possession of overtime on an 11-yard rush by Rico Henderson, but the point-after try wobbled low and left, hitting the upright and bouncing back onto the field.
Highland Park was able to work the ball down to the Rockwall-Heath 5, and until Miller's fourth-down, second-effort push into the end zone, it appeared Heath's defense would render the missed PAT useless.
But Miller did his job and burst into the end zone, putting the pressure on Highland Park kicker Nick Rose.
Rose overcame his nerves and split the uprights for the win, which would ultimately give Highland Park the District 10-4A title after handing Rockwall-Heath its only district loss of the season.