High School:

North Richland Hills Richland
December, 30, 2011
12/30/11
10:59
PM CT

HALTOM CITY, Texas -- Despite not one area team winning an Orange Bracket championship, five area players were named to the Whataburger Tournament all-tournament team Friday.

North Richland Hills was the only team to have two players selected, with guard Ricky Roberts and forward Kris Brown earning honors.

DeSoto Eagle and Duke commit Matt Jones, along with fellow top recruit Marcus Smart of Flower Mound Marcus, also earned a spot with the tournament's elite.

Finally, Plano West's T.J. Cline was given the nod because of his efforts in sending the Wolves to a fourth-place finish.

Whataburger Tournament Orange Bracket All-Tournament Team:

MVP: Imara Ready, Little Rock Parkview

Anton Beard, Little Rock Parkview

T.J. Cline, Plano West

Derail Green, Klein Forest

Ricky Roberts, North Richland Hills Richland

Kris Brown, North Richland Hills Richland

Matt Jones, DeSoto

Dominique Borom, Milwaukee Rufus King

Arroyo Edwards, Milwaukee Rufus King

Marcus Smart, Flower Mound Marcus
December, 30, 2011
12/30/11
10:38
PM CT
HALTOM CITY, Texas -- In a matter of three days, North Richland Hills Richland put itself on the map as a top area basketball team.
Richland took down ESPNHS Fab 50 No. 4 Flower Mound Marcus on Wednesday and notched a 73-56 win over Plano West on Friday to claim the Whataburger Tournament Orange Bracket third-place trophy.
[+] Enlarge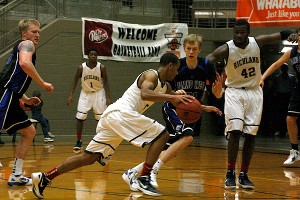 Travis L. Brown/ESPNDallas.comRicky Roberts, a transer from Marcus, scored 23 points against Plano West and earned an all-tournament selection.
Ironically, it was Ricky Roberts, a transfer from Marcus, who led the Rebels past his former team with a 27-point performance and followed it with 23 against Plano West, earning him an all-tournament selection.
"Ricky is very important because he can do some things that no one else on this team does," Richland coach Richard Bacon said. "He's got physical strength, he can drive the ball and he can score and finish around the basket. I don't know where we would be without him."
Roberts wasn't alone in the winning effort, getting plenty of support from guard Antonio Mayfields Jr., who finished with a game-high 24 points. Holt Harmon led Plano West with 12 points.
Bacon said the win stabilized Richland heading into district play after an emotional Wednesday that saw the Rebels beat Marcus, only to lose to Milwaukee Rufus King in the semifinals.
Richland exceeded its goals coming into the tournament and left the Rebels feeling good as they continue on what is still a long journey to the postseason.
"We said we weren't going to come out of here any less than 3-1 and I should have said 4-0," Bacon said. "Tonight's win is really gratifiying because of the way we came back after a hard loss last night."
July, 14, 2011
7/14/11
6:23
AM CT
By
Randy Jennings
| ESPNDallas.com
DALLAS -- In the 14 years since 7-on-7 football was approved for Texas public schools, popularity has grown dramatically. Even schools that don't throw much during the fall find a way to succeed in the all-pass summer game.

An example is Arlington Martin, one of six area schools competing in the Red Bull Game Breakers National Finals on Friday and Saturday at SMU.

"The great thing about 7-on-7, yes, kids can improve individually,'' said Martin coach Bob Wager, "but they also work together as a team, building a bond.''

Martin, the winner of the Fort Worth qualifying tournament, will be joined in the 23-team field by Dallas qualifier champion Highland Park along with Aledo, North Richland Hills Richland, West Mesquite and Arlington Seguin.

Double-elimination play begins at 3 p.m. Friday at Gerald J. Ford Stadium. Play resumes at 7 p.m. Saturday, culminating in the crowning of a champion.

In addition to the contingent from Dallas-Fort Worth, seven more Texas teams representing the areas of Houston, Austin and San Antonio will be joined by other qualifiers from Oklahoma, Colorado, Louisiana, Pennsylvania, Alabama and Florida.

The popularity of 7-on-7 football has given rise to more events. At the same time the Red Bull Game Breakers Finals will be contested, a Texas state tournament will be going on 185 miles to the south in College Station.

Martin qualified for both and had its pick.

"Both tournaments are great and it's good that teams have an option,'' Wager said. "We left it up
to our kids. It was a pretty one-sided vote. For us, Dallas is close. Our kids can sleep in their own beds. They like playing close to home. And there's no charge to play.

"One of the things we enjoy in the Red Bull competition is the rule changes. Being able to rush the quarterback on third down, that allows us to get one more player involved. That's always a good thing.''
June, 15, 2011
6/15/11
9:22
AM CT
By
Randy Jennings
| ESPNDallas.com
FORT WORTH, Texas -- Even in afternoon temperatures approaching triple digits, Karen Fallman wasn't about to miss a play involving her grandson, Arlington Martin quarterback Brodie Lambert.

The 73-year-old Arlington resident spent over six hours at the Red Bull 7-on-7 Game Breakers Fort Worth Qualifier on Tuesday night at O.D. Wyatt High School.

She was still going strong when Martin defeated Aledo, 20-11, under the lights for the title.

"I had a great time, particularly since we won,'' she said. "I have eight grandchildren and they've all been good athletes. I never miss any of them playing. Brodie is the last one.''

Friends say Karen doesn't hesitate to let a referee know when she believes a mistake has been made.

"When its blatant right in front of them and they don't call it, I don't understand that,'' she said.


Guyer receiver grades out well


Connor Crane ranks No. 1 academically in a 2012 graduating class of over 500 at Denton Guyer.

The 6-4, 190-pound outside receiver said his mom, a chemical engineer, insists on studies before sports.

Crane, a returning starter from last year's Class 4A Division I state finalist team, is considering a career in the medical field. Football, however, plays a role in his college choice.

He's made unofficial visits to Northwestern, Kansas and Colorado and will take a first-hand look at the Tennessee Volunteers on Friday, California Bears on Sunday and Stanford on Monday. He hopes to commit this summer.

"I'm looking for a good academic school, but I want to see how the coaches are and how quickly I can get into the lineup,'' Crane said.

Crane caught a touchdown pass on the final play to beat Arlington, 26-24, in a third-round game Tuesday.

"People might overlook us this season because of the players that graduated, but I think we can make another run,'' Crane said. "We have some guys that are really talented. It might take a couple of games because we will be young, but we'll surprise some teams.''


Sanger QB: Bigger schools don't always have best players


Dane Evans, quarterback of Class 3A Sanger, dismisses the notion that players from smaller schools are inferior to those from larger Class 4A and 5A schools.

"All it means is those schools have more guys in the program, not better players,'' said the 6-2, 190-pounder, who threw for over 3,400 yards and 37 touchdowns in 11 games as a junior.

Evans has busied himself by taking part in a number of skills camps on college campuses and he's gotten a first-hand look at some of the top-rated prospects.

Sanger went 0-2 on Tuesday's qualifier, but was competitive in losses to 5A Arlington (31-22) and 4A Crowley (23-14.)


Re-birth at Wilmer-Hutchins


LaDarrell McNeil remembers the way the Wilmer-Hutchins community supported its high school football team before the school closed six years ago.

"The whole town came to games,'' said McNeil, a 6-1, 190-pound senior free safety. "With the school re-opening, I feel like I'm coming home.''

Like many of his teammates, McNeil spent his high school career at A. Maceo Smith, but his early schooling was in Wilmer-Hutchins.

The Dallas Independent School District opted to convert A. Maceo Smith, in its fourth year of academic unacceptability, into a technology high school as part of a repurposing plan. Athletics will not be offered.

McNeil said athletic facilities at Wilmer-Hutchins, which includes its own football stadium, are superior to those at A. Maceo Smith, where the weight room was a portable building.

In 1990, Wilmer-Hutchins won the Class 4A Texas state championship.

"We hope to build on traditions at Wilmer-Hutchins and A. Maceo Smith,'' McNeil said.


Aledo star RB can catch, too


Aledo has won consecutive Class 4A Division II state titles in part by giving Johnathan Gray the football and watching him run.

That's not an option in the all-pass format of 7-on-7 football, however.

"Running backs have to be able to catch the ball if they are going to be well-rounded,'' the Texas Longhorns commit said. "I love catching the ball coming out of the backfield. I look at this as a way to improve my game and have fun.

"My team wants to go to the National Finals and that's why we're here,'' Gray said.

On his first 7-on-7 play Tuesday, Gray hauled in a 45-yard touchdown pass.


Lamar's Brown finds niche as a pass rusher


Sophomore Greg Brown's enthusiasm proved contagious on the Arlington Lamar sideline.

Brown, normally a running back, was chosen to be pass rusher in situations allowed under Game Breaker rules. He totaled four quarterback "sacks'' for the day.

After each, he sprinted off the field, encouraging his teammates with every step, yelling, "Let's go! We got this! Let's do it!''

The 5-7, 185-pound Brown said he enjoyed his pass rush experience so much, he wouldn't be against trying it in the regular season.


Taylor-to-Taylor a good combination for Richland


Junior quarterback Sebastian Taylor guided North Richland Hills Richland to a third-place finish despite missing his favorite receiver, older brother Christian, in the Rebels' two defeats.

"He's a key cog in our offense because he goes inside and puts a lot of pressure on the defense,'' Sebastian said.

Christian hurt his shoulder in the semifinal loss to Arlington Martin.

"It is fun throwing to him,'' the quarterback said. "Growing up, we've probably thrown a million passes to each other.''
June, 15, 2011
6/15/11
9:07
AM CT
By
Randy Jennings
| ESPNDallas.com
FORT WORTH -- TCU commit Devonte Fields' best position is said to be defensive end, but the Arlington Martin senior showed he can also be a force as a receiver.

An acrobatic catch by Fields in the left corner of the end zone spurred Arlington Martin to a 20-11 victory over Aledo in the championship game of the Red Bull 7-on-7 Game Breakers Fort Worth Qualifier on Tuesday night at O.D. Wyatt High School.

"To make that kind of catch, it takes both strong hands and being a good jumper,'' Fields said. "It doesn't surprise me that we won this tournament. We work harder than anybody else. We deserve it.''

As the top two finishers in a 17-team field, Martin and Aledo became the eighth and ninth to qualify for the Red Bull Game Breakers National Finals on July 15-16 at SMU's Gerald J. Ford Stadium.

Quarterback Brodie Lambert credited the defense for Martin's 5-0 run through the bracket.

"I think it took three games today before a team scored a touchdown on our defense,'' Lambert said. "Those guys played great all day.''

The first 7-on-7 appearance this summer by senior running back Johnathan Gray, a Texas commit, helped Aledo (4-2) reach the finals.

"I was involved in track and then I took a little break,'' Gray said. "It's great to be out here with my teammates. I love catching the ball out of the backfield.''

Aledo jumped to an early lead in the championship game on a Matthew Bishop touchdown pass. Martin caught up just before halftime and its defense held the two-time Class 4A Division II state champions without a touchdown in the second half.

North Richland Hills Richland settled for third place, falling to Aledo in overtime on a Bishop hookup to Devan Watts for the winning touchdown.

Denton Guyer, last year's Class 4A Division I state runner-up, finished fourth.

After losing its opening game, Arlington Lamar put together a streak of four straight wins in the afternoon heat before being ousted by Aledo in a consolation quarterfinal. Lamar tied for fifth with Fort Worth Southwest.
September, 11, 2010
9/11/10
9:35
PM CT
NORTH RICHLAND HILLS, Texas -- Euless Trinity receiver Brandon Carter had a standout game Saturday, scoring three touchdowns and leading the top-ranked Trojans to a 50-3 win over North Richland Hills Richland.

Carter, an Oklahoma commit, caught two touchdown passes from quarterback Kailahi Kautai and ran for one on a direct snap under center from 68 yards out. He carried the ball 10 times on the night, rushing for 86 yards.

"All week we thought they'd be blitzing and blitzing, so coach thought to put me at quarterback and sweep around the outside and it worked," Carter said.

Trinity (3-0, 1-0 6-5A) opened the scoring on a 21-yard field goal in the first quarter after the Richland defense stood the Trojans up on three plays inside the 10. Carter made his mark on the next drive, grabbing his first touchdown reception on an 87-yard catch-and-carry off a slant route through the middle of the field. Carter showed mobility weaving through the Rebel defense to reach the end zone.

"It looks like a nice game, but it was even more huge than that," Trinity coach Steve Lineweaver said about Carter's play. "He kicked-started us. We were struggling a little bit. Brandon just made the plays that Brandon can make."

Richland (2-1, 0-1) scored its only points on a 42-yard field goal by Nick Hodgson on the first play of the second quarter.

Trinity's double-headed running monster of Terrence Tusan and Tevin Williams combined for three rushing scores. Tusan scored his first with 10:03 remaining in the second on a 6-yard run, making it 16-3 at the half.

Williams carried the ball in for the Trojans' next score in the third, running through wide-open lanes for 23 yards after the Richland defense bit on a play-action reverse.

Carter tallied two touchdowns of his own between Tusan's next score, one the 68-yard rushing score and then a catch on a 13-yard fade into the end zone with 57 seconds remaining in the third.

Tusan completed his night on a short-yardage run up the middle with 9:05 remaining in the game, bringing the score to 43-3. He finished the night with 85 yards on 11 carries.

The scoring was completed when Trojans third-string running back Sivad Boykin powered through the middle for a 2-yard run with just 3:29 remaining.

Lineweaver said after two games on cable TV and this game on a short week, it will be nice to get back to a normal routine.

"We're so happy to get through that," Lineweaver said. "[The players will] have great memories of being on ESPN and Fox Sports, but the most important part of the schedule is district. We want to honor our opponents by giving our best. So we'll be on a regular Friday night, 7:30 kickoff, for the fourth game of the season and that's our first normal situation."
August, 10, 2010
8/10/10
9:10
PM CT
Ever wonder how the folks who put together the POWERADE FAB 50 ESPN RISE rankings determine which high school football teams are the best in the nation?
There's an
interesting article posted on ESPN RISE that explains the process
.
Among the ways listed for cracking the national rankings is to beat a ranked team.
For DFW schools, that means taking down sixth-ranked Euless Trinity. That's no easy task, as the Trojans have won three state championships in the last five years.
North Richland Hills Richland will be the first area team to get a crack at Trinity, but it won't be until the third week of games. The Trojans open against Tyler Lee then face Shiloh Christian, an Arkansas private school.
Trinity's Aug. 28 game against Tyler Lee will be televised on ESPNU as part of the
ESPN RISE High School Football Kickoff
.