February, 2, 2011
2/02/11
5:15
PM CT
By
Randy Jennings
| ESPNDallas.com
Icy roads prevented Irving MacArthur's plans for a live streaming of National Signing Day.
"It is disappointing because it is such a big day not only for the kids, but for our teachers and counselors that play such a big role,'' said MacArthur football coach Brian Basil.
[+] Enlarge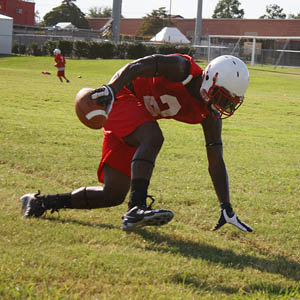 Travis L. Brown/ESPNDallas.comIrving MacArthur running back/receiver Johnny Haynes is on his way to Oklahoma State.
When the weather is better, Basil hopes for a redo for the school's 11 Signing Day athletes, including six football players.
With the ceremony on hold, Basil took to the road to deliver the documents Wednesday.
"For the kids to be able to sign in their homes was nice, too,'' Basil said. "And I was able to do it without getting a dent in my truck.''
All six Cardinals football players are leaving the state. The most prominent are defensive back
Jalen Brown
to Notre Dame and running back/wide receiver
Johnny Haynes
to Oklahoma State. Haynes rushed for 1,098 yards and had 476 as a receiver.
"The Dallas/Fort Worth area is a hotbed and we're seeing more and more national recruiting,'' Basil said. "We used to see Notre Dame a lot, then we didn't for a few years, and now they are coming back since Brian Kelly became coach.''
Basil said the current recruiting crop was aided by Cardinals who came before them.
"When college assistants come in the spring to see one group of kids, they also see the underclassmen.''
November, 30, 2010
11/30/10
12:44
PM CT
Standout running back
Cam McDaniel
of the Coppell Cowboys made his selection to play for Notre Dame next year.
McDaniel turned down offers from Air Force, Cincinnati, Colorado, Iowa, Iowa State, Minnesota, Stanford, Texas Tech, Army, Navy, Louisiana Tech and Tulsa to play in South Bend.
The Cowboy's leading rusher has tallied 1,859 yards on 287 carries for 31 touchdowns going into Coppell's regional final matchup against Euless Trinity Friday.
McDaniel is projected to be a slot receiver for the Irish.
August, 10, 2010
8/10/10
11:34
PM CT
[+] Enlarge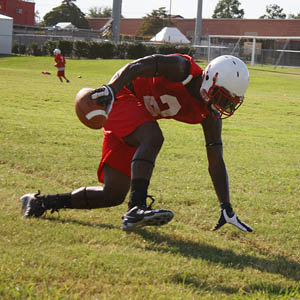 Travis L. Brown/ESPNDallas.comIrving MacArthur running back Johnny Haynes said he can focus on his senior season after committing to Oklahoma State.
All throughout the Irving MacArthur football field house, signs are hung with the team's mantra, "We Will Win," in bright red, six-inch high font. It's the first thing the players see when they enter the locker room and it's the last thing they say when they break up their stretching lines to begin their early evening practice. It's a mindset head coach Brian Basil hopes to instill into his players by this repitition.
"We let them hear it every day," Basil said. "We let them know what our expectations are and we feel we have a great tradition here at MacArthur High School. We believe with tradition comes a responsibility and those guys have a responsibility to not just uphold and maintain but raise the bar on the expectation levels we have."
And the expectations will need to be raised as MacArthur has been redistricted with defending state champions Euless Trinity and powerhouse Colleyville Heritage.
But the winning Basil and his coaching staff teach isn't always about wins and losses, he said.
[+] Enlarge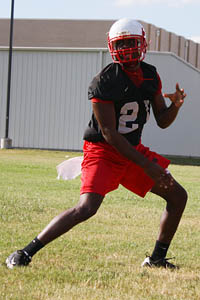 Travis L. Brown/ESPNDallas.comCornerback Jalen Brown has committed to Notre Dame.
"Winning isn't just the score on the scoreboard at the end of the game," Basil said. "It really applies to every area of their life, setting goals and achieving those goals. We're trying to develop a well rounded individual through football and become better men because of it."
Two seniors on this season's football team have achieved their goals of continuing their football career at the collegiate level. Running back Johnny Haynes, an Oklahoma State commit, will take over the ground game after James Sims went on to Kansas. Haynes has been an All-District player the past two seasons.
"Last year I really worried about what school I was going to go to, but this year I feel good because I committed to the school I wanted to go to and now I can just play instead of worrying about everything else," Haynes said.
MacArthur also has a college-bound player on the other side of the ball in cornerback Jalen Brown, who will move to South Bend and play at Notre Dame. Despite how appealing the colder Indiana weather sounded during August two-a-days in Texas, Brown said he's serious about his senior year and wants to make each game count before moving on.
MacArthur begins its season Aug. 27 against Mansfield Timberview.