High School:

Peyton Little
March, 3, 2012
3/03/12
1:36
PM CT
AUSTIN, Texas -- A hot shooting touch for Celina in the first half of Saturday's 3A girls state final couldn't overcome a second-half push by Peyton Little and Abilene Wylie.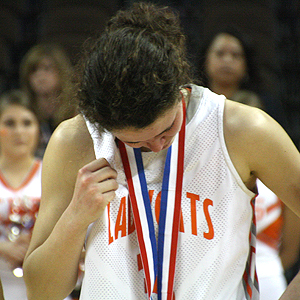 Travis L Brown/ESPNDallas.comThe Abilene Wylie defense was able to contain Celina standout Kynzie Newman.
Wylie (36-5) took its second straight state championship with a 59-45 win over Celina at the Frank Erwin Center. It was Wylie's third straight trip to the championship.
Celina (34-4) shot a scorching 52.9 percent in the first quarter. The Lady Cats put together one of the few runs in the first half in the middle of the second quarter, 6-0, but relinquished the lead before halftime.
Celina forward K.J. Stastny couldn't convert on the first shot of a 1-and-1 with seconds left in the half and the score tied at 23. With 0.4 seconds remaining, Hailey Brown hit one of her free throws to give Wylie a 24-23 halftime lead.
It would be a sign of things to come in the second half for Celina.
Wylie lengthened its lead in the beginning of the half, putting together a 7-1 run after Little found her scoring touch. Wylie would improve on a 33.3 shooting percentage in the first half to shoot 50 percent in the second.
Celina couldn't keep up, falling to 33.3 percent in the second half.
Another 9-0 Wylie run, spanning from the end of the third into the fourth, would be the final blow needed for Wylie to capture another title.
Little, a Texas A&M signee, finished with 33 points and captured her second straight MVP award after setting the 3A championship game scoring record last year with 43 points.
Wylie head coach Tri Danley couldn't help but gush over his four-year starter after the game.
"There's very few players like Peyton," Danley said. "We're going to look back 10 years from now and I'll thank God I got to coach her and these players will be thankful they got to play for her."
Danley said he hopes to be able to follow up on his promise to let Little keep her uniform to honor her contributions to the Wylie program.
Right behind Little's effort in scoring was Brown's work guarding Celina's offensive standout Kynzie Newman, who was held to just five points in the game.
"[Brown] was guarding me and she was pretty quick so it made it very difficult to get open," Newman said.
Celina coach Jordan Davis tipped her cap to Wylie's ability to hit shots in traffic. In the end, it was Wylie's defense that proved to be stronger.
"Defense apparently wins championships and that's what happened right there," Davis said.
March, 2, 2012
3/02/12
10:44
PM CT
AUSTIN, Texas -- Celina survived the long road to reach the 3A girls state championship game, but the toughest test still lies ahead.
[+] Enlarge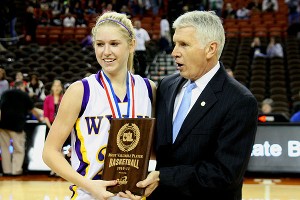 Travis L. Brown for ESPNDallas.comFour-star recruit Peyton Little and Abilene Wylie are looking for a second straight title.
Celina will face defending state champion Abilene Wylie and the pride of their program,
Peyton Little
, on Saturday at 10 a.m.
Wylie has reached the state final each of the past three years, losing to Texarkana Liberty-Eylau, 70-68 in 2010, and winning last year's title over Lucas Lovejoy, 66-58.
It was in last year's state final that Little, a Texas A&M signee, set the record for most points in a Class 3A championship game with 43. Little, a four-star recruit, is listed as the No. 29 high school player nationally by ESPN Hoopgurlz.
And it's Little that Celina will have to battle in the title game Saturday. That doesn't just mean the talented scorer herself, but what she has meant to the Wylie program over the past four years and to her teammates in the locker room. Coach Tri Danley said this second state title wouldn't be for the program as much as it will be to honor Little's high school career.
"This is it for her," Danley said. "Those 12 girls in that locker room know that and they will go through that wall for her, and she's going to do the same. That's all I can ask them to do."
Little said she can't imagine what the feeling will be like taking off the Wylie jersey for the last time, but if Wylie wins, she might not have to find out.
"If she wins, we're going to let her have [her jersey]," Danley said.
March, 1, 2012
3/01/12
2:57
PM CT
Check in throughout Thursday and Friday for updates on all of the girls state tournament action:
CLASS 1A DIVISION I
Sudan 64, Snook 42
Sudan advances to the state final with a 33-3 record.
Guard Jasmine Weaver and forward Bailee Black were the team high scorers with 12 and 11 points, respectively.
Snook forward Aleah Bowers led the game in scoring with 14 points.
Sudan advances to play Martin's Mill in the state final at 8:30 a.m. Saturday.
Martin's Mill 71, Kerens 52
Martin's Mill advances to the state final with a 36-4 record on the season.
Guard Haily Jenkins led Martin's Mill with 27 points and was one of three teammates to score double-digit points.
Kerens forward Marqueshia Kelly scored a team-high 16 points.
Martin's Mill advances to play Sudan in the state final at 8:30 a.m. Saturday.
CLASS 3A
Celina 45, Lorena 32
Abilene Wylie 65, Liberty Hill 52
Wylie star and A&M commit Peyton Little had an "off" game, but still led her team in scoring with 25 points. Last year Little scored 43 in a game -- the record for scoring in a girls state tournament game.
Taylor Russell put up 17 for Liberty Hill.
Wylie advances to its third straight state final in as many years and seeks its second state title against Celina at 10 a.m. Saturday.
CLASS 4A
Mansfield Summit 40, Barbers Hill 37
Rockwall 48, Victoria East 35
March, 7, 2011
3/07/11
6:46
PM CT


One of the great things about having all the year's best high school teams in one place for the state tournament is the opportunity to hear the stories that surrounded them.

Typically, the most intriguing stories came from those players and teams that were able to achieve the ultimate goal of the weekend and finding motivation in them.

Here are my awards for some of the best performances of the weekend and the stories that helped make them possible.

Best Team Effort

The most intriguing team effort came from the Canyon Lady Eagles, who won the 4A state title over Austin LBJ, 66-58. Canyon head coach Joe Lombard said LBJ surprised him throughout the game, switching between three different defenses which, at times, stalled the Canyon offense.

Lombard was extremely happy when he learned that halftime of the 4A title game was extended so the UIL could present the 2A state finalist with medals and trophies, giving him extra time and allowing him to create and teach a brand new offense to combat LBJ's triangle and two defense.

Canyon's players ran through the new scheme a few times in the locker room and then put it to work on the court in the second half, scoring eight more points than in the first half.

The championship win capped off a 36-0 season, making the 2010-11 Canyon team the third in school history to win a state title without losing a game.

But that's not all. The win gave Lombard his 1,100th career win, which he realized before the season began could only be achieved if his team did not lose a single game. And if that wasn't enough, the final win came on his birthday.

Best Individual Effort

This award goes hands-down to Abilene Wylie's Peyton Little for the Lady Bulldog's 66-58 win over Lucas Lovejoy in the 3A state title game.

The crafty guard weaved her way through the Lovejoy defense with ease, leading to her tournament high 43-point game, the most scored in a 3A title bout. Little's record-breaking performance toppled Karen Thompson of Pflugerville's 42-point record that stood for 32 years.

Little also pitched in four rebounds, four assists and five steals.

Wylie's win gave the school it's third girls state championship in as many years. And without a single senior on the roster this season, Wylie has to be the favorite in 2012 to make it four.

Tournament MVP

The main event of Saturday night, the 5A title game, was a matchup of talented heavyweights in Irving MacArthur's Alexis Jones and Georgetown's Krystal Forthan. Forthan, a 6-foot-4 post and LSU commit, is ESPN Hoopgurls' No. 5 recruit in the nation for the class of 2011. Jones is No. 4 on the 2012 list.

The 5-foot-9 Jones showed no fear against her much taller opponent, never hesitating to take it to the hole in the face of Forthan. Her triple-double performance led her team to its 74-51 win and the game MVP award.

Her showcase of skill in both of the Lady Cardinals games in Austin earned her the tournament MVP, asl well. She not only could single-handedly put a team away with pull-up 3's, but she was also able to find open teammates for a wide-open lay-up or jumper.

She was recognized during the postgame trophy presentation for having the ability to make her entire team play on another level, which garnered the response of nodding heads from every Lady Cardinal player on the court.

The only question remaining for Jones, who is a junior this year, is what feats can she accomplish next year.
March, 5, 2011
3/05/11
3:23
PM CT
AUSTIN -- Lucas Lovejoy's state title dreams were dashed by a record-breaking performance as they fell to Abilene Wylie, 66-58, Saturday in the girls 3A state title game at the Frank Erwin Center in Austin.
Wylie's Peyton Little set a UIL state tournament record for points, scoring 43 in route to Wylie's third girls basketball state championship in school history.
"It's a great feeling," Little said. "Me and my team have worked extremely hard to get to this point. To come out and play good and hit shots -- it's been my dream."
The junior Texas commit was more than excited to find her shot in her future collegiate home.
Lovejoy had a 12-9 lead after the first period, but a 20-point second quarter from Wylie would give the Lady Bulldogs a lead they would keep until the trophy presentation.
Lovejoy's aggressive style of defense got it into foul trouble early and forced a few key players to the bench in the second half.
Leopards post Courtney Smith finished with a team-high 13 points, followed by Mikaehla Connor with 12 and senior Millie Rivera with 11.
Lovejoy won't be bringing gold medals back to Lucas, but head coach Kelly Connor said the Leopards can take pride in their season.
"They've just done so much this year -- being undefeated in district and getting to the state tournament. I know it hurts right now, but every time they walk back in that gym there will be a banner that says they are state finalists."
Before the Leopards' trip to Austin this year, Lovejoy had never made it past the regional semifinal.
Even with tears still in her eyes, Rivera said the experience of the state tournament was satisfying.
"It's definitely been a great experience," Rivera said. "I know we wanted to win, but still, the memories will last with us forever, especially the seniors who've been here so long and been working for this for so long."
Follow Travis Brown's coverage of the games on twitter