April, 2, 2012
4/02/12
12:43
PM CT
Flower Mound Marcus sharpshooter Phil Forte won the U.S. Marines Boys' 3-Point Championship, a national contest held over the weekend in Chicago.
The contest won by Forte was part of the American Family Insurance High School Slam Dunk & 3-Point Championships, an event for high school seniors which will be broadcast at 3:30 p.m. CT Sunday on CBS.
Forte, an Oklahoma State recruit, was the MVP of the 2012 Class 5A state championship game last month, when Marcus beat Fort Bend Travis.
Marcus, by the way, finished at No. 5 in the
final ESPNHS Powerade FAB 50
of the season.
February, 9, 2012
2/09/12
6:09
PM CT


HIGHLAND VILLAGE, Texas -- The entire Flower Mound Marcus boys basketball team gathered after practice Thursday with family and friends at the Buffalo Wild Wings in Highland Village to celebrate the school's first McDonald's All-American.

Marcus Smart, the ESPNU No. 12 recruit for the class of 2012 and an Oklahoma State signee, was selected to play shooting guard for the West All-American squad. The game will be televised on ESPN at 8:30 p.m. March 28 at the United Center in Chicago.

Smart sat alongside his mother and Phil Forte, an All-American nominee, as his name was read on the ESPNU broadcast and the Marcus faithful celebrated.

"It's just an honor to be awarded prestigious award," Smart said. "They do a great job with this each year, especially with the Ronald McDonald house and the places this stuff goes to. I'm just proud to be a part of it."

Smart said he's excited to play with some of the nation's top talent, including ESPNU No. 2 recruit Shabazz Muhammad, whom he played against in AAU ball. Marcus' team happened to beat Muhammad's in that Las Vegas tournament, but friendly revenge won't be a storyline in this All-American game -- the two will combine forces on the West side.

Smart is Marcus coach Danny Henderson's first All-American. However, he said it's the time he's spent around the All-American that he cherishes the most.

"It's an honor, but more important than Marcus playing in this game, it's an honor to coach Marcus Smart." Henderson said. "He's everything that's good about high school basketball. It couldn't happen to a more team-oriented and better kid."

While Smart's teammate and best friend, Forte, didn't make the final cut, he said he was just as proud of Smart making the squad as he could be for being nominated.

"Just to be mentioned with the great talent out there is an honor," Forte said. "I'm proud of Marcus. He works hard and deserves it, and I'm just proud to be here and share it with him."

Smart said he has never been to Chicago before and is excited about everything he will be able to experience while he is there. Henderson said he and his coaching staff wouldn't miss the opportunity to travel to the Windy City to watch Marcus play -- and catch a Bulls game while they're at it.
December, 16, 2011
12/16/11
9:36
AM CT
LEWISVILLE, Texas -- Imagine a basketball team that combined Marcus Smart, Phil Forte and ... Johnathan Gray?

Well, it happened ... for the past 10 years.

These three North Texas and national athletic standouts grew up playing AAU basketball together every summer since they were in the third grade.

It formed a tight enough friendship that Gray, ranked No. 5 on the ESPNU 150 for football, made the long trek to Lewisville from Aledo on Thursday to watch his buddies take on Montrose Christian in front of ESPN cameras just two days before Gray's final high school game in the 4A Division I state championship.

"I came out to watch my brothers play," said Gray, a Texas commit. "I was lucky enough to play AAU basketball with these guys."

Smart is the No. 11 national basketball recruit for the Class of 2012 and has committed to Oklahoma State. Forte will join him at OSU.

The love will be returned Saturday, not only Forte and Smart, but by the whole Marcus basketball team.

Marcus coach Danny Henderson canceled the team's weekly Saturday morning practice so the whole squad can travel to Cowboys Stadium for Gray and Aledo's big game, even though Marcus has its first district game next week.

"I know that's crazy because we have Plano West coming, but it's invaluable for my kids to be around that state championship atmosphere, especially when they know Johnathan and some other Aledo players," Henderson said.

Gray, who broke the Texas single-season touchdown record in last season's state final and is looking to break several national records Saturday, has an even deeper connection with the Marcus basketball team than just his friendship with Forte and Smart. He filled the role as the team's motivation speaker last season.

"Last year, before our biggest regular season game, Johnathan came into the locker room and talked to the guys and got them jacked up," Henderson said. "It was really cool. He's a great kid."

So can arguably the greatest high school football player in Texas history also play basketball?

"You ought to see him lock down somebody on defense," Henderson said. "It's amazing. He might be the best deny defender I've ever seen. His man can't catch it. It is amazing to watch him deny someone. You can't screen him because he's so strong and quick and whoever he's guarding can't catch the ball."

"I've never seen a kid play as hard as he does," Forte said. "He just goes, goes, goes. We call him the Energizer Bunny. He just has a motor that I've never seen another player have."

Gray is so respected by his basketball-playing friends that even Smart said a one-on-one game between the two would be a close battle.

"You know how built Johnathan is, and him using that muscle that he has and that athleticism ... It would be a challenge," Smart said. "I think I would come out of that with my basketball skills, but it would be a good match."

Smart and Forte also claim to have predicted Gray's rise to greatness on the gridiron.

"We always knew coming out when we were younger, just to see this dude out here playing," Smart said. "We knew he was going to do great things in the future with his football school."

A few state records and two state championships later, Gray has fulfilled Smart's prophecy.

Gray is a touchdown away from holding the national record for career touchdowns and 21 points shy of the national point record, both held by Michael Hart of University of Michigan and Indianapolis Colts fame.

Gray banged up his knee in Aledo's semifinal game against Corsicana last week, but he said despite some swelling, the injury hasn't kept him from practicing.

"It's a little swollen, and we don't really know what's wrong with it because the swelling keeps coming back," Gray said. "We'll just drain it and see what happens."

After Gray moves on to play for the Texas Longhorns, he'll look forward to the playful banter to come from his then-Big 12 rivals – Forte and Smart.

"Next year, I think [the Longhorns] play in Stillwater, so it will be fun," Forte said. "I'll get to go check Johnathan play."
December, 16, 2011
12/16/11
2:24
AM CT
LEWISVILLE, Texas -- Flower Mound Marcus came up with the big shots when they were needed most to pull out a 42-40 win over Montrose Christian (Md.), the No. 4 team in the nation, on Thursday night in front of a packed house at Lewisville High School.
Marcus point guard and shooting standout Phil Forte was ice cold at the start of the game that was nationally televised on ESPN, but his first bucket was a big one.
[+] Enlarge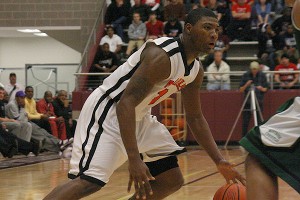 Travis L. Brown for ESPNDallas.comMarcus Smart scored a team-high 15 points in Flower Mound Marcus' 42-40 win over Montrose Christian (Md.), the No. 4 team in the nation.
Forte drilled a momentum-shifting 3-pointer as time expired in the first half to cut his team's deficit to 20-19.
Forte continued the trend in the second half, hitting game-turning 3-pointers midway through the third and fourth quarters. Forte's shot from long distance in the fourth gave Marcus a 39-38 lead with just minutes to play. Nick Banyard took a cue from Forte and nailed the game-winning 3-pointer with just under a minute left.
"As long as I've been playing with Phil, he's been known to come around in clutch situations," Marcus standout Marcus Smart said. "He needs that encouragement from his teammates and that's what we did -- we picked him up and he came out in the second half and hit clutch shots."
Smart, the No. 11 recruit from the class of 2012, did his part, throwing down a one-handed slam to pump up the crowd in the third quarter and scoring a team-high 15 points to help offset Forte's slow start.
"My teammates did a great job picking me up when I was down and missing," Forte said. "My teammates believed in me, and if it wasn't for them I wouldn't have had the night I had."
The surprise of the night may have been how the defenses stood out in a game billed as a matchup between two national offensive powerhouses.
Both teams were held to under 10 points in the first quarter and Montrose was just able to reach 20 points before the first-half buzzer in a clean game that didn't feature many fouls.
"When two teams are that good defensively, you won't have a lot of fouls," Marcus coach Danny Henderson said. "Normally fouls are caused by poor defense, and they are so good defensively -- and I'd like to think we are too."
Marcus may have also gotten a boost from its fans, who sold the game out hours before the opening tip. Crowded together behind one of the baskets, the red-clad mob put on a cheering and chanting display typically reserved only for football around North Texas.
"I hate to say it, but we've gotten spoiled," Forte said. "Our fans are great, especially in big games like this. They always come up big and support us. We feed off the crowd. And ever since I've been here we've had a great student body, and it's just amazing to play in front of that crowd."
The crowd was never louder than when the Marcus defense made one final stop as time expired, preserving a huge win on a national stage.
"We knew coming in here that we had to stop them because of who they were, averaging in the high 80s, 90s and 100 points," Smart said. "We knew coming in that if we played our defense through the game we could beat them."
November, 9, 2011
11/09/11
2:29
PM CT
FLOWER MOUND, Texas -- Oklahoma State is getting a set of basketball twins from Flower Mound Marcus next season.
[+] Enlarge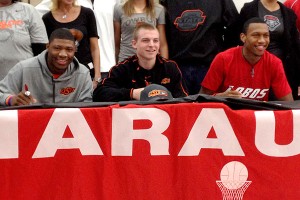 Travis L. Brown/ESPNDallas.comMarcus Smart and Phil Forte will continue their longtime basketball connection at Oklahoma State. Meanwhile, FM Marcus teammate Nick Banyard is heading to New Mexico.
They're not be related by blood, but the connection Marcus Smart and Phil Forte have on the court goes well beyond teammates or even friendship.
"We got to a point where I could tell where he was on the court without even looking at him and vice versa with him," Smart said. "We have a perfect feel for each other. It's like that twin telepathy for each other -- when a twin can feel what the other is feeling -- that's what me and Phil have on the court."
Both signed letters of intent Wednesday to play together at Oklahoma State, continuing a streak of seasons they have been teammates that began in the third grade.
"It's great knowing every time you go out to practice -- to work -- you have your brother beside you," Forte said. "We've been through so much together, good times and bad. Playing four more years with him in college will just make it that much better."
Forte said Oklahoma State was an easy sell because he loved the way he fit into the Cowboys' system as a point guard, especially after watching Keiton Page thrive in Stillwater.
Once Smart -- the ESPNU No. 11 recruit in the nation for his class -- found Oklahoma State to be a good fit as well, the decision was simple.
So family, friends and teammates gathered outside of Marauder Gym on Wednesday morning to watch Smart, Forte and Nick Banyard, a New Mexico commit, ink their pledge to play college ball.
While signing the letter of intent was a moment each savored, there was no question who won the contest of signing their name the required four times first.
"Marcus finished first and we gave him a hard time because he doesn't know how to not finish first in anything in his life," Forte said.
More:
ESPNHS All-Texas basketball team
September, 10, 2011
9/10/11
2:11
PM CT
By
Dave Telep
| ESPNDallas.com
It took more than 18 months of recruiting by
Oklahoma State
coach Travis Ford, but on Friday, the work paid off.
During their visits to Stillwater, Okla., shooting guards
Marcus Smart
and
Phil Forte
-- teammates at Flower Mound (Texas) --
committed to play for the Cowboys
.
"Me and Phil, we're going to Oklahoma State," Smart said. "We had a feeling, me and Phil, that we wanted to play together. Then bam, this was the right place for us."
Smart, 6-3 and 200 pounds, is a five-star prospect and the No. 11 overall prospect in the class of 2012, while Forte, 5-10 and 175 pounds, is the No. 46 shooting guard.
The two had two common options: Oklahoma State and
Oklahoma
. Forte also liked
Boise State
and was planning to visit the Broncos later this month.
Smart had the Sooners,
Texas
and
North Carolina
on his list.
In essence, the teammates had two separate decisions that converged into one.
"I felt [Oklahoma State] fit me very well and I think Phil thought that it was a proven fact that a player of his caliber and his size was guaranteed to play here in a big-time environment," Smart said. "
Keiton Page
was the example. Phil thought if [Page] could do it, he could, too."
During the process, Smart knew that some schools were using Forte to get in Smart's good graces. Oklahoma State offered Forte separately almost a year ago; it was a genuine offer and it stood even if Smart wasn't part of the equation.
"We were very timid about people using Phil to get to me or the other way around," Smart said. "We just felt Oklahoma State was recruiting us individually, not as a package deal. It was Phil first, and then it was Marcus first; it wasn't Marcus and Phil together."
These commitments are big deals for the Cowboys. Smart and Forte combined to go 90-14 in three years of high school ball, including a state championship and two final fours. Smart is expected to be named to every All-American team in the spring, starting with the McDonald's team.
September, 27, 2010
9/27/10
4:32
PM CT
Michael LaPlante of ESPN Recruiting was in town over the weekend to check out the local boys basketball talent the Dallas Great American Shootout.
He cited Plano Prestonwood Christian power forward
Julius Randle
and Flower Mound Marcus small forward
Marcus Smart
as the standout players at the event.
Flower Mound Marcus'
Phil Forte
, Garland Naaman Forest's
Prince Ibeh
and Irving's
Keith Frazier
also caught LaPlante's eye.
You can
read LaPlante's report here
.
March, 11, 2010
3/11/10
1:34
PM CT
Coming in to his first year at Flower Mound Marcus, head coach Danny Henderson knew his new team had a chance to excel with three talented sophomores in Marcus Smart, Phil Forte and A.J. Luckey.

He didn't know the Marauders could be this good this quickly.

Marcus has overachieved in the playoffs, surviving a brutal Class 5A Region I by pulling out wins over Duncanville, Jesuit, Arlington Bowie and Plano West to reach the state tournament a little ahead of schedule.

It plays Fort Bend Bush at 8:30 p.m. Friday at Austin's Frank Erwin Center in the state semifinals.

"I thought it would be a year before we could do this," Henderson said. "Back in the fall, we went to a shootout and played against Cedar Hill and Dallas Lincoln. We did well. I knew then that we could be special."

Strong defense has propelled Marcus through the playoffs. The Marauders are giving up just 42.0 points per game. Duncanville is the only team to break 50 against Marcus in the playoffs.

Marcus runs a deceptive man defense that can look like a zone at times. Henderson calls it a sagging man defense where the Marauders play man-to-man, but sag over to key players.

Bush will challenge Marcus' defense as it averages 67.9 points per game and has four players that average in double digits in scoring. Bush defeated the state top-ranked 5A team, Houston Bellaire, to advance to state.

"These kids are great defenders," Henderson said.
March, 1, 2010
3/01/10
9:04
PM CT
ALLEN, Texas -- A risky inbounds play nearly cost Flower Mound Marcus its season against Jesuit on Monday.
With three seconds remaining in the fourth quarter, Marcus forward Marcus Smart bounced the ball at the feet of Jesuit forward Josh Bauer to try to get the clock moving, as Jesuit kept fouling the Marauders before play could begin.
Bauer, however, snatched up the ball and threw up a desperation shot. It bounced off the front of the rim at the buzzer, and Marcus escaped with a 46-45 win in the Class 5A Region I quarterfinals at Allen High School.
All's well that ends well for Smart. He was one of four players to finish with a game-high 14 points, along with Marcus guard Phil Forte and Jesuit's Josh Bauer and James Leinbaugh.
And it was Smart's layup that proved the difference for Marcus. His shot bounced off the front of the rim twice before falling in for what turned out to be the game-winning bucket.
The inbounds-pass-gone-wrong capped a tense fourth quarter that saw six lead changes. The final frame began with the score tied at 39. Forte opened it with a 3-pointer, and the two teams traded buckets from there.
Jesuit came out hot in the first quarter as it raced out to an 18-9 lead behind four 3-pointers, two from Leinbaugh.
Marcus' fortunes began to turn in the second quarter when it tightened its defense. A 9-2 Marcus run tied the score at 23.
"We just had to contest their shots better," said Marcus coach Danny Henderson. "A team can be dangerous when you let them get hot like that. Midway through the second quarter we started defending them better."
Offense was hard to come by for either team in the second half. Jesuit's
Chris Udofia
finished with eight blocks and didn't give Marcus anything inside. Neither team could find separation as the game was tied at half and going into the fourth.
"Udofia just erases their mistakes," Henderson said. "We beat them on penetration over and over again but we couldn't capitalize because of him."