High School:

Plano Prestonwood
March, 1, 2012
3/01/12
3:59
PM CT
Back in November, the first ESPNHS Fans' Choice Player of the Year award was launched with eight of the nation's top players in the running for the honor. Well, it's down to the final two candidates, so it's time for fans to really make the vote count.
Wolfpack nation spoke up in the semifinals to help senior Rodney Purvis of upper Room Christian (Raleigh, N.C.) coast by Nerlens Noel, while Plano Prestonwood junior Julius Randle got an assist from his fans in Dallas-Fort Worth to take down Shabazz Muhammad.
The two good friends provide a quick update on their seasons
.
February, 2, 2012
2/02/12
11:34
PM CT
NORTH RICHLAND HILLS, Texas -- Get ready UIL, Prime Time is on his way.

Hidden in the shadow of the shuffling of 4A and 5A schools in the 2012 UIL realignment was the entrance of former Dallas Cowboy Deion Sanders' charter school, Prime Prep Academy, into Class 3A of the UIL.

Prime Prep Academy opens its doors this fall and will compete in multiple sports, including football, in District 11-3A.

"This is new for us," Prime Prep advisory board member Reginald Calhoun said, "so we're building some relationships and trying to get our feet wet."

Calhoun represented the school at Thursday's meetings while the school's founders continue to piece together a permanent athletic department, which includes hiring coaches.

Prior to the realignment meeting, members of the Prime Prep Academy advisory board met with UIL officials to map out the rules of eligibility with the charter school and confirm the school as a member of the organization.

Calhoun said the school's new district mates, which includes Dallas Wilmer-Hutchins, Dallas Madison and Dallas Roosevelt, were "cautiously excited" about the addition of the charter school to district play in their preliminary exchanges.

"It's tough right now with them adding Prime Prep Academy because we don't know what their number will look like and we don't have any history with them, but we'll be fine," Roosevelt interim head coach John Simon said. "We're looking forward to the challenge."

Simon said it was a "shocker" to see that Prime Prep Academy would jump right into a 3A schedule in its first year of existence, diverting from the norm of working up from 1A or 2A in the first few years. Simon said he believes Prime Prep Academy will have 2A numbers, but the school opted to play up in Class 3A.

Calhoun said Sanders will be directly and actively involved in the athletic programs of Prime Prep Academy. Sanders has been involved with his youth sports programs throughout the past several years.

Open enrollment for the academy begins March 1 and will be on a first come, first serve process through May 4. The school's web site encourages parents to enroll early, as they believe the spots will fill up quickly. There is no tuition to attend the school.

Calhoun fielded interest from 3A Pittsburg, TAPPS Division I Plano Prestonwood Chrstian and several Mansfield ISD schools for non-district matchups in football.

Sanders and the academy board was granted its charter from the Texas State Board of Education on September 16 of last year to begin teaching high schoolers in Oak Cliff at the former site of Lobias Murray Christian Academy.

Sanders' vision for the school at the time was to create a union between the best academic teaching and the best athletic training the Metroplex has to offer.

"We plan on marrying the best of teachers academically, some of the best students academically, some of the best athletes together -- the best attitudes, the best passion and desire all intertwined to educate these guys to raise company CEOs, and not employees," Sanders said.

Thursday, excitement was flowing from Calhoun regarding the athletic steps the academy took, but the academics were still of highest priority to the board member.

"We're doing something totally different. Not about the athletics but about the academics," Calhoun said. "When you begin to impact children's educational opportunities, you've impacted that entire generation. You've changed lives by impacting them with education. It's much more than athletics, even though it's a small component of it -- it's truly about education."
January, 23, 2012
1/23/12
9:54
PM CT
At what deficit does a football or basketball game become out of reach?

To the Texas Association of Private and Parochial Schools, it's at 40 points.

In early January, TAPPS instituted a "mercy rule" for football and basketball that will come into play in the 2012-2013 season.

The rule mandates that any game which reaches a 40-point difference after halftime, will be subject to a running clock for the remainder of the game. This includes plays that end out of bounds and play stoppages for fouls in both sports.

"When schools start beating someone 100-0, it seemed like a good time to put in that rule." TAPPS director Edd Burleson said.

Burleson cited the 2009 100-0 girls basketball blowout between Dallas Covenant and Dallas Academy as the main reason for the change.

The practice of a running clock in blowout games is not foreign to football and is, in fact, a common post-halftime practice should both coaches agree to the change.

Making that practice mandatory was discussed and eventually put into place by the TAPPS Board of Directors and Athletic Executive Committee, made of representatives from all participating districts. The representatives are coaches, athletic directors and school faculty.

"All of our board are either athletic directors or coaches and we have an 11-person Athletic Executive Committee that is made of athletic directors and coaches and there was no one that expressed a disinterest in doing that," Burleson said. "It seemed like the logical thing to do."

Current coaches in TAPPS were not notified or polled on the subject of a mercy rule before the legislation came to be law, which didn't sit well with some coaches, like Dallas Lutheran football coach John Bronkhorst.

In his years as a football coach in the UIL, TAPPS 6-man and TAPPS 11-man play, Bronkhorst has been on both sides of a football blowout, including a 75-0 loss to Bullard Brook Hill this season.

To Bronkhorst, a 75-point, one-sided game isn't over at halftime, leaving the last two quarters as a sort of formality. That second half is a lesson in adversity and a chance to gain game-speed practice for the remaining games in the season.

The instances Bronkhorst has been offered the "mercy" of a running clock in the second half, including the 75-0 loss, he has respectfully declined.

"The officials came to me at halftime and asked if I wanted to run the clock and I said, 'Absolutely not.' " Bronkhorst said. "It's not to be cruel to my team because it's a teaching opportunity. It's an opportunity for us to learn in life you're not going to get bailed out. We need to learn how to overcome adversity, and I can tell you right now, we grew from that game."

The lesson hit home for the Lions, Bronkhorst said. His players came back the next day and recommitted themselves to a higher standard of work ethic, which is a lesson that can be applied to more than just football, the coach said.

Bronkhorst said he believes a matter of "mercy" is not in the basic framework of the game, saying it is his team's job to score points and to keep the other team from scoring, and the decision of the other team to run the ball during a blowout or put in second-string players is their prerogative and interpretation of sportsmanship, but is not a concern to him.

The same went for current Plano Prestonwood football coach Chris Cunningham, while he was the coach at the newly opened Colleyville Heritage, several years ago.

"My kids appreciated that and I think that is an element of it," Cunningham said. "You want to try to teach them to play through and try to make an effort to come back. It almost takes that chance to come back. It is six touchdowns, but stranger things have happened in football."

Cunningham and other TAPPS coaches around the area, however, are not as opposed to the new rule as Bronkhorst, but most have found several disadvantages to the running clock, which limits their ability to coach.

"If you want to practice on the two-minute drill and you have a minute left, if you throw an incompletion, the clock still runs unless you call a timeout," First Baptist Academy football coach Jason Lovvorn said.

Point differential is the most probable situation of how the mercy rule can alter a team's season. In TAPPS rules, if two or more teams tie in district records, the first tiebreaker for playoff seeding is total point differential for each team.

If a team gains a 40-point lead by halftime, causing a running-clock situation, and puts in second-string players in the second half, there is always a chance the losing team could make up half of the deficit before the game is over, which was a legitimate concern for Lovvorn and Bronkhorst.

Most districts have a point differential cap ranging from around 17-21 points, but it is more likely for a losing team to make up enough ground to move into the uncapped point area than actually make a run at winning the game. A few extra points that the winning team does not have a chance to make back could cause a team to lose a district championship or even knock a team out of a playoff berth.

If a losing team made a comeback that infringes into the uncapped differential area, the winning team would then have to put starters back into the game and run a hurry-up, passing offense to try and gain those points back before the clock runs out, despite still winning by around 20 points.

All coaches agreed that the majority of these scenarios will not occur frequently, but their ability to teach certain lessons will be altered in the seasons to come.

Those lessons and extra reps were not enough to outweigh the positives of the new rule, Burleson said.

"Extra reps against someone who is getting hopelessly beat?" Burleson said. "We couldn't find anyone in our group that comes from a wide spectrum and they weren't all in agreeance with this rule. It shortens the time you're in misery. Now the losing coach doesn't have to beg for mercy and the winning coach doesn't have to make that decision or else look like the bad guy. We have taken on the role of the bad guy."

Section 130 of the TAPPS Constitution and Bylaws states the purposes of the athletic program for the participant schools are: (C) to regulate competition so that students, schools and their fans can secure the greatest educational, social, recreational and aesthetic benefits from the contests, (E) to preserve the game for the overall benefit of the contestant and not sacrifice the contestant to the game, and (F) to promote the spirit of good sportsmanship and fair play in all contests.

Bronkhorst said he will leave it up to his administration to decide if it would be necessary to make any kind of appeals or protests to the rule, but will most likely just live by a motto he preaches to his team -- adapt and overcome.

All the coaches agreed TAPPS athletics live under the stigma of inferior competition and athletes to those found in the UIL, while playing the same games by the same rules. Now, TAPPS has set itself apart, playing by different rules, which Bronkhorst believes will do nothing but hurt public perception of private school teams and athletes

"[TAPPS has] just set private school football farther apart than UIL football," Bronkhorst said. "Having a mercy rule there is definitely a bigger difference between the two."
January, 14, 2012
1/14/12
8:18
PM CT
By
Brendan Hall / ESPNBoston.com
SPRINGFIELD, Mass. -- Plano Prestonwood's Julius Randle drew the first pop from the crowd in the marquee matchup of the third day of the Hoophall Classic, landing a violent windmill dunk in layup lines to the approval of the capacity crowd.
[+] Enlarge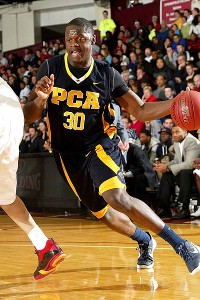 J Anthony Roberts/ESPNHSNo. 3 recruit Julius Randle returned to action on Feb. 15 and is nearing a decision date.
A few momets later, in the first minute of action, Oak Hill Academy (Va.) big man A.J. Hammons got the next pop, dunking over the nation's top junior power forward with both hands. He added insult to injury with a big two-handed shove to Randle's chest.
From that point, it was on. Both Randle and the 7-foot Purdue commit had their moments, but in the end it was Oak Hill prevailing once again, 85-55, after some lights-out shooting by guards Jordan Adams (23 points), Tyler Lewis (15 points, nine assists) and D'Vauntes Smith-Rivera (16 points) opened up the floodgates. The three combined for 10 3's, including a 5-of-7 effort from Adams, to blow this open.
In total, Oak Hill, which moves to 27-0, was 13 of 25 from deep. Prestonwood fell to 15-4.
"I thought we could have competed a little better," Prestonwood coach Chris Mayberry said. "But the way they shot tonight, you know, 13 of 25, I think they're the best team in the country today for sure, the way they play. I thought we could've competed a little better, but they're also really good. You've got to give them credit."
In the fourth quarter, with the Lions down by more than 20, Randle impressed the crowd with three powerful one-handed slams in transition. But the first half was a whole other story.
The game featured plenty of length, with Kansas commit Zach Peters and 6-7 freshman Mickey Mitchell joining the 6-9 Randle in the frontcourt, paired off against Hammons and the Warriors' 6-6 Charlotte commit, Darion Clark. Those long arms played a big part of the opening minutes, with the Lions struggling to get good looks inside of 15 feet thanks to a stifling mix of 3-2 and 2-3 zone looks.
In one possession, Hammons swatted Peters going to his right, and when Randle missed a close-range floater on the follow-up, he found himself boxed out by Hammons' outstretched arms. On an ensuing possesson, Randle managed to cross up Hammons, only to be stuffed by Clark as he drove to his left.
There were promising rotations on Prestonwood's end, such as when Mitchell sent Georgetown-bound guard Smith-Rivera's layup attempt into the crowd under the baseline. But too often in the first half, it seemed, the Lions seemed to receive two uppercuts for each jab they dealt.
Earlier this week, Randle told ESPNHS in his periodical "Player Diary" that he was going to hand the undefeated Warriors their first loss. That seemed to motivate Hammons, who combined with Clark to hold the sought-after big man to a 4-of-13 effort from the field in the first half. Randle finished with 23 points, nine rebounds and three blocks -- but it felt as if he earned every single tally.
"I just tried to attack his body," Randle said of Hammons. "He's a big guy, so I wanted to try and attack his body. I wasn't frustrated, I knew the ball would go into the hole at some time, so I wasn't worried.
"They overloaded my side, so I just had to look and find my teammates better."
Acknowledging Randle is a step quicker, Oak Hill coach Steve Smith said he was hoping Randle would make a few jump shots early and settle there, "because he's hard to play inside". But the combination of Hammons (eight rebounds, three blocks) and Clark (10 points, six rebounds) was frustrating enough.
"He [Randle] likes to float sometimes," Smith said. "We just tried to mix it up ... we tried to keep him away from the basket, when he did catch it down low we'd try and send a guy to double-team. We had some size -- he's not used to getting his shot blocked, I don't think, and that messed with his head a little bit. I think we blocked his shot three or four times in the first half, and that seemed to fluster him a bit."
Oak Hill led 22-8 after one quarter, and 39-24 at the half. The Lions were held to 32.1 percent shooting from the floor in that first half, including just a 4-for-13 effort from the floor by Randle. The Lions finished 38.6 from the floor for the game, but were outrebounded 42-25.
January, 4, 2012
1/04/12
10:10
AM CT
ADDISON, Texas -- After hitting a rough patch in the Beach Ball Classic tournament, ESPNHS Fab 50 No. 23 Plano Prestonwood Christian hoped to begin district play with an easy win over rival TCA-Addison.
[+] Enlarge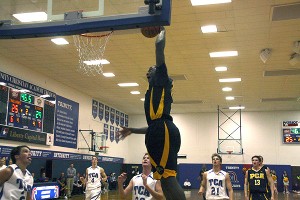 Travis L. Brown/ESPNDallas.comA pair of dunks by Prestonwood's Julius Randle wrested momentum from TCA-Addison.
TCA had other plans for the Lions and made quite a game of it, ultimately falling short 67-47.
It took three quarters for nationally ranked Prestonwood to find its stride in a game in which it was the much bigger team with a higher level of talent.
"I think we just disrespected the game of basketball tonight," Prestonwood coach Chris Mayberry said.
TCA jumped to a 17-14 lead after the first quarter. The 3-ball was falling for TCA in the opening frame, with three hitting in the first few minutes. A 3 from Thomas Neuhoff forced a Prestonwood timeout and electrified a standing-room only crowd in TCA's home gym.
Prestonwood also allowed the momentum to build by giving TCA guards access to the paint for easy layups.
"They did step it up tonight, there's no doubt about it," TCA coach James Feemster said. "I told my kids before the game, this is why you play the game right here -- for this kind of stage -- and if we'd have had 2,000 seats in this place, we'd have filled all 2,000 of them up. It's that big of a rivalry."
Mayberry saw it differently, denouncing the notion that the rivalry atmosphere elevated Trinity's play and placing the blame solely on his team's performance.
"Not at all, not one second," Mayberry said. "We just didn't come to play at all. I respect Trinity, but we just didn't come to play."
Two things began to work against TCA in the second quarter: standout Carven Holcombe took two early fouls, which forced to the bench for the remainder of the half, and Prestonwood superstar recruit Julius Randle made his presence known.
Late in the quarter, Randle took two passes to the hole for a pair of slams. The second dunk gave TCA its first lead since the opening seconds of the game, 25-24.
"I thought that one was a bad one because they were kind of fighting their way back in," Feemster said. "Up to that point, I thought we had the emotional advantage in the game and that kind of turned it a little bit for them."
The Lions wouldn't relinquish the lead again.
TCA managed to keep the game close, finishing the third quarter trailing just 44-37, but it saw its shooting luck run out, especially at the free-throw line. The Trojans went 13-for-28 from the charity stripe.
Prestonwood outscored TCA in the final quarter, 23-10. Randle put the nail in the coffin with 4:40 left, taking a breakaway pass to the hoop and throwing down a one-handed tomahawk that would make Blake Griffin jealous.
Randle lead all scorers with 28 points, followed by fellow big-man Zach Peters with 18.
The big-game atmosphere is nothing new to Prestonwood, which made it as high as No. 5 on the ESPNHS Fab 50 last week by playing in several of the nation's top tournaments but struggled last weekend. It has also kept Prestonwood in the national spotlight since before the season began.
Mayberry restricted access to his team after the game saying, "We're getting too much of that stuff."
Regardless, Prestonwood did what it needed to do to notch its first district win, which was just more than TCA could handle.
"It would have taken an unbelievable effort to beat those guys and they would have had to have been off a little bit, but I think our kids got in there and didn't back down one bit on them and I'm really proud of them," Feemster said.
Girls: TCA 42, PCA 28
TCA girls took the first game of the rivalry evening, thanks to good guard play that began scoring runs.
The girls played in front of the same standing-room only crowd that remained in their seats for the ensuing boys game, providing a loud and exciting atmosphere for the game.
"We've been psyching up and this is like the highlight of our season is getting to play them the two games in district," guard Sarah Voelker said.
Voelker was a spark for the Trojans, keeping her team on long scoring runs with several rebounds and steals throughout. She lead all scorers at the half with all seven of the points she would score on the night.
Point guard Katherine Konstons led all scorers with 17 points, most of which came in the second half on a solid performance on the free throw line.
The win notches a good 1-0 start in district for TCA.
December, 15, 2011
12/15/11
1:36
AM CT
No. 42 PLANO PRESTONWOOD (5-0) vs. No. 15 ARLINGTON GRACE PREP (7-1)
6 p.m. Thursday at Lewisville High School (ESPNU and ESPN3.com)
It was an easy transition for new Plano Prestonwood basketball coach Chris Mayberry.
Mayberry was given the helm of an ESPNHS FAB 50 No. 42 team that had ESPNU's No. 1 recruit for the class of 2013, Julius Randle, and Kansas commit Zach Peters. And in just his sixth game of his career at Prestonwood, Mayberry's team will be featured on ESPNU.
Randle, obviously, has gathered the majority of media and recruiting attention, but Mayberry said Peters has come into this season playing some of his best basketball.
Peters credits taking the summer and fall off from the court and spending it with the Prestonwood football team as the team's leading receiver, racking up 1,095 yards and 15 touchdowns.
"I think he needed a break from basketball mentally," Mayberry said "I think it was a real blessing for him to get mentally away from basketball a little bit, and a lot of people are telling me he's playing the best basketball he's ever played."
Arlington Grace Prep will be the first real challenge for Prestonwood this season after having several early-season tournament games canceled.
Mayberry said that in his few times of seeing Grace Prep play, his team can expect them to crash the boards hard and turn the game into a track meet in transition. He believes both teams will match up comparably.
"We're going to try to keep them from the things they love doing," Mayberry said. "We're going to come close to matching their athleticism, but it's going to come down to who executes better."
Mayberry believes the TV cameras won't have any effect on his players, especially Randle and Peters, who as high-profile players are used to the national spotlight.
NO. 11 FLOWER MOUND (13-1) vs. NO.4 MONTROSE CHRISTIAN, Md. (5-0)
8:30 p.m. Thursday at Lewisville High School (ESPN and ESPN3.com)
It's been a quick start for defending 5A state champions Flower Mound Marcus.
The Mauraders worked their way deep into several early-season tournaments, allowing them to already have 14 games under their belt while most teams have only played five or six.
Marcus' only loss came against No. 7 Finlay Prep (Nevada), 47-39.
Marcus boasts the No. 11 overall recruit in Marcus Smart, who will join point guard Phil Forte at Oklahoma State next year.
Marcus will be Montrose Christian's first real test of the season after beating up on Virginia high schools in its first week of the season. NBA star Kevin Durant attended Montrose Christian before playing one year at the University of Texas.
You can click
here
to watch the games on ESPN3.com.
December, 14, 2011
12/14/11
4:29
PM CT
Plano Prestonwood three-star receiver/athlete Anthony Morgan decided to commit to Iowa on Wednesday at an off-campus press conference.
Morgan (6-foot-2, 190-pounds) turned down 15 other offers to go with the Hawkeyes, including Arizona, Stanford and Virginia.
Morgan told ESPN National Recruiting midlands coordinator Damon Sayles that he had made the decision to go to Iowa his junior year.
Click here for Sayles full write up on Morgan's decision
(Insider access).
September, 24, 2011
9/24/11
9:00
AM CT
Plano Prestonwood junior forward Julius Randle has been doing a monthly diary for ESPN High School (formerly RISE).
In the latest entry, the third-ranked 2013 basketball recruit in the ESPNU Super 60 talks about the college coaches seeking his services and reveals the recipe for his three-cheese chicken pasta dish.
He also gives some insight into how conference realignment might impact his college choice:
It's crazy how things are changing and hearing news about the different schools recruiting me potentially heading to different conferences. Of course the ACC is looking even stronger now with Pitt and Syracuse joining, and honestly that's attractive to me because I am the type of player who wants to play with the best. I definitely would love to be a part of a super-conference so that is something I will absolutely look at in my recruitment.
Read the whole entry here
.
December, 25, 2010
12/25/10
4:48
PM CT
Plano Prestonwood Christian finished fourth at the National Prep Classic boys basketball tournament in Santa Maria, Calif., which wrapped up Wednesday.
Prestonwood won its first two games before losing in the semifinals and the third-place game.
Joel Francisco of ESPN Recruiting recapped the event, and
you can read his coverage here
.
Prestonwood has two big-time recruits in Julius Randle and Zach Peters.
Francisco cited Randle as one of the tournament's standout players. Here's what he had to say about the nation's top-ranked sophomore:
There is no doubt that Randle is a force and he still has two-and-a-half more seasons of high school basketball. The explosive lefty loves to attack off the bounce and explode to the rim. He has great instincts while finishing up, over and around defenders. He can stick the 3-point shot or glide (covers a lot of ground in a hurry) in transition for the finish as well. In addition, he made a couple of high-level passes on the break as well. For his game to go to another level, he needs to finish better with contact, improve his back-to-the-basket skill set and make defense a priority.
Here's what Francisco had to say after watching Peters, who has verbally committed to Kansas:
Zach Peters, a 6-9 junior, can finish with space. However, he doesn't have good feet and as a result he struggled scoring with his back to the basket on numerous occasions.
December, 4, 2010
12/04/10
11:25
AM CT
The TAPPS Division I state champion this year will be a defending champion and an area team.

Defending Division I state champion Fort Worth Nolan faces last year's Division II state champion, Plano Prestonwood, in Killeen on Saturday, in a rematch of a nail-biter from earlier in the year.

Nolan beat Prestonwood on a last-second field goal in a game that had 891 yards of offense combined from both teams.

"The main thing I was looking for was the snap," Nolan head coach Joe Prud'homme said about the game-winning play. "I figured if the snap was good we'd be fine, and if the snap was bad we were in trouble."

The snap was good and the kick was true off the foot of Hans Ingold, who had been pulled from his normal duties at wide receiver on the last drive of the game to ensure his leg was good to go.

Despite what Nolan has going for them -- the early-season win over Prestonwood and a Division I state championship last season -- Prud'homme said he doesn't believe his team has the edge. In fact, he believes all of his team's accolades give Prestonwood an underdog advantage.

"They're going to want to make the point that we shouldn't have beat them and they had a chance to beat us and they did," Prud'homme said. "It was about even. And with them winning a state championship, they know how to do it. They are very capable of beating us."

Another challenge facing the Vikings is the size difference between Prestonwood's squad and Nolan, Prud'homme said.

What Nolan does have going for them is a ballenced offensive attack based on a foundation of rushing while mixing in play action and pass plays when needed.

"Offensively, we try and stay balanced. We want to be able to throw and run out of any formation or any play or look that we have," Prud'homme said.

After Prestonwood quarterback Parker Ash picked apart the Nolan defense in the first game, throwing for 392 yards and three touchdowns, Prud'homme said he expects Prestonwood to depend on running back Kenneth Huggins and their rushing attack to mix things up in the state championship bout.

Whether Nolan is victorious on Saturday, the Vikings feel confident that their small, underrated private school is one of the top teams inside the city limits of Fort Worth.

"We feel like we can play with [Fort Worth public school teams]." Prud'homme said. "We don't feel like we're the team of Fort Worth, but we do feel like we're one of the top two or three teams in the area."
October, 12, 2010
10/12/10
8:51
PM CT
PLANO -- Prestonwood Christian Academy had to deal with more than a fair share of changes going into this season. The defending TAPPS Division II state champs were moved up to Division I alongside perennial private school powerhouses like Dallas Bishop Lynch and Forth Worth Nolan. The Lions also had to break in a junior quarterback who was starting for the first time on varsity in a pass-heavy spread offense.
In hopes of keeping his team from becoming satisfied from the success of the previous season and not facing the challenges ahead, head coach Chris Cunningham instituted a mantra of "never backing down" for his team. This focus, he said, keeps his team working on improving each week to overcome any challenges that might present themselves throughout the season. Cunningham said the slogan also reflects the school's religious faith.
[+] Enlarge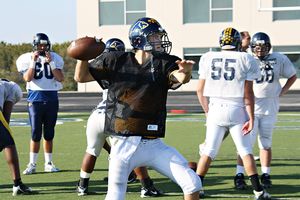 Travis L. Brown/ESPNDallas.comJunior quarterback Parker Ash has led Prestonwood Christian Acadamy to a 6-1 record in his first year as the starter.
Cunningham came to Prestonwood from Colleyville Heritage High School, where football tradition is held in high regard. Now in his new role, Cunningham can teach his players lessons that go beyond just the game of football.
Running back Kenneth Huggins leads Prestonwood, and all area private schools, in rushing yards with 1,111 to go with 13 touchdowns on 109 carries. He was the key factor in the Lions' 45-21 win over Argyle Liberty Christian last week at Cowboys Stadium in a rematch of last year's Division II state championship game.
"[Huggins is] unique," Cunningham said. "He's as good of a back as there is out there. With his combination of speed and good hands we can do a lot with him."
On Friday, Prestonwood (6-1, 3-0 TAPPS 1-I) will be a part of what could be the most important private school game in the area this season against Fort Worth Nolan (7-0, 2-0), last season's Division I state champion. Prestonwood's only loss this year was to UIL Class 3A power Celina.
"Coming off a big win last week at Cowboys Stadium, we've got to keep our composure," Lions quarterback Parker Ash said. "We've got to look past all their wins and this-and-that's they've won.
[+] Enlarge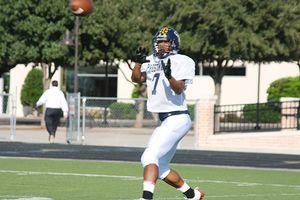 Travis L. Brown for ESPN.comPrestonwood running back Kenneth Huggins is a threat on the ground and as a receiver out of the backfield.
Nolan boasts a very balanced offense lead by quarterback Michael Smith. Smith has completed 60 percent of his passes this season for 1,132 yards and nine touchdowns.
"[Smith] is a very impressive field general," Cunningham said. "He just wins ballgames for them. You can just see it in him. He gets done what needs to get done, makes the throws and makes the runs. They really rally around him."
Balancing out the Nolan offense is running back Alex Sauza, who is second in rushing yards for area private schools behind Huggins with 1,087 on 138 carries, and he's scored 13 touchdowns. Cunningham said Sauza is a speedy back with some power and physicality.
Ash is in his first season as Prestonwood's quarterback and has had no trouble finding his rhythm. He leads area private schools in passing yards with 1,708 and 16 touchdowns.
Ash said if Nolan's defense puts five men in the box, it should open up the run game for Huggins. And if the Vikings put more pressure in on the run, he was prepared to get the job done through the air.
The battle for the top spot in TAPPS Division I comes down to two teams with similar philosophies, tools and tendencies, Cunningham said. Cunningham said he knows Nolan will be ready to play at its home stadium and he believes his team will bring its A game as well.
"You play a team that's the quality of Nolan, that should bring out the best in you," Cunningham said.
April, 21, 2010
4/21/10
3:08
PM CT
Plano Prestonwood forward Zach Peters took himself off the recruiting market early with a commitment to Kansas on Wednesday.

The sophomore (6-9, 235) received offers from Kentucky, North Carolina and Texas, but chose to be a part of Kansas' 2012 class.

"I am confident in my decision," Peters said in a statement. "There are a lot of great basketball programs but I feel Kansas is the best fit for me."

He averaged 15 points and nine rebounds per game in 2009-10, leading Prestonwood to the TAPPS 5A state title.