High School:

Plano Prestonwood Christian
July, 4, 2012
7/04/12
3:17
PM CT
Dallas Jesuit receiver
Jake Oliver
and Plano Prestonwood Christian linebacker
Mike Mitchell
are among the players to watch at The Opening in Beaverton, Ore., this week according to ESPN Recruiting writers Tom Luginbill and Craig Haubert.
Click here
(Insider) to see their entire list of players to watch, including their comments about Oliver and Mitchell.
The Opening, which runs Thursday-Sunday, consists of drills, workouts and competitions for some of the nation's top football prospects. The Elite Lineman Challenge, the SPARQ Rating National Championship and the Nike 7ON comprise the main competitions.
Click here
for ESPNHS.com writer Christopher Parish's preview of The Opening, which will be broadcast on ESPNU and streamed on WatchESPN Friday-Sunday night at 7 p.m. CT.
The following nine prospects from North Texas high schools are joining Oliver and Mitchell at The Opening:
LaQuvionte Gonzalez
, Cedar Hill ATH
Dontre Wilson
, DeSoto ATH
Jake Raulerson
, Celina OT
A'Shawn Robinson
, Fort Worth Arlington Heights DT
Torii Hunter Jr.
, Prosper WR
Eldridge Massington
, West Mesquite WR
Kameron Miles
, West Mesquite S
Ra'Shaad Samples
, Dallas Skyline WR
Colin Spencer
, Dallas Woodrow Wilson CB
May, 28, 2012
5/28/12
5:33
PM CT
ESPNHS senior editor Ronnie Flores covered Nike's Elite Youth Basketball League stop in Hayward, Calif., over the weekend, an event that included Plano Prestonwood Christian star
Julius Randle
.
Randle, the nation's No. 2 recruit for the Class of 2013
according to the ESPN 100
, and his Team Texas Titans faced Mac Irvin Fire on Sunday night. Mac Irvin Fire is led by Chicago Simeon's
Jabari Parker
, the nation's top-ranked recruit.
Here is Flores' coverage of the No. 1 vs. No. 2 matchup:
On Sunday night, Parker's Mac Irvin Fire squad took on Randle's Team Texas Titans in front of a standing-room-only crowd. The intensity matched the hype, as both teams played within the team concept. Team Texas Titans jumped out to an early double-digit lead (18-8), but Mac Irvin Fire bounced back and kept it close before falling 63-59.

The main difference in the game wasn't the individual play of the two stars, but perimeter shooting. Mac Irvin Fire missed all 16 of its 3-point attempts, while Team Texas Titans made 7-of-13.

Parker, the No. 1 player in the ESPN 100 and a recent Sports Illustrated cover subject, made 6-of-14 field goal attempts (0-of-5 from 3-point range) and captured five rebounds, two assists and 14 points.

Randle, ranked No. 2 in the ESPN 100, made 6-of-10 field goal attempts (0-of-3 on 3-pointers) and had 13 rebounds and 23 points.
You can find
more coverage of the tournament here
.
May, 25, 2012
5/25/12
10:57
AM CT
The new basketball recruiting season officially started this week when ESPN Recruiting Nation released its annual prospect rankings.
Plano Prestonwood Christian forward
Julius Randle
becomes the area's most coveted recruited, checking in at No. 2 in the nation on the
2013 ESPN 100
list.
Randle is joined in the top 10 by Dallas Kimball guard
Keith Frazier
, who checks in at No. 9.
Four other DFW players cracked the ESPN 100: 19. DeSoto guard
Matt Jones
; 28. Arlington Grace Prep center
Karviar Shepherd
; 41. Arlington Grace Prep forward
Jordan Mickey
; and 93. Richardson Berkner guard
Kendal Harris
.
Jones, who is committed to Duke, is the only ranked area player who has made his college choice.
Grace Prep's prime talent isn't limited to its senior class. Guard
Emmanuel Mudiay
is No. 5 on the
2104 ESPN 60
list. One other area player is on the ESPN 60: Garland Lakeview Centennial center
Elbert Robinson
at No. 59.
Two players who will be sophomores next year are on the
2015 ESPN 25
list. Prestonwood Christian forward
Mickey Mitchell
is No. 2, and Rockwall forward
Elijah Thomas
is No. 22.
May, 2, 2012
5/02/12
4:45
PM CT
By
Ronnie Flores
| ESPNDallas.com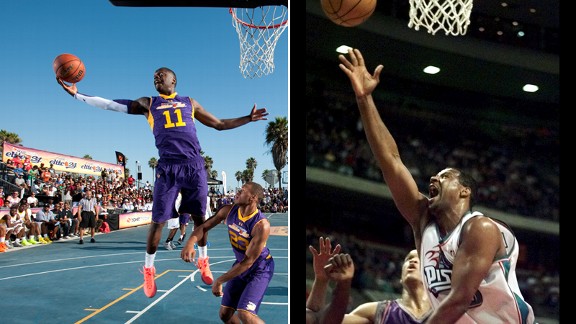 Kelly Kline and AP Photo/Duane BurlesonWe compare class of 2013 power forward Julius Randle, left, to Billy Owens, former NBA and Syracuse forward from Carlisle High School (Pa.), class of 1988.
This summer, ESPNHS will sit down with some of the nation's elite players to break down their game, talk about the inevitable comparisons to college and pro players and get their take on who they pattern their game after.
Player:
Julius Randle
School: Prestonwood Christian (Plano, Texas)
Position: Power forward
Height/weight: 6-9/225
ESPN 60: No. 2
Who is Julius Randle?
The left-handed combo forward has been one of the top players nationally in the 2013 class since middle school. Randle delivers as a high school player, leading Prestonwood to consecutive Texas Association of Private and Parochial Schools Class 5A state crowns. As a junior, he put his school in the national spotlight by leading the team to the title at the prestigious City of Palms Classic, where he earned MVP honors. For the season, the second team ESPNHS All-American averaged 21.1 points, 9.2 rebounds and 2.7 assists a game while shooting 65.2 percent from the floor. Next season, Randle will have a good shot to become Texas' first Mr. Basketball USA selection since Rashard Lewis of Elsik (Houston) in 1998.
Scouting report
According to ESPN RecruitingNation, Randle is a pro in the making. He can drive going in either direction, has touch around the rim, but can also powerfully finish with contact. Randle has range, but is prone to being streaky from the outside. In a nutshell, he can dominate smaller players inside and is too athletic for post players to handle. When he is on, like he was during stretches of the 2011 Nike EYBL, Randle has the look of a top 10 to 15 prospect of the past decade.
Most frequent comparisons: Marvin Williams, Caron Butler, Billy Owens
ESPNHS comparison: Billy Owens
There are great similarities between Randle and the former Syracuse and Carlisle (Pa.) All-American who spent 10 years in the NBA. Owens, also proficient with his left-hand, was a top 5 prospect in 1988 and led his high school team to multiple state championships. Owens was powerfully built and a huge matchup problem on the high school and college level. He wasn't nearly as powerful as Randle, but high school players 25 years ago didn't have NBA-ready bodies nearly as often as they do today. What Owens did possess was an overall feel for the game that made teammates better and passing abilities that are rare for a 6-foot-8 player. Randle won't necessarily pick up those same traits if he doesn't already have them, but if he can learn to stay locked-in for a complete game instead of stretches, the sky is the limit.
Julius' comparison: LeBron James
Since Billy Owens was in his prime before Randle was born, naturally he doesn't really know anything about Carlisle's most famous athlete next to Jim Thorpe. Ever the student, Randle said he's "going to look him up to see what he's about."
Randle is a classic inside-out player who national scouts love because of his ability as an offensive threat across the entire floor, so he found it difficult to compare himself to one player. He does, however, have an affinity for the current Miami Heat star.
"I don't know if I can compare my game to just one player because I think I'm a mixture of players," Randle said. "On the perimeter, I use my speed, strength and handle sort of like LeBron to get where I want on the floor. I'm also able to make plays for my teammates."
Randle knows where his "money" is, too.
"In the post, I have moves also, so I would say I'm sort of like Amar'e Stoudemire or Zach Randolph, but more explosive."
The Prestonwood Christian standout is working hard to expand his game and incorporate some of the moves of his favorite player -- Kobe Bryant.
"Right now, I'm working on being a better defender and also my in-between game like pull-ups. So I watch a lot of Melo (Carmelo Anthony) and also my favorite player Kobe to see how they create space."
Ronnie Flores is a senior editor for ESPNHS. He can be reached at ronnie.flores@espn.com. Don't forget to follow him on Twitter: @RonFloresESPN
April, 18, 2012
4/18/12
11:55
AM CT
Marcus Smart
's basketball-playing days at Flower Mound Marcus are done, but he hasn't stopped earning honors.
The Oklahoma State-bound senior guard was selected to the ESPNHS All-American first team Wednesday.
Smart, who led the Marauders to a second consecutive Class 5A state championship, had previously been named the Texas Gatorade Player of the Year and a McDonald's All-American.
Two area players from private school powers were named to the ESPNHS All-American second team: Plano Prestonwood Christian junior forward
Julius Randle
and Arlington Grace Prep senior center
Isaiah Austin
.
Randle helped Prestonwood win the TAPPS 5A state championship to cap a season during which the Lions won the prestigious City of Palms Classic in Fort Myers, Fla.
Austin, a Baylor recruit, led Grace Prep to its second straight TAPPS 4A title and joined Smart at the McDonald's All-American game.
Find more on the
ESPNHS All-American team
.
April, 26, 2011
4/26/11
11:30
PM CT
PLANO, Texas -- Two Trinity Christian Academy pitchers combined to throw a no-hitter against Prestonwood Christian on Tuesday, winning the game 8-0 and keeping PCA out of the TAPPS state playoffs for the first time in school history.

TCA starter and ace Reed Bastie threw five innings of no-hit ball, striking out six and walking two before being lifted after the fifth inning. Reliever Cody White spelled Bastie and completed the no-hitter, striking out three and walking one in two innings of work.

The no-hitter was the second in Bastie's career, but his first in TAPPS play. His other came in a wood bat tournament in the summer.

"We had an umpire who had a low strike zone," Trinity head coach Donnie Watson said. "We're always trying to take advantage of the strike zone if the guy is going to give us the low pitch down there. That's where we make our money. They just had command tonight."

Watson elected to go with his top hurler Tuesday because of the team's almost week-long break caused by bad weather. Bastie came out of the game after throwing 60-plus pitches and should be ready to go in the Trojan's first playoff game this weekend.

Bastie was disappointed that he couldn't stay in to finish the no-no, but he understand the situatoin heading into the playoffs.

"Of course I'm a little disappointed about it, but he's is doing what's best for the team," Bastie said of his coach. "We've got a playoff game and he wants to make sure my arm is 100 percent."

Both Trinity pitchers had plenty of room to breathe throughout the game with eight runs of support coming in two big innings. The Trojans drove in four in the second, two off a single from Ben Crabtree and two off a double from Michael Jarvie, who was thrown out at third trying to extend it to a triple.

Trinity scored four more in the fourth, highlighted by a two-run home run to right by Tom Postma.

"The run support was huge," Bastie said. "[PCA pitcher Michael Sheehy] was leaving the ball up a little bit and his off-speed [stuff] wasn't as low as it usually is, and we just took advantage of it."

Prestonwood was left to reflect on its season, the first in which the Lions won't have a shot at the TAPPS playoffs in program history.

"It's a weird feeling because we've been to the playoffs every year," PCA head coach Mike Maack said. "This is the first year we didn't make it, and we reflect on the season and we spoiled a lot of opportunities early … This is a good learning experience. If nothing else, they're going to build on this, and I've got all the confidence in the world the next year we're going to come back a totally different team."

Maack did have a bright spot in the game as freshman Cameron Yates pitched the final 3 1/3 innings without allowing a run on one hit while striking out three.

"He's got a lot of guts for a ninth grader and he's a competitor and he comes in and throws strikes," Maack said. "He doesn't try to be fancy and that's what you've got to do. Cameron just did a great job."

Watson said he believes his team will be playing somewhere in the Houston area this weekend after finishing 7-5 in district play, finishing in third place over John Paul and behind Bishop Lynch and Argyle Liberty Christian, respectively.
December, 22, 2010
12/22/10
2:35
PM CT
Plano Prestonwood Christian will face Barrington (R.I.) St. Andrews tonight in the third-place game of the National Prep Classic boys basketball tournament.
Prestonwood lost, 66-47, to Long Beach (Calif.) Poly on Tuesday in the semifinals of the tournament in Santa Maria, Calif.
Julius Randle
, ESPNU's top-ranked sophomore, scored 26 points in the loss. Prestonwood won its first two games at the tournament, which started Saturday.
Another Texas team, Houston's Christian Life, will face Long Beach Poly in tonight's championship game.