December, 30, 2011
12/30/11
2:46
AM CT
The little stories that arose during the 2011 high school football season are what made it so memorable. Here are some of the ESPNDallas.com high school team's picks for "Best of the Rest" awards commemorating those stories.
Best 2-way player: Sabian Holmes.
Holmes was Southlake Carroll quarterback Kenny Hill's No. 1 option in the Dragon's pass game throughout the season and tallied 138 yards on 11 catches and a touchdown in the 5A Division I state championship. He also was a reliable defensive back and made a touchdown-saving, diving swat late in the title game that became one of the key plays that allowed Carroll to win its eighth state football championship.
Best individual performance: Robbie Rhodes.
The Fort Worth Southwest receiver tied a national record and set a state record when he scored eight touchdowns in a 66-21 win over Fort Worth Arlington Heights. He had 10 catches for a state-record 390 yards.
Honorable mention: Wesley Harris.
The Southwest quarterback also broke the state record for touchdown passes with nine in the same game.
Best matchup on paper: Johnathan Gray vs. Cameron Washington.
Two 3,000-yard rushers met for the first time in the playoffs when Gray and Aledo faced off against Washington and Corsicana in the 4A Division II state semifinal. The game turned out to be not nearly as great as it was billed because of the effort of Aledo's defense to hold Washington to just 91 yards. Gray tallied 218 yards and claimed his 204
th
career touchdown, tying the national record.
Best milestone: 300 wins.
Highland Park coach Randy Allen earned win No. 300 when his Scots beat Richardson J.J. Pearce 41-27 at Highlander Stadium. The win tied Allen for 10
th
all-time in the state with Gregory-Portland's Ray Akins.
Best school districts:
Arlington, Mansfield and Frisco ISDs had a lot of work still left to do long after the regular season ended as each sent two schools into the third round of the playoffs. Two Keller ISD schools made the playoffs in the always-tough District 7-5A. Mesquite ISD sent three teams into the playoffs and not many would have expected the Mesquite Skeeters to be the only team left alive in the 5A Division I region semifinals.
Best revenge wins: Skyline and Arlington Martin.
It took five tries, but Arlington Martin finally ended Euless Trinity's season early for once, beating the Trojans 19-7 at Trinity's home stadium, Pennington Field. Skyline and DeSoto met for the fourth straight time in the playoffs and Skyline avenged it's 38-0 loss to the Eagles last season with a 41-31 win in 2011.
Best under the radar star: Jake Oliver.
Oliver of Jesuit had 108 catches for 1,637 yards and 23 touchdowns and was key in Jesuit's district run after starting quarterback Jack Brezette was lost for the season with a knee injury. Oliver was a finalist for the Tom Landry award.
October, 15, 2011
10/15/11
12:02
AM CT
By
Brittany Levine
| ESPNDallas.com
RICHARDSON, Texas -- Highland Park coach Randy Allen earned his 300th career victory Friday night.

With only seconds to go in the game, multiple players sneaked up behind Allen and poured the ice bucket over him in celebration.

The Scots defeated Richardson Pearce, 41-27, at Eagle-Mustang Stadium, bringing a win to their coach who has remained humble throughout all the hype of this notable milestone.

"If you look at the coaches that have gotten here before, it is a real honor and it is hard to do. These Highland Park Scots have won almost half of them, so I'm very proud of them," Allen said after the game.

Richardson Pearce played its heart out, but the Scots never let the Mustangs have the lead and continued to fight for the win for their coach.

"He has been with so many great teams and he will always remember this game as the 300th win, and so in the future it is going to be really cool to see how we were the team that helped him get that," Highland Park quarterback Brady Burgin said.

Allen is now tied with Gregory-Portland's Ray Akins for 10th all-time in the state of Texas.

"It's been unbelievable," Highland Park offensive coordinator Grayson Wells said. "It's been a great ride and we hope to continue on and maybe hit another state championship or two. I've learned so much with him and not just about coaching, but about character and being a good man."

Highland Park (7-0, 4-0 10-4A), No. 2 in the ESPNDallas.com Class 4A area rankings, took the early lead when Charles Hubbard scored on a 38-yard pass from Burgin. The Scots scored again on Jackson Hauser's 1-yard run at the end of the first quarter, making it 14-0.

Pearce (2-5, 0-4) soon followed with Kedron Banks' touchdown, but the Scots answered with a 37-yard field goal by Nick Rose and touchdown by Preston Miller to make it 24-6.

The Mustangs wouldn't go away, however, as the teams continued to trade scores. J.R. Griffin's fourth-quarter touchdown catch pulled Pearce within 34-27, threatening to put Allen's milestone victory on hold.

But the Scots would not be denied, as Hauser's late touchdown run sealed Allen's 300th victory.
October, 13, 2011
10/13/11
7:37
PM CT
The iconic look of former Dallas Cowboys coach Tom Landry -- specifically the fedora he wore during games -- is well known around Dallas.
Now, years after Landry's death, mix the combination of fedoras and football into a conversation to a Highland Park fan and clarification between which Dallas coaching icon you're talking about will need to be made.
In the fall of 2000, Highland Park coach Randy Allen donned a fedora on the sidelines during his team's football games to honor the memory of Landry. The plan was to retire the fedora after that season and go back to his usual baseball cap and polo.
[+] Enlarge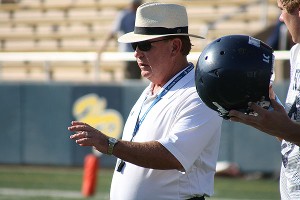 Travis L. Brown / ESPNDallas.com Highland Park coach Randy Allen knows 300 wins is a significant accomplishment, but creating successful people is what motivates him.
Plans changed in 2001 when the Scots were upset in their first game of the season while Allen sported his Highland Park baseball hat. It was the baseball cap that has been retired to this day.
Ten years later, Allen sits just one win from a milestone. His next victory will be the 300
th
of his career, an achievement that should shine the spotlight brightly on his accomplishments. But, just as anyone who has worked or played with him will attest, he is quick to deflect the praise to those around him.
"When you look at the names of the other coaches that have reached 300 wins, it helps you understand how significant this event is," Allen said. "All of those guys are my heros -- guys I looked up to. I think that's the most significant thing is the men who have gone before you and coached that you looked up to, and then you're sitting in the top 11 -- that's a really nice accomplishment."
Allen's next win will tie him for 10th all-time in wins in the state of Texas with Gregory-Portland's Ray Akins. Sitting at No. 9 on the list is former Arlington Lamar coach Eddy Peach, who has 309 wins.
"It is a great, great honor and it's something not a whole lot of coaches reach," Highland Park offensive coordinator Grayson Wells said. "You've got to start coaching as a head coach at a young age and you've got to be extremely successful. Coach 30 years and get 10 [wins] a year and that's 300, and that's hard to do. He's done things the right way and we've been fortunate to have some great kids. His formula has been successful."
Wells has worked under Allen his entire career, beginning at Abilene Cooper in 1991, then moving with Allen to Highland Park in 1999. He is evidence of one of the more underrated successes of Allen's career: the Bill Belichick-like ability to train young coaches at the high school level.
Countless coaches who have worked under Allen have moved on to head coaching or coordinating positions at other high schools around the state, including Granbury head coach Scotty Pugh, Grapevine head coach Dave Henigan and Waxahachie defensive coordinator Greg Reed.
"He never took the credit on his own," Reed said. "He directed it to his coaches, both publicly and privately. He's coached so many young coaches, not just players, but there are so many people out there that are successful head coaches or coordinators at 4A and 5A schools."
Beyond the victories he's tallied or the coaches he's mentored, Allen said his main motivation is creating successful husbands, fathers and businessmen through the training tool of football. He's published two books on the subject, -- Coaching by the Book" and "Coaching Character" -- to help teach coaches how to be successful life coaches to their players.
The true measure of a successful career to Allen is not 300 or more wins, but seeing former players return to Highland Park working hard to be the kind of men he coached them to become.
"That is the main thing that has kept me motivated," Allen said.
Most notable of Allen's successful alumni is Detroit Lions quarterback Matthew Stafford, who returned to Highland Park when the Lions were in town last week with a group of his teammates from the Scots' 2005 state championship team.
Allen's first opportunity at notching his historic 300
th
win comes Friday on the road against Richardson J.J. Pearce. If the Scots are victorious, a celebration will be set for halftime of Highland Park's October 21 game at Highlander Stadium where members of the community he has served for 13 years can be a part of the celebration, Highland Park ISD Superintendent Dawson Orr said.
"We're going to jump up and down on that 300
th
win," Orr said. "But in terms of celebrating, it needs to happen in Highlander Stadium."
After the celebration ends, those who know Allen best know nothing will change about the man in the fedora who has shaped the lives and careers of countless players and coaches in Dallas.
No, not Tom Landry, but another Dallas coaching legend -- Randy Allen.
"He's pretty excited about this, I would imagine, but what sets him apart is he's not going to let this define who he is," Reed said. "He's not a football coach that just coaches wins. The winning is important, but he understands the value of his example. This is a big deal and it will be a big deal, but he's not going to let it define him, I don't think."
July, 31, 2011
7/31/11
10:39
PM CT
This week, ESPNDallas.com spotlights five of the top quarterbacks returning to Friday night football in 2011.

BRADY BURGIN
School, class: Highland Park, Sr.
2010 Stats: 126-for-176, 1,945 yards, 15 TDs, 6 INTS

Burgin had the opportunity to get significant playing time at quarterback at Dallas Highland Park as a junior in 2010, splitting time with senior Jake Howeth. For the majority of the season Burgin, a strict pocket passer, would take control of the Scots offense in the second and fourth quarters, only relinquishing his position to Howeth, who was a running threat, during those quarters in short-yardage or high-pressure situations.

Highland Park head coach Randy Allen changed his season-long quarterback strategy when his team fell behind to Mesquite Poteet in the regional round of the 4A Division II playoffs at Cowboys Stadium, leaving Burgin in at quarterback for the entire second half. While Highland Park would go on to lose, that experience gave Burgin a taste of the high-pressure atmosphere he will be more likely to face as the full-time starter this year.

Burgin's biggest asset going into his senior season is the experience he gained splitting time with now-graduated Howeth. That includes developing a connection with his receiving corps, Howeth said, which returns two top pass-catchers from 2010 in Dalton Stogner and William Morris.

"Brady is a great thrower and a really good leader," Howeth said. "The thing I like about him, he's a good leader. He gets the guys together and throws all the time with them. He has a great sense of camaraderie with is receivers."

Beyond the intangibles, Burgin flat out has skill. His ability to sit back in the pocket and manage the traditional Highland Park offense fits right in to Allen's plan for the Scots in 2011.

"He is a good drop-back passer and he runs play action spread-outs very well," Allen said. "He can run the ball, but passing is his strength."

The only question that remains for Burgin in 2011 is how he will preform in pressure situations. While he will no longer have Howeth to help pick up that key first down or short-yardage touchdown, Burgin is not alone. Allen said he worked senior running back Preston Miller at quarterback in a wildcat formation through spring ball, which will give the Scots a Howeth-like threat in short-yardage situations.

Burgin and Highland Park will be thrown into the fire in the first game of the season when they face a very athletic Everman defense at SMU. The Scots' other big test is the first game in October against Wylie's aggressive defense.

As usual, Highland Park will be a very complete team with the ability to maintain a balanced attack that will keep any defense off guard, relieving some of the pressure from Burgin to carry the offense in his first year as a full-time starter.
November, 25, 2010
11/25/10
2:00
PM CT
It has become obvious to Mesquite Poteet fans that head coach Randy Jackson has worked wonders to bring a no-win team from last year to a regional semifinalist in 2010. But Jackson is also receiving credit from two more unlikely sources.
"This maybe be one of the greatest turnarounds in high school football," head coach Mike Overton of district rival West Mesquite said. "When Coach Jackson got the job, I think everyone thought they would have improvement. To do what he's done, if he's not the coach of the year in Texas, then something's wrong."
Both coaches said all of the Mesquite ISD football coaches meet on Thursdays to have lunch and build fellowship among area rivals, and the outpouring of well wishes toward all the Mesquite teams, especially Poteet, has been incredible.
"It does a lot for community spirit when just one of the local teams are in the playoffs, but with three teams advancing this year, individual team loyalties lose its priority and the community pulls for all of its teams," Mesquite deputy city manager Carol Zolnerowich said.
Now Poteet (10-2) faces Highland Park (12-0), one of the area's most successful playoff schools and a team the Pirates have never beaten, in the Region II semifinals of the 4A Division II playoffs. Kickoff is scheduled for 7 p.m. Saturday at Cowboys Stadium.
Highland Park coach Randy Allen had to acknowledge the achievements Poteet has made this season.
"They are a pleasure to watch," Allen said. "They play with great effort and they are so well coached. You can tell they believe in what the coaches are telling them and that they enjoy playing the game. It's every coach's dream to come to a team like that and make a quick turnaround, and they've done a great job of that."
However, Allen has a coach's dream of his own: years of great football players and playoff success.
The Scots' offensive attack is based on a dual-quarterback system featuring runner Jake Howeth and pocket passer Brady Burgin. Burgin leads the team in passing yards with 1,811, while Howeth leads the ground game with 1,199 yards rushing.
"We knew we had a good athlete in Jake who could run and throw and we had a passer in Brady, and we just try to emphasize what they are strong at," Allen said. "They have been unselfish and it has been a good thing for our team."
For the majority of the games this season, Howeth plays the first and third quarters while Burgin plays in the third and fourth quarters. Howeth is also utilized in short-yardage and goal-line situations and has had a very high success rate in picking up those important yards. Allen said Howeth might be the best short-yardage back he's coached.
Poteet relies on the notion that it has a battle-tested defense which has stood its ground against several tough teams, including Hutto and Whitehouse in the first two rounds of the playoffs. Poteet has good senior leadership in a defensive front that will be key in controlling Howeth.
Jackson said he is taking his team out to Cowboys Stadium on Friday to watch West Mesquite play Wylie to help shake the stars out of his players eyes.
While most credit Jackson for the Pirates' turnaround, he credits his players for believing in the system.
"Our seniors from spring to summer have looked us right in the eye and said, 'We'll do whatever you want us to do,'" Jackson said. "Our kids didn't know any better. Whenever we say go, they went. I just can't imagine another group of kids that could come in and do this and play with the people we've played."