February, 2, 2012
2/02/12
2:32
PM CT
By
Randy Jennings
| ESPNDallas.com
NORTH RICHLAND HILLS, Texas -- The makeup changed very little or not at all in four of the area's nine Class 5A districts at Thursday's UIL reclassification and realignment.

*The current District 4-5A (five Arlington schools, Fort Worth Paschal, North Crowley and Weatherford) remained intact but, because of district consolidation in West Texas, changed its number to 3-5A.

That's an agreeable change, said Anthony Criss, football coach at Arlington Sam Houston and former Arlington ISD assistant athletic director.

"It's great for Arlington because it means we stay in the area for first-round playoff games instead of going to West Texas,'' Criss said. "We'd still go west once, but not until the second round.''

*The current District 5-5A retained seven of its eight members in the new District 7-5A: Cedar Hill, DeSoto, Duncanville, Grand Prairie, South Grand Prairie, Mansfield and Mansfield Timberview. The only change is Mansfield Legacy drops down to Class 4A and powerhouse DeSoto takes its place.

"A tough district just got tougher,'' said Grand Prairie coach Gary Bartel.

*In District 9-5A, Dallas Samuell dropped to Class 4A and was replaced by Richardson Pearce, which is moving back up to 5A. The other seven members are unchanged: Dallas Jesuit, Dallas Skyline, Dallas Sunset, Dallas W.T. White, Richardson, Richardson Berkner and Lake Highlands.

"I wasn't sure Jesuit would stay in,'' said Skyline coach Reginald Samples. "In fact, we had agreed to play them in a nondistrict game if they weren't in our district.''

*The seven Garland ISD schools that made up 10-5A in the last realignment are now without McKinney Boyd as they go forward as District 11-5A with this lineup: Garland, Garland Lakeview, Garland Naaman Forest, North Garland, Rowlett, Sachse and South Garland.
November, 4, 2011
11/04/11
11:07
PM CT
RICHARDSON, Texas – A massive gust of wind surely must have pushed across the Metroplex around 10 p.m. Friday night originating from Lake Highlands.
The gust was from the entire community letting out a sigh of relief after the Wildcats slipped into the playoffs with a 21-14 win over Richardson at Eagle-Mustang Stadium.
The first person to let out a breath after holding it for a week in anticipation of this win-and-you're-in matchup was Lake Highlands coach Scott Smith.
[+] Enlarge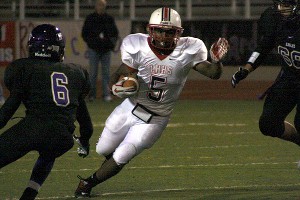 Travis L. Brown/ESPNDallas.comJacobi Johnson, playing in place of the injured starting running back, scored two of Lake Highlands' three touchdowns against Richardson.
"Yes, yes we can [finally breath]," Smith said with a big grin. "Our kids worked our tails off this week and pulled out all the stops."
Lake Highlands running back Jacobi Johnson was unexpectedly thrust into the role as the feature back in the team's most critical game of the season after starter DeVonte Sunwenghan was sidelined with an injury.
Johnson scored two of the Wildcats three touchdowns on the night, racking up over 170 yards rushing.
"He was a guy coming into the season that we knew he had the capabilities of doing what he did tonight," Smith said. "A lot of times, because of our offense and how we move it around so much, he didn't get as many touches sometimes during the week that he wanted. Tonight he had to. Tonight was his night and he had a great night."
It was Smith's 5-yard run with seven minutes left that would be enough to send the Wildcats to the playoffs for the fourth straight season.
"It feels great to know that you can carry the team with the star player being hurt," Johnson said. "This week, with grades coming in and everyone having to pass and this game, it's just been tough."
Lake Highlands' defense also came up big, stopping speedy Richardson quarterback Parker Smith on a fourth-and-1 try deep in Lake Highlands' territory.
Lake Highlands (5-5, 4-3 District 9-5A) will face Rowlett, the top Division II seed from District 10-5A, in a bi-district playoff game at 7:30 p.m. Friday at Homer B. Johnson Stadium in Garland. Richardson's season ends at 5-5 overall and 3-4 in 9-5A.
Smith said Rowlett is not unlike many teams the Wildcats have faced this year, but has talent spread all over the field.
Smith said they are "counting on" Sunwenghan being available for the bi-district matchup.
"We've got our work cut out for us," Smith said. "We are going to enjoy this tonight but tomorrow morning we'll be back at it to see what we can bring to the plate for Rowlett."
November, 2, 2011
11/02/11
7:05
PM CT

DALLAS LAKE HIGHLANDS (4-5, 3-3 9-5A) AT RICHARDSON (5-4, 3-3)
7:30 p.m. Friday at Richardson's Eagle-Mustang Stadium

When we saw them last: Lake Highlands fell to undefeated District 9-5A champion Skyline, 37-0. Skyline held Lake Highlands to 150 yards of total offense. Richardson handled 2-4 W.T. White, 59-39.

2010 result: Lake Highlands edged Richardson by a field goal, 17-14. The win gave Lake Highlands the No. 2 spot in the district, and despite the loss, Richardson still made the playoffs with the last seed.

What's at stake: Win and you're in. The winner of this game will claim the last District 9-5A playoff spot and the other will have its season come to an abrupt end.

Key matchup: Which offense will show up ready for the playoffs a week early. Lake Highlands' offense is centered around running back DeVonte Sunwenghan. Stop him and Richardson has a good chance to outscore Lake Highlands with a very similar run game and short-yardage passing game.

Players to watch: Richardson's all purpose offensive standout is quarterback Parker Smith, who leads the team in both passing yards and rushing yards. Lake Highlands starts Michael Ketchmark under center, but will bring in athlete Trent Jones to change up the pace in the run attack.

Prediction: Richardson can't find a way to stop Sunwenghan, and Lake Highlands sneaks into the playoffs, 24-17.
August, 22, 2011
8/22/11
12:01
AM CT
DISTRICT 9-5A
Richardson Berkner (4-6, 3-4). Coach: Jim Ledford

Dallas Jesuit (6-5, 5-2), lost in DII bi-district. Coach: Brandon Hickman

Dallas Lake Highlands (7-4, 6-1), lost in DII bi-district. Coach Scott Smith

Richardson (7-4, 4-3), lost in DI bi-district. Coach: Brian Chandler

Dallas Samuell (3-7, 1-6). Coach: Steve Pierce

Dallas Skyline (9-3, 7-0), lost in DI area. Coach: Reginald Samples

Dallas Sunset (1-9, 0-7). Coach: Dennis McAdams

Dallas W. T. White (4-6, 2-5). Coach: Eric Ezar
THE BIG QUESTION: Can Jesuit challenge Skyline for the district title?
[+] Enlarge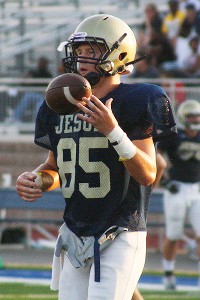 Travis L. Brown/ESPN.comReceiver Jake Oliver is a weapon for Dallas Jesuit, but the Rangers need to find a new quarterback to get him the ball.
Dallas Jesuit enters the 2011 season with a new stadium, a new coach, the returning district offensive player of the year and the best shot at giving Dallas Skyline a run at the district championship.
But is that enough?
Jesuit still must find a starting quarterback, between Jake Brezette and Brian Buell, to feed WR Jake Oliver, 2010 offensive player of the year for District 9-5A. While they keep the same offense, the Rangers are switching to a 4-2-5 defense to combat the spread offenses most of the district runs.
Skyline boasts one of the most talented rosters in the area and should have no problem with the rest of District 9-5A.
If all the pieces fall together neatly for Jesuit, the Oct. 7 game against Skyline could be circled as the district championship game.
PLAYERS TO WATCH
DB Trey Caldwell, DL De'Shon Purtue, Berkner; WR Jake Oliver, DT Akuda Esin, RB Christian Franz, Jesuit; WR Devonte Sunwenghan, QB Michael Ketchmark, Lake Highlands; RB Derrick Jackson, RB Devante Branch, RB Cameron Booty, Richardson; DT Darian Allen, RB Devontrae Smith, Samuell; LB Peter Jenkins, WR Thomas Johnson, QB Devonte Kincade, Skyline; LB Simon Ochoa, Sunset; ATH Donald Snow, W.T. White.
DID YOU KNOW?
After head coach Brent Whitson left for South Grand Prairie, Richardson looked within district 9-5A for his replacement, hiring former Lake Highlands offensive coordinator Brian Chandler. … After running a two-quarterback system for part of 2010, Lake Highlands head coach Scott Smith has settled on Michael Ketchmark as the starter. ... Berkner fell just short of the playoffs in 2010 for just the second time in eight years.
PROJECTED PLAYOFF TEAMS
Skyline

Jesuit

Lake Highlands

Berkner
March, 2, 2011
3/02/11
5:09
PM CT
By
Randy Jennings
| ESPNDallas.com
Brent Whitson, 49, will be named South Grand Prairie head football coach/campus athletic coordinator, according to a source with knowledge of the situation.

The only remaining hurdle is approval by the Grand Prairie ISD Board of Trustees, and that could come at its meeting Thursday evening.

Whitson spent the last four seasons at Richardson High, where he turned around a struggling program. The Eagles reached the playoffs each of the last two seasons, ending a playoff drought of 17 seasons in the proces. His record at Richardson was 18-24, including an 0-10 mark his first year.

The majority of Whitson's career was spent north of the Red River. In 2003, he coached Shawnee, Okla., to a Class 5A state title. He had other Oklahoma coaching stops in Broken Arrow, Ardmore and Weatherford.

Whitson will become the fifth head football coach in South Grand Prairie's 42-year-history, replacing Robert Davies, who learned in January that his contract was not going to be renewed after three seasons.
February, 16, 2011
2/16/11
4:17
PM CT
Although district play wrapped up Tuesday for boys basketball, three playoff spots remain unsettled.

In District 7-5A, Justin Northwest and Keller Fossil Ridge finished in a tie for fourth place after splitting their regular-season series. The two teams will play a play-in game at 7:30 p.m. on Friday at Keller Central.

Fossil Ridge forced a play-in game by beating Northwest, 66-58, in the regular-season finale on Tuesday.

The Panthers won their last three games to get into playoff positioning, including a 52-50 upset of Southlake Carroll to get the run started.

In District 9-5A, Richardson and Lake Highlands finished in a tie for fourth after Richardson beat Lake Highlands, 59-53, on Tuesday.

Richardson won three of its last four to force the play-in game. Conversely, Lake Highlands has lost four straight games. The two will play at 7 p.m. on Friday at Richardson Berkner.

Whichever teams win these two games won't have much time to celebrate.

The winner between Northwest and Fossil Ridge will play Flower Mound Marcus, No. 1 in the ESPNDallas.com Class 5A area rankings.

The winner between Richardson and Lake Highlands will open the playoffs against No. 2 Garland Lakeview Centennial.

In District 9-4A, Carrollton Creekview failed to clinch the last playoff spot by losing to Frisco Centennial, 48-45, on Tuesday. Frisco Liberty won three of its last four to pull even with Creekview in fourth place.

The Creekview-Liberty play-in game will be 7 p.m. Friday at Frisco Lone Star.
February, 10, 2011
2/10/11
2:41
PM CT
Richardson Berkner looked to be in position to win the District 9-5A title heading into this week.

Richardson's upset win over the Rams changed that.

Brandon Scott's bucket in the waning seconds gave Richardson (13-15, 6-5) a 56-54 win over Berkner (22-8, 10-1) on Tuesday, giving life to Richardson's playoff hopes and putting Berkner's first-place status in jeopardy.

Berkner now has a two-game lead on Lake Highlands (18-10, 8-3) and Dallas Jesuit (14-14, 8-3) with three games left in the season. Berkner hosts Lake Highlands on Thursday night.

The win pulled Richardson into a tie for fourth place with Dallas Skyline (14-11, 6-5). The two teams split its season series.

Despite the stumble, Berkner can win the 9-5A title outright, even if it loses to Lake Highlands on Thursday. Its final two games are against Dallas Sunset and Dallas Samuell – the bottom two teams in the district.

Lake Highlands and Jesuit would need to win out and have one of the bottom feeders to beat Berkner to pull into a tie for first.
December, 30, 2010
12/30/10
8:19
AM CT
No. 3 Dallas Kimball handed No. 1 Dallas Lincoln its first loss of the season and took the championship in the DISD/Coca-Cola Tournament on Wednesday.
Kimball's Austin Franklin floated a 10-foot shot with 1.3 seconds remaining on the clock to clinch the victory and the title.
Lincoln lead at the half 40-30, but foul trouble plagued Lincoln star LeBryan Nash, forcing him to the bench for the majority of the third quarter. Nash would later foul out with 40 seconds remaining in the game.
Nash lead all scorers with 34 points, but Kimball's Jordan Williams was the tournament MVP after scoring a team-high 30.
Other scores:
Boys Third Place: No. 3 DeSoto 74, No. 10 Richardson Berkner 66
DeSoto's Antwan Space was his squad's high scorer with 20. He was also an all-tournament team selection
Berkner's Jordan Mickey led the Rams with 18 points. Sophomore guard Kendal Harris was the all-tournament selection for Berkner.
Berkner led at the half, 36-28.
Consolation Championship: Lancaster 81, 4A No. 6 Dallas Woodrow Wilson 73
Girls Championship: 5A No. 3 DeSoto 63, 4A No. 1 Frisco Wakeland 45
DeSoto's Chelsea Gardner led all scorers with 16 points. She was followed by Bryce Owens and Cha'zaye Wright, both with 14.
Wakeland had two in double digits: Bria Platenburg (12), Terrionne Barrett (11).
DeSoto's Jordan Jones was the tournament MVP.
Third Place: 4A No. 9 Lincoln 63, 5A No. 4 Skyline 59
Lincoln's Breanna Hayden was the Tiger's all-tournament selection and led her team with 25 points.
Skyline's leading scorer, Krystal Barrett, was also her team's all-tournament selection and finished the game with 28 points.
Consolation Championship: Richardson 49, 4A No. 7 Lancaster31
September, 28, 2010
9/28/10
5:54
PM CT
Things are starting to come together for Richardson under fourth-year head coach Brent Whitson.
[+] Enlarge
Travis L. Brown for ESPN.comJordan Booty has rushed for 588 yards and eight touchdowns in four games for unbeaten Richardson.
Richardson went 0-10 in 2006 and 2007. But the freshmen on the 2007 team, Whitson's first at the school, are now seniors. The upperclassmen know Whitson's system and what's expected of them.
"They begin to finish your sentences for you when you're correcting them while coaching them," Whitson said of his players. "You get to the point where these kids haven't been coached by anybody else, so they do things our way."
The result: A perfect 4-0 record heading into a crucial District 9-5A matchup against Dallas Skyline (2-2, 1-0 in 9-5A) on Friday at Forester Stadium.
Although Skyline has struggled on offense in 2010, the Raiders will be the toughest team Richardson has faced this season by far. Two of Richardson's wins have come against 4A teams in Frisco Centennial (31-21) and Richardson Pearce (44-42), and Centennial has struggled at the 4A level in recent years.
Still, Richardson (1-0 in 9-5A) has been impressive, particularly its running game. Running back Jordan Booty is one of the area's top 5A runners with 588 yards and eight touchdowns. QB/WR Torrance Carr has 341 yards and five touchdowns on the ground.
September, 11, 2010
9/11/10
2:04
AM CT
Richardson defeated Richardson Pearce, 44-42, on Friday as Week 2 action continued.
Click here
to follow scores from Thursday and Friday.
August, 22, 2010
8/22/10
11:31
PM CT
DISTRICT 9-5A
Richardson Berkner (6-5, 4-3 in 9-5A) lost in bi-district. Coach: Jim Ledford

Dallas Jesuit (4-6, 2-4 in 8-5A). Coach: Bob Wunderlick

Dallas Lake Highlands (9-3, 6-1 in 9-5A) lost in DII area. Coach: Scott Smith

Richardson (6-5, 4-3 in 9-5A) lost in DII bi-district. Coach: Brent Whitson

Dallas Samuel (6-4, 4-2 in 12-4A) lost in DI bi-district. Coach: Steve Pierce

Dallas Skyline (12-1, 7-0 in 9-5A) lost in DI regional semifinals. Coach: Reginald Samples

Dallas Sunset (0-10, 0-7 in 9-5A). Coach: Dennis McAdams

Dallas W. T. White (4-6, 2-4 in 9-5A). Coach: Eric Ezar
[+] Enlarge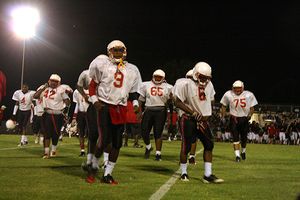 Travis L. Brown for ESPN.comDallas Skyline reloads after going unbeaten in district play last season and reaching the regional semifinals.
THE BIG QUESTION: Will offensive question marks prevent Lake Highlands from keeping up with Skyline?
Nothing slows down preseason preparations like a quarterback controversy, and Lake Highlands is faced with one to the highest degree.
After losing Rickey Zorn, coach Scott Smith is faced with choosing between Trent Jones and Michael Ketchmark, both sophomores. Smith said both of his potential starters took varsity snaps last season, so experience is not as much of a concern.
However, to throw a wrench in things, both quarterbacks were ineffective in their scrimmage Friday against South Garland, unable to start any momentum on offense. Jones was able to move the chains a few times with his feet, scrambling out of the pocket and running the option.
The hole at quarterback will provide a better opportunity for returning running back
Desmond Roland
to shine.
On the other hand, Skyline's new quarterback, sophomore Devante Kincade, was sharp in Friday night's scrimmage against North Garland, laying the ball in the arms of his speedy receivers on vertical routes three times, one for a touchdown. North Garland head coach James Farris said he believed Kincade was ready to make big plays this season.
PLAYERS TO WATCH
Skyline linebacker
Anthony Wallace
is ESPNDallas.com's No. 4 prospect in the area and No. 150 on
ESPNU's Top 150 prospects
. … Lake Highlands running back Desmond Roland is not only a threat on the ground, but through the air, tallying 1,240 yards receiving last season. … Berkner quarterback Aric Stock threw for 1151 yards and rushed for 752 yards last season. … Berkner wide receiver Spencer Edmonds had 17 receptions for 410 yards in 2009.
DID YOU KNOW?
Skyline is traveling to Florida next week to take on Glades Central High School. The Raiders will turn around and play another Florida school, St. Thomas Aquinas, at Cowboys Stadium the next week. St. Thomas Aquinas is ranked No. 23 on the ESPN Rise FAB 50.
PROJECTED PLAYOFF TEAMS
Dallas Skyline

Dallas Jesuit

Dallas Lake Highlands

Richardson Berkner
May, 17, 2010
5/17/10
4:05
PM CT
By
Randy Jennings
| ESPNDallas.com
A third straight Class 4A boys state title is just further evidence that the high school track and field capital of Texas just might be Lancaster.

The Tigers have now won five boys state titles since 2003. The girls team, state runner-up for the second straight year, had a string of eight straight state titles from 2001-2008.

"I've got the best track job in the nation,'' said boys coach Greg Williams. "We've truly been blessed. If you look at the girls and boys programs combined, I think we'd be up there close to the top.''

Williams said he has followed the very successful lead of Lady Tigers' coach Beverly Humphrey, for whom the campus stadium is named, in getting the program going.

The coach also gives credit to his assistant coaches and to football head coach Andrew Jackson for his emphasis on the track program.

With senior hurdlers Tyler Stephenson and Kendall Hayes leading the way, Lancaster scored 72 points in the 4A state meet Friday in Austin, 34 more than second-place Angleton.

Stephenson, a Baylor football signee, won both hurdle races. Hayes, who has signed a football scholarship with Louisiana Tech, was second in the 110s and fourth in the 300s. Both hope to mix track with football in college.

Freshman Devin Fields, who according to Williams has a future in the hurdles once room opens up next year, got Lancaster started with a win the long jump.

It wasn't a perfect spring leading up to the state meet for the Tigers by any means. They were nagged by injuries. Williams said it wasn't until the state meet that the team was fully healthy.

Lancaster also had to overcome a poor first day at the Region II meet.

"We weren't in good position going to the final day and we knew we had to do a lot better,'' Williams said. "Everything clicked that last day and it had to for us to have a shot at state.''

Although Williams is bidding farewell to a strong group of seniors, he said a fourth state title is not out of the question. There's a core of returning experience on the relays.

Lancaster can count on tradition as an ally, too.

*The Skyline girls won their third straight class 5A team title and their sixth since 2002, on Saturday.

*DeSoto was runner-up in the 5A girls and boys division.

* Richardson was fourth in the 5A boys division.

*Dallas Gateway won the Class A girls team title.