July, 27, 2011
7/27/11
12:01
AM CT
ARLINGTON, Texas – Winning two state championships should be a perfect way to end a high school football career. That just wasn't enough for former Aledo cornerback Rylan Riney.
Riney returned to his home in the Metroplex as the low man in College Station, working hard for a walk-on spot for Texas A&M, to become the defensive MVP of the Texas High School Coaches Association All-Star football game in a 38-14 North squad win.
[+] Enlarge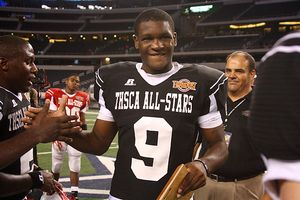 Travis L. Brown for ESPN.comFort Worth Arlington Heights' Marquis Jackson, who is headed for Kansas, scored to touchdowns to win offensive MVP honors.
Riney made his mark on the game with eight minutes left in the fourth, returning an interception 27 yards for a score.
"Just getting that interception – my eyes were wide and just getting that feeling back and putting the pads on - is unbelievable," Riney said.
Riney sat back in coverage when he noticed an open South All-Star the near the sideline. He jumped the route just in time to snag the pass and return it untouched into the end zone. The defensive score came on the first South play after a North offensive touchdown.
"It was crazy," Riney said. "I could replay it over and over. It's something I'm going to remember forever."
Riney also added three tackles and one pass break up to help secure the MVP honor, which he said he will framed to show it off to his new teammates at A&M.
On the offensive side of the ball, former Fort Worth Arlington Heights wide receiver Marquis Jackson will be able to take the offensive MVP plaque all the way to Kansas when he begins playing for the Jayhawks in the fall.
Jackson began the game with a bang, scoring a 96-yard touchdown off the opening kickoff. The return was just shy of the record for the THSCA All-Star game set by Livingston's Dustin Harris in 2009 on a 99-yard return.
"I saw the hole and I saw one dude come out and I thought, 'If I could beat this dude, I'm going to go to the house,'" Jackson said.
Jackson added 57 yards receiving, including a 35-yard TD completion from former Highland Park quarterback Jake Howeth in the second. Jackson went up to pull in the pass off a post route behind the South defense.
An offensive MVP showing was a sweet ending to Jackson's senior year after being bumped from the playoffs in the first round.
"I felt like I had to prove myself in many ways because I left losing in the first round of the playoffs so I felt like I had to come back and prove myself," Jackson said.
July, 26, 2011
7/26/11
10:24
PM CT
ARLINGTON, Texas -- Area players felt right at home during the Texas High School Coaches Association All-Star football game, accounting for all every score for the North in a 38-14 victory.

* Fort Worth Arlington Heights' Marquis Jackson made a very early statement, returning the opening kickoff 96 yards for six. Jackson's return was just 3 yards short of the longest return in the history of the All-Star game, set by Livingston's Dustin Harris in 2009. Jackson, a Kansas recruit, was the offensive MVP of the game.

* Euless Trinity's Tyler Orwig kept the area scoring streak going with a 30-yard field goal with 5:08 left in the first to give the North a 10-0 lead.

* Dallas Woodrow Wilson LB Chad Polk swarmed with the North defense, keeping the South All-Stars off the board in the first quarter. He contributed with two tackles for loss in the opening frame and finished the game with four tackles. Polk almost pulled in an interception

* Highland Park's Jake Howeth looks like he was able to shake the rust off his football throw after focusing on baseball, connecting with Jackson for a 38-yard gain on his first play of the game. He would then show some of his running flair, converting a fourth-and-1 on a quarterback keeper and completing the drive by keeping a read option for the score, widening the North's lead in the second to 17-0 after the PAT. Howeth would connect again with Granbury wide reciever Tyler Wright on an 18-yard fade in the back of the end zone early in the fourth.

* Former Aledo cornerback Rylan Riney had a quiet first half but kept the scoreboard rolling in the second, taking a interception 27 yard into the end zone. That score combined with a few tipped passes earned him the defensive MVP award.

* Frisco Liberty's Malcolm Hill pulled in a 45-yard touchdown pass in the third for the North's other score.
July, 26, 2011
7/26/11
10:00
AM CT
FORT WORTH, Texas – Just a few weeks ago, former Flower Mound Marcus running back Rufus Mason was already at a summer camp at Trinity Valley Junior College, where he will play football in the fall, with the glory of a 2028-yard high school senior season behind him.

Summer conditioning quickly turned into training again for full-contact football when Mason received a text message that said he had really great news.

That great news was that Mason had been selected as a fill-in for the Texas High School Coaches Association football All-Star Game on Tuesday at Cowboys Stadium.

"It's an honor just to be selected in the All-Star Game," he said. "It's a great feeling. I was happy to just be nominated and be a late selection. I'm glad I'm here and hopefully I can prove to the people that are watching that I deserve to be here."

Mason said his high school coach, Bryan Erwin, was very actively involved with promoting Mason to the selection committee that included coaches Joe McBride from Coppell and Rodney Webb from Mesquite Horn.

Webb, the committeeman in charge of selecting 5A players to the North squad, said Mason has had an extra spark in the practices leading up to the game, which made him very interested to see what the power back will do in Cowboys Stadium.

"He's obviously a guy we missed on a little bit because from day one he's been one of the most impressive guys out there," Webb said. "We've really enjoyed watching him."

Before Mason was even ready to grasp the idea of playing in an NFL stadium, he had to get past the excitement from practicing on an NCAA Division I field at TCU and, of course, the endless amount of food available to the players in the TCU cafeteria.

When Mason hits the field Tuesday night, he said he'll reach a whole new level of excitement that won't compare to a college practice and a full stomach.

"I just want to put on a show," Mason said.

Notes:

* Former Denton Ryan running back and A&M Commerce commit Kaylon Alexander will not play Tuesday due to health issues involving his kidneys. Alexander said he became very dehydrated during practices leading up to the All-Star game and was taken to the hospital to get IVs, but would find out through blood work that his kidneys were not functioning properly. Both Alexander and McBride said with a few days rest Alexander would be healthy again and ready to start practices in Commerce.

* Former Aledo cornerback Rylan Riney is getting a chance to be a big man on the football field again after spending time since May gaining a spot as a preferred walk on at Texas A&M. Riney said he will play safety for the Aggies, joining a standout running back with the same last name, DeSoto's Cyrus Gray.

"Just to be down there with those group of guys, it's going to be a great year for that team and I'm looking forward to help out however I can," Riney said.