February, 13, 2012
2/13/12
7:31
PM CT
COPPELL, Texas -- Plano West, No. 3 in the ESPNDallas.com Class 5A area girls basketball rankings, roared to a 73-12 blowout of Saginaw on Monday in a bi-district playoff game game.
[+] Enlarge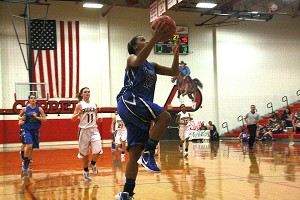 Travis L. Brown/ESPNDallas.comDevri Owens and Plano West completely dominated Saginaw in a playoff opener.
The Wolves' dominance included a 34-0 run at Coppell High School that lasted most of the second half.
Plano West's 1-2-2 trap press forced turnover after turnover in the first half, but it was called off by coach Don Patterson in the second half.
"The girls were moving well," Patterson said. "[Saginaw players] were a little tentative, and anytime you're tentative against a press, it helps you a little bit."
Saginaw (18-12) managed seven points in the first half and wouldn't score in the second half until there was just over two minutes left in the game.
Allison Staley led West (33-2) in scoring with 12 points. Every player on West's roster scored.
"Everybody got to play and got some good minutes and didn't get any injuries, so that's a good thing now," Patterson said.
West advances to play the winner of the Cedar Hill-Richland bi-district game.
"They know who's coming up and they do a great job of focusing on what they need to do," Patterson said.
February, 2, 2012
2/02/12
3:33
PM CT
By
Randy Jennings
| ESPNDallas.com
NORTH RICHLAND HILLS, Texas - Breaking up wasn't all that traumatic for the 10 Fort Worth ISD schools that constituted District 6-4A in the last alignment. It has been six years since at least 10 Fort Worth 4A schools weren't crammed into one district.

The new District 6-4A will contain five Fort Worth ISD schools: Carter-Riverside, Dunbar, Eastern Hills, North Side and Polytechnic. They will be joined by Birdville the three Eagle Mountain-Saginaw ISD schools -- Saginaw, Fort Worth Boswell and Fort Worth Chisholm Trail -- to form a nine-team district.

Six Fort Worth teams will move to District 7-4A: Arlington Heights, South Hills, Southwest, Trimble Tech, Western Hills and O.D. Wyatt. They will be joined by Aledo and Granbury to form an eight-team district.

Wyatt football coach Zachary Criss is not sad to see the change.

"With nine district games, you have only one nondistrict game,'' Criss said. "You have to be careful about scheduling because you don't want to play somebody tough with the district opener the following week. The old district didn't help teams get ready for the playoffs because you could go three or four weeks without real competition. That's not good.''

With one of his extra nondistrict games, Criss has scheduled Arlington Sam Houston, coached by older brother Anthony Criss, for Zero Week.

Anthony and Zachary say "Criss Bowl'' does not do the game justice.

"Criss Extravaganza,'' they say, is more like it.
August, 18, 2011
8/18/11
12:01
AM CT
DISTRICT 7-5A
Coppell (13-1, 7-0), lost in DI regional finals. Coach: Joe McBride.
Denton Guyer (13-3, 6-1), lost in 5A DII state title game. Coach: John Walsh.
Justin Northwest (4-7, 3-4), lost in DI bi-district. Coach: Bill Patterson.
Keller (3-7, 2-5). Coach: Kevin Atkinson.
Keller Central (5-5, 3-4). Coach: Bart Helsley.
Keller Fossil Ridge (2-8, 2-5). Coach: Tony Baccarini.
Saginaw (0-10, 0-7). Coach: Mike Peters.
Southlake Carroll (10-4, 5-2) lost in DII regional finals. Coach: Hal Wasson.
THE BIG QUESTION: Can Denton Guyer reload after graduating so many leaders?
Denton Guyer won one game in its first two years of varsity play. That was before the class of 2011 made its impact.
Led by QB
J.W. Walsh
, the outgoing seniors had Guyer competing for a state title on both the 4A and 5A levels for three years. Now that they're gone, observers are justifiably skeptical of Guyer's ability to reload.
But the notoriously confident Wildcats have no doubts. Coach John Walsh has built a program that he believes will contend for years to come, with a little help from a talent pool in the city of Denton that has produced an annual title contender in Denton Ryan.
The 2011 season will go a long way toward projecting Guyer's long-term outlook. With just seven starters returning from a team
that came a scoring drive short of winning the 5A Division II title
, the Wildcats need their next group of leaders to emerge.
Sophomore Jerrod Heard takes over for J.W. Walsh under center. While he certainly won't have the symbiotic relationship with Guyer's offense that the head coach's son had, Heard may be an even better athlete.
And plenty of Division I talent returns to help him. WR
Conner Crane
, a Stanford commit, gives Heard a top-flight target. Sebastian Williams leads a deep group of RBs. And Guyer's defensive front should be as nasty as ever with DE
Dan Kottman
, LB
Dominic Ramacher
and DT Cody Hennessee returning.
PLAYERS TO WATCH
QB
Jake Larson
, RB Gavin McDaniel, DB
David Busby
, Coppell; WR
Allen Young
, QB Draze Lawliss, DL Dominic Stewart, Justin Northwest; LB
Chandler Watkins
, QB Davis Webb, WR Cameron Martin, Keller; OL
Simon Goines
, DB Zach Sanchez, QB Tanner Tausch, Keller Central; DT Aaron Curry, QB Sheldon Nuese, WR Adonis Ramos, Keller Fossil Ridge; QB Kyle Webb, WR Eddie Nuno, OL Peter Lopez, Saginaw; QB Kenny Hill, LB
Will Davis
, WR
Peyton Williams
, Southlake Carroll.
DID YOU KNOW?
Head coach Bill Patterson guided Northwest to the playoffs just one year after the team went winless. ... Saginaw didn't fare as well as Guyer did in its first year in 5A. The Roughriders didn't win a game in 2010. ... Guyer wasn't the only Denton team to lose in a state title game.
Denton Ryan fell to Austin Lake Travis in 4A DI.
PROJECTED PLAYOFF TEAMS
Southlake Carroll
Coppell
Denton Guyer
Justin Northwest
January, 12, 2011
1/12/11
7:25
PM CT
There are plenty of contenders for the District 7-5A title, but a favorite has yet to emerge.

Coppell (17-6), Keller Fossil Ridge (13-6) and Southlake Carroll (13-8) are tied for first with a 3-1 district record, with Justin Northwest (18-5) and Keller Central (12-11) a game back at at 2-2.

The logjam at the top was created in part by struggling teams at the bottom. Keller, Saginaw and Denton Guyer have combined for just two district wins.

If not for a blown lead against Carroll, Coppell would be in sole possession of first, having beaten Fossil Ridge and Northwest. Northwest knocked Coppell out of the playoffs in 2010.

Northwest beat Carroll but fell out of a tie for first after a 50-32 loss to Central on Tuesday.

Carroll and Fossil Ridge look like strong contenders to return to the playoffs after missing out on the postseason in 2010.

Carroll is getting it done with defense, giving up just 51 points per game. Guard William Brown leads the Dragons in scoring with 15 points and 6.5 rebounds per game. Max Berman averages 12 points per game, while Grant Jolly adds 10 points and 6.6 rebounds per game.

Coppell hosts Keller Central on Friday, Northwest hosts Saginaw, Carroll hosts Guyer and Fossil Ridge hosts Keller.