April, 28, 2012
4/28/12
8:48
PM CT
Ron Brooks
was drafted Saturday as the 124th overall pick by the
Buffalo Bills
as a cornerback, a position he has played for only three seasons.
Brooks was recruited by LSU out of Irving MacArthur as a wide receiver after spending the majority of his snaps at quarterback in high school.
"He was just a step quicker than anyone else on the field," MacArthur coach Brian Basil said. "He played quarterback for us his senior year because we wanted the ball touching his hands every snap, but the main thing that separated him at the high school level was his speed and his level of toughness."
Brooks made the shift over to cornerback his sophomore year at LSU, which Basil believes is proof of his devotion to the game -- one of his many intangibles.
"He understood that whatever it took to get him on the field he would do it," Basil said. "That's why when he went to LSU, he was receptive to play defense and on special teams. Those intangibles are what allowed him to make it to this level."
Brooks played in 53 games at LSU, finishing with 90 tackles and 5.5 sacks. All three interceptions Brooks pulled in were returned for touchdowns.
"For him, I think wherever he had an opportunity to play would be a great fit." Basil said. "To play at that level is a dream come true and I bet he's thrilled to death and we're thrilled for him."
Redskins pick Plano East/UT linebacker
The Redskins picked up the athlete that "could do it all" for Plano East coach Johnny Ringo.
Keenan Robinson
was selected as the 119th overall pick as a linebacker out of Texas, the fourth player to make it to the pro level out of Plano East.
"He was a tremendous leader for us and played both ways," Ringo said. "He's just a kid that could do it all. He was a great track athlete and had to give up basketball. He was a tremendous player for us and will be a tremendous representative of Plano East in the NFL."
Robinson hit Twitter immediately after his selection, affirming his excitement with the team that selected him.
"God is Good… Im right where I needa be," Robinson tweeted, followed by, "Oo whats up Washington… Im glad to be a Redskin #NoQuestion."
Robinson started in 39 games for the Longhorns, tallying 317 tackles and 4.4 sacks.
He joins other standouts from the state of Texas in Baylor quarterback
Robert Griffin
III and Richardson Berkner/SMU lineman
Josh LeRibeus
as a part of the Redskins' draft class.
Other area draftees:
Josh LeRibeus (OG, Richardson Berkner/SMU):
Selected 71st overall by the Redskins.
Jamell Fleming (CB, Arlington Seguin/Oklahoma):
Selected 80th overall by the Cardinals.
First player drafted from Arlington Seguin to be drafted.
Chris Givens (WR, Wylie/Wake Forest):
Selected as the first pick of the fourth round, 96th overall, by the Rams.
Taylor Thompson (DE/TE, Prosper/SMU):
Selected 145th overall by the Titans.
Cyrus Gray (RB, DeSoto/Texas A&M):
Selected 182
nd
overall by the Chiefs.
James Hanna (TE, Flower Mound/Oklahoma):
Selected 186th overall by the Cowboys.
Robert T. Griffin (OG, Euless Trinity/Baylor):
Selected 203rd overall by the Jets.
Emmanuel Acho (LB, Dallas St. Mark's/Texas):
Selected 204th overall by the Browns.
Greg McCoy (DB/KR, Dallas Woodrow Wilson/TCU):
Selected 220th overall by the Bears.
April, 27, 2012
4/27/12
10:58
PM CT
Former Richardson Berkner and SMU offensive guard
Josh LeRibeus
was the first Metroplex-native player picked in the 2012 NFL draft, selected by the
Washington Redskins
as the eighth pick of the third round (71
st
overall).
Berkner coach Jim Ledford said he was very pleased with his former player's new team, especially after the Redskins selected 2012 Heisman Trophy winner
Robert Griffin
III.
"What a great opportunity with RGIII," Ledford said. "What [LeRibeus] does best is pull and they'll run a lot of boots and things like that with [Mike] Shanahan stuff and that's what Josh is really good at."
Ledford watched LeRibeus' selection with the player and his family Friday night and said he believed the lineman would go 74
th
overall to Kansas City. However, Ledford said he had no doubt Washington selected LeRibeus for his ability to pull and protect a mobile quarterback.
LeRibeus was key in Berkner's 12-0 season in 2006 after moving from guard to tackle to tight end throughout the season.
"Josh was a dominating player from his junior high years all the way through all his high school years," Ledford said.
LeRibeus spent five years at SMU after graduating from Berkner in 2007, where he averaged six pancake blocks per game in his senior season.
After a redshirt season for the Mustangs in 2007, LeRibeus saw action in his freshman year and took over a starting position in 2009, where he was named honorable mention All-C-USA as a sophomore.
SMU has not seen a player drafted as high as LeRibeus since the death penalty, when Ron Morris (54
th
overall) and Jerry Ball were selected in the second and third rounds of the draft.
LeRibeus became the second-highest drafted player in Berkner history, behind defensive back Aqib Talib who was picked 20
th
overall by the
Tampa Bay Buccaneers
in the first round of the 2008 draft.
Former Arlington Seguin/Oklahoma DB goes to Cardinals
Also getting the call in the third round was cornerback
Jamell Fleming
as the 80
th
pick overall to the
Arizona Cardinals
.
Fleming took to twitter after the announcement of his selection on the handle @JamellFleming, tweeting a picture of himself in a Cardinal red shirt.
"I got my team color on! Let's go Cardinals!" Fleming said via twitter.
Fleming started in all of OU's games his junior and senior seasons, racking up 60 total tackles his senior season with two interceptions and two fumble recoveries.
He was selected as a first team All-Big 12 player in 2011, with a highlight 56-yard scoop-and-score against Texas for his second career touchdown.
February, 1, 2012
2/01/12
8:15
PM CT
DALLAS – Nick Rose knew so little about the sport of football just over two years ago, he couldn't define a hash mark.
Yet in two years time, the Highland Park senior is in the running to be the next starting kicker at the University of Texas.
[+] Enlarge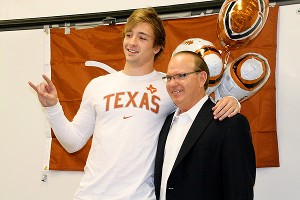 Travis L. Brown/ESPNDallas.comHighland Park kicker Nick Rose committed to Texas on national signing day.
Wednesday, Rose gave his commitment to the Longhorns during the school's national signing day ceremony inside Highlander Stadium.
Rose grew up a soccer player in Copperas Cove. When he moved with his family to Highland Park before his junior year, Rose thought he'd try football, which became a vehicle to college athletics.
"I was just trying to meet people and I figured I could kick a football well, so I walked out on the field and didn't know what to do – didn't even know what a hash mark was or any of that," Rose said. "Time went on and the coaches liked how I could kick. My first kickoff went out of the end zone and I realized I had a knack for kickoffs. I don't know how or why."
Technically, Rose did not sign a letter of intent, as was the procedure of most recruits across the country Wednesday. He made a public commitment to follow a plan Texas laid out for Rose, beginning as a preferred walk-on for the Longhorns.
Rose will have his tuition paid for by the football team throughout a summer semester, which will cover fall two-a-days in Austin, but he will assume walk-on status for his first season, which means his family will cover tuition.
Rose's next step in preseason practices will be to earn a starting job and a scholarship to carry him throughout the remainder of his eligibility.
Competing for the same positions will be Coppell's
Nick Jordan
, who faxed his signature Wednesday to accept a scholarship from the Longhorns.
"Texas has a kicker that they have all the confidence in the world in," Rose said of Jordan. "They came up here to scout another player and ended up noticing my kickoffs and from there everything took off, and I can't be grateful enough how everything happened."
Rose and Jordan have kicked together in offseason kicking contests, and that familiarity and friendship is as important to Rose as the competition he will face for playing time.
Preliminary indications from the Texas coaching staff, relayed to Rose, are favoring Rose as a starting kickoff specialist and punter and Jordan as the starting place kicker.
Rose spent his senior year booting kickoffs consistently out of the back of the end zone for the Scots, impressing Highland Park coach Randy Allen from the moment he set foot on the school's campus and eventually sparking the same interest of Texas co-offensive coordinator Major Applewhite.
"Nick Rose has lots of potential," Allen said. "He's the best kickoff guy I've ever coached. I know he's going to compete for that starting position at Texas."
Rose was key in securing Highland Park's District 10-4A title this season, drilling a game-winning extra point in overtime to give the Scots a 31-30 victory over Rockwall-Heath, clinching the district No. 1 seed.
"I was just thinking keep my head down and follow through," Rose said after the game. "Stick with my basics and hopefully it would go in. My heart was going crazy before I kicked it and then it was all relief that I could pull my team through."
Trying to earn a starting job and a scholarship puts extraordinary pressure on a freshman kicker, but high-pressure situations are nothing new to Rose.
"I'll be good for Nick to have competition, but I can't imagine anyone kicking it further than he does on kickoffs," Allen said.
Other Highland Park notes:
* Long-time Duke commit
Tanner Stone
signed with the Blue Devils. He said a summer trip to take part in a football camp sold him on Duke.
* Backup quarterback Tyler Rentfro signed with McMurry University. Rentfro attempted only one pass for the Scots in his senior season for 4 yards.
* All three parts of Highland Park's top offensive trio from 2012 held out on national signing day. Quarterback
Brady Burgin
hopes to snag a late offer from a school that possibly lost a quarterback recruit on signing day, Allen said. Receiver
Dalton Stogner
, who is still recovering from a season-ending knee injury, recently returned from a "good" trip to the University of North Carolina, Allen said. Stogner and running back Preston Miller both visited SMU as well and liked their experience with the Mustangs' coaching staff, Allen said.
February, 1, 2012
2/01/12
2:41
PM CT
Recruits in SMU's signing class range from California to Michigan to Florida, but the Mustangs didn't completely ignore their home territory.
Of the 20 players who signed with SMU on Wednesday, six are from the Metroplex.
That list includes a pair of Everman defenders, LB Lincoln Richard and DB Horace Richardson.
The other locals heading to the Hilltop are Frisco Heritage DL Elie Nabushosi, Garland LB Damien Neroes, Coppell OL Sam Rice and Dallas Lake Highlands OL Chase Walling.
Find more on
SMU's recruiting class here
.
July, 26, 2011
7/26/11
9:00
AM CT
FORT WORTH, Texas – Three incoming SMU freshman have the rare opportunity to showcase their talents one more time for their new coach before donning the blue and red.

Former Sachse offensive lineman Kris Weeks, former Rowlett defensive lineman Zach Wood and former Brenham defensive back Rodney Hubert were selected to play in the Texas High School Coaches Association football All-Star game Tuesday at Cowboys Stadium in front of many of the high school coaches they played for and against and the coach of their new team, June Jones.

Wood and Weeks especially have Jones' eye and could do something toward earning a spot in the Mustangs' starting lineup with a big performance Tuesday after Jones gushed about the trio's potential at the THSCA Coaching School on Monday.

"I think all of them have a chance to potentially be starters for us," Jones said. "[Kris Weeks and Zach Wood] have a chance to get on the field this year for us."

Jones said from the beginning of recruiting the class of 2011, Weeks was one of SMU's top prospects.

Wood's playing time could be limited in the All-Star game due to a back issue that has kept him from doing offseason lifting at SMU, but if he does see the field, Jones is confident he'll have a good showing.

"I know the defensive end has a back issue right now," Jones said. "He's been limited with what he can do lifting and stuff so he may not even play, but if he does I'm sure he'll play as hard as he did in high school."

Regardless of the players' showing at Cowboys Stadium, Jones said he always encourages his recruits to take part in high school All-Star games if selected and said it will be fun getting to see his new Mustangs in action.
May, 2, 2011
5/02/11
12:45
AM CT
Fifteen players formerly of Metroplex colleges and high schools were drafted this weekend in the 2011 NFL Draft.
TCU led the area colleges in players picked with five, including the Cincinatti Bengals' 35th overall pick of quarterback Andy Dalton in the second round. Dalton, a Katy, Texas, native, hold's TCU's record for most wins, going 42-7 in his four years as the Horned Frogs' starting QB.
Odessa native Marcus Cannon went in the fifth round to New England as the 138th pick in the draft. Just before the draft, Cannon was diagnosed with non-Hodgkin lymphoma, but he told ESPN Dallas' Richard Durrett
he was thankful to be selected
. Cannon, an offensive lineman, was a two-time first team All-Mountain West selection at TCU.
Following Cannon for the Frogs was wide receiver Jeremy Kerley at pick No. 153 to the New York Jets, where he will join former Frogs LaDainian Tomlinson and Drew Colman. Kerley was a first-team All-American return specialist and ranks ninth all time at TCU in career receptions. Kerley played his high school career for the Hutto Hippos.
Safety Colin Jones went to the San Fransico 49ers in the sixth round as the 190th pick overall. Jones was second on TCU during his senior season in tackles with 80 and tackles for loss with 11.5. He was a standout running back and four-year letterman at Bridgeport High School.
The Patriots dipped into the Fort Worth talent pool again in the seventh round, taking cornerback Malcom Williams No. 219 overall. Williams was a two-year letterman for the Frogs and played in high school at South Grand Prairie.
SMU sent a receiver to the NFL through the draft for the second straight year with Aldrick Robinson going to the Washington Redskins as the 178th pick overall, in the sixth round. He follows Emmanuel Sanders who went 82nd overall to the Pittsburg Stealers in the 2010 draft. Robinson, a Waxahachie native, set a school record at SMU with 14 touchdowns and finished second with 1,301 receiving yards in 2010.
Linebacker Von Miller formally of DeSoto went second overall to the Denver Broncos after recording 59 tackles and 1 INT in his 2010 season at Texas A&M.
Following Miller in the first round was Colleyville Heritage's Christian Ponder as the 12th pick overall to the Minnesota Vikings. Ponder threw for 2,044 yards and 20 TDs in 2010 at Florida State.
In the fourth round, former Dallas St. Mark's and Texas defensive end Sam Acho went to the Arizona Cardinals as the 103rd pick overall. In 2010, Acho made 60 tackles and forced two fumbles.
The Cowboys selected former Cedar Hill cornerback Josh Thomas in the fifth round, 143rd overall. Cedar Hill head coach Joey McGuire told ESPN Dallas' Tim MacMahon that
Thomas will be a very hard worker for the Cowboys
.
Ten picks before Waxahachie's Robinson was selected, offensive lineman Demarcus Love of Dallas Carter was selected by the Vikings in the sixth round.
Former Metroplex players flew off the board in a flurry in the seventh round, beginning with former Southlake Carroll quarterback Greg McElroy, 208th overall to the Jets. Along with winning a national championship at Alabama in 2009, McElroy threw for 2,987 yards and 20 touchdowns in 2010.
At pick 216, defensive back Mikail Baker, formally of Dallas Skyline and Baylor, went to the St. Louis Rams, three picks before South Grand Pairie's Williams.
Bringing up the end of the draft were two players from the University of Oklahoma who had come from the Metroplex, Jonathan Nelson and Jeremy Beal. Nelson, a cornerback from Mansfield Summit, went to the Rams as the 229th pick. Beal, a defensive end from Carrollton Creekview, went to the Broncos as the 247th pick.
July, 29, 2010
7/29/10
4:57
PM CT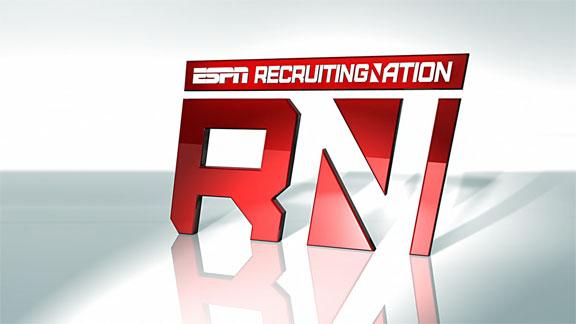 Arlington Bowie defensive back
Quentin Sargent
(5-11, 173) -- ranked 38th at his position by ESPNU -- has comitted to Oklahoma State for the Class of 2011. The three-star recruit by ESPNU also weighed offers from Auburn, Texas A&M, Houston, BYU, Kansas and SMU.
July, 19, 2010
7/19/10
3:21
PM CT
Lincoln outside linebacker
Devante Davis
has committed to Baylor for the Class of 2011. The 6-3, 190-pounder chose the Bears over SMU, Utah, Colorado State, Memphis and East Carolina.
Also this weekend, Tulsa swooped into the Metroplex to get commitments from two players -- Mesquite Horn receiver
Jakeem Grant
and Mansfield Timberview receiver
Chaz Sampson
.
Grant (5-7/160), a speedster who is a three-star recruit, caught 34 passes for 470 yards and six TDs as a junior. He also rushed for 223 yards and TDs. Grant chose Tulsa over Colorado State, Iowa State, Wake Forest, New Mexico, Louisiana Tech and Wyoming.
Sampson, who is 6-5, had six catches for 136 yards before breaking his hand three games into his junior season. He opted for Tulsa over UTEP.