High School:

Steve Lineweaver
January, 30, 2012
1/30/12
10:03
PM CT
By
Randy Jennings
| ESPNDallas.com
It is a given that not all Texas high schools are going to be happy with the University Interscholastic League's biennial reclassification and realignment announcement Thursday.

Pleasing 1,300-plus football- and basketball-playing high schools is something that not even a politician in an election year would promise.

But area coaches and athletic directors say they are never ceased to be amazed by one aspect of the process -- its secrecy.

"Keeping secrets is something not done very well any more," said Mansfield ISD athletic director Debbie Weems. "When most people know things, they like to talk."

Despite state-wide attention -- the information will be revealed once again on Fox Sports Southwest beginning at 9 a.m. -- the UIL has traditionally managed to keep things under wraps well enough for the project to earn the nickname of "Texas' biggest secret."

A half-dozen staffers for the Austin-based UIL toil away over enrollment figures and maps for three months, using pins and rubber bands to determine the district fate of high schools for the next two years.

"I don't even think those guys tell their wives," said 84-year-old Garland athletic director Homer Johnson, a veteran of 32 realignments. "It is a well-kept secret, and to tell you the truth it needs to be. Say, for example, we in Garland found out what the district was going to be before the announcement. It would give us an advantage in scheduling. The UIL tries to do the best for everybody."

Weems concurs.

"I understand why they want to keep it on the down low," she said. "There are always some that, if they found out ahead of time, might be unhappy and try to sabotage it. Like Jack Nicholson's character in "A Few Good Men" said, 'Some people can't handle the truth.'"

Steve Lineweaver, who has coached Euless Trinity to three football state titles, said he remains "baffled" at the way the UIL keeps the information under wraps.

"In this day and age," said Lineweaver, "nobody can keep secrets."

UIL director of athletics Dr. Mark Cousins chuckles when the matter of secrecy is mentioned.

"Well, first of all, we haven't made the announcement yet, so we still have to see if it remains a secret," Cousins said last week. "But the element of security is part of our job description. The state superintendents have told us that they don't want any school to have an unfair advantage, and we take that responsibility very seriously."

Who wants to know?

The state's football head coaches, in particular those in urban areas where changes are most volatile, have the most to gain if they somehow learned the alignment configurations early. It would be a great aid in making nondistrict schedules.

By alignment day, most football coaches have made prearranged agreements for nondistrict games for the next two years. But those plans can go out the window quickly if an agreed-on opponent winds up in the same district.

"It happened to us a couple of times," Allen coach Tom Westerberg said. "The last time, I had my nondistrict games, then we were put in a district with the Lewisville schools and that took away one of those games. That's when we wound up with Longview."

Lineweaver recalls the situation in 2008 that led to the nondistrict series between perennial powerhouses Trinity and Allen.

"Coach Westerberg and I were both having trouble finding a game and finally we sort of looked at each other," Lineweaver said. "I don't think either one of us was all that thrilled about it."

Snapshot of the day

The gathering place for North Texas coaches and athletic directors is North Richland Hills' Birdville ISD Fine Arts and Athletic Complex. The meeting room at the stadium can seat 800 and it is usually packed a half-hour prior to the announcement. The final minutes are passed by munching on breakfast concessions, drinking coffee and visiting.

At the appointed hour as the murmur grows, coaches strain and squint at overhead projectors that reveal the UIL's handiwork. Copies of the new districts, fresh off the UIL website, are quickly made available.

"It's like game day," Lineweaver said. "For me, my eyes get wide, my pulse is beating faster. This is when you find out who you'll be playing the next two years."

Athletic directors Weems and Johnson say they look forward to realignment day, where friendships are renewed.

For their coaches, it is a little more tense. Those needing games for a specific date can make their needs public on message boards. It's not uncommon for deals to be made right there in the meeting room.

"There's a frantic, frenzied atmosphere in that room," Weems said. "The football coaches are looking around wondering, 'How many games am I going to win,' and hoping they don't wind up playing a nondistrict game against somebody like Southlake Carroll."

Weems said earlier in her career she tried to anticipate what district configurations realignment might bring. No longer.

"I've had people calling me wanting to know the enrollment numbers we turned in," Weems said, "trying to figure out where everybody will go. I don't know why. It always comes out the way no one expected. I don't guess any more. I don't want to be disappointed."

Johnson knows the feeling. In his introduction to the process in 1948, Johnson's Garland Owls had the smallest enrollment in their district. The largest was powerful Highland Park.

"I've never been through one that went exactly the way I thought it would go," Johnson said. "Sometimes they put us where we wanted to be. Sometimes not."

The degree of difficulty in finding last-minute nondistrict games goes up in relation to a team's number of wins in the previous year.

"It's an exciting day," said Westerberg, "but not fun when you're trying to find games."

Cousins, who will have a role in the telecast along with UIL executive director Dr. Charles Breithaupt and deputy director Dr. Jamey Harrison, said the day is exciting for the UIL, too. And a nervous one.

"There are always concerns that a school might have been left out," Cousins said. "We know that not everybody will be happy, either about their classification or their district. That's just part of the process and we know that going in."

Those that are disappointed on Thursday can take heart. It is no secret that hope of a more favorable outcome is only two years away.
August, 18, 2011
8/18/11
12:01
AM CT
By
Randy Jennings
| ESPNDallas.com
ESPNDallas.com gets ready for the start of the high school football season by unveiling its preseason rankings, one spot at a time:
5A NO. 2: EULESS TRINITY TROJANS

2010 record:
15-1
Predicted 2011 regular-season record:
10-0
ESPNDallas.com spring ranking:
No. 2
[+] Enlarge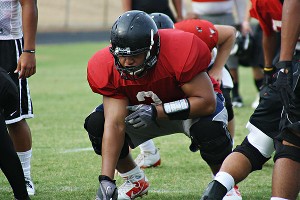 Travis L. Brown/ESPNDallas.com UCLA recruit Hiva Latui anchors what is, as usual, a dominant offensive line for Euless Trinity.
Division I commits:
OL
Hiva Lutui
, (UCLA).
Why they're here:
Trinity has lifted its football excellence to a new level in the last five years, reaching the state championship game four times, emerging victorious on three occasions. While the Trojans have had their share of great players, head coach Steve Lineweaver and his veteran coaching staff are masters at melding individuals from varied backgrounds into cohesive units.
Since 2004, Trinity has either won the state title or lost in the playoffs to the eventual state champion.
The Trojans can build their defense around linebacker
Brian Nance
, who recorded 174 tackles to go with four interceptions and three sacks in an all-state junior season. Defensive tackles
Polo Manukainiu
and Moahengi Latu and defensive back Iliau Moeakiola are other key returnees.
On offense, Kailahi Kautai completed 46-of-83 passes for 666 yards and four touchdown in a part-time quarterback role last season. The staple of all Trinity teams is its massive offensive line. This season should not be any different with guard Hiva Lutui, center Dillon Dillard and tackle Henry Lea'aetoa, three all-district selections.
Holes to fill:
Graduation of running backs
Terrence Tusan
and
Tevin Williams
along with QB/WR
Brandon Carter
represented 4,000 yards of rushing yards last season. Joel Kimpela is the leading returning rusher with 410 yards and a 13-yard average per carry, but spent most of 2010 on the junior varsity. Enrique Oquendo is the leading returning receiver with four catches for 152 yards.
Key game:
vs. Colleyville Heritage, Sept. 22
December, 16, 2010
12/16/10
9:36
PM CT
To win a state title, it takes skill, hard work and a little bit of luck.
Euless Trinity has had all of that at some point this season, which has helped it remain undefeated and stay atop the ESPN Rise Fab 50 charts for the majority of the season.
On Saturday, the Trojans have the opportunity to win their second straight state championship, complete the undefeated season and have a shot at a hypothetical national championship when they face Pearland in the Class 5A Division I title game at Cowboys Stadium.
Trinity has been a hard-working squad behind a running game powered by the three-headed monster of Tevin Willams, Terrance Tusan and Brandon Carter. The three have combined for 3,850 yards rushing and 53 touchdowns on the year.
The Trojans feature a run-based offense, but don't get fooled into thinking touchdowns are at a premium. Trinity hung 80 on defending Arkansas state champion Shiloh Christian at the Kirk Hierbstriet Classic on Labor Day and scored no less than 35 points throughout the entire regular season.
The epicenter of Trinity's skill lies in all-around athlete Brandon Carter, who might be split out at receiver one play, take a few snaps under center on another, then cap it all off with a kick return later in the game.
The versatility of Carter, an Oklahoma commit, allows Trinity head coach Steve Lineweaver to think outside of the box in running what some might call trick plays.
"We have evolved into having a reverse package and a reverse pass package," Lineweaver said. "We have done it so much that it does feel pretty common to us, almost like a halfback dive play."
This package was demonstrated best in the last minutes of the Trojans' win over Coppell when Cater took a reverse and threw a pass on fourth-and-1 leading to Trinity's score as time expired. It gave Trinity not only the win, but its only lead of the game.
Pearland will be the Trojans' third undefeated opponent in three weeks, and Lineweaver said he has to respect any team that can go undefeated and make it to the state title game.
"I see an explosive offensive team -- 15-0," Lineweaver said. "[Pearland] beat some great teams. I have a lot of respect for the Houston area. Coach Heath had a great program, one of the winningest teams in the state of Texas."
Trinity will have the opportunity to play for a state championship right in its backyard at Cowboys Stadium, but if history proves anything, proximity to home does not matter much in championship games.
"We've still got to get first downs and we've still got to stop the opponent," Lineweaver said. "We've been on a far trip to previous state championship games and we did pretty well. So I'm sure Pearland feels like they can too."
October, 19, 2010
10/19/10
7:50
PM CT
By
Randy Jennings
| ESPNDallas.com
If they keep this up, coach Steve Lineweaver is going to have a hard time lining up future nondistrict opponents.

Euless Trinity's average winning margin through eight games is 42.6 points per game.

Starters rarely play in the fourth quarter. Some nights they don't play after halftime. Trinity's closest winning margin is 23 points.

Including last season's 13 straight wins that ended in a Class 5A Division I state championship, Trinity has stretched its winning streak to 21. A playoff berth is already secured.

In addition to being No. 1 in ESPNDallas.com's Class 5A rankings, Trinity is the top-ranked team nationally in the POWERADE FAB 50 ESPN RISE Football Rankings this week for the sixth straight week.

Two games stand between Trinity (8-0, 6-0 District 6-5A) and an unbeaten regular season: at Grapevine on Friday and, after a bye week, a home game against Irving MacArthur on Nov. 4.

One of the secrets to Trinity's success is the varied motivational tools dreamed up by Lineweaver.

With the help of the school's Football Exes Committee, Trinity is instituting a Legacy Letter program with former players writing letters detailing experiences as a Trojan and lessons the former players have applied to life to become successes.

The hope is the letters can inspire current players and give them a sense of the legacy they are following. The idea is based on the rugby movie, Forever Strong. The letter is shared with the player currently wearing the jersey number of the letter writer.