High School:

Sulphur Springs
September, 1, 2011
9/01/11
1:27
AM CT
No. 1 DENTON RYAN (1-0) at CARR. NEWMAN SMITH (0-1)
7 p.m. Friday at Standridge Stadium

When we saw them last: Denton Ryan clobbered Sulphur Springs, 25-9, on national television behind another strong performance by its defense. Newman Smith couldn't keep pace with a solid 5A team in Keller Central, losing 33-7.

2010 result: A year after its breakout season, Newman Smith fell into an 0-2 hole thanks to a 42-17 loss to Ryan, which showed no signs of lacking for offense after losing QB Scotty Young and WR Bud Sasser.

What's at stake: Offensive progress. The question for Ryan again this year is its offense. The unit will need to make strides each week for the Raiders to get back to the state title game. Newman Smith didn't exactly light it up last week and will face one of the best defenses in the state in Ryan.

Key matchup: Ryan's running game vs. Newman Smith's defense. If the Trojans are going to stay in this game, they'll need to keep Ryan from lighting up the scoreboard.

Players to watch: Ryan QB Kevin Carpenter may be the difference between Ryan being a very good team and being a great team. Newman Smith RB Tripp Abbot does a little bit of everything for the Trojans.

Prediction: Denton Ryan 45, Newman Smith 10.
August, 27, 2011
8/27/11
11:49
PM CT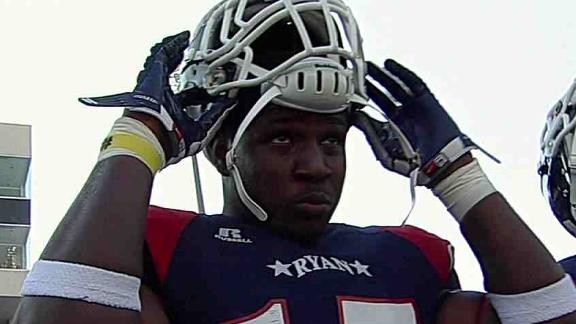 Top national recruit Mario Edwards Jr. helped Denton Ryan control Sulphur Springs in a 25-9 season-opening victory.
You can
watch a replay of the game at ESPN3.com
and
read a write-up at ESPN HS here
.
August, 25, 2011
8/25/11
9:42
PM CT
DENTON, Texas -- Being a Texas state football finalist like Denton Ryan might raise a few eyebrows on a national level.
But the Raiders also have another reason for the extra attention they're getting as the 2011 season kicks off. They have the ESPNU 150 top recruit in the nation: Mario Edwards Jr.
[+] Enlarge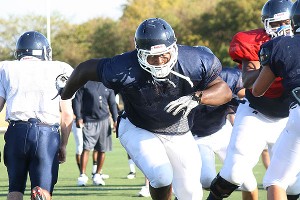 Travis L. Brown/ESPNDallas.com Mario Edwards Jr. had 12 sacks and 23 tackles for loss in his junior season.
The 6-foot-4, 270 pound defensive end, and son of the former Dallas Cowboy, is looking forward to a successful college career on the national stage at Florida State. He'll get an early taste of the bright lights in the first game of his senior season against Sulphur Springs, which will be broadcast on ESPN and
ESPN3.com
at 6 p.m. CT Saturday from Denton's C.H. Collins Athletic Complex.
After the hype that surrounded his school selection and then being placed on top of the national recruiting list, Edwards is more than ready to get his senior season started.
"I can actually sit back and focus on my last year in high school and my grades," Edwards said. "I can enjoy my senior year."
But it won't be all fun and games for Edwards, because he said being the top recruit in the nation comes with the responsibility of having a target on his back.
"I've got to perform," he said.
Ryan coach Joey Florence said the team will rely heavily on Edwards, the only returning starter on the defensive line, on the field and in the locker room.
"If we're going to win, we know we're going to have to have to play great defense," Florence said. "He's going to have to do like he did last year – play great – but also he's going to have to lead and maybe even be a vocal leader this year. I hope he comes back and plays like last year."
Saturday begins Edwards' challenge of trying to top a 2010 season that included 12 sacks, 23 tackles for loss and 70 tackles. It also begins Ryan's quest to take that final step after losing to Lake Travis in the 4A Division I state final.
Florence stressed that none of this, even the national spotlight of ESPN, is a talking point in the Ryan field house. It's all about protecting tradition.
"Our kids understand the tradition we have here comes with tremendous responsibility, and that's to live up to that tradition," Florence said.
November, 24, 2010
11/24/10
7:43
PM CT
Few things are more dangerous in the Texas high school football playoffs than a hot dual-threat quarterback, and Frisco Liberty will face one of the hottest in the state in Bastrop's Josiah Monroe.
In two playoff games, Monroe, dubbed "the Mosiah," has thrown for 901 yards and six touchdowns while adding 325 yards and five touchdowns on the ground.
Bastrop (9-3) will test a Liberty (12-0) defense that's steadily improved during the season in the third round of the Class 4A Division I playoffs at 7 p.m. Friday at Cowboys Stadium.
In its last five games, Liberty has given up an average of just 6.8 points but hasn't faced a player like Monroe in any of those games.
While Liberty has a stiff challenge on defense, it has an opening on offense in the form of Bastrop's run defense. Bastrop gave up 284 yards to Sulphur Springs running back Kendrick Daniels but won, 58-44. It gave up 224 yards to Corsicana's Cameron Washington but won, 51-34, after a 34-point fourth quarter.
In its regular-season finale, Bastrop, located just southeast of Austin, gave up 431 total rushing yards and two 100-yard rushers.
Liberty doesn't exactly need help running the ball. Jay Ajayi breached the 2,000-yard mark with his dominating night against South Oak Cliff last week, rushing for 292 yards and four touchdowns. Liberty won, 37-7.
With Monroe leading one offense and Ajayi leading the other, Liberty and Bastrop could be in for a shootout in Liberty's first appearance at Cowboys Stadium.
September, 13, 2010
9/13/10
10:01
PM CT
For head coach Joey Florence, the play of Denton Ryan's defense has conjured images of the team's state title runs in the early 2000s.
That's how good it's been. No. 2 Ryan (3-0) is giving up just 152 yards per game, 44 on the ground. And it hasn't been against bad competition either. All three of Ryan's opponents (Sulphur Springs, Carrollton Newman Smith and North Garland) were playoff teams in 2009.
"Defensively, we're special I think," Florence said. "It ranks up there with those great teams we have. They still have a lot to prove, but they have the potential to rate up there."
Ryan already had a strong front seven returning with Division I prospects in DE
Ty Hook
and LBs
Jordan Richmond
and
Alex De La Torre
, but the team got a boost from Prosper transfer
Mario Edwards
.
The son of former Dallas Cowboy Mario Edwards, the defensive end has lived in the opposing backfield through three games.
Just a junior, Edwards already holds a scholarship offer from Texas A&M, and Texas is showing interest. He stands to be one of the top prospects in the Dallas-Fort Worth area for the 2012 recruiting class.
"He's pretty impressive," Florence said of Edwards.
Ryan plays at Mesquite (0-3) at 7:30 p.m. on Friday.
January, 25, 2010
1/25/10
3:16
PM CT
Sulphur Springs defensive end Kedrick Dial (6-2, 215), a three-star recruit, announced Saturday that he had de-committed from Texas and given a verbal to Baylor. It was the
first step in a good weekend for the Bears
, who also received a commitment from 6-foot-3 quarterback Tyrell Jenkins of Henderson.