March, 4, 2012
3/04/12
6:27
PM CT
Houston Beren Acadamy
wasn't the only TAPPS team of note playing for a basketball state championship over the weekend.
Plano Prestonwood Christian and Arlington Grace Prep, both nationally ranked, won their classifications Saturday.
Prestonwood, No. 13 in the latest ESPNHS POWERADE FAB 50, beat Plano John Paul II 72-46 in the TAPPS 5A championship game.
In TAPPS 4A, Grace Prep, No. 28 in the FAB 50, took down No. 39 Houston Westbury Christian 77-57.
Fort Worth Calvary reached the TAPPS 3A final but lost 39-31 to Conroe The Woodlands Christian.
Dallas Ursuline was the only girls team from the area to win a title, edging Dallas Bishop Lynch 44-43 in the TAPPS 5A championship game.
March, 4, 2012
3/04/12
9:53
AM CT
By
Randy Jennings
| ESPNDallas.com
FORT WORTH, Texas -- An inspired comeback in the fourth quarter fell short Saturday night and a state title eluded the Orthodox Jewish high school basketball team from Houston the almost didn't get the chance to play in its state semifinal game.
Robert M. Beren Academy closed a 12-point deficit to two in the final minute, but could get no closer in a 46-42 loss to Abilene Christian in the Texas Association of Private and Parochial Schools' Class 2A championship game at Nolan Catholic High School.
Two free throws by Abilene Christian's Daniel Austin with nine seconds remaining clinched victory and ended an unforgettable week of ups and downs for Beren.
"These are tears of happiness and sadness," said Mirwas afterward. "I'm happy that we got the chance and that I was able to stay true to myself and my beliefs. I'm happy TAPPS gave us the chance. It was a tough loss, but Abilene Christian was a heck of a team."
Beren had reason to doubt it would get the opportunity because both the semifinal and final were scheduled to fall within the Jewish Sabbath, from sundown Friday to sundown Saturday. Beren's appeals to change game times on Monday and Wednesday were turned down.
TAPPS relented on Thursday when it learned a group of parents from Beren were taking the matter to court. Site and game times were changed to accommodate.
"All we asked for was a chance and we got it," said Beren coach Chris Cole afterward. "Hats off to Abilene Christian. I'm proud of the way my guys handled everything all week. I think we showed we deserved to be here."
Read more here.
March, 1, 2012
3/01/12
3:15
PM CT
An Orthodox Jewish high school basketball team from Houston has been granted a temporary restraining order that will allow it to play a state playoff game at a time that doesn't conflict with the Sabbath.
Robert M. Beren Academy was scheduled to play its Class 2A state semifinal game against Dallas Covenant at 9 p.m. Friday in Mansfield. The Texas Association of Private and Parochial Schools would not change the game time and denied an appeal of that ruling.
Read Randy Jennings' complete story here.
December, 5, 2011
12/05/11
2:31
PM CT
Alvarado continued its quest for a first UIL state football championship by beating defending champion Henderson 34-13 in a Class 3A Division I state semifinal matchup Friday.
Alvarado will play Tyler Chapel Hill at 7:30 p.m. Friday in the 3A Division I state final at Cowboys Stadium.
Tickets are available through Ticketmaster
.
All other UIL 11-man football tournaments are in the state semifinal round, and several DFW-area schools are still playing at the Class 2A and 3A level.
Argyle blasted Gilmer 51-35 in the 3A Division II Region 2 final. Argyle faces Monahans in a state semifinal at 7:30 p.m. Friday at Abilene Wylie High School.
Melissa moved into the 2A Division I state semifinals by beating Daingerfield 42-14 in the Region 2 final. Melissa will play Muleshoe at 7 p.m. Friday at Sweetwater's Mustang Stadium for a berth in the state final.
Corsicana Mildred blanked Gunter 49-0 in the 2A Division II Region 2 final to secure a state semifinal matchup against Cisco at 7:30 p.m. Friday at Mansfield's Vernon Newsom Stadium.
One other area team worthy of mention is Fort Worth Nolan, which beat Beaumont Kelly 27-10 in Temple on Saturday to win the TAPPS Division I state championship.
August, 16, 2011
8/16/11
10:38
PM CT
At the conclusion of Tuesday's football practice at Dallas Lutheran, the team huddled around new head coach John Bronkhorst for the typical post-practice meeting.

Surrounded by his entire team -- around 30 players -- Bronkhorst continued to lay the foundation for his new program: a family atmosphere.

"The thing that he has stressed since the first day of football is team unity and family," senior offensive lineman and linebacker Sean Kincade said. "The only way to reach our goal of being a state championship team is to come together, play together and win together."

That connection has been successful, Bronkhorst said, and has been key in teaching his team a completely new offense and defense.

Bronkhorst is modernizing the offense, bringing in the no-huddle, spread formation to replace the option-based offense Lutheran ran last year. The change has brought a new excitement to the program, which looks for the Lions to put up more points this year, Bronkhorst said.

The spread will also fit the small, speedy Lutheran squad better than a power running game.

However, forming this football family opens up doors for Bronkhorst and his coaching staff to teach more important lessons to his players than slants and splits.

"It gives us more opportunity to more one-on-one style coaching and it gives us a better opportunity to reach those kids and play a bigger part in their lives," Bronkhorst said.
May, 6, 2011
5/06/11
5:00
PM CT
The Texas Senate passed a bill Friday that will allow Texas private schools to participate in UIL academic and athletic activities, excluding football and basketball.
The vote passed 22-7, according to AP reports, after the bill was amended to exclude privates from being able to have "equal access" to football and basketball.
The bill, written by Sen. Dan Patrick, R-Houston, creates a five-year program to bring private schools into the UIL, beginning with those that would enter at the 1A classification in 2011-2012 and ending with 5A in 2014-2015.
The legislature also include a paragraph giving the UIL authority to create rules to deter private schools from recruiting athletic talent.
The bill would have to be passed by the House of Representatives to become law.
Here is the amended bill which prevents private schools from "equal access" to football and basketball.
Here is the original draft of the bill.
October, 12, 2010
10/12/10
8:51
PM CT
PLANO -- Prestonwood Christian Academy had to deal with more than a fair share of changes going into this season. The defending TAPPS Division II state champs were moved up to Division I alongside perennial private school powerhouses like Dallas Bishop Lynch and Forth Worth Nolan. The Lions also had to break in a junior quarterback who was starting for the first time on varsity in a pass-heavy spread offense.
In hopes of keeping his team from becoming satisfied from the success of the previous season and not facing the challenges ahead, head coach Chris Cunningham instituted a mantra of "never backing down" for his team. This focus, he said, keeps his team working on improving each week to overcome any challenges that might present themselves throughout the season. Cunningham said the slogan also reflects the school's religious faith.
[+] Enlarge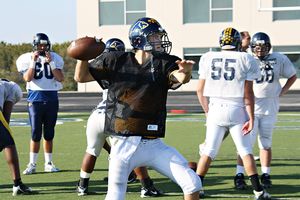 Travis L. Brown/ESPNDallas.comJunior quarterback Parker Ash has led Prestonwood Christian Acadamy to a 6-1 record in his first year as the starter.
Cunningham came to Prestonwood from Colleyville Heritage High School, where football tradition is held in high regard. Now in his new role, Cunningham can teach his players lessons that go beyond just the game of football.
Running back Kenneth Huggins leads Prestonwood, and all area private schools, in rushing yards with 1,111 to go with 13 touchdowns on 109 carries. He was the key factor in the Lions' 45-21 win over Argyle Liberty Christian last week at Cowboys Stadium in a rematch of last year's Division II state championship game.
"[Huggins is] unique," Cunningham said. "He's as good of a back as there is out there. With his combination of speed and good hands we can do a lot with him."
On Friday, Prestonwood (6-1, 3-0 TAPPS 1-I) will be a part of what could be the most important private school game in the area this season against Fort Worth Nolan (7-0, 2-0), last season's Division I state champion. Prestonwood's only loss this year was to UIL Class 3A power Celina.
"Coming off a big win last week at Cowboys Stadium, we've got to keep our composure," Lions quarterback Parker Ash said. "We've got to look past all their wins and this-and-that's they've won.
[+] Enlarge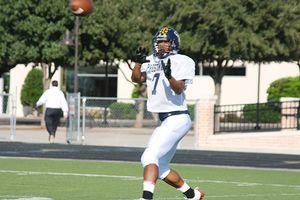 Travis L. Brown for ESPN.comPrestonwood running back Kenneth Huggins is a threat on the ground and as a receiver out of the backfield.
Nolan boasts a very balanced offense lead by quarterback Michael Smith. Smith has completed 60 percent of his passes this season for 1,132 yards and nine touchdowns.
"[Smith] is a very impressive field general," Cunningham said. "He just wins ballgames for them. You can just see it in him. He gets done what needs to get done, makes the throws and makes the runs. They really rally around him."
Balancing out the Nolan offense is running back Alex Sauza, who is second in rushing yards for area private schools behind Huggins with 1,087 on 138 carries, and he's scored 13 touchdowns. Cunningham said Sauza is a speedy back with some power and physicality.
Ash is in his first season as Prestonwood's quarterback and has had no trouble finding his rhythm. He leads area private schools in passing yards with 1,708 and 16 touchdowns.
Ash said if Nolan's defense puts five men in the box, it should open up the run game for Huggins. And if the Vikings put more pressure in on the run, he was prepared to get the job done through the air.
The battle for the top spot in TAPPS Division I comes down to two teams with similar philosophies, tools and tendencies, Cunningham said. Cunningham said he knows Nolan will be ready to play at its home stadium and he believes his team will bring its A game as well.
"You play a team that's the quality of Nolan, that should bring out the best in you," Cunningham said.