High School:

THSCA Coaching School
July, 29, 2011
7/29/11
3:56
PM CT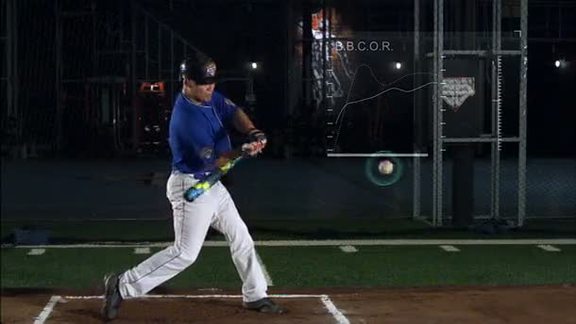 FORT WORTH, Texas – Twenty years of coaching experience made Grand Prairie head baseball coach Jon Rustenhaven more than qualified to speak on successful practice techniques at the Texas High School Coaches Association Coaching School Tuesday.
However, no baseball coach in attendance had experienced the kind of full philosophy change the new BBCOR bats will bring on the high school game this upcoming season.
UIL has adopted the new BBCOR bat standard that the NCAA set for the 2011 season, using bats that reduce the velocity of the ball after it leaves the bat. The main concern in going to these new bats is the safety of the pitcher who might not have enough time to react to an oncoming line drive off the old bats.
"It's going to be a major adjustment period for high school coaches and high school players. They're used to hitting the ball off the fist and getting a base hit and now it's going to be a weak pop fly."
These new bats, with a smaller sweet spot than the old models, reduce a high school team's ability to use the long ball, which could force coaches to recreate an offensive game plan.
"You have to analyze your team and figure out what's going to work for you," Rustenhaven said. "Are you going to continue to try and play for the three-run homer or are you going to make that adjustment to the small ball – bunts hit, hit and runs, steals all sorts of trick plays to score runs because you're not going to be able to sit back and hit that three-run homer anymore."
Rustenhaven said more attention will need to be spent in practice on squaring the ball up in the sweet spot of the bat, as the new bats allow less of a margin for error.
"That's going to be more emphasized with our kids this year," Rustenhaven said. They've got to hit the sweet spot if the ball is going to go."
July, 29, 2011
7/29/11
12:00
AM CT
FORT WORTH, Texas -- During the Frisco Wakeland girls soccer team's run to a state championship in 2010, the front few rows at every playoff game were filled by the boys soccer team doing whatever they could to will their schoolmates to victory. It was the least they could do after receiving the same support a year earlier when they brought a boys state trophy back to soccer-crazy Frisco.

The success that has come from the sense of pride in the Wakeland community is exactly what boys soccer head coach Rusty Oglesby spoke about Monday at the Texas High School Coaches Association Coaching School.

Wakeland opened its doors in 2006, but has quickly become a powerhouse in the area in several sports, thriving off a strength-in-numbers motto.

"We knew we were going to get good athletes, but you still have to get those kids to play for you and you're still competing against club and all those things," Oglesby said "We just really developed that, 'When you play one of us, you play all of us' motto."

Community is what Oglesby preached to fellow coaches from around the state, not only in developing a successful program, but co-existing with the very successful club soccer system that thrives in North Texas.

Oglesby's key to managing a successful high school program while juggling players between his games and club games is giving his players something he said club rarely offers -- personal attention and care.

The most important part of that personal attention to Oglesby, in terms of soccer, is bringing the recruiting process back to the high schools. Currently, club teams own a monopoly in the scholarship game, hosting tournaments where college coaches with limited budgets can scout hundreds of players at one time. Traveling to see one player play in one high school game is out of the question for many programs at the next level.

Oglesby begins each season purchasing a large amount of DVDs which he and his coaching staff gladly work overtime burning and sending away game film to any and every college program any of his players wish to attend. It's a process he learned well while spending time as a football coach before turning to soccer at Wakeland.

"When it comes down to it, you better be doing the other stuff," Oglesby said. "You better be calling about their GPAs and how good they are in a classroom, and you better send them DVDs and show them all the things they are missing if they don't come watch."

Wakeland has seen the fruits of Oglesby's labor, sending 21 players to college on soccer scholarships in the past three years, including all 10 seniors from the 2010-2011 season.

"To me it became how can I supplement club -- how can I lead them in the recruiting process," Oglesby said.
July, 24, 2011
7/24/11
11:00
PM CT
Fort Worth is the host city for this year's Texas High School Coaches Association Coaching School, bringing the football and boys basketball all-star games to the Metroplex. Many of the area's stand-out athletes have been named to the North All-Star teams for both the basketball game, tipping at 7:30 p.m. Monday at TCU's Daniel-Meyer Coliseum, and Tuesday's football game, which is at 7:30 p.m. at Cowboys Stadium.
[+] Enlarge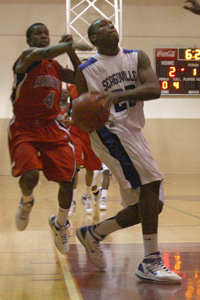 Travis L. Brown/ESPNDallas.comSeagoville's Devonta Abron will play for the North All-Star teams at 7:30 p.m. Monday at TCU's Daniel-Meyer Coliseum.
Here are the North All-Star rosters for both games:
FOOTBALL
RB Kaylon Alexander - Denton Ryan
CB Tyler Boyd - Daingerfield
WR Roderick Woodard - Quanah
SS Storm Griffin - Argyle
DB Jake Talbert - Crawford
SS Jovorious Brown - Longview
WR Xavier Willams - Ranchview
QB Josiah Monroe - Bastrop
WR Marquis Jackson - Fort Worth Arlington Heights
OLB Craig Wesson - Odessa Permian
SS Jake Howeth - Dallas Highland Park
CB Malcolm Hill - Frisco Liberty
WR Tyler Wright - Granbury
QB Anthony Morgan - Carthage
K/P Tyler Orwig - Euless Trinity
CB Rylan Riney - Aledo
LB Rodney Young - Dekaney
RB Chris Nutall - A&M Consolidated
DB Malcom Scott - Tomball
RB Rufus Mason - Flower Mound Marcu
s
DT Marcquel Sheppard - McKinney North
ILB Connor Sheehan - Austin Anderson
MLB Cord Fletcher - Henderson
DE Chad Polk - Dallas Woodrow Wilson
LB Trey McGowan - Kerens
OL Chad Williams - Burleson
DL Leroy Mitchell - Lubbock Estacado
OL Zach Crawford - Westwood
OL Dillon Ivory - Ore City
OL Marcus Hutchins - DeSoto
OL Tyler Halerumal - Sulphur Springs
OL Kris Weeks - Sachse
OL Nathan Butler - Southlake Carroll
OL Brandon Duryee - Hereford
LB Zach White - Littlefield
TE Garrett Mayo - New Deal
MLB Brent Turner - Idalou
DL Zach Wood - Rowlett
BASKETBALL
G Austin Chatman - The Colony
G Sean Voss - Belton
F Rorrest Robinson - Eastland
G/F Jordan Green - Flower Mound
G Derrell Gibbs - Burkburnett
G Derry Franklin - Mansfield Legacy
F Devonta Abron - Seagoville
G Hondo Webb - Melissa
F Tashawn Thomas - Kileen
G Luke Carpenter - Farwell
F Zane Hernandez - Iraan
F DaJuan Cooper - Kennedale