High School:

Tom Westerberg
January, 30, 2012
1/30/12
10:03
PM CT
By
Randy Jennings
| ESPNDallas.com
It is a given that not all Texas high schools are going to be happy with the University Interscholastic League's biennial reclassification and realignment announcement Thursday.

Pleasing 1,300-plus football- and basketball-playing high schools is something that not even a politician in an election year would promise.

But area coaches and athletic directors say they are never ceased to be amazed by one aspect of the process -- its secrecy.

"Keeping secrets is something not done very well any more," said Mansfield ISD athletic director Debbie Weems. "When most people know things, they like to talk."

Despite state-wide attention -- the information will be revealed once again on Fox Sports Southwest beginning at 9 a.m. -- the UIL has traditionally managed to keep things under wraps well enough for the project to earn the nickname of "Texas' biggest secret."

A half-dozen staffers for the Austin-based UIL toil away over enrollment figures and maps for three months, using pins and rubber bands to determine the district fate of high schools for the next two years.

"I don't even think those guys tell their wives," said 84-year-old Garland athletic director Homer Johnson, a veteran of 32 realignments. "It is a well-kept secret, and to tell you the truth it needs to be. Say, for example, we in Garland found out what the district was going to be before the announcement. It would give us an advantage in scheduling. The UIL tries to do the best for everybody."

Weems concurs.

"I understand why they want to keep it on the down low," she said. "There are always some that, if they found out ahead of time, might be unhappy and try to sabotage it. Like Jack Nicholson's character in "A Few Good Men" said, 'Some people can't handle the truth.'"

Steve Lineweaver, who has coached Euless Trinity to three football state titles, said he remains "baffled" at the way the UIL keeps the information under wraps.

"In this day and age," said Lineweaver, "nobody can keep secrets."

UIL director of athletics Dr. Mark Cousins chuckles when the matter of secrecy is mentioned.

"Well, first of all, we haven't made the announcement yet, so we still have to see if it remains a secret," Cousins said last week. "But the element of security is part of our job description. The state superintendents have told us that they don't want any school to have an unfair advantage, and we take that responsibility very seriously."

Who wants to know?

The state's football head coaches, in particular those in urban areas where changes are most volatile, have the most to gain if they somehow learned the alignment configurations early. It would be a great aid in making nondistrict schedules.

By alignment day, most football coaches have made prearranged agreements for nondistrict games for the next two years. But those plans can go out the window quickly if an agreed-on opponent winds up in the same district.

"It happened to us a couple of times," Allen coach Tom Westerberg said. "The last time, I had my nondistrict games, then we were put in a district with the Lewisville schools and that took away one of those games. That's when we wound up with Longview."

Lineweaver recalls the situation in 2008 that led to the nondistrict series between perennial powerhouses Trinity and Allen.

"Coach Westerberg and I were both having trouble finding a game and finally we sort of looked at each other," Lineweaver said. "I don't think either one of us was all that thrilled about it."

Snapshot of the day

The gathering place for North Texas coaches and athletic directors is North Richland Hills' Birdville ISD Fine Arts and Athletic Complex. The meeting room at the stadium can seat 800 and it is usually packed a half-hour prior to the announcement. The final minutes are passed by munching on breakfast concessions, drinking coffee and visiting.

At the appointed hour as the murmur grows, coaches strain and squint at overhead projectors that reveal the UIL's handiwork. Copies of the new districts, fresh off the UIL website, are quickly made available.

"It's like game day," Lineweaver said. "For me, my eyes get wide, my pulse is beating faster. This is when you find out who you'll be playing the next two years."

Athletic directors Weems and Johnson say they look forward to realignment day, where friendships are renewed.

For their coaches, it is a little more tense. Those needing games for a specific date can make their needs public on message boards. It's not uncommon for deals to be made right there in the meeting room.

"There's a frantic, frenzied atmosphere in that room," Weems said. "The football coaches are looking around wondering, 'How many games am I going to win,' and hoping they don't wind up playing a nondistrict game against somebody like Southlake Carroll."

Weems said earlier in her career she tried to anticipate what district configurations realignment might bring. No longer.

"I've had people calling me wanting to know the enrollment numbers we turned in," Weems said, "trying to figure out where everybody will go. I don't know why. It always comes out the way no one expected. I don't guess any more. I don't want to be disappointed."

Johnson knows the feeling. In his introduction to the process in 1948, Johnson's Garland Owls had the smallest enrollment in their district. The largest was powerful Highland Park.

"I've never been through one that went exactly the way I thought it would go," Johnson said. "Sometimes they put us where we wanted to be. Sometimes not."

The degree of difficulty in finding last-minute nondistrict games goes up in relation to a team's number of wins in the previous year.

"It's an exciting day," said Westerberg, "but not fun when you're trying to find games."

Cousins, who will have a role in the telecast along with UIL executive director Dr. Charles Breithaupt and deputy director Dr. Jamey Harrison, said the day is exciting for the UIL, too. And a nervous one.

"There are always concerns that a school might have been left out," Cousins said. "We know that not everybody will be happy, either about their classification or their district. That's just part of the process and we know that going in."

Those that are disappointed on Thursday can take heart. It is no secret that hope of a more favorable outcome is only two years away.
August, 2, 2011
8/02/11
12:00
AM CT
This week, ESPNDallas.com spotlights five of the top quarterbacks returning to Friday night football in 2011.
ALEC MORRIS
School, class:
Allen, Sr.
2010 Stats:
182-for-297, 2,533 yards, 22 TDs
Morris assumed the starting quarterback role in 2010 as a tall, lanky junior who left plenty of question marks in how well the Allen offense would be able to perform. In 2011, Morris is a very different athlete, leading the ESPN Dallas spring 5A No. 1 team into his senior season.
[+] Enlarge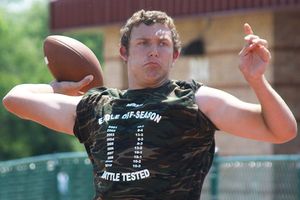 Travis L. Brown/ESPNDallas.com Allen's Alec Morris gave up basketball to focus on football, and he added 25 pounds of muscle during offseason workouts.
This offseason, Morris decided not to continue to be a two-sport athlete, electing to work through Allen's football offseason program instead of playing basketball. The difference is noticeable. Morris will begin his senior year at around 235 pounds, adding 25 pounds of muscle in his arms and chest to his tall, lanky frame.
Allen coach Tom Westerberg said the offseason work has already added a physicality to Morris' game that was not nearly as pronounced last year.
Morris, a Wake Forest commit, is at his best as a pocket passer who can pick apart a defense in the short- to mid-range game when he gets his feet set. His added weight will make Morris even more difficult to bring down in the backfield than he already was, giving him the chance to extend plays.
With a year under his belt, Morris has grown into the system at Allen and will increase his already good ability to make reads. His new physical strength can make him more of an asset in Allen's short-yardage running game after he ran for 216 yards and eight touchdowns last year.
Westerberg said the only challenge that could be difficult for Morris will be to surpass an excellent junior season in which he took Allen to the area round of the 5A Division I playoffs, where the Eagles fell to state finalist Euless Trinity.
"He should be fine this year because of the confidence factor of being there a year," Westerberg said.
Morris again has to face one of the toughest districts in the state, and the season kicks off against Cedar Hill at SMU's Ford Stadium. The Cedar Hill game is a rematch of the first game of 2010, which was the eye-opener for Morris' potential at Allen.
With help from returning senior running back Jonathan Williams, Morris makes Allen the offense to beat in 2011.
August, 20, 2010
8/20/10
2:59
PM CT
Area football teams began scrimmaging one another Friday, doing some last-minute fine tuning before the regular season begins next weekend.

Two of those scrimmages matched Dallas' Lake Highlands and South Garland at Wildcat-Ram Stadium and Allen against Arlington Martin in Arlington.

Lake Highlands was unable to gain any momentum on either side of the ball. The Wildcats could only muster a few first downs in their first three offensive sets, never threatening to break through to the end zone.

South Garland ran the ball effectively, scoring twice on the ground in its first few offensive sets. Lake Highlands could not wrap up South Garland's speedy backs, allowing one touchdown run from 70 yards out.

South Garland also connected on a 50-yard touchdown pass for its third score.

In Arlington, Allen and Arlington Martin traded blows throughout with both teams scoring a few times apiece. Martin won the timed quarter at the end of the scrimmage, connecting on one 10-yard field goal.

"I thought we came out with some good intensity in the beginning of it and then I thought we slacked off toward the end," Allen head coach Tom Westerberg said. "We've got a young team, so we've got to make sure those guys are intense the whole game."

The top plays of the scrimmage came from Allen wide receiver Blake Boyd, who pulled down two highlight-reel catches. The first was a diving catch on a ball thrown slightly too far past Boyd that gained over 20 yards. Boyd snatched another on a later drive over a Martin defensive back who had Boyd covered well. Boyd held on to the ball after taking a big hit while still in the air.

"Blake Boyd did a great job," Westerberg said. "He was a backup for us last year and is stepping into a starring role this year and came down with some good catches today."

Check back Friday night for recaps of evening scrimmage action.