High School:

Tony Mauldin
March, 31, 2011
3/31/11
6:34
PM CT
Garland Lakeview Centennial boys basketball coach Tony Mauldin announced his retirement this week after 37 years of coaching at the high school and collegiate levels.
Mauldin hangs up his whistle after leading his ESPN Rise FAB 50 No. 10 Lakeview Centennial team to the state title game for the second consecutive year, where it lost to Flower Mound Marcus. He won the NFHS National Coach of the Year award.
Mauldin said he had decided to retire before this season started but wanted to wait until the season was over to make an official announcement.
"I've been doing this since 1971 and I'm just tired," Mauldin said. "I just don't have the energy and all. This class -- these guys I've been [with] for four years now -- it just was a good time to step away from it."
[+] Enlarge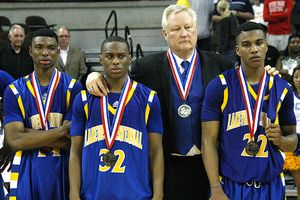 Travis L. Brown/ESPNDallas.comTony Mauldin, whose Lakeview Centennial team fell to Flower Mound Marcus in the 5A title game, said he will most value the relationships he's built over 37 years of coaching.
Mauldin said reaching the title game was a bittersweet way to end his coaching career.
"Getting to Austin definitely helped but, of course, our goal was to win it all and that leaves a sour taste in your mouth not to be able to do it because I really wanted that for the kids."
Mauldin began his coaching career at Boerne Middle and High schools -- he won a district championship his first year there. He then moved to Merkel for two years and won a a district championship there.
Mauldin's next move would send him to Morton for nine years, where he reached the state finals six years in a row and won three state championships.
He then moved in to the college ranks, coaching at Western Texas Junior College for four years and Abilene Christian for five years. His time at ACU would lead him to Kenya, where he coached for three years, before coming back and finishing his career at Lakeview Centennial in 2003.
Mauldin took a Lakeview Centennial program with four wins the year before he arrived and turned it into a 5A powerhouse.
"To go to a 5A school and be able to build up a really great program where we're ranked in the top 5 in the state and we're noted as one of the best in the state and to be down at the state tournament two years in a row -- that's my biggest highlight here at Lakeview," Mauldin said.
Mauldin's abilities as a coach became well known throughout the state and impacted other coaches he would face, including his 2011 state final opponent, Flower Mound Marcus' Danny Henderson.
"When I was a kid, I knew I wanted to be a coach and I watched Tony's teams," Henderson said before the state title game. "I idolized Tony Mauldin. I've become friends with Tony and he's a coaching legend."
Beyond any success Mauldin had on the court, he said it was the relationships he built with his players that were the highlight of his career. Many of those players whom had formed a relationship with Mauldin throughout the years reached out to him before and after what would be Mauldin's last game on the bench.
"When I was a young coach, I didn't understand the importance of relationships. Now, I understand the importance of telling guys daily that I love them. I think that's the thing that we miss sometimes is the relationships we build. The championships ... it's disappointing not to win, but the relationships you build fighting to get there, you can't ever do without that. That's what lasts."
Now, Mauldin will have time to pursue another passion: helping poverty-stricken children in Kenya. Mauldin plans on raising funds to start a computer information technology trade school that will help teach those children professional skills. He said he will spend two to three months over there after this school year is over and return home to work on raising funds for the charity.
Mauldin said his assistant coach, J. T. Locklear, is currently the interim head coach at Lakeview. Mauldin has recommended that Locklear become the full-time head coach for the Patriots next year.
March, 11, 2011
3/11/11
11:54
PM CT
AUSTIN, Texas -- Before Garland Lakeview Centennial's Class 5A state semifinal win over San Antonio Taft on Friday, the UIL announced that Patriots head coach Tony Mauldin was named the NFHS National Coach of the Year.

"It's a great honor," Mauldin said after Friday's win. "To be nominated is a great thing, but to win national coach of the year, I'm just overwhelmed."

With his Garland Lakeview Centennial team headed to the state final and a new award for his trophy case, Mauldin was humble about his legendary status in the basketball community.

"To be honest guys, I don't think I'm that good," Mauldin said. "One time somebody said, 'That's Rupert and Mary's boy from Zephyr, Texas,' and that's what you have to remember, where you come from."

However, Mauldin's honors are not lost on his next opponent, Flower Mound Marcus head coach Danny Henderson.

"I've been coming here since 1970," Henderson said. "My dad started bringing me. I haven't missed the state tournament as a fan. When I was a kid, I knew I wanted to be a coach and I watched Tony's teams. I idolized Tony Mauldin. I've become friends with Tony and he's a coaching legend. It would be an honor to play against him."

Henderson will have his chance to stand alongside his idol at 8:30 p.m. Saturday for a shot at the 5A crown.
March, 13, 2010
3/13/10
11:53
PM CT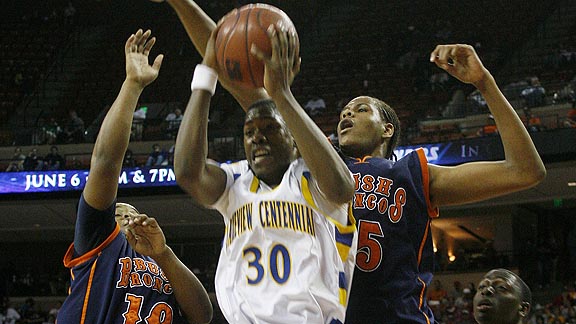 AP Photo/Jack PlunkettSheldon Esdelle-Blackburn and Garland Lakeview Centennial couldn't get past Fort Bend Bush.
AUSTIN, Texas -- The fast-break offense that guided Garland Lakeview Centennial through the playoffs ground to a halt against Fort Bend Bush on Saturday.
With Bush forcing it to play a half-court game, Lakeview's shot went cold and Bush made a late run to escape with a 65-58 win the Class 5A state title game at UT's Frank Erwin Center.
"We knew they wanted to get up and down," said Bush coach Ronnie Courtney. "We made them play defense for 15 or 20 seconds. That kills what they really want to do. Fortunately we were able to get points off our offense. It eliminated them getting down the floor real fast."
Lakeview (33-4) held numerous leads in the fourth quarter before Bush (35-4) took control midway through the frame. UT-Arlington signee Darius Richardson helped spark a 10-2 run by scoring six consecutive points that left his team with an insurmountable 61-52 lead.
Richardson was named the game's MVP. He finished with 25 points and seven rebounds.
Along with fellow UTA signee Jordan Clark, who scored 20 points with 11 rebounds, Richardson consistently found holes in Lakeview's press, scoring in transition and driving to the hoop for easy buckets.
Conversely, Lakeview got nothing going from an offense that lit up opponents in the regular season and playoffs alike. The Patriots shot just 31.4 percent from the field, and the team's leading scorer during the season, Toddrick Gotcher, finished with seven points.
"We had to shorten the game," Courtney said. "If we don't shorten the game and it gets to 80, we don't win."
Ryan Williams paced Lakeview with 12 points and 14 rebounds. Chris Jones added 19 points, and Chris Copeland scored 12.
Despite the rough shooting night, Lakeview was in the game until Bush's final push. Neither team could separate itself from the other until the Patriots closed the third quarter with a 10-2 run that left them eight minutes away from a state title.
Richardson and Clark took over from there.
"They got us in a slow-down game," said Lakeview head coach Tony Mauldin. "When they're playing more of a half-court game, you have to get shots. We missed our shots."