High School:

Trinity Christian Academy
January, 4, 2012
1/04/12
10:10
AM CT
ADDISON, Texas -- After hitting a rough patch in the Beach Ball Classic tournament, ESPNHS Fab 50 No. 23 Plano Prestonwood Christian hoped to begin district play with an easy win over rival TCA-Addison.
[+] Enlarge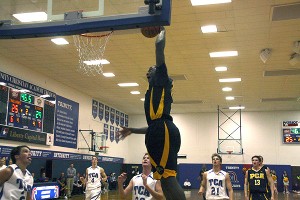 Travis L. Brown/ESPNDallas.comA pair of dunks by Prestonwood's Julius Randle wrested momentum from TCA-Addison.
TCA had other plans for the Lions and made quite a game of it, ultimately falling short 67-47.
It took three quarters for nationally ranked Prestonwood to find its stride in a game in which it was the much bigger team with a higher level of talent.
"I think we just disrespected the game of basketball tonight," Prestonwood coach Chris Mayberry said.
TCA jumped to a 17-14 lead after the first quarter. The 3-ball was falling for TCA in the opening frame, with three hitting in the first few minutes. A 3 from Thomas Neuhoff forced a Prestonwood timeout and electrified a standing-room only crowd in TCA's home gym.
Prestonwood also allowed the momentum to build by giving TCA guards access to the paint for easy layups.
"They did step it up tonight, there's no doubt about it," TCA coach James Feemster said. "I told my kids before the game, this is why you play the game right here -- for this kind of stage -- and if we'd have had 2,000 seats in this place, we'd have filled all 2,000 of them up. It's that big of a rivalry."
Mayberry saw it differently, denouncing the notion that the rivalry atmosphere elevated Trinity's play and placing the blame solely on his team's performance.
"Not at all, not one second," Mayberry said. "We just didn't come to play at all. I respect Trinity, but we just didn't come to play."
Two things began to work against TCA in the second quarter: standout Carven Holcombe took two early fouls, which forced to the bench for the remainder of the half, and Prestonwood superstar recruit Julius Randle made his presence known.
Late in the quarter, Randle took two passes to the hole for a pair of slams. The second dunk gave TCA its first lead since the opening seconds of the game, 25-24.
"I thought that one was a bad one because they were kind of fighting their way back in," Feemster said. "Up to that point, I thought we had the emotional advantage in the game and that kind of turned it a little bit for them."
The Lions wouldn't relinquish the lead again.
TCA managed to keep the game close, finishing the third quarter trailing just 44-37, but it saw its shooting luck run out, especially at the free-throw line. The Trojans went 13-for-28 from the charity stripe.
Prestonwood outscored TCA in the final quarter, 23-10. Randle put the nail in the coffin with 4:40 left, taking a breakaway pass to the hoop and throwing down a one-handed tomahawk that would make Blake Griffin jealous.
Randle lead all scorers with 28 points, followed by fellow big-man Zach Peters with 18.
The big-game atmosphere is nothing new to Prestonwood, which made it as high as No. 5 on the ESPNHS Fab 50 last week by playing in several of the nation's top tournaments but struggled last weekend. It has also kept Prestonwood in the national spotlight since before the season began.
Mayberry restricted access to his team after the game saying, "We're getting too much of that stuff."
Regardless, Prestonwood did what it needed to do to notch its first district win, which was just more than TCA could handle.
"It would have taken an unbelievable effort to beat those guys and they would have had to have been off a little bit, but I think our kids got in there and didn't back down one bit on them and I'm really proud of them," Feemster said.
Girls: TCA 42, PCA 28
TCA girls took the first game of the rivalry evening, thanks to good guard play that began scoring runs.
The girls played in front of the same standing-room only crowd that remained in their seats for the ensuing boys game, providing a loud and exciting atmosphere for the game.
"We've been psyching up and this is like the highlight of our season is getting to play them the two games in district," guard Sarah Voelker said.
Voelker was a spark for the Trojans, keeping her team on long scoring runs with several rebounds and steals throughout. She lead all scorers at the half with all seven of the points she would score on the night.
Point guard Katherine Konstons led all scorers with 17 points, most of which came in the second half on a solid performance on the free throw line.
The win notches a good 1-0 start in district for TCA.
April, 26, 2011
4/26/11
11:30
PM CT
PLANO, Texas -- Two Trinity Christian Academy pitchers combined to throw a no-hitter against Prestonwood Christian on Tuesday, winning the game 8-0 and keeping PCA out of the TAPPS state playoffs for the first time in school history.

TCA starter and ace Reed Bastie threw five innings of no-hit ball, striking out six and walking two before being lifted after the fifth inning. Reliever Cody White spelled Bastie and completed the no-hitter, striking out three and walking one in two innings of work.

The no-hitter was the second in Bastie's career, but his first in TAPPS play. His other came in a wood bat tournament in the summer.

"We had an umpire who had a low strike zone," Trinity head coach Donnie Watson said. "We're always trying to take advantage of the strike zone if the guy is going to give us the low pitch down there. That's where we make our money. They just had command tonight."

Watson elected to go with his top hurler Tuesday because of the team's almost week-long break caused by bad weather. Bastie came out of the game after throwing 60-plus pitches and should be ready to go in the Trojan's first playoff game this weekend.

Bastie was disappointed that he couldn't stay in to finish the no-no, but he understand the situatoin heading into the playoffs.

"Of course I'm a little disappointed about it, but he's is doing what's best for the team," Bastie said of his coach. "We've got a playoff game and he wants to make sure my arm is 100 percent."

Both Trinity pitchers had plenty of room to breathe throughout the game with eight runs of support coming in two big innings. The Trojans drove in four in the second, two off a single from Ben Crabtree and two off a double from Michael Jarvie, who was thrown out at third trying to extend it to a triple.

Trinity scored four more in the fourth, highlighted by a two-run home run to right by Tom Postma.

"The run support was huge," Bastie said. "[PCA pitcher Michael Sheehy] was leaving the ball up a little bit and his off-speed [stuff] wasn't as low as it usually is, and we just took advantage of it."

Prestonwood was left to reflect on its season, the first in which the Lions won't have a shot at the TAPPS playoffs in program history.

"It's a weird feeling because we've been to the playoffs every year," PCA head coach Mike Maack said. "This is the first year we didn't make it, and we reflect on the season and we spoiled a lot of opportunities early … This is a good learning experience. If nothing else, they're going to build on this, and I've got all the confidence in the world the next year we're going to come back a totally different team."

Maack did have a bright spot in the game as freshman Cameron Yates pitched the final 3 1/3 innings without allowing a run on one hit while striking out three.

"He's got a lot of guts for a ninth grader and he's a competitor and he comes in and throws strikes," Maack said. "He doesn't try to be fancy and that's what you've got to do. Cameron just did a great job."

Watson said he believes his team will be playing somewhere in the Houston area this weekend after finishing 7-5 in district play, finishing in third place over John Paul and behind Bishop Lynch and Argyle Liberty Christian, respectively.