August, 24, 2011
8/24/11
12:01
AM CT
By
Randy Jennings
| ESPNDallas.com
DISTRICT 11-5A
DeSoto (11-3, 4-1), lost in DI regional final. Coach: Claude Mathis

Longview (10-5, 4-1), lost in DII state semifinal. Coach: John King

Mesquite (1-9, 0-5). Coach: Robbie Robinson

Mesquite Horn (9-5, 3-2), lost in DII regional final. Coach: Rodney Webb

North Mesquite (5-5, 2-3). Coach: Mike Robinson.

Tyler Lee (2-9, 2-3), lost in DI bi-district. Coach: Randy Huffstickler
THE BIG QUESTION: How will DeSoto replace record-setting quarterback Ryan Polite?
[+] Enlarge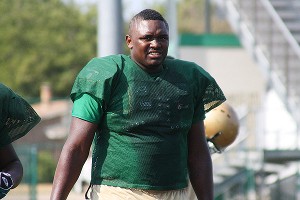 Travis L. Brown/ESPN.comDeSoto offensive tackle Curtis Riser is one of the players to watch in District 11-5A.
In his four-year Eagles career, Polite was anything but to opposing defenses. He smashed all the school records by throwing for 10,688 yards and 94 touchdowns. In 2010, the Eagles went four rounds deep in the playoffs and averaged almost 47 point per game. Obviously, Polite's graduation left big shoes to fill.
Senior Raheem Wilson won the fall competition over sophomore Dezmond White for the starting spot, but coach Claude Mathis said both will see action. Wilson led DeSoto to the state 7-on-7 football championship in July.
"We don't expect Raheem to be Ryan Polite because Ryan had years of experience,'' Mathis said.
An advantage for Wilson is the high level of talent that will surround him. Five seniors have already made college commitments, and opportunities await several more.
PLAYERS TO WATCH
OT Curtis Riser, LB Alex Lyons, CB Bryson Echols, DE Michael Richardson, DeSoto; RB J'Haston Faggans, LB Jordan Burton, WR Eric Hawkins, Longview; WR/DB Kavaski Ervin, RB Junior Session, Mesquite; CB/WR DeVante Harris, LB Richard Jones, QB Destri White, Mesquite Horn; QB King Davis, RB Horace Borders, LB Darik Walker, North Mesquite; RB LaQuintas Wallace, QB Joseph Seeber, LB Austin Campbell, Tyler Lee.
DID YOU KNOW?
District 11-5A teams had a 10-4 postseason record last year with three teams advancing to the Region II finals. Longview and Mesquite Horn met for a second time last season in the Division II Region II final, with Longview winning 28-24. ... Mesquite Horn's DeVante Harris, an Oklahoma commit, is the son of former Texas A&M and NFL player Rod Harris. ... Tyler Lee linebacker Austin Campbell is the nephew of the Tyler Rose, Earl Campbell. … Longview followed up two Class 4A state title game appearances by making it to the state semifinals in its return to Class 5A last season. … Tyler Lee defensive coordinator Randy Huffstickler was promoted to interim head coach in June after the resignation of Mike Owens.
PROJECTED PLAYOFF TEAMS
DeSoto

Longview

Mesquite Horn

North Mesquite
June, 20, 2011
6/20/11
1:14
PM CT
By
John Miller / ESPN Recruiting
Rockwall advanced to the finals of the Tyler State Qualifying 7-on-7 Tournament, clinching a berth into the 2011 State 7-on-7 Tournament from July 15-16 at College Station.
With the top two teams receiving automatic bids to the state tournament, Rockwall and Tyler Lee elected not to play the final.
For Tyler Lee, it is the 12th consecutive year the Rebels have earned a spot in the state tournament.
"We may be the longest streak going," said Tyler Lee coach Randy Huffstickler, who was named interim head coach on Monday. "Our guys take pride in that tradition and it needs to carry over, it needs to mean something."
It will be Rockwall's fifth trip to the state tournament.
For more on the Tyler qualifier, click here.
August, 29, 2010
8/29/10
1:39
PM CT
August, 27, 2010
8/27/10
2:30
PM CT
August, 24, 2010
8/24/10
11:17
PM CT
By
Randy Jennings
| ESPNDallas.com
DISTRICT 11-5A
DeSoto (9-3, 4-1 in 11-5A) lost in DI area finals. Coach: Claude Mathis
Longview (14-2, 6-0 in 13-4A) lost in 4A DI state finals. Coach: John King
Mesquite (1-9, 1-4 in 11-5A). Coach: Robbie Robinson
Mesquite Horn (6-5, 1-4 in 11-5A) lost in DII bi-district. Coach: Rodney Webb
North Mesquite (4-6, 1-4 in 11-5A). Coach: Mike Robinson
Tyler Lee (6-6, 4-1 in 11-5A) lost in DI area finals. Coach: Mike Owens
THE BIG QUESTION: Will it again be the three Class 5A Mesquite ISD schools playing for one playoff spot?
That's what happened the last two seasons. The district is still composed of three Mesquite schools, DeSoto and two East Texas schools. The only change this time is Longview steps up from Class 4A to replace Tyler John Tyler, one East Texas power replacing another. Longview made it to the Class 4A state title game each of the last two seasons.
With DeSoto returning 10 starters and Tyler Lee returning 12 from 2009 playoff teams, it becomes all the more important for Mesquite, Mesquite Horn and North Mesquite to play well in the intracity games. Mesquite Horn captured its second straight playoff berth in a tiebreaker last year when all three Mesquite ISD teams went 1-4 in district play.
Mesquite and North Mesquite last made it to postseason in 2007.
Except for the high level of competition, 11-5A math (six teams, four playoff spots) is otherwise appealing.
PLAYERS TO WATCH
QB
Ryan Polite
, WR Cameron White, RB
Antoinne Jimmerson
, DeSoto; DB
Cortland Browning
, DB
Chad Reese
, Tyler Lee; WR
JaCorey Shepherd
, DL
Stephon Sanders
, LB
Kyle Boyd
, Mesquite Horn; RB
Joe Bergeron
, LB
Jared Brackens
, North Mesquite; WR
LaDarrin Robertson
, OL C.J. Greene, Longview; LB
Chris Davis
, QB Jake Lanford, Mesquite.
DID YOU KNOW?
In his DeSoto career that so far spans two full seasons and part of a third, quarterback Ryan Polite has passed for 6,593 yards and 57 touchdowns.
PROJECTED PLAYOFF TEAMS
DeSoto
Longview
Tyler Lee
Mesquite Horn
August, 2, 2010
8/02/10
1:43
PM CT
Coming off a state championship season and returning wide receiver turned quarterback Brandon Carter was enough to earn the Trojans the six-spot on the
ESPN Rise Powerade FAB 50 Rankings
.
Also, Trinity's August 28 game against Tyler Lee was selected to be televised nationally on ESPNU, beginning at 9 p.m. CST. Click
here
for the full ESPN Rise Inaugural Kickoff television schedule.
Five other Texas teams made the top 50: Abilene (1), Lake Travis (3), Katy (17), Austin Westlake (30) and Round Rock Stony Point (50).
April, 21, 2010
4/21/10
2:31
PM CT
By
Randy Jennings
| ESPNDallas.com
Mesquite baseball coach Todd Ritter expected success in 2010, but a 22-3 record with a week and a half left in the regular season is well beyond his expectations.

The Skeeters' lofty state ranking (No. 8 in Texas by ESPN RISE, No. 6 in Class 5A by Texas High School Baseball Coaches Association) is due to his players' God-given talent, Ritter said.

"I'd love to take credit,'' Ritter said. "But we have players that hit well, pitch well and play good defense. The biggest thing, though, is our team unity. Unity is overlooked and hard to measure. This team has it. It is a fun group to be around.''

After Tuesday's gut-wrenching 9-6 loss to Tyler Lee, Mesquite will learn how it reacts to adversity. The Skeeters led 6-0 after two innings and 6-1 going into the seventh, only to see Lee (19-6-1, 8-0) score eight times in the final inning.

Two of the Skeeters three losses have come at the hands of Lee. It was Lee that snapped Mesquite's 17-game winning streak on April 1, 6-0, in Tyler.

Although Tuesday's loss cost Mesquite a chance at the District 11-5A title, a playoff berth is assured and the Skeeters remain a team many will want to avoid in Region II.

Ritter has constructed a three-prong starting pitching staff of lefty Zach Good (3-1, 51 strikeouts in 38 innings), Jarrett Zmolik (6-0) and Justin Canales (4-0).

Other top players are senior shortstop Jeremy Christian and junior catcher Bre' Kimbell.

Mesquite plays at Tyler John Tyler, winless in 11-5A, at 7 p.m. Friday. Rockwall will be the opponent in a non-district game Saturday and the Skeeters conclude the regular season with a district game against North Mesquite on April