February, 2, 2012
2/02/12
2:32
PM CT
By
Randy Jennings
| ESPNDallas.com
NORTH RICHLAND HILLS, Texas -- The makeup changed very little or not at all in four of the area's nine Class 5A districts at Thursday's UIL reclassification and realignment.

*The current District 4-5A (five Arlington schools, Fort Worth Paschal, North Crowley and Weatherford) remained intact but, because of district consolidation in West Texas, changed its number to 3-5A.

That's an agreeable change, said Anthony Criss, football coach at Arlington Sam Houston and former Arlington ISD assistant athletic director.

"It's great for Arlington because it means we stay in the area for first-round playoff games instead of going to West Texas,'' Criss said. "We'd still go west once, but not until the second round.''

*The current District 5-5A retained seven of its eight members in the new District 7-5A: Cedar Hill, DeSoto, Duncanville, Grand Prairie, South Grand Prairie, Mansfield and Mansfield Timberview. The only change is Mansfield Legacy drops down to Class 4A and powerhouse DeSoto takes its place.

"A tough district just got tougher,'' said Grand Prairie coach Gary Bartel.

*In District 9-5A, Dallas Samuell dropped to Class 4A and was replaced by Richardson Pearce, which is moving back up to 5A. The other seven members are unchanged: Dallas Jesuit, Dallas Skyline, Dallas Sunset, Dallas W.T. White, Richardson, Richardson Berkner and Lake Highlands.

"I wasn't sure Jesuit would stay in,'' said Skyline coach Reginald Samples. "In fact, we had agreed to play them in a nondistrict game if they weren't in our district.''

*The seven Garland ISD schools that made up 10-5A in the last realignment are now without McKinney Boyd as they go forward as District 11-5A with this lineup: Garland, Garland Lakeview, Garland Naaman Forest, North Garland, Rowlett, Sachse and South Garland.
August, 15, 2011
8/15/11
12:01
AM CT
By
Randy Jennings
| ESPNDallas.com
DISTRICT 4-5A
Arlington (7-4, 5-2), lost in DII bi-district. Coach: Scott Peach.
Arlington Bowie (7-4, 6-1), lost in DI bi-district. Coach: Kenny Perry.
Arlington Lamar (5-6, 4-3), lost in DII bi-district. Coach: Trent Fuller.
Arlington Martin (10-3, 7-0), lost in DI regional semifinal. Coach: Bob Wager.
Arlington Sam Houston (4-6, 3-4). Coach: Anthony Criss.
Fort Worth Paschal (1-9, 0-7). Coach: Matt Cook.
North Crowley (2-8, 2-5). Coach: Keeath Magee.
Weatherford (1-9, 1-6). Coach: Reid Waller.
THE BIG QUESTION: Is Martin poised to become the bully of the block after defeating Bowie on the way to the District 4-5A title in 2010?
Bob Wager's Warriors have advanced to the third round of the playoffs in consecutive seasons, something never before accomplished at Martin.
Quarterback Brodie Lambert was named MVP in Martin's Red Bull Game Breakers 7-on-7 national championship during the summer. There is quality in the eight returning starters on defense, including college commits Devonte Fields (TCU), Stephen Amoako and Eric Amoako (Oregon).
Arlington ISD rivals Bowie and Arlington High aren't going to concede the title to Martin. Bowie returns experience at key spots and has advanced to the playoffs in all five seasons under coach Kenny Perry.
Arlington Lamar could figure into the mix after making the playoffs in its first season under a coach not named Eddy Peach.
PLAYERS TO WATCH
DE Devonte Fields, LB Cameron Williams, OL Steven Baggett, DB Eric Amoako, DB Stephen Amoako, Arlington Martin; QB/WR Kolby Listenbee, LB Jaquirous Jackson, DT Demonte Hood, RB Russell Hansbrough, Arlington Bowie; RB Tavarreon Dickerson, OL Daniil Lysenko, LB Curtis Douglas, Arlington; SS Paris Watson, LB Deandre Wilson, QB Connor Berry, Arlington Lamar; WR Xavier Mathews, North Crowley; WR Terrell Varnes, Arlington Sam Houston; QB Chris Hanson, Fort Worth Paschal; QB Trooper Reynolds, Weatherford.
DID YOU KNOW?
Four of the last five Martin seasons have ended with a playoff loss to Euless Trinity. ... After going young in 2010, Arlington returns 19 starters. ... Second division finishers North Crowley, Arlington Sam Houston, Fort Worth Paschal and Weatherford won a total of eight games among them.
PROJECTED PLAYOFF TEAMS
Arlington Martin
Arlington Bowie
Arlington
Arlington Lamar
May, 21, 2011
5/21/11
1:15
AM CT
ARLINGTON, Texas -- Thursday's Game 1 of the best-of-3 Class 5A regional semifinal softball series between Plano and Weatherford featured 24 strikeouts and seven hits in what would turn into a 1-0 Plano win.
Friday's second game was a different story. Plano had nine hits -- two of which cleared the fence -- for a 6-2 win, sweeping the series at Allan Saxe Field at UT-Arlington.
After lightning in the area delayed the start of the game an hour, both teams hit the dirt running.
Weatherford struck in first in the bottom of the second, scoring a run on Alicia Rich's single to left.
Plano answered in the next half-inning, scoring twice. Two fielding errors by Weatherford pitcher Jordan Wallace put the first two Plano hitters of the inning on base. They were driven in on one swing of the bat, MacKenzie Velasquez's single to left.
[+] Enlarge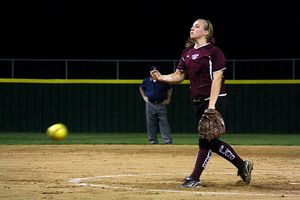 Travis L. Brown for ESPN.comPlano pitcher Katherine Batey struck out four and allowed two runs in the complete-game effort.
Plano piled on more runs in the fifth when Katherine Batey hit a towering two-run homer over the left-field fence. Batey battled through an eight-pitch at-bat that included a foul ball that also cleared the left-field fence just to the left of the foul pole.
"It was just an inside pitch -- I don't know if it was a screwball or fastball, and I personally love inside," Batey said.
Plano added two more on a matching left-field homer from Jill Holub in the top of the seventh.
On the mound, Batey battled through an abnormal pregame routine but settled into the circle in the third inning. She allowed two runs on seven hits, striking out four through all seven innings.
Batey used the outside corner effectively and relied on a diving changeup as her strikeout pitch.
"We know that umpire and we've had him a lot and I know his strike zone so I think that gave me an advantage, but my outside pitch is one of my better pitches," Batey said.
Despite having only two seniors on the squad this season, Plano launched itself into the elite eight for the second straight year.
"Everyone kind of wrote us off this year," Plano coach Cynthia Zea said. "We only have one starting senior, so everyone thought we would be down for a year and come back and these kids never believed it."
Plano will face either area rival Keller or El Paso Americas in the regional final round of the 5A state playoffs.
After the win, Zea didn't dance around which team she preferred to play.
"To be honest with you, I want to see Keller again because they were our very first loss at Bryan-College Station," she said. "So we kind of want a piece of them again."