High School:

Week 10 Class 5A notes
October, 31, 2011
10/31/11
7:19
PM CT
By
Randy Jennings
| ESPNDallas.com
DeSoto players hadn't even had time to walk off the field after Friday's 41-16 win over Mesquite before talk turned to Longview.

The Lobos host DeSoto for the District 11-5A title 7 p.m. Thursday. The game was moved up a night from the original schedule so it can be televised by Fox Sports Southwest.

In a way, Longview has been in the back of the Eagles' minds all season.

The 2010 District 11-5A race came down to the Week 10 Longview-DeSoto game. The Lobos won, 38-35, on DeSoto's home turf. Technically, both shared the District 11-5A title with a 4-1 record, but the Lobos were considered the No. 1 playoff seed based on head-to-head result.

This time, both teams go into Thursday's showdown with 4-0 district records.

Compared to last year's team, DeSoto (9-0), No. 4 in ESPNDallas.com's 5A area rankings, is a better defensive club. Opponents are averaging 14.8 points against the Eagles this year compared to 30.5 at this point of the 2010 season.

With experienced defenders like end Michael Richardson (Texas A&M commit), cornerback Bryson Echols (Texas commit) and linebacker Alex Lyons, defensive improvement hasn't exactly come as a shock. As a result, things are easier for the offense, which scored 29, 35 and 48 points in the Eagles' three losses last year.

The Eagles defense will try to control Longview quarterback Bivins Caraway and a deep running back corps led by J'haston Faggans.

The only loss separating Longview (8-1) from an unbeaten season came courtesy of Allen, 42-23, in Week 2.

Longview, attempting to win its eighth consecutive district championship, is excellent on special teams. In last week's 45-19 win over Tyler Lee, the Lobos blocked three kicks and for the second consecutive week returned a punt for a touchdown.
October, 31, 2011
10/31/11
7:11
PM CT
By
Randy Jennings
| ESPNDallas.com
The top three playoff spots in District 6-5A are decided, but there exists a chance that as many as four teams could tie for the for the final berth.

Euless Trinity, Colleyville Heritage and Hurst L.D. Bell have secured postseason passes in the nine-team district.

In fourth position going into Week 10 is 4-3 Grapevine, followed by three teams at 3-4: Haltom, Irving MacArthur and Richland.

Grapevine would clinch the fourth spot with a win over Richland on Friday. Richland would clinch by beating Grapevine if, as expected, MacArthur loses to district champion Euless Trinity on Thursday and Haltom loses to district runner-up Colleyville Heritage on Friday.

If Richland beats Grapevine and MacArthur and/or Haltom pull off upsets, the final berth would be determined by three- or four-way tiebreaker procedures.

Grapevine (5-4, 4-3) comes in having won three of four, including a 10-7 gut check over MacArthur last week, the difference being a 21-yard Nik Grau field goal. The Mustangs defense limited MacArthur to two first downs and 124 yards, 79 of which came on the Cardinals only touchdown of the night.

Richland (4-5, 3-4) has put itself in contention by winning its last two games, 28-6 over Haltom and 42-14 last week over Irving Nimitz as quarterback Walker Burns ran for 163 yards and three touchdowns.

Richland and Grapevine both missed the playoffs last year after losing in the first round in 2009.
October, 31, 2011
10/31/11
6:46
PM CT
Plano West has a history of quarterbacks who put up big numbers, but those numbers don't usually come on the ground.

With Plano West (5-4, 3-3 in 8-5A) evolving into a run-based offense, quarterback Travis Korry hasn't had the chance to match his predecessors' passing yardage this season, but he may have vaulted his team into the playoffs with a monster night running the ball against Flower Mound last week.

Korry ran for 353 yards and six touchdowns in Plano West's 55-42 win over the Jaguars, leaving the Wolves in a tie for fourth place with Plano East (5-4, 3-3 in 8-5A). The loss eliminated Flower Mound from playoff contention.

Neither Plano East or Plano West controls its own destiny, but one of them will make the playoffs.

Plano West has the tie-breaker edge over Plano East in the event of a two-way tie for fourth. In the event of a three-way tie for third with Hebron (6-3, 4-2), Plano West would miss the playoffs.

Plano West backers should consider becoming temporary fans of Hebron because both Plano East (vs. Lewisville) and Plano West (vs. Plano) are favored Friday while Marcus is a slight favorite over Hebron. A three-way tie is not a remote possibility.

Here's what's already been determined in 8-5A: Allen has won the district title and clinched the top seed in Division I. Plano West or Plano East will be the second seed in Division I.

While Marcus' game with Hebron has playoff implications for Plano East and Plano West, it will also determined seeding in Division II. The winner gets the top seed.
October, 31, 2011
10/31/11
4:33
PM CT
Southlake Carroll fans can rest easy. Quarterback Kenny Hill is not seriously injured.
The junior signal-caller didn't play in Carroll's 45-14 win over Saginaw last week, but head coach Hal Wasson said Hill's absence was merely a precaution and that he'd play in Carroll's regular-season finale at Denton Guyer on Friday.
"We held him out with a little tweak he had and he'll be fine," Wasson said. "He could have played if he had to but we didn't use him."
[+] Enlarge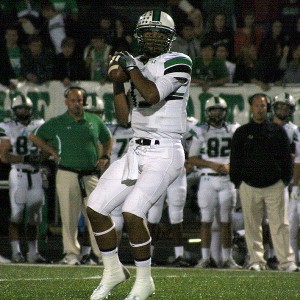 Travis L. Brown/ESPNDallas.comKenny Hill will be back for Southlake Carroll's regular-season finale after he missed the Dragons' win over Saginaw.
Drew Ahmuty, who started at quarterback to open the 2010 season after Daxx Garman was ruled ineligible, filled in for Hill against Saginaw and played well, going 16-for-20 for 161 yards and two touchdowns.
Ahmuty provides Carroll (9-0, 6-0 in 7-5A) with a luxury that not many teams have: a backup quarterback who's won at the varsity level.
"Drew did a really good job," Wasson said. "We have a lot of confidence in Drew."
Despite having clinched a playoff berth, Carroll's postseason path has yet to be decided. The Dragons, No. 6 in the ESPNDallas.com 5A area rankings, don't even know if they're going Division I or Division II.
That's made it hard on Carroll's coaching staff to plan for the playoffs. Usually at this point a team can narrow down its first-round opponent to a couple of teams and some even know who it's going to be.
But Carroll's playoff opener could be against Hebron, Flower Mound Marcus, Plano West or Plano East, and who the Dragons would play after that gets even messier given that they don't even know which bracket their going to be in.
Coppell (6-3, 3-3) will decide which bracket Carroll gets in. If Coppell misses the playoffs, Carroll will go Division I. If Carroll goes Division I, it will play either Plano West or Plano East.
If Coppell misses the playoffs, Carroll will go Division II. The winner of Carroll's game with Denton Guyer will be the top seed, but even knowing its seeding won't automatically determine Carroll's first-round opponent because Marcus and Hebron are playing on Friday in a game that will decide Division II seeding in 8-5A.
"It's going to come down to the last week," Wasson said. "That keeps your players on point, it keeps your fans on point and it makes for an exciting finish, that's for sure."